Edson Barboza Wants Tony Ferguson Rematch For Interim Belt
Edson Barboza Wants Tony Ferguson Rematch For Interim Belt
UFC lightweight striker Edson Barboza is calling for a rematch with Tony Ferguson for the interim title.
Mar 23, 2017
by FloCombat Staff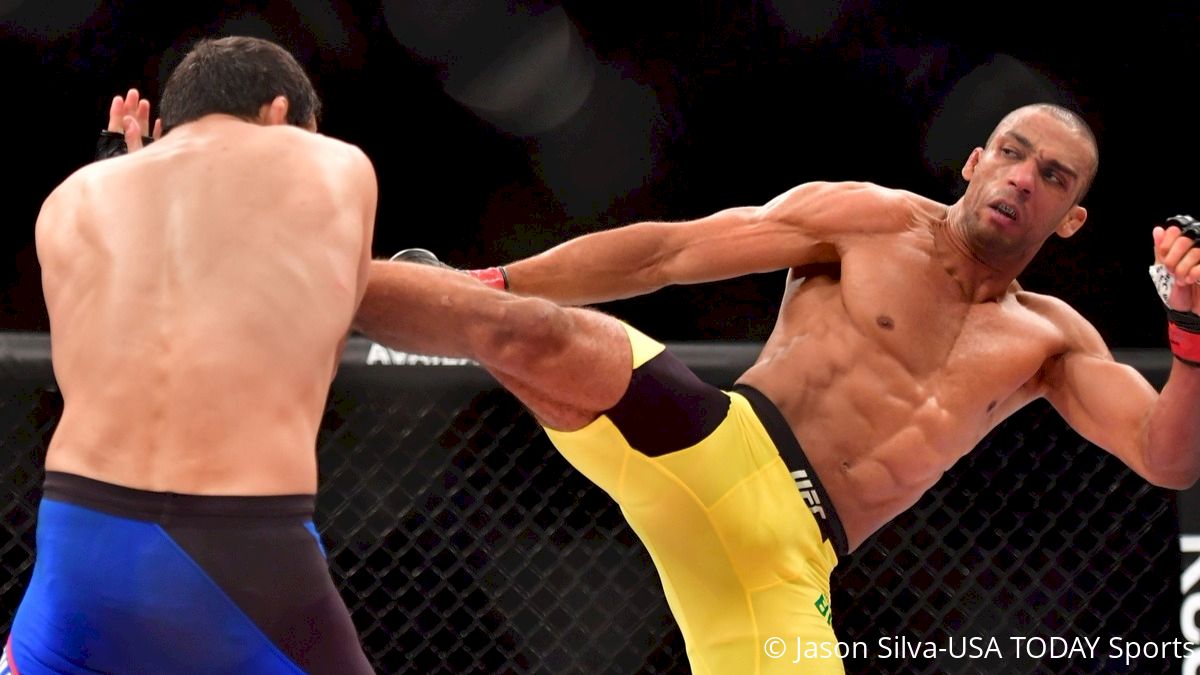 Taking advantage of the last days of vacation with relatives in his hometown of Nova Friburgo, Brazil, Edson Barboza radiates optimism regarding his immidiate future in the UFC. His most recent knockout win over Beneil Dariush at UFC Fortaleza has qualified the current number five in the organization's lightweight rankings as one of the hottest title contenders in the division, giving him the confidence to ask for a shot at the belt.
However, the 155-pound division is is currently stalled as champion Conor McGregor is on vacation until the birth of his first child while negotiating a boxing match with Floyd Mayweather with no official return date to active duty. As a result, during a conversation with
FloCombat via AG. Fight
, Barboza brought up the idea to fight for an interim title in a rematch against Tony Ferguson, the division's current number two, who finished him in December of 2015.
"I want to have the opportunity to fight someone who is ahead of me in the rankings or fight for the interim belt", Barboza said. "I don't know what the UFC will do about Khabib now, but Ferguson is there to fight. So I'm ready to fight Ferguson. It would be great to get an opportunity to have this rematch against him - that's on my mind now."
Despite the confidence in asking for another shot against "El Cucuy", their first fight doesn't bring a whole lot of good memories for Barboza. Despite having won the first round, he succumbed to the relentless pressure in the second stanza and ended up getting submitted. However, the Brazilian didn't get to prepare with a full camp for that fight, and this is precisely what he thinks will make all the difference in a potential rematch against Ferguson.
"The main thing is that it would be a whole camp", Barboza said. "The first time I fought against him, it was only four weeks of training. It's no excuse, ever, but he hit me with a kick there that shook me a little. The only thing I would do differently (in a rematch against Ferguson) would be to have a one-on-one Camp, my nine or ten weeks of training. I think that would make a difference."
What he can do at his best was demonstrated at UFC Fortaleza, where Barboza knocked out Beneil Dariush with a spectacular flying knee that might end up on the short list of this year's most spectacular finishing sequences.
"I work on knee strikes a lot but it's a move that I don't do much in sparring because it hurts (training partners)", Barboza said. "I train that a lot and I've never done that in the UFC before. In my first MMA fight I knocked my opponent out with a flying knee but after that, I don't think I even tried to do a flying knee [...]. I knew that every time he jabbed, he lowered the level and I knew that his head would be there."
At age 31, the Brazilian has accumulated victories against big names in his past few fights: Anthony Pettis, Gilbert Melendez, Beneil Dariush. And even though his rise through the ranks means bigger fights with better pay, Barbozoa insists the day he starts fighting for money, he'll most likely hang up his gloves.
"I love to fight, I love to train and it's logical that I know my obligations. Today I have a family, I am a son and a father who tries to do everything I love, but I don't know what to do. I never go out there thinking about money, (I think about) doing my job. Quite the contrary, I paid to fight (in the past). From the moment I start fighting for money it will not make any sense to me anymore."