FloCombat Road Trip (#FCRoadTrip) -- West Coast
Ryan Bader: 'We Want To Fight Phil Davis For The Bellator Belt'
Ryan Bader: 'We Want To Fight Phil Davis For The Bellator Belt'
Free agent Ryan Bader talks about a potential move to Bellator MMA, saying he'd like a rematch with Phil Davis for the belt.
Mar 1, 2017
by FloCombat Staff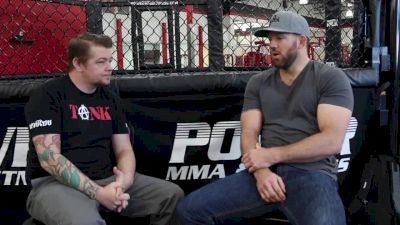 Free agent Ryan Bader never wants the easy route, and that's not changing as he hangs in the balance between Bellator MMA and the UFC.

With his current UFC contract up, Bader successfully tested the waters, receiving a lucrative deal from Bellator to jump ship and to come over to their side of the MMA landscape. However, Bader told FloCombat Senior Editor Duane Finley during the FloCombat Road Trip the UFC can still potentially match Bellator's offer, something that would send him back to the UFC Octagon.

However it pans out, Bader feels he'll be set financially, but he does mention a particularly interesting foe waiting for him should the move to Bellator play out. Having already defeated Bellator light heavyweight champion Phil Davis via decision at UFC on Fox 14, Bader would like the opportunity to do it again, this time with the chance at a nice slab of gold.

"That's [Phil Davis is] the fight I want," Bader said. "I'm not one of these guys that's going over at the tail end of his career, trying to make a couple extra paychecks and be done and trying to look for fun, easy fights. I'm looking to win the belt.

"On our side, we want to go in right away, and I think we can step in without people saying, 'Oh, you're jumping too many people,' or this and that. I'm ranked No. 4 in the UFC. I'm 7-1 in my last eight fights, and it's one of those things where I can jump in and fight for the title right away and I don't think there'd be too many people complaining about it. That's the fight we want. We want to fight Phil Davis for the Bellator belt."

Regarding the move itself, Bader says while money did play a factor, he was looking for other things from his suitors, too. That's where Bellator hit the mark.

"It wasn't about fighting my contract out," Bader said. "I wasn't looking there and saying, 'Alright, this is not enough money. I'm going to move on.' It was more than that. I talked about this before too, but it was opportunity. What's the plan for me? In this sport, you gotta look at it selfishly. With Bellator, I sat down with [Bellator CEO] Scott [Coker] and [VP of Talent] Rich [Chou], I asked questions, like, 'Where's Bellator going? What's your plan for me, fight-wise?' And they had a plan. That's great. That was a big thing, too."

A potential change for Bader in Bellator is the pay structure they proposed during early negotiations. Whereas the UFC uses a show-plus-win-bonus model, Bader stands to earn a flat fee in Bellator. That means win or lose, his bank account gets the same bump, allowing him to focus on fighting his best fight rather than going out and playing the game to secure a victory at any and all costs.

"Obviously, I like moving into more of a flat fee per fight too, which I think is great," Bader said. "I see the rationale behind doing a show and win bonus, maybe make the fighters...just want to go out and obviously secure that win bonus, but I think it deters it a lot of times with different fights. Guys will go out there and make sure they win a certain way, [because] that's half your paycheck. I like that whole flat fee, go out there and let loose, but it's not the end of the world. If you have a great fight and people loved it, you still get your full paycheck."