Dustin Poirier Goes Home, Wants Eddie Alvarez Next
Dustin Poirier Goes Home, Wants Eddie Alvarez Next
Surging UFC lightweight Dustin Poirier wants to face Eddie Alvarez or Michael Chiesa in his next bout.
Feb 28, 2017
by Duane Finley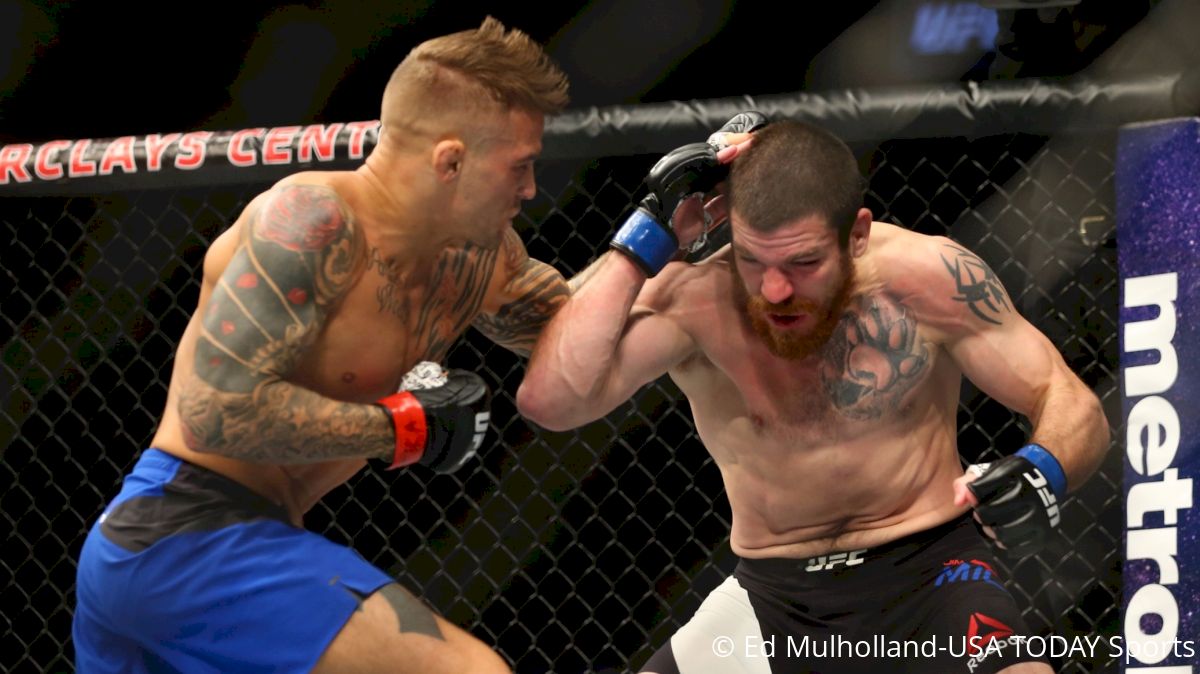 Comfort isn't something Dustin Poirier is conditioned to allow himself.
The sport he's been a part of since his teenage years comes with very few luxuries intact, and even those breaks or intermissions have been shortened to due to his commitment to the craft. The only way to further a skill set is to stay on the grind, and Poirier is one of the hardest workers in the game.
Coming up in a hard-knock environment, Poirier learned the value of hard work at a young age.
"I've never been afraid to put in the hours at the gym," Poirier told FloCombat. "I think that's one of the things that sets me apart from others because no one is going to outwork me in this game."
Yet, as both life and career progress, and things become more complex in every regard, decisions need to be made on all fronts. Using the same approach as he does inside the Octagon, "The Diamond" meets every issue head on.
The 28-year-old lightweight isn't one to sit back in the cut and wait for things to come his way. Instead, Poirier attacks the issues in front of him, and that's precisely how he handled the recent decision to relocate his family back to his native Louisiana.
After spending the past five years living in Coconut Creek and training at American Top Team, the devoted husband and father chose to return to his old stomping grounds. Poirier will remain part of the ATT squad and do the entirety of his fight camps in South Florida, but the surging contender felt it was time to do right by his family.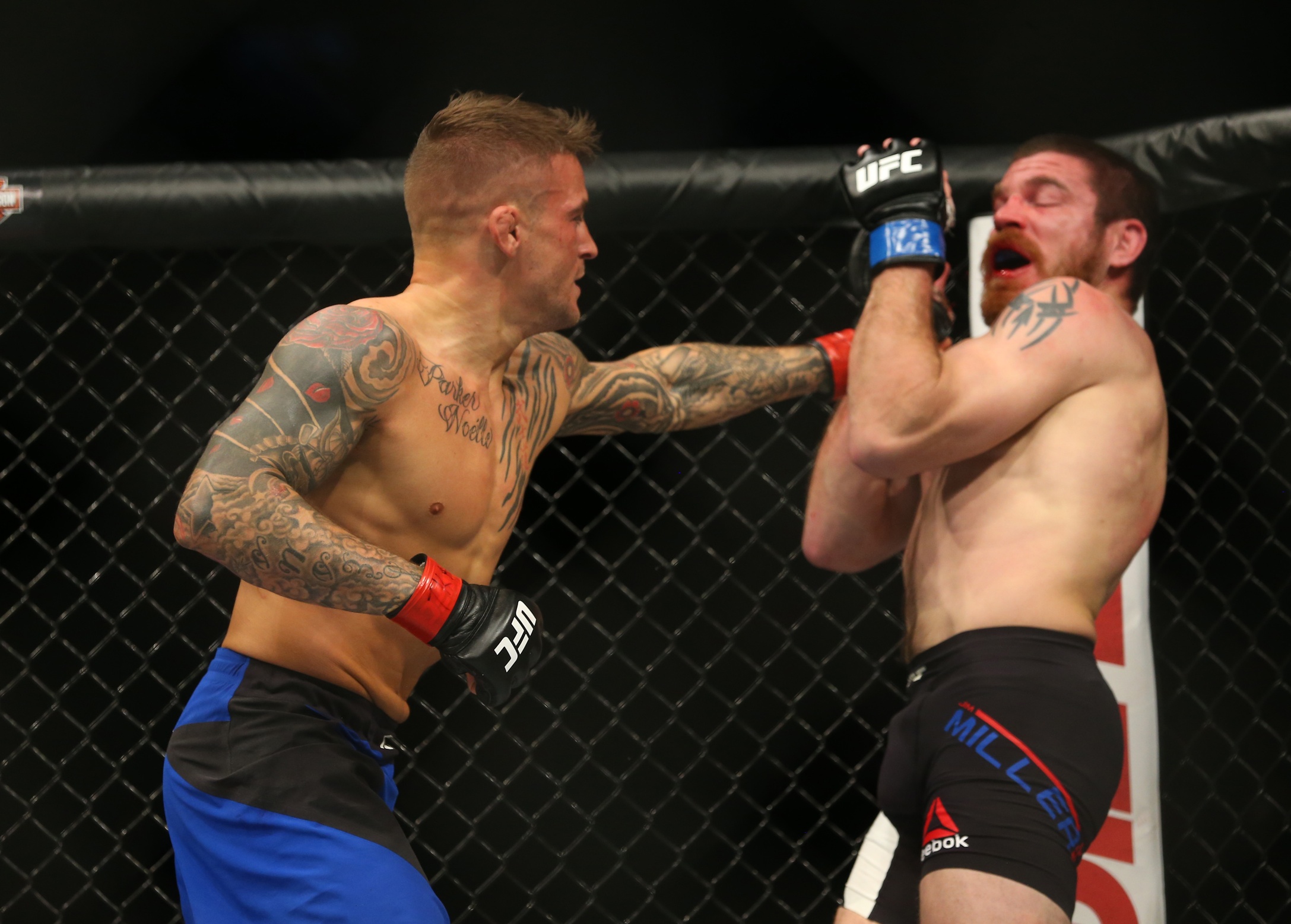 Feb 11, 2017; Brooklyn, NY, USA; Dustin Poirier (red gloves) fights Jim Miller (blue gloves) during UFC 208 at Barclays Center. Mandatory Credit: Ed Mulholland-USA TODAY Sports
"I bought a house here and I'm going to be moving my family back," Poirier told FloCombat from Louisiana. "I'm still going be doing my training camps in Florida, but it was just time, man. My daughter is six months now and my wife wants to go back to school or start a business. She actually quit school to be with me in Florida 4.5 year ago.
"My daughter needed to be around family, and I can't take that from her. I want her to have grandmas, aunts, uncles and cousins and there's no better time to come back to Louisiana. I was worried about training partners and the fight scene out here, but a couple of my buddies have gyms. I also know some friends who are good in all areas so that allows me to get good training in and keep my bases covered.
"When that next fight is signed I'll be on that airplane to Florida."
While Poirier came up in the Lafayette fight scene and was the focus of an award-winning documentary "Fightville," the talented striker quickly outgrew the limited training options available in his hometown. Poirier needed something more advanced, and decided to move his training, and eventually his family to South Florida.
As a member of American Top Team, Poirier quickly realized he was a small fish in a big pond, and immediately set about changing that status. Nearly five years in, and the hard-charging lightweight is not only one of the most successful fighters at ATT, but holds one of the brighterst futures as well.
Nevertheless, now that his family has expanded and he's entering the prime years of his career, Poirier believes it's time to strike a different type of balance.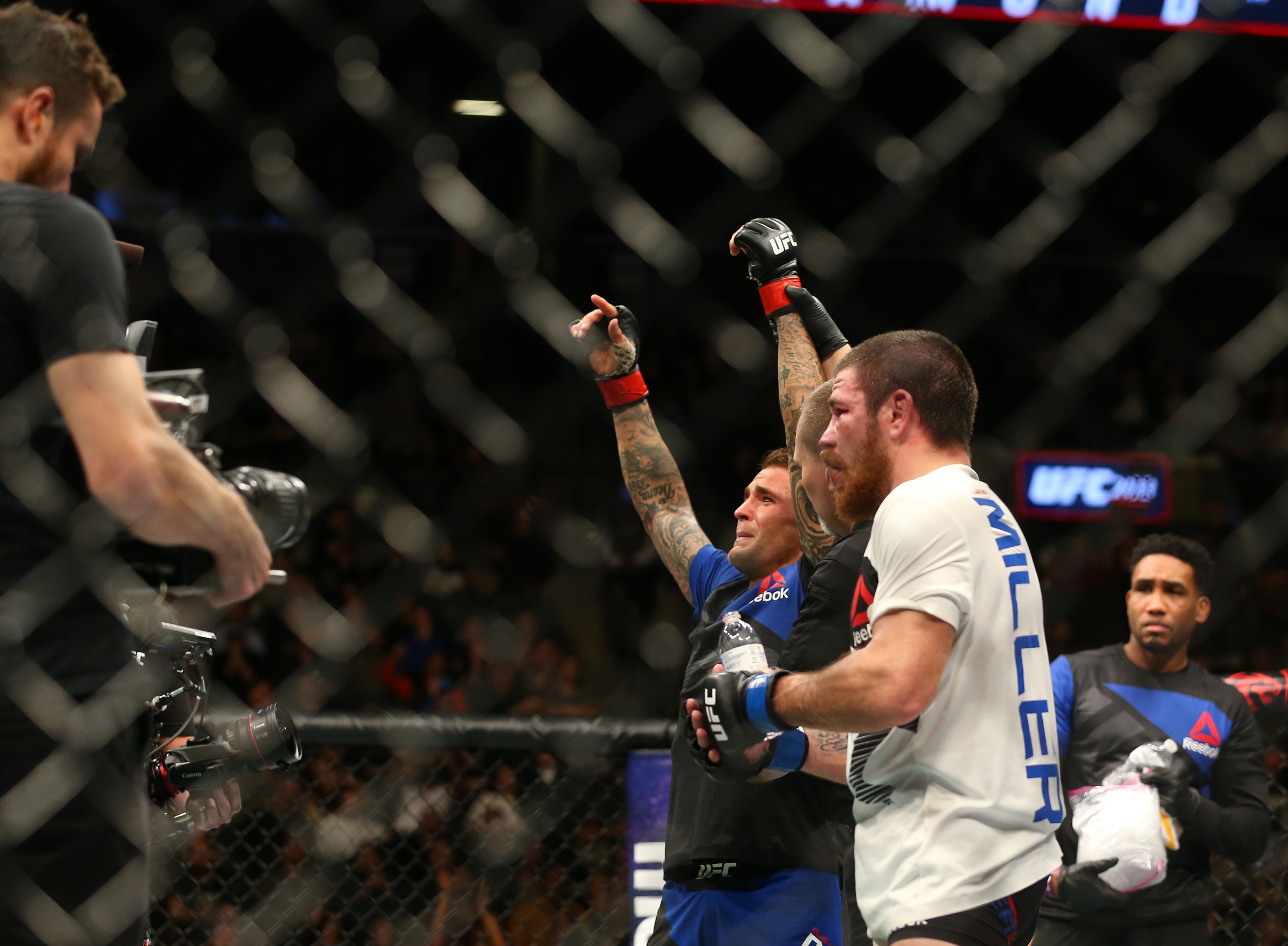 Feb 11, 2017; Brooklyn, NY, USA; Dustin Poirier (red gloves) raises his arms in victory after defeating Jim Miller (blue gloves) during UFC 208 at Barclays Center. Mandatory Credit: Ed Mulholland-USA TODAY Sports
"This was always the dream and the goal, and I feel comfortable enough in my skill and my career to make it happen," Poirier said. "I'm excited about it too because it's been nearly five years since I've been in Florida and it feels like I've been in training camp that entire time.
"I've been living a mile and a half from the gym so I'm there every day and night because everything is under one roof. It's kind of refreshing to get back to a small town where I have to travel different places to get the training I need. It brings things back to the roots, but when I'm ready to start my official camp everything is back in one place again.
"After every fight I come home to visit family and friends and we started looking at houses," he added. "We found one we really liked and it was before the Miller fight. I told my wife I didn't want to go into the fight thinking I had to win in order to support my family so I just went ahead and bought it. I'm confident in my skills and my career. I'm glad I made the decision."
Poirier was facing a bit of turbulence leading into his last fight against Jim Miller at UFC 208 in Brooklyn, NY. He was coming off his first loss in the 155-pound division, and needed to get things back on track in order to keep his top tier status in the talent-stacked lightweight ranks.
Standing opposite of him inside the Octagon was the always gritty Miller, who had been enjoying a resurgence over the past year. What ensued was a 15 minute battle of wills, with both men giving their all over the course of the three round affair. The end result saw Poirier's hand raised, and despite a severe limp on his right leg, the American Top Team product suffered no damage in the fight.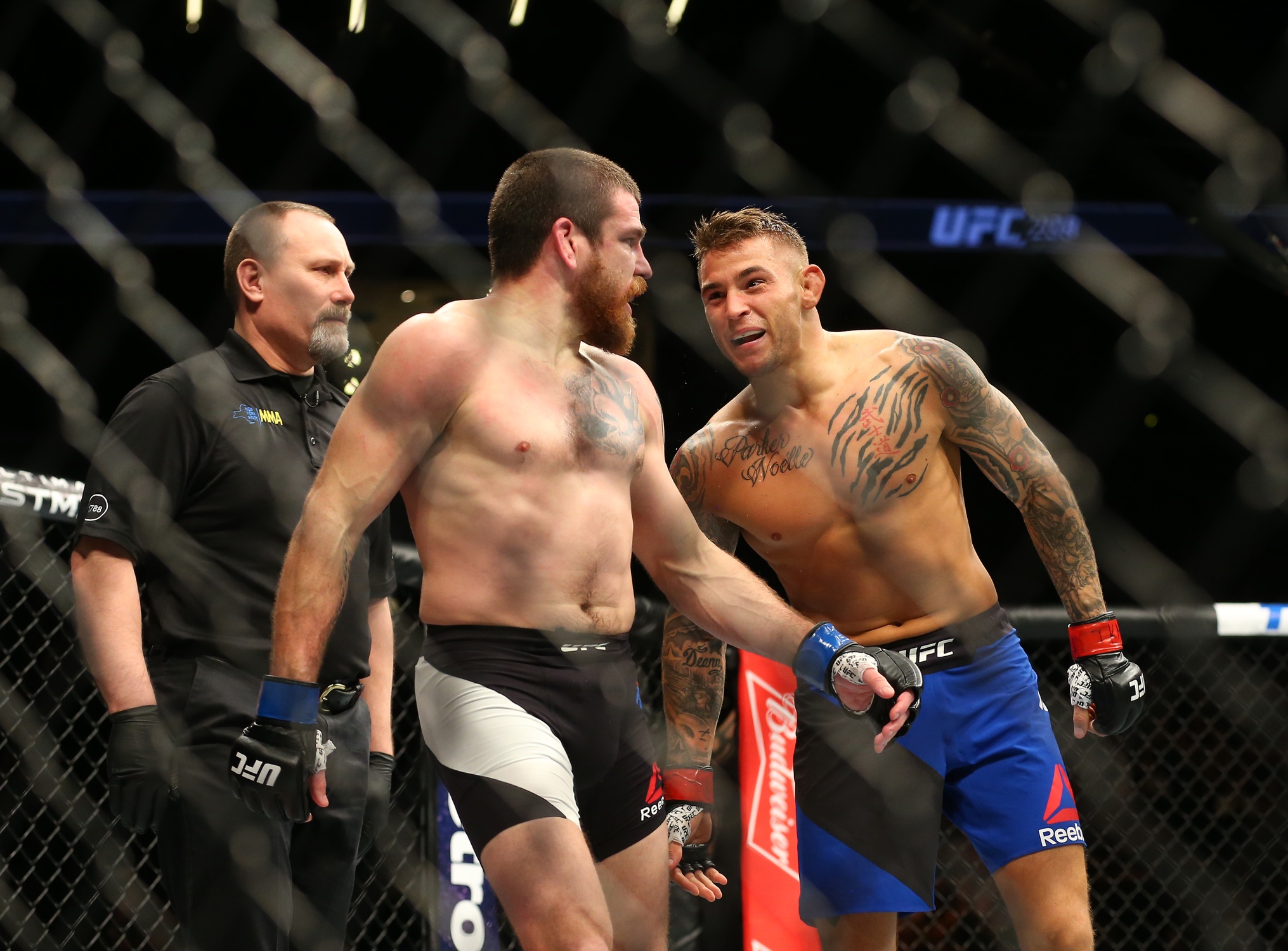 Feb 11, 2017; Brooklyn, NY, USA; Dustin Poirier (red gloves) fights Jim Miller (blue gloves) during UFC 208 at Barclays Center. Mandatory Credit: Ed Mulholland-USA TODAY Sports
"Miller was a tough guy and it was a fun fight. I really enjoyed it," Poirier said. "Those calf kicks caught me off guard and are a whole different thing. You can check leg kicks but calf kicks are a different story. It's rare to see another southpaw standing in front of you to begin with, and especially one throwing calf kicks. I wasn't prepared for it.
"They were busting my balls because I went out there and brawled when I said I wasn't going to, but if you look at that fight I didn't take any damage. My face was just as pretty going out as it was going in.
"I'm a fighter. That's who I am, and when you go out there committed to finishing your opponent any chance you get, fights are going to get f*cking ugly, man," he added. "There's no way around it. If technical brawling is a thing then I guess I'm that, but I get in there to fight and I believe I showed improvements. I have a lot to work on and I'll keep getting better because I'm not afraid to put in the work."
Poirier doesn't currently have another fight booked on the schedule, but rumors of a bout with former champion Eddie Alvarez have been circulating. While Poirier confirmed there's been no contact between him and the UFC regarding the fight, he was adamant it would be a matchup he'd be extremely interested in.
Another opponent he has his eye on is Michael Chiesa, and Poirier would be more than happy to step in and throw hands with either man for his next go.
"The perfect time for me would be July. That gives me plenty of time to set up a camp and would put me in a position to fight three times this year. Obviously if the UFC comes with something sooner and it's the right fight I'll step in and take that, but otherwise I'm shooting for July.
"There's a lot of rumors floating around about my next fight but I'd definitely be down to scrap with Eddie Alvarez. I think that would be a great fight, and with him being the former champion that's exactly the type of fight I'm looking for. I'm also up for fighting Michael Chiesa as well. Either of those fights would be a perfect next step for me."