FloCombat Road Trip (#FCRoadTrip) -- West Coast
Benson Henderson Gives Surprising Toothpick Update
Benson Henderson Gives Surprising Toothpick Update
Benson Henderson discusses his signature toothpick from all angles, dropping a surprising update in the process.
Feb 28, 2017
by FloCombat Staff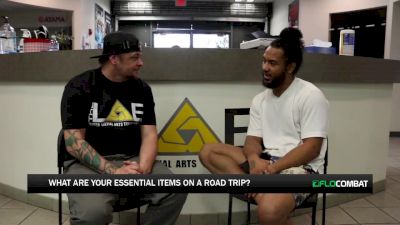 Benson Henderson brings the flair to the cage.

From his flowing locks to his flashy kicks, Henderson's style has made him one of the most recognizable figures in the stacked 155-pound division since his WEC debut in 2009.

Perhaps nothing, however, is more signature to the "Smooth" one than his toothpick, an accessory that has—allegedly—joined him inside the cage on fight night a time or two.

Speaking with FloCombat's Duane Finley at the MMA Lab in Phoenix, Arizona, during the FloCombat Road Trip, Henderson discussed #ToothpickGate, clearing the air from all angles.

"I might have fought with it in once or twice before," Henderson said. "But really [it's] just a bad habit. I would have it in, I'd forget it was in, and I'd go through warm-up, and I'd go through everything and I'd walk in the cage, like, 'Oh yeah. I have a toothpick in.' Oh well."

Prior to this revelation, Henderson gave an unfortunate update to the life and times of his wooden friend.

"I've been doing it [chewing on the toothpick] a little less," Henderson said. "I don't have the toothpick now, because I have my little boy running around. One of my biggest fears is he's going to be like six years old and he's going to have a toothpick in his mouth because he saw me have it, and he's going to run around, and he's going to swallow it and choke and I'll be like 'Noooooo!' I've learned my lesson, and now I don't do the toothpick as much, especially because of my son."

That explanation is reasonable on all levels, and it becomes even more understandable when you consider where Henderson himself picked up the habit.

"My mom said that it started when I was pretty young I guess, when I was like nine or 10 or something like that," Henderson said. "I would see my dad have a toothpick in, so then I would always want to have a toothpick in. So it started pretty young."