FloCombat Road Trip (#FCRoadTrip) -- West Coast
Ryan Bader Talks Phil Davis Rematch in Bellator
Ryan Bader Talks Phil Davis Rematch in Bellator
Free agent Ryan Bader is hoping to lock down Bellator deal and title fight with Phil Davis.
Feb 25, 2017
by Duane Finley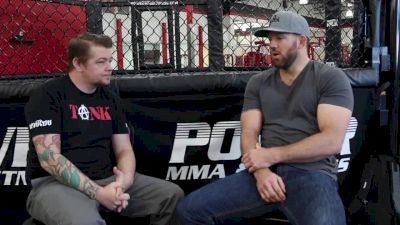 Ryan Bader has been eyeing championship gold for a long time.

The perennial UFC light heavyweight contender lingered within striking distance of a title shot for years, but was never able to capture the opportunity to compete for championship gold. Setbacks in crucial tilts mixed with the downside of promotional politics kept The Ultimate Fighter winner on the outside looking in, but all signs to Bader's luck changing in 2017.

The Power MMA leader decided to fight out his contract with the UFC and test his value in the open market, which turned out to be a wise move. With Bader being in his prime and one of the top ranked light heavyweight fighters in the world, Bellator wasted zero time making a play to sign him. After a short negotiation period, the two parties came to an agreement, and it was an offer Bader is more than happy with.

And while the UFC still has matching rights to his contract and is currently examining the offer on the table, Bader has already shifted his focus what could very well be his next fight inside the cage.

Where some fighters prefer to take a warm up bout when crossing over promotions, Bader isn't interested in any side steps. He wants his Bellator debut to carry the highest stakes, and the only way for that to happen is to put a title up for grabs. Fellow former UFC fighter Phil Davis is the man currently holding the light heavyweight strap, and that's the fight Bader wants next.

As the last man to defeat Davis inside the cage, Bader believes the champion has plenty of incentive to take the scrap.

"That's the fight I want," Bader told FloCombat. "I'm not one of these guys who is coming over at the tail end of their career and trying to grab a couple of paychecks. On our side, we want to go in right away and I don't think people will complain about leapfrogging anyone. I'm ranked No. 4 in the UFC. I'm 7-1 in my last eight fights. It's one of those things where I could jump in and fight for the title right away and I don't think too many people will complain.

"It wasn't about saying this isn't enough money and it's time to move on. It's about the opportunity and what's best for me. In this sport you have to look at things selfishly. With Bellator it was about sitting down with Scott [Coker] and Rich [Chou] and figure out where Bellator is going and what the plan would be for me. They had a plan and that felt great. I like moving more into a flat fee too which is nice. I see the rationale by doing a show and win bonus because it makes guys want to go out and secure that win bonus, but I think it detours it a lot with different fights. With a flat fee you can go out there and let loose."