FloCombat Road Trip (#FCRoadTrip) -- West Coast
FC Street Fight Stories: Mackenzie Dern Knuckles Up With Bully
FC Street Fight Stories: Mackenzie Dern Knuckles Up With Bully
Jiu-jitsu phenom turned MMA prospect Mackenzie Dern recalls fighting a bully in high school.
Feb 25, 2017
by Duane Finley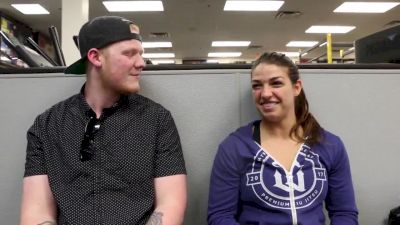 Don't let Mackenzie Dern's smile fool you.

Underneath her girl next door looks and the mega-watt joy and positivity that radiates from her persons, there is a savage beast lurking. The 23-year-old Arizona native has proven to be damn near unstoppable in the highly competitive world of jiu-jitsu, and has continued that success in mixed martial arts as well. Dern has won both of her showings inside the cage, with her most recent victory turning heads in both BJJ and MMA alike.

The talented young phenom locked in a rarely seen Imanari choke that forced Montana Stewart to tap and secured the win at Legacy Fighting Championship 61 in Dallas, TX. Dern's choke was an immediate contender for 2106 "Submission of the Year" and she'll be looking to keep the tremendous amount of buzz surrounding her cranked on high when she returns to the cage next month.

The MMA Lab representative's rise to stardom in combat sports has been sudden and meteoric, but Dern is no rookie when it comes to mixing it up. During her interview for the #FCRoadTrip, the Abu Dhabi world champion recalled the only time she was forced to knuckle up outside of competition.

"I've only been in one fight in my life that wasn't jiu-jitsu and it was at school," Dern told FloCombat. "I got into a fight at school with a girl. She was a little bit like a bully, and I swear I'm a lover not a fighter. It's not typical to see me in fights, but she actually punched one of my guy friends. He came over to tell me and he wasn't going to punch the girl. It was completely out of nowhere that she punched him and she's way bigger than him and everything. I was so protective of him because I'm so against girls hitting guys and vice versa.

"I talked to her and asked her why she punched my friend, but everyone was standing around and things escalated quickly. We got in a couple of punches and I like mounted her before the security guards came and separated us. I got suspended, but even the Principal was proud of me. They know I do jiu-jitsu and this girl had been in a ton of fights. They were proud I was able to use my martial arts, but that was crazy stuff."