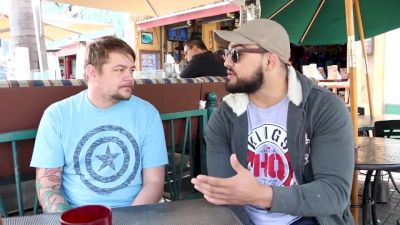 There is a greater purpose for every journey.

When the idea to do a road trip project first started knocking around in my mind back in 2013, the concept was extremely raw with edges tattered, jagged and torn. I had no firm idea as to why driving across the country and talking to fighters from every gym would matter or if it would even take hold for that fact. The only thing I did know was the feeling pecking away from the inside was not going to subside without action.

Therefore I dedicated my entire 2014 to bringing this passion project to life. If you are new to the sport or just now getting around to following my penchant for wacky endeavors that take me and the FloCombat crew around the country, there's no better time than now to give those interviews. And while my pursuit of the initial road trip project nearly cost me everything I hold near and dear to my heart, the relationships forged and knowledge gained along the way kept the value of the endeavor high despite massive amounts of personal strife.

While Bleacher Report and I would part ways in 2015, the road trip project continued to be a major force in my life. Driving out and going to the gyms where fighters who fascinated me trained opened my eyes to a new level of depth achievable in interviews. Making the time and sacrifices necessary to venture out and hang with athletes in their respective elements was the key to the next phase of my passion and that drive led me to New Mexico and six weeks with Carlos Condit in the lead up to his fight with Robbie Lawler at UFC 195.

Although the content created instantly became what I was best known for in the MMA storytelling realm, it wasn't just the quality of emotional goods mined that set the project apart from everything else I'd done up to that point. Over the years I'd flirted with the Gonzo form of storytelling, but never had the courage to pull the actual trigger on something feature length.

With the Condit scenario being a freelance project for MMA Junkie/USA Today, there was never any restrictions placed upon me. In fat it was quite opposite. Junkie's managing editor Dann Stupp encouraged me to dive in and don't look back, and that's precisely what I did.

When I received the position to launch and run FloCombat last April, I did so under the condition the site would be built in my vision. This meant tons of fighter features and breaking news whenever the opportunity presented itself. The thing we were not going to do was aggregate news, which is a tool used by every site in the MMA space in some form or another.

Instead, all of the available resources at FC would go to telling fighter stories and doing it better than anyone else in the sport. Fast forward 11 months and we've carved out our place as exactly that. The pressure to aggregate and rehash news gets stronger every day, but if there is one thing to know about my character as a writer and as a leader it's that I'm steadfast and stubborn.

We are constantly trying to take our stories deeper and further, and Hunter Homistek's idea to do another road trip was the perfect opportunity to expand our approach.

Hunter was with me during the final leg of the trip under the BR banner, and one thing he pointed out back then was the lack of interaction with the reading, listening and viewing audience. Being the social media guru for the site the Big Glow wasted no time making an impact on those avenues, but once again it was the sit down interviews with the fighters where the most insight was found.

One by one, city by city they welcomed us with open arms. No matter if they had a fight on deck or were just chilling, working and waiting, the fighters who came out to participate in the project did so with excitement and motivation.

And therein lies the reason for the video above.

Nearly 40 fighters were interviewed on the opening leg of #FCRoadTrip project and all had something to add in regard to why taking the time to come out to where they train was so greatly appreciated. From a former champion like Dominick Cruz to a future titleholder like Mackenzie Dern, fighters are willing to take the time if it means they can be understood because that's all anyone could ever ask for.