BAMMA 28
BAMMA Matchmaker: The Time Is Right For Parke Vs Redmond Fight
BAMMA Matchmaker: The Time Is Right For Parke Vs Redmond Fight
BAMMA matchmaker Jude Samuel says the main event between Norman Parke and Paul Redmond is almost impossible to predict
Feb 23, 2017
by Jim Edwards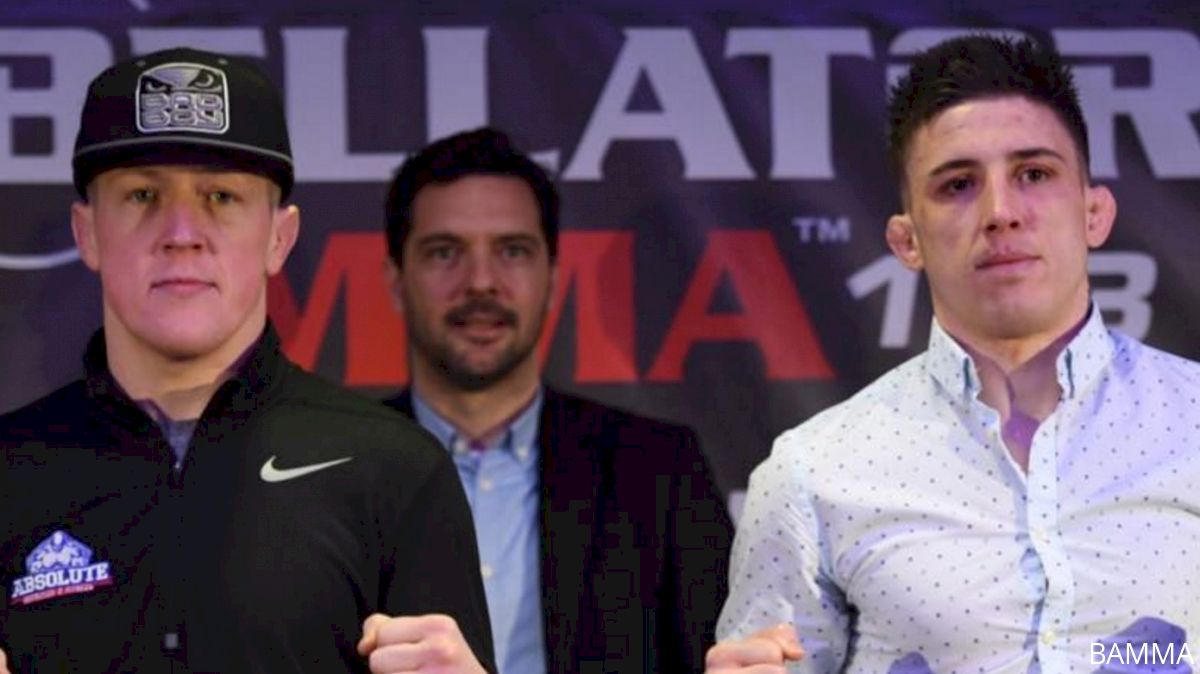 The role of a matchmaker is never easy. There are always different ways to go about things and whatever fights you decide to make there's always going to be one, if not more, other fighters not even involved that are going to be left feeling disappointed. This Friday's BAMMA 28 fight card, however, has been drawing praise from all over.
With no fewer than four BAMMA titles up for grabs, familiar faces, new blood, and young talent are all getting a crack at the gold and this is by and large down to the efforts of chief BAMMA matchmaker, Jude Samuel.
Four title fights at BAMMA 28
Speaking exclusively to FloCombat this past week, Samuel talked about the thought process that went into putting four title fights on the card and why he decided to stack the main card with championship bouts.
"There are a couple of reasons why we've done this, but the first and most obvious one is that we've got a number of divisions where we've had our champions move on so their positions have needed to be fulfilled," Samuel said. "Secondly, our fighters need goals, as human beings, we need to have targets and goals to achieve stuff and better levels of performance. It's exciting for the fans and fighters when there is something on the line so that's the reason why we've done this.
"It just made sense to make four title fights. It's not like we doing a plethora of shows throughout the year either, we only do a few shows so the opportunity was there to do and it made sense--so we've done it. It's great that with having fewer fight cards it means we can really stack every one of them and make them special. The title fights just add fuel to the fire."
Why the time is right for Norman Parke vs. Paul Redmond
After talking up the other titles fights and the opportunities that have been made available to newcomers Dominique Wood and Tim Barnett, Samuel talked about the main fighters Norman Parke and Paul Redmond.
Before making their way to the UFC, both Parke and Redmond fought on the Irish and British circuit for several years and many thought they would end up fighting one another. Somehow or other, the fight never really made sense at the time, but now, Samuel says the opportune has finally come together and the pair will now finally lock horns in the main event of BAMMA 28 on Friday night.
"I think it's the right moment for this fight to happen for both of them," Samuel said. "Arguably these are the two best lightweights from the Green Isle, both the north and the south. This just made sense to put them together. These are two guys that used to be in the UFC and now they are looking to bounce back in a big way. This is Ireland's biggest domestic lightweight fight in a very long time.
"No one knows what's going to happen. I've heard loads of predictions and stuff like that, but we really don't know what is going to happen. They could end up striking, grappling or whatever. At the end of the day, we just don't know what that hell is going to happen, that we have to find out on Friday night. It could be the worst fight ever, it could be the best fight ever. Regardless we're all going to tune into watch and see what happens."
The relationship between BAMMA and Bellator
Last week in the Irish press, former BAMMA and current Bellator featherweight James Gallagher was quoted as saying "Bellator need to drop BAMMA", with the quote placed in the context that the latter was dragging the former down. Samuel didn't want to comment much on that comment in particular but did want to reaffirm to everyone that the relationship between BAMMA and Bellator was very strong.
"I don't know whether it was taken out of context so I can't really comment on that," Samuel said. "The relationship between BAMMA and Bellator is extremely tight and if you think differently you're either smoking something crazy or drinking the wrong tea in the morning. It's a good relationship actually and I think everyone is growing to love the crossover between the two promotions.
"It's refreshing to work with new people and new methods. It's good, I'm learning and so is everyone. I think it's helped improved us all and I think UK and Irish MMA are benefitting from it no end. There's no way that both promotions could have done what they have with that last event in Dublin if they hadn't of joined forces. Forget what you hear, it's a strong, healthy relationship trust me."
Something big is coming
While the relationship is solid, Samuel wasn't able to say whether BAMMA would be a part of Bellator's London show on May 18. He was, however, promising that BAMMA had something very big in the works and that an announcement would be coming soon.
"I don't know about May yet, I've not been told anything for definite," Samuel said. "What I can say is there is something very big coming in regards to the BAMMA events that we will be doing this year--it's going to be sick--totally off the charts.
"You have to understand here Jim, whenever there is a bar to be reached we get there, albeit sometimes you might say eventually. It started off with the arena shows, the broadcast deals and now we have a cooperation working with one of the best MMA promotions in the world with Bellator. It just gets better and better so when I say that there is some stuff planned for this year and events planned for this year that are big, believe they are big and it's coming."
How to Watch BAMMA 28
ON TV:
Now Available on Roku and Apple TV 4
STREAMING:
Available only on FloCombat to North American viewers. Sign up today for $20 monthly or $150 yearly. Yearly FloPRO access gets you premium content and events from ALL FloSports sites, including FloWrestling, FloBoxing, and FloGrappling.