BAMMA 28
Bellator 173: James Gallagher Ready To Do Strabane Proud
Bellator 173: James Gallagher Ready To Do Strabane Proud
James Gallagher fights Krill Medvedovsky at Bellator 173 in Belfast, Northern Ireland and says he's going to get the job done fast
Feb 22, 2017
by Jim Edwards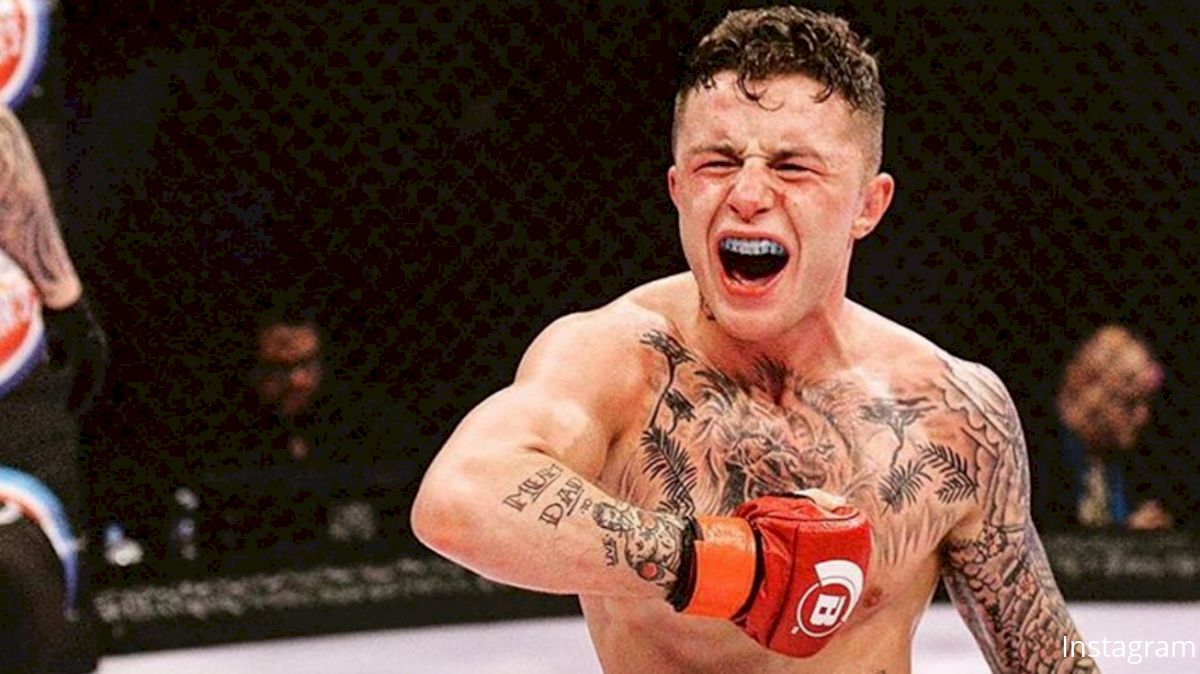 This Friday, Bellator MMA make their way across the pond to Belfast, Northern Ireland for Bellator 173 which goes down on Friday night.
Just a few days ago, the planned main event between Chris Fields and Liam McGeary fell through following an injury to the Irish fighter. Luckily, a replacement was soon sorted, but the whole matter was rather trivial anyway. According to one man, James Gallagher, the Irish fans on Friday night are turning up for thing--to see him.
Gallagher, 20, is from Strabane, Northern Ireland and is a product of SBG Ireland under head coach, John Kavanagh. Having signed for Bellator in 2016, Gallagher has two wins under his belt in the promotion and with fight number three just around the corner, he couldn't contain his excitement when speaking exclusively to FloCombat earlier this week.
"I'm perfect, I couldn't feel better," Gallagher said, three days out from the fight. "My weight is good, I got loads of energy and I'm just ready to cave someone's head in now--that's all there is to it."
Having only just fought on Dec. 16 at Bellator 169 in Dublin, Ireland, some fighters might not have liked the short turnaround going from fight camp to fight camp. Gallagher said in his world, fight camps don't exist and he's training every day regardless of whether he has a fight or not.
"It's easy for me man," Gallagher said. "It's no different to me--I'm in the shape of my life right now coming off that win December. I feel like I've grown a lot in these last few months.
[instagram url="https://www.instagram.com/p/BQI3UASAEs1/?taken-by=james1gallagher" hide_caption="0"]
"This is what I do anyway--maybe I go a little harder if there's a target or something, but it's not like camp one, camp two, I'm just training the same way I do when I don't have a fight."
Gallagher takes on Israeli fighter, Krill Medvedovsky who walks into the cage on Friday night with over twice the number of professional fights. Gallagher said the name or history of his opponent matters very little to him and that when the cage door closes, the result will always be the same, regardless who he's in there with.
"I'm not focusing on anything but caving his head in," Gallagher said. "That's all I need to think about. There's nothing else I need to be focused on right now--it's the only thing that's been on my mind. Nothing can take my focus away.
"Whether they talk before a fight or whether they say nothing at all--it's all the same thing to me. Whether he's shouting his mouth off or say nothing at all, I'm going in there and I'm going to get it done early. Whether I light him up with a few shots early on and knock him out, or whether I get his back early and choke him out--whatever happens, it's all the same."
The SBG Ireland man has been blown away by the build-up and excitement in his local town of Strabane, Northern Ireland as the fight gets ever closer. Gallagher said his supporters were coming in numbers on Friday night and that they will be making their voices heard in what will no doubt be a crazy atmosphere.
"I can't even walk up the street this week," Gallagher said. "It's amazing, the whole place is coming. You're going to see them on Friday night it's going to be something else. The people of Strabane always get behind me. It's great and I love it--they make me feel like a king and I can't thank them enough for that.
[instagram url="https://www.instagram.com/p/BPugiJ2A7_Z/?taken-by=james1gallagher" hide_caption="0"]
"On Friday night, I'm going out there and I'm going to be doing them all proud. This is going to be another Gallagher show. Am I not the main event? Let's see what happens when the place is packed out for my fight and then as soon as I win the place will be empty--just like the last time in Dublin."
With Bellator heading to London in May, Gallagher said he's no doubts whatsoever--he wants on that card and when he's finished the job on Friday night, he knows exactly the man he's going to be asking for.
"100-percent I'm going to be on that card," Gallagher said. "After it's done on Friday, I'm going to make it known who I want to fight on that card. In the meantime, I know right now I've got this guy on Friday in front of me and he's in the way.
"I will remove this man very quick--there's no way I'm not going to be fighting in London."
[instagram url="https://www.instagram.com/p/BQd3MzXBX-E/?taken-by=james1gallagher" hide_caption="0"]