BAMMA 28
BAMMA 28: Damien Lapilus Ready To Take Out Ronnie Mann
BAMMA 28: Damien Lapilus Ready To Take Out Ronnie Mann
Damien Lapilus takes on Ronnie Mann this Friday night for the BAMMA featherweight title at BAMMA 28
Feb 23, 2017
by Jim Edwards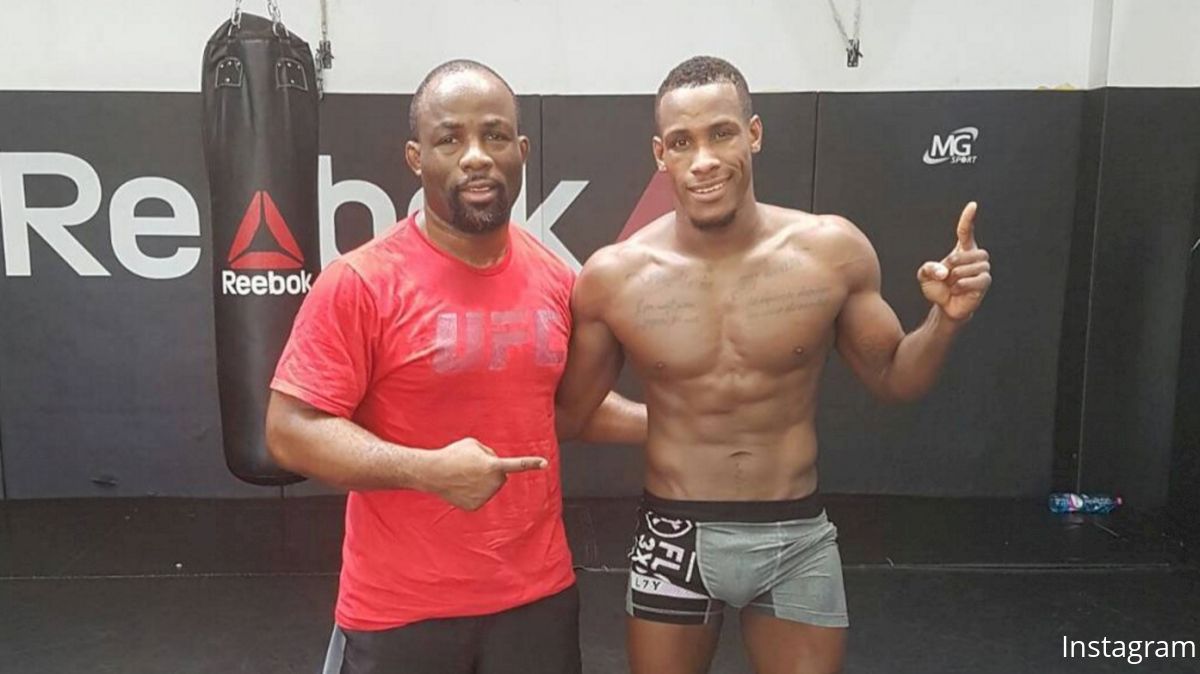 We are now less than 48-hours away from BAMMA 28 and the excitement is building every minute.
The card will feature no fewer than four title fights and with a preliminary card featuring all manner of up and coming British and Irish fighters, it's sure to be an unforgettable night at the SSE Arena Belfast.
One you won't be wanting miss out on is the Frenchman, Damien Lapilus, the elder brother of UFC talent, Taylor Lapilus. At the age of 27, Lapilus has a wealth of experience inside the cage with twenty-two professional bouts under his belt. While experience these days is something where he normally has a clear advantage, this Friday he faces a man with thirty-four pro fights to his name--Ronnie Mann.
Speaking exclusively to FloCombat this weekend with the help of a translator, Lapilus said he was looking forward to putting on a quality performance for everyone to admire.
"I'm very, very excited about coming to Belfast and fighting," Lapilus said. "I'm going to be the next featherweight champion. I will have a nice belt to take home to France on Saturday."
On Friday evening, Lapilus will go toe-to-toe with former Bellator veteran, Mann. The two will fight for the BAMMA featherweight title fight and the Frenchman says he knows what to expect from the Englishman.
"Ronnie is a very impressive, very strong man," Lapilus said. "He has a very aggressive style and I know he's a very good striker.
[instagram url="https://www.instagram.com/p/BLwF4rSDxvq/?taken-by=damien_lapilus" hide_caption="0"]
"That said, I still have advantages over him everywhere. He can't handle what I will bring on Friday. My standup is crazy and better than his. On the feet, my standup is going to be a poison for Ronnie Mann--he will not be able to handle it."
Such is the Frenchman's confidence heading into the bout, he thinks the cageside judges won't be needed and that the bout will be over well before the full fifteen minutes are up.
"My striking will be so much better than his I will win quickly," Lapilus said. "I will win by Technical knockout referee stoppage, or I will win by straight knockout. I don't mind either, but he will fall."
Irish fans are expected to pack out the SSE Arena Belfast on Friday night and Lapilus is expecting a lively atmosphere. With neither of the two men local to the area, the Frenchman is hoping they will get behind him and cheer him instead of the Englishman.
"I'm very excited to see the public who come to the event," Lapilus said. "Northern Ireland is a very good country and I'm very much looking forward to putting on a show for everyone there.
"I'm sure these people are going to love me. They may not be cheering me when I first enter the arena, but rest assured, by the end of the night they are all going to be Damien Lapilus fans. I will put on a show for them that they will never forget."
In the main event of BAMMA 28, Northern Ireland's own Norman Parke will face Paul Redmond for the BAMMA lightweight title. Before being offered Redmond, it's well documented that Parke was offered a fight with Lapilus, however, he turned it down in favor of taking on Redmond because he thought it would sell better.
Lapilus obviously wasn't all that impressed when he heard about this and the tone of his voice changed a lot compared to when he was talking about fighting Mann.
"I laughed when I heard about this--Norman Parke chose the easy fight for himself," Lapilus said. "He chose a bigger name rather than a bigger fight, I guess you can understand it, but it says a lot about the man.
[instagram url="https://www.instagram.com/p/-ZSBaXgpug/?taken-by=damien_lapilus" hide_caption="0"]
"All I can say is when we are both champions of lightweight and featherweight, we can meet somewhere in the middle and settle it then. Then we will see who the big name is after that."
Damien's brother Taylor is currently fighting in the UFC and has won three out of his last four fights. The older brother's ambition is to join is brother there by the end of the year and he sees BAMMA as the perfect promotion to help him do that. He also wanted to send out a final message to the fans watching around the world and attending BAMMA 28 on Friday night.
"I want to be in the UFC by the end of 2017," Lapilus said. "On Friday I will send a very clear message to all the featherweights around the world with my performance.
"I'm 'The British Hunter' and I'm coming to Belfast to take out my first victim--Ronnie Mann. No will stand in my way, not Mann, not anybody. After Friday night, people watching won't ever forget the name Damien Lapilus."
How to Watch BAMMA 28
ON TV:
Now Available on Roku and Apple TV 4
STREAMING:
Available only on FloCombat to North American viewers. Sign up today for $20 monthly or $150 yearly. Yearly FloPRO access gets you premium content and events from ALL FloSports sites, including FloWrestling, FloBoxing, and FloGrappling.