BAMMA 28
BAMMA 28: Ronnie Mann Says Just One Right Hand Will Break Damien Lapilus
BAMMA 28: Ronnie Mann Says Just One Right Hand Will Break Damien Lapilus
Ronnie Mann is ready for his BAMMA featherweight title fight with Damien Lapilus at BAMMA 28 in Belfast, Northern Ireland
Feb 22, 2017
by Jim Edwards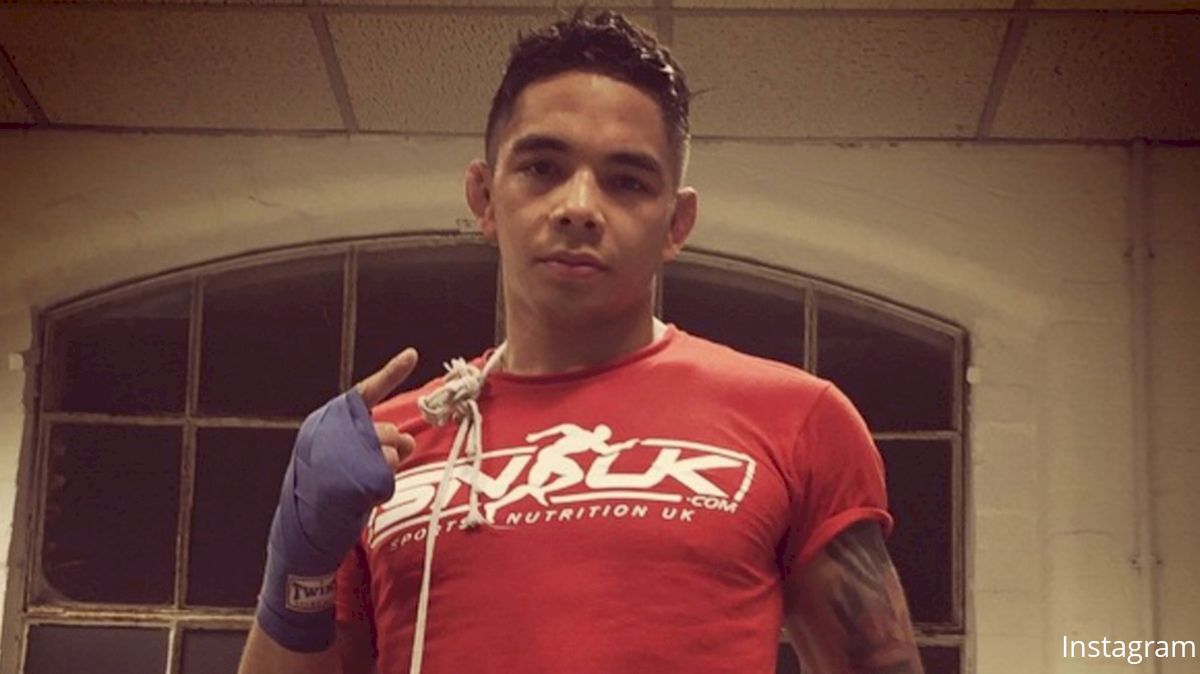 There's plenty of up and coming talent on the BAMMA 28 card this Friday, but Ronnie Mann is anything but at the start of his career.
Mann will walk into the cage on Friday night for his thirty-fifth professional bout having debuted all the way back 2013. Speaking exclusively to FloCombat at the beginning of the week, Mann said he was very excited about his BAMMA featherweight title showdown with Frenchman, Damien Lapilus.
"I'm feeling really good and I'm just excited to finally get in there again," Mann said. "I was meant to fight on the last card in Ireland, but that got pulled at the last minute because my opponent got injured.
"After that, all got stopped I was gutted so to be so close to actually fighting again now, I'm really looking forward to it.
Having previously fought in Japan and in Bellator for two years, Mann walks into the fight with a wealth of experience. Lapilus though, has twenty-two bouts himself already under his belt and Mann knows he's got a tough test in prospect on Friday.
"He's a good, tough guy--I know that," Mann said. "He's southpaw so he's a bit awkward and I know that has thrown some of his previous opponents off. Obviously, he's also coming down from a higher weight class as well, but to be fair, I don't think that's going to play too much of a part of the fight.
[instagram url="https://www.instagram.com/p/BPn46j5B7w0/?taken-by=ronniemann86" hide_caption="0"]
"I just think he's one of those awkward fighters and I know I've got to make sure that I've got my s*it together. I see myself landing one good clean right on his chin and his legs buckling. That's it--it's going to be that simple--short and simple."
Mann, 30, was born in Thailand but fights out of Cheltenham, England. He may not be a hometown hero to the crowd on the night, but he's expecting the atmosphere to be lively and he's hoping he can feed off it.
"Judging by the last BAMMA and Bellator show I went to in Ireland I think it's going to be mad," Mann said. "I'm expecting the SSE Arena Belfast to be exactly the same really. I think it's going to be absolutely packed out and that there will be a load of crazy Irishman getting drunk and having a good time. It's going to be a big one."
While some believe that old dogs can't learn new tricks, Mann still thinks he's very much developing his skillset. He's looking forward to showing off some of the new things he's learned since he last fought for the promotion back in May last year and he believes he has some distinct advantages
"My experience will shine through--I've had a lot more fights that he's had," Mann said. "I think my experience will play a key factor in this and I think that will show in the fight itself. As long as I keep my nerves under control I know I will be fine.
[instagram url="https://www.instagram.com/p/BFcTlwEFk8B/?taken-by=ronniemann86" hide_caption="0"]
"My standup is always improving and I think people will be surprised as to how much better it's got if they are expecting what they've seen in my previous fights. I want to keep the fight standing, but if he takes it to the ground he will soon find out I'm more than comfortable taking it there as well. I just think with each and every year I'm getting better a fighter."
Having been bouncing around from one promotion to the next for the last couple of years, Mann is happy he's finally found a home with BAMMA. He still believes there is plenty for him to achieve in his career and that BAMMA is going to give him a lot of opportunities to continue to achieve big things.
"I just want to keep fighting top guys," Mann said. "BAMMA are more helping me do that you know. They've given me the great opportunity on Friday to fight for a title and that's even bigger than the last fight. I'm getting offered fights with all these great guys and that's all I want really.
"When I feel like I'm no longer taking steps forward or that I can no longer keep up with the younger guys--that's when I know I'll need to call it a day. That time isn't right now though--on Friday night I'm getting myself a new belt."
How to Watch BAMMA 28
ON TV:
Now Available on Roku and Apple TV 4
STREAMING:
Available only on FloCombat to North American viewers. Sign up today for $20 monthly or $150 yearly. Yearly FloPRO access gets you premium content and events from ALL FloSports sites, including FloWrestling, FloBoxing, and FloGrappling.