BAMMA 28
BAMMA 28: Andy Young Looking To Thrill Electric Belfast Crowd
BAMMA 28: Andy Young Looking To Thrill Electric Belfast Crowd
Andy Young is out to prove at BAMMA 28 he's worth a rematch against Rany Saadeh for the BAMMA flyweight title by beating Dominique Wooding
Feb 22, 2017
by Jim Edwards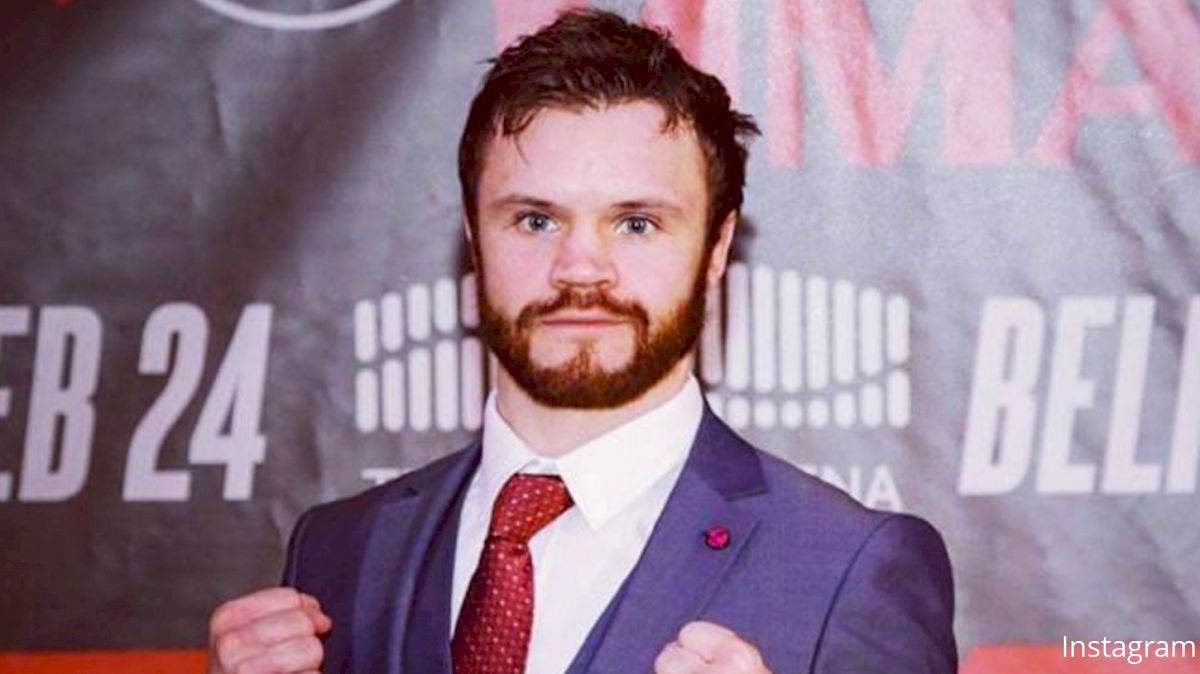 The countdown to BAMMA 28 is on and with just two days to go until the big night at the SSE Arena in Belfast, Northern Ireland's own Andy Young is preparing himself for yet another title fight.
Young has won multiple professional flyweight titles on the European scene with belts won in FCC, BCMMA, UCMMA, WWFC and Clan Wars. He's one of the most decorated flyweights on the European scene right now and on Friday night he gets the opportunity to add the interim BAMMA flyweight title to his collection when he faces Englishman, Dominique Wooding.
Speaking exclusively to FloCombat yesterday, Young talked about how he felt ahead of the fight at the SSE Arena Belfast on Friday.
"I've been here before and every weight cut I do gets better now," Young said. "I feel like I've found the right sort of process to getting the weight down and getting that on track and organized. This is obviously a huge fight so there's been a lot more PR and media stuff to do.
[instagram url="https://www.instagram.com/p/BOLEcYylrOb/?taken-by=andytaz1989" hide_caption="0"]
"I'm just trying to stay as chilled out and relaxed as I can and just take it as it comes."
Young faces the challenge of taking on a man with a record of only 3-0. While there's not that much footage of him out there right now, Young still thinks he has a good idea of what he will bring to the table on Friday.
"I'm expecting him to be standing and striking," Young said. "He'll be looking to work his hands because I know he loves striking and stuff, but not seen much of his wrestling or jiu-jitsu from him. I'll be ready if he's got it in the bag, but I can't imagine he will be looking to change up his gameplan all that much.
"I think he will just stick to where he's comfortable, but yeah, he's a good striker. I just think that a lot of his work so far has been on a lesser level and I think that's helped him look a lot better. I don't think I'm going to have may problems taking care of him."
On Friday, Young will be competing in Belfast for the first time for a major promotion. The SSE Arena Belfast should be packed full fans on Friday night and they will no doubt create an atmosphere to remember for all the Irish fighters.
"It's not really sunk in yet," Young said. "I think once I get past the weigh-in and get refueled and get my energy up again then I think I will start getting a lot more excited. I'm expecting the crowd to just be electric come fight night.
"I just can't wait for my walkout in front of the crowd, I think it's going to be unreal. It's been something I've been thinking about a lot and visualizing. It's the type of moment you don't forget for the rest of your life, but I know after that I've got a big job to do. There's no way I'm losing in Belfast--I'm getting my hand raised and walking to the back after with belt around my waist."
While Wooding is the man stood in front of him on Friday night, Young is relishing the opportunity to fight the man who currently holds the official BAMMA flyweight title--Rany Saadeh. The two met inside the BAMMA cage back in September of last year, but Young lost a unanimous decision in what was a highly competitive title fight.
The Northern Irishman is itching to get another crack at Saadeh, but apparently, the German isn't so keen to mix it up with him again.
"It was a very close fight, but I got to take it for what it was--it shows as a loss on my record," Young admitted. "I did feel that I won the fight though and if he was a true champion I think he would've felt the need to give me an immediate rematch.
[instagram url="https://www.instagram.com/p/BL6aGO3lbWV/?taken-by=andytaz1989" hide_caption="0"]
"He said after the fight that he would give me an immediate rematch, but since then he's turned the fight down. You know, it's, I just don't know what to say to that. All I know is that I count myself as the world champion and this fight isn't for an interim--it just means if I win I get to fight Rany again for that world title."
With that said, Young had one last thing to say to the fans turning up at the arena and watching at home on Friday night.
"I'm going to show all the fans what I can do," Young said. "It's going to be fast paced because I go all out from the very start. I'm going to put it on and we will stand and trade and see what happens. I'm going for the finish, for me, for the fans and I guarantee it's going to be a great fight."
How to Watch BAMMA 28
ON TV:
Now Available on Roku and Apple TV 4
STREAMING:
Available only on FloCombat to North American viewers. Sign up today for $20 monthly or $150 yearly. Yearly FloPRO access gets you premium content and events from ALL FloSports sites, including FloWrestling, FloBoxing, and FloGrappling.