Max Holloway Ready to Prove He's Featherweight King
Max Holloway Ready to Prove He's Featherweight King
Interim UFC featherweight champion Max Holloway is ready to prove he's the undisputed king of his division.
Feb 18, 2017
by Jim Edwards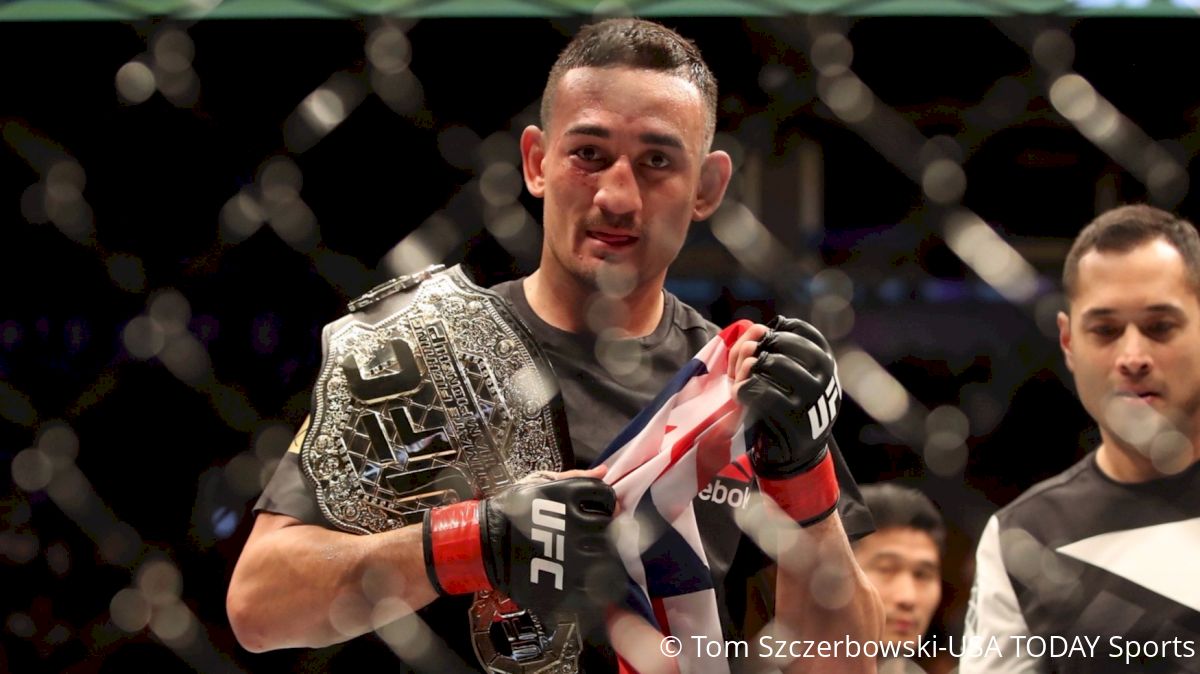 If you thought Max Holloway thought twice about signing a fight contract to take on Jose Aldo in Brazil--you better think again.
The current interim UFC featherweight champion won the belt back at UFC 206 last December and ever since then he's been campaigning to get his shot at unifying the official title held by the Brazilian. After going hard on the #WhereIsWaldo campaign, few fans would have accepted the news he'd passed up the chance to face Aldo at UFC 212, but that wasn't to be a problem--Holloway was more than game.
"My reaction was, you have the contract -- as soon as I found the contract that I had the contract in my email, I emailed it back in one minute signed,"Holloway told
Submission Radio
. "This is what kings do. Kings go to other kings' villages and they take over. That's what I plan on come June 3.
"I will go there and show everybody why I'm the king. And what better place to do it than in his backyard, in his old village? It's what kings do. I'm going to show the world once again why I'm one of the best fighters to ever grace the octagon."
When asked what advantages he will have stepping into the Octagon with Aldo, Holloway said he'd like to stay away from talking too much smack ahead of the fight. Instead, the Hawaiian said he'd do his talking in the Octagon when the two met toe-to-toe.
"That's the beauty of MMA, man, I'd rather show than talk. And I tell people all the time, tune in June 3rd, you guys are going to see. You guys are going to see. This guy is a legend. I respect him, of course, but at the end of the day, he's gotta see me at the end of the day on June 3rd in that Octagon.
"I will show the world, I will show the world. I've been telling you guys, it's time to jump ships now. It's time to jump ship now, because on June 3rd it's going to be another one. It's going to be another one and I'm going to leave you guys scratching your head, thinking like, oh damn, what's next?"
While UFC champions these days are seemingly obsessed with looking up and down weight divisions for opportunities to become two-weight world champions, Holloway wasn't so quick to make that a goal of his. He was instead focused on just one thing and that was the unifying the UFC featherweight belt.
"We'll see what happens when the time comes," Holloway said. "People keep on forgetting I'm only 25. I'm growing, I'm a Hawaiian Samoan. Us Polynesians like to eat, so we'll see what happens. But I want to defend the 145 belt. That's on my mind. I want to get it, I want to defend it a bunch of times. I'll do my thing here. Like I said before, I'm not trying to race through the division, I'm trying to kill it. I'm trying to destroy these guys.
"I don't want there to be no what-ifs -- 'what if Max fought this guy, what if Max fought that guy?', I want to fight them all. I want to fight them and show them, like no, this is mine, I run this division. That's what I want to do. We'll see what happens though. We'll see how my body reacts, we'll see what happens. Our body changes fight to fight, so we'll see how long I can keep this cut up. The cut's been fine, for me it's been fine, and I just listen to my body, and when it's time go up, it's time to go up."