Day Nine: Time Travel & Phoenix Completed
Time does strange things on the road.
Crossing over time zones and falling deep into the grips of the Balloon Theory present obvious challenges, but it's the more subtle aspects of time travel that leave a man baffled and perplexed. Through extensive research on the subject, Glow and I have discovered such wormholes are likely to open between the hours of 2 and 5 a.m.
After uploading videos for the next day, Glow decided to call it a night while I chose to hang in a bit longer to scribble some notes on the day. We were slated to meet light heavyweight powerhouse Ryan Bader at Power MMA at 9:00 a.m, and with the gym being 15 miles down the road, it created a scenario to actually catch a bit of shuteye.
Wrong. Oh so very wrong.
What began as a few paragraphs of notes turned into a full-blown transcription session/nightmare. Anyone who has ever taken a dive into the dark waters of audio files understands a battle of attrition is waged. Two minutes becomes 20, and one hour becomes three until eventually you're standing in the parking lot wearing a hazmat suit wondering why they killed Dr. Emmett Brown.
The alchemy and high science of a late-night road trip simple and plain.
Before I knew it, the amber sun broke the Arizona horizon, and the new day was upon us. Glow rose in disbelief and surprise old man Bo-gan was still going strong.
He initially attempted to scold the elder Jedi warrior, but knowing just how much work needed to be done and the healthy chunk I was able to knock out in the predawn hours of the day quickly brought him to a place of understanding.
It was going to be the final day of interviews on the road trip, and there was a lot of goodness and gold to mine in Phoenix.
A quick hustle and scoot across the city of Gilbert brought us to Power MMA and several minutes after crossing the threshold, we were sitting with Bader and the conversation was rolling.
The light heavyweight staple had been making headlines all across the MMA media sphere the past few weeks as his free agency situation took one interesting turn after the next. After spending eight years competing under the UFC banner, the former Arizona State University wrestling standout decided to test his value on the open market.
Bellator was the first to make a play for his talents, and a strong play at that, as Bader accepted the offer outright. Once news of his signing reached the UFC, President Dana White publicly stated his promotion would not be matching the offer, which meant Bader was officially a Bellator fighter.
Not so fast.
Shortly after White's comments went public, the UFC reached out to Bader's management and requested a full copy of the contract Bellator offered. Nowhere in Bader's existing contract does it say such things are required, and the fighter and his team found this to be a very strange request.
Bader informed Bellator of this wrinkle, and politely stepped aside for the remainder of the negotiations. Per his contract with the UFC, the organization does have the right to match the offer from Bellator, and that is where the situation stood during our sit down.
Nevertheless, Bader addressed the matter in great detail and revealed he was going to be happy whichever way things shook out. It's a rare thing to see a fighter battle for and get proper money on the current landscape of mixed martial arts, and no matter how the situation plays Bader is set to receive the best paydays of his career.
Once our conversation with Bader ended, we knocked around Power MMA for a few more minutes checking out the enormous facility. During our tour we stumbled across another ASU and UFC alum in C.B. Dollaway. "The Doberman" was laid out in the back corner of the facility stretching out and trying to get his lower back to loosen up.
Dollaway was injured in the now infamous elevator incident in the lead up to UFC 203 last September and is still feeling the effects of the accident. The TUF alum said he's hoping to get back to full health by the summer and would love to return to action in July or August.
And while it's not clear which card Dollaway will get on, you can bet solid gold he'll be taking the stairs at the fighter hotel from here on in.
Once things concluded at Power we loaded up the FloCharger and skipped across the valley to the MMA Lab in Glendale. The gym is the home of former WEC and UFC champion Benson Henderson and we had a solid lineup of fighters on deck for interviews.
Coming off the excellent in-depth conversation with Bader, there was a buzz working throughout the drive. Both Glow and I sensed great interviews were on deck and we were absolutely correct in our assumption.
UFC prospect killer Bryan Barberena kicked things off and lightweight scrapper Scotty Holtzman picked up where "Bam Bam" left off. Things switched gears when jiu-jitsu phenom Mackenzie Dern sat down with Glow immediately following the pro afternoon practice. Dern revealed her plans to leave BJJ once and for all if she's able to win the Worlds this year, then make her UFC debut before the end of 2017.
The Lab was jam-packed with talent for the afternoon session as Alex Caceres, Tim Welch, Johnny Case among many others, but the final interview of the day, and #FCRoadTrip as a whole belonged to Benson Henderson.
"Smooth" and I go way back and have told many stories together over the course of his storied career. In addition to both being old school comic book nerds and literature buffs, Henderson and I have a mutual respect for one another's push for greatness.
Henderson wants to become the greatest fighter in the history of mixed martial arts, and I'm pushing like mad to carve out my spot as the greatest feature writer to ever cover the sport. Both are goals of the loftiest order, but men cut from the mold Henderson and I were cut from are motivated by things unseen and difficult to explain.
The final interview of the trip was filled with sincerity, real talk and hilarity and I couldn't think of a better way to cap off one of the most epic run of interviews in MMA history.
Once the conversation concluded, Glow and I hung around for a bit chopping it up with Mariah and Benson as they extended an open door offer for anytime we wanted to return. We bid our farewells and once again hit the road traveling eastbound and down.


Day Eight: Balloon Theory & Phoenix Bound
The only way to properly explain the phenomenon is what I call the "Balloon Theory."
When you run a website in a nonstop and chaotic sport like mixed martial arts, there are always several things or situations you must stay on top of or keep your finger on the pulse of at all times. With human beings requiring at least a minimal amount of sleep to function, keeping those items in check while slumbering can be a difficult task.
Nevertheless, a true Jedi warrior always finds a way.
Sacrificing REM sleep for the advancement of the brand was the devil's deal I made when signing on to FloCombat, and hence the "Balloon Theory" was born. The analogy is this: Imagine lying down to go to sleep and holding a large batch of balloons in your hand.
No matter what, those balloons cannot get out of your grip, because if they do, all hell and chaos will break loose, and retrieving them will be no easy task.
Over the past 10 months I've become somewhat of a master at this dark art. I go to sleep with the balloons firmly secured, then pop my eyes open every two hours to make sure everything is copacetic. And while my success rate mirrors Steph Curry's free throw percentage, every once in a while the coveted balloons will get away from me.
No matter how conditioned one is to run on low sleep, there will eventually reach a point where the body revolts. The brain leads the charge by shutting down the power stations, and all goes dark while the soothing waves roll over.
Although that sounds peaceful, waking up is anything but.
Resurrecting from the depths of an exhaustion-induced coma, the first thing to hit you flush is panic. Sheer panic from being all the way out of sorts.
The next sensation to arrive is confusion. Frantic looks in all directions are soon followed by touching of the chest and face to verify you are in fact all there.
Confirmation you have neither been shot or stabbed will bring a few deep breaths as the blood pressure drops below a perfect bowling score, but the worst is yet to come.
Just when everything starts to make sense again you suddenly realize the balloons you are charged with holding have somehow slipped out of your grasp and are floating about in the breeze.
You shoot out of bed, climb ladders, crawl on kitchen countertops as you scramble to recapture every last one of those sacred balloons. You will eventually corral the herd once more, and in that moment of peace, you will find gratitude.
You'll rejoice in the warmth of a job well done before whispering to God to inform your maker such mistakes will never be made again. It will remind you of countless Saturday nights in your youth where you made the same desperate play time and time again begging the Almighty to stop the room from spinning and the inevitable puke from happening.
With God being a vengeful and wrathful God, you were still forced to suffer through the retching and starting the "Buuuuuuiiiiiccck," but God is also a God of mercy and you swore off Cuervo 1800 while enjoying the ice cold tiles of the bathroom floor.
While it may feel as if I ventured off the rails while explaining my "Balloon Theory," it's important to understand the effects in great detail because that's what I woke up to Monday morning in Las Vegas.
Prior to crashing out early on Sunday night, I'd been getting less than three hours a night during our previous stops on the trip. Granted, I snagged six hours during our first night staying with Cub Swanson in Palm Springs, but got zero the second night. A late night of work paired with having to take #KillerCub to the airport at 6:00 a.m. was enough to do Ole Bo in.
I folded up shop before 10:00 p.m. and those were the exact same digits on the clock when my eyes sprung open. The proverbial balloons were everywhere in the hotel room and I was in a fixed position of shock for a solid half hour after coming back around.
Once order was restored, Hunter and I made our way up Tropicana Ave. to meet Kevin Lee for coffee inside the Excalibur Hotel and Casino. For those who may not be in the know, the Excalibur is a medieval times themed shithole on the end of the strip dominated by the fight game.
The surging UFC lightweight was coming fresh off his morning practice and hit the interview like it was a round of sparring. Lee may still be a relatively new face on the UFC roster, but his straight-talk, no bullshit approach is proof positive he's a fast learner.
As a Detroit native, Lee is no stranger to the hard-knock hustle, and his savvy in lanes beyond being a better face-puncher and neck-choker than the man he's inside the cage with is what is pushing his profile to new heights in between showings inside the Octagon.
Lee made it clear he appreciated the laid-back approach Glow and I take to the interviewing process, and the end result was a sensational convo that wove in and out of hilarity and controversy at a rapid clip.
The Xtreme Couture product showed zero fear or hesitation tackling jagged large-scope topics such as racism in America before shifting gears and going hard in the paint on MMA media. Lee demanded sites covering the sport he's invested his life's blood into step up and do a better job at telling fighter's stories and knock off the bullshit stories about things that don't truly matter and never will in the grander scheme.
The 40 minutes with Lee flew by like rocket skates and before we could get our heads around the education in real talk the up-and-coming lightweight dropped on us. After the interview we made our way back to the FloCharger and saddled up to make way for Phoenix.
I exchanged a few texts with Matt Brown regarding a meetup during the MMA Awards next week and he informed me former UFC bantamweight champion and current title challenger T.J. Dillashaw was down for rocking and rolling on some interview goodness. Another strong notch to the #FCRoadTrip resume, and with "The Immortal" to thank nonetheless.
We made good time through Arizona and arrived in Phoenix ahead of schedule to meet up with women's bantamweight and all around hilarious badass Lauren Murphy.
The MMA Lab representative suggested we meet for "burgers and beer," which are two items high on Glow and I's respective lists of favorites. We found Murphy sitting at a table outside the Yardhouse and wasted no time commencing to eat, drink and be merry.
Much like Lee before her, the Alaskan pulled zero punches during our conversation as she lambasted rival Jessica Eye over the Cleveland native's refusal to accept a fight with her. Murphy went straight savage in her explanation, and I walked away thinking the UFC foolish if this grudge match isn't made.
I doubled down on those feelings the next afternoon when Murphy and Eye went full Diego Sanchez vs. Gilbert Melendez on Twitter. White. Hot. Heat. Bruh.
Lol you lying again, Jess. Im not cut. Ive been tellin the truth since day one- u dont deserve to be in the UFC on a 4 fight losing streak. https://t.co/V6nwJwxNnZ

— Lauren Murphy (@LaurenMurphyMMA) February 21, 2017
After knocking back a few Budweisers with Murphy, Glow and I grabbed a room at the Springhill Suites and went to work. My trusty sidekick uploaded several videos while I hacked out a journal update from the day before. When you are running a two-man show on the ground it's hard to keep up, and we never would have been able to do if it weren't for the awesome crew at FloCombat.
We are a ride or die bunch and everyone chipped in on one platform or another.
Yet, while the squad represented to the fullest, my man James Lynch will get the MVP award once it's all said and done. The suave Canadian jumped into the project operating at full beast mode and the work produced on the video side was simply unbelievable.
A few hours after getting to the hotel, Big Glow was sawing logs, but Ole Bo was still hashing out words on this damn screen. I'll be damned if "Midnight Oil" won't need to sponsor us for the next leg of the road trip, because we burned the ever loving shit out of it in the wild, wild west.


Day Seven: A Hero & Las Vegas
Hero.
There has never been a label more rewarding, or at the same time heavier to hold. Those who strive to wear it do so selflessly, just as those who rise to the occasion to earn the honor when becoming such things could have been the furthest thing from their mind.
To the people who live and operate within the sun-scorched, dust covered world of the Coachella Valley, Cub Swanson is exactly that.
The perennial UFC featherweight contender is a proud representative of the hard-knock hustle that comes with life nestled between the San Bernardino and Santa Rosa Mountains. While resorts, casinos and then golden age of Palm Springs' Hollywood past evokes thoughts of glamor and luxury, the reality is anything but.
Hardship and adversity are a rite of passage in the world beyond the San Gorgonio Wind Farm and Swanson is a product of that tumultuous environment.
Trouble found Swanson at an early age, and when it wasn't tapping him on the shoulder, his rebellious nature kept his connection with chaos intact. Juvenile correctional facilities and halfway houses were the backdrop for most of his youth, and time spent in and out of such nefarious institutions served to push Swanson toward becoming yet another statistic in a region filled with strikes and stretches.
Oddly enough, the same will to fight that forged his reputation in the streets, would go on to make him a star on the biggest stage in mixed martial arts. Swanson found the discipline he lacked and so desperately craved in the martial arts, and the opportunity to chase something greater provided the fuel he needed to succeed.
Sitting deep in the bowels of the Agua Caliente casino watching Swanson wrap the hands of his fighters, I begin to see just how the longest standing 145-pound fighter on the UFC roster is viewed by others. The 33-year-old has four fighters from his Tru MMA team competing on the card for Gladiator Challenge, and every word of advice he offers is absorbed with clarity.
Each fighter is in the up-and-coming stage of their respective careers, and Swanson's guidance is solid gold to them. I listen as he instructs Carlos Puente Jr. to take the bounce out of his movement in order to generate the power he's capable of producing, and to attack with ferocity should the action hit the canvas and he find himself with his back on the canvas.
Puente Jr. doesn't even realize he's nodding with every word Swanson offers, but this is what happens when you're locked into your lifeblood source of knowledge.
The rangy prospect would catch a triangle midway through the opening frame to secure victory on the night. A job well done by a student intent on pleasing his instructor by any means necessary.
And while shared glory and absolute respect are the payments offered to Swanson on the night, those are the only forms of currency he'll accept from his team of fighters.
"I don't take money from them in any form," Swanson said earlier that day while wrapping up the squad's warm-up session. "I don't charge them gym fees or take a dime from their purses. The only thing I ask is they give 100 percent to their training and their teammates. If a guy isn't going to show up and give their all inside the gym, and they aren't going to invest their energy into becoming better fighters, I'm not going to invest my time in them."
Although Swanson's team would go 2-2 on the night, with the two losses coming via controversial decisions in both cases, there was no doubt as to the amount of personal investment given by all inside the cage.
As the action played out in competitive and sometimes hilarious clips under the bright lights of the "Hot Water" Casino, I took time to float about the venue in hopes of finding out what the heavy-handed featherweight meant to his city and the greater Coachella Valley as a whole.
And it didn't take long to make traction in my endeavor.
I stood in at the mouth of the tunnel leading to the downstairs concourse and scanned the crowd for potential subjects. I just so happened to spot two 20-somethings perched directly above me in the lower bowl of the theater, and their passion for the fight game immediately became obvious. They took turns vocalizing their excitement for the battle unfolding inside the cage 30 yards away, and it was of the intelligent variety.
There wasn't a single "body bag" or "release the kraken" mentioned as I listened several feet away, and when Swanson appeared to walk out Troy Guerrero, the non-Affliction shirt wearing duo poured on the love.
"You're the man Cub!" shouted the one who insisted I refer to him as Big Juan.
"Get that belt baby! Bring that gold to Palm Springs!" joined his friend called Roscoe, who would later tell me "Roz" is what everyone called him.
Once the cheering calmed down following Guerrero's victory, I asked both what made Swanson so endearing to them. The answers provided hit home in a number of ways.
"I've met him several times and Cub is a genuine dude," Juan said. "He hasn't forgotten where he comes from and he's one of us. A lot of people when they make it act like they are better than other people, but Cub isn't like that. He represents SoCal, Palm Springs to the fullest. That's why I f*ck with him."
"He represents how sh*t is out here with the way he fights," Roz added. "We don't back down from no one and that's how Cub fights inside the Octagon. A lot of people here don't have sh*t, man. It ain't all roses. You gotta fight to get by and that's what Cub does. I bet everyone in this building has love for that dude."
"If they don't I'll show them what's up," Juan laughed before exchanging fist bumps with his boy Roz.
I spent the next 30 minutes walking around and getting insight from anyone who would talk about what Swanson meant to them, and while I quickly found some gems, the conversation I stumbled into down in the concourse served as the mic drop.
After exchanging a few final pleasantries with Swanson's nephew Suge David Johnson, I was introduced to two of Cub's sisters Luwana and Leah Saubel.
While the meeting was an unexpected turn, it was an excellent chance to gain some true insight on a man who plays his hand in life close to the vest. And what I learned was every bit as moving as it was endearing.
Although Luwana was a touch hesitant at first, Swanson's sister soon settled in once she realized she'd read a handful of my previous stories on her younger brother. After a bridge of trust was established, she opened up.
"My brother is one of the best people on the entire planet," Luwana said. "He's an amazing brother and an incredible Uncle to his nieces and nephews. He's an extremely busy guy but he always takes time to make it to their sporting events and makes time to spend with them and take them places. He's not only their hero, but he's a hero to all of us."
And there's that word. Hero.
I watched as Luwana's eyes lit up when talking about her brother the hero, and every word she offered after was heartfelt and dripping with sincerity.
"Cub would give you the shirt off his back and if he didn't have one to give you he'd go out and find one for you," she continued. "There isn't a whole lot to look up to in the area we are from and he gives that to people. He's had a rough life and been in and out of trouble when he was younger, but he never let that stop him from chasing his dreams.
"He's a hometown hero to the people who live here and a true hero to those of us who love him."
While Luwana spoke Leah nodded in agreement with everything said. They took turns commenting on how shy their brother had always been, and confirmed the name Cub is the only one they've ever addressed him by.
Once the sentimental topics were checked off the list, I used the remaining time I had with them to talk about his fighting skills. It's easy for family members to talk up or down on their siblings, but with their younger brother being one of the best featherweight fighters in the world, I was curious to know their take on what Cub brought to the table.
"Beautiful destruction," Leah said with stern eyes brimming with confidence. "My brother brings beautiful destruction inside that cage."
In that moment I was sold.
A hometown and family hero who brought a beautiful form of violence and chaos to anyone brave enough to stand across from him inside the Octagon. An eternally shy kid with a troubled past who rose above the adversity and the weighted chains of a hard-knock upbringing in the mean and dusty streets of Indio C A, who rose to become a leader of men while still fostering the dream of obtaining the ultimate goal.
That's who Cub Swanson is and will continue to be for the rest of his days, and getting a firsthand view of his life behind the curtain was truly something special.
And while that discovery made our two-day stop in Palm Springs worthwhile, the unorthodox action that unfolded inside the Gladiator Challenge cage was raw and uncut entertainment.
There were knockouts aplenty throughout the first eight fights, but the most memorable moment literally had Hunter and I doubled over harder than after we took several body punches during our respective sparring sessions with Swanson earlier in the day.
In one of the later fights on the card, a fighter locked his opponent in a vicious standing guillotine. A few seconds after the choke was applied, the man in red spandex shorts began tapping on the right leg of the man wearing black spandex.
Normally the referee would jump in upon the first tap, but the third man in the cage didn't seem to catch the tap so red shorts tapped again. And once again...no referee.
Feeling the panic he may in fact be choked to death, red shorts began flailing his arms wildly in hopes of generating either space or an S.O.S. to the EMTs on standby. Unfortunately there would be no rescue as the fighter in the black shorts continued to crank the choke. One more tap was offered and luckily that tap was felt as the fighter in black finally released the guillotine choke.
Immediately upon release the red shorts bandit folded damn near lifeless to the canvas and the referee jumped in to check his pulse. The fighter in black, overcome by adrenaline from the victory, ran full speed toward the cage and attempted to mount the chain link wall in hopes of mimicking his favorite fighters.
He failed miserably.
Despite getting a solid running start, the fighter in black only made it halfway up the wall before doubling back in a spectacular spill on the yellow canvas. Not one to be detoured, he tried again but this time made a manual climb placing his fingers and toes in the chain link holes to scale the fence.
Once again he failed miserably. Oh the shame.
Flat out of options, the victorious fighter crumpled to the floor and sat criss-cross applesauce while he shook his head in disbelief. It wasn't his finest moment, but he would live to fight another day.
The man in red on the other hand….well it'll take some deep thought to determine whether or not he'll ever roll those fighting dice again.
Once the fights concluded the FC Road Trip crew headed back to Swanson's house for a few hours of sleep before rising before the sun to run "Killer Cub" to the airport to catch a flight to Austin. We bid the fighter, coach, brother, host, sparring partner and creator of beautiful destruction farewell and launched out on the road to Las Vegas.
After taking the scenic route through the Mojave Desert, we finally arrived in "Sin City."
With video to upload and stories to write Hunter and I spent the next four hours kicking out the jams before heading across town to meet up with welterweight scrapper Matt Brown.
"The Immortal" was in town filming the latest season of The Ultimate Fighter and took some time to talk road trip goodness and fisticuffs. UFC Fight Night 105 played on the big screen beside us while we hammered through an epic interview filled with real talk and MMA goodness.
Once Derrick Lewis rebounded from abdominal discomfort and leveled Travis Browne in the main event, we made our exit back into the flickering neon sea that is Las Vegas and headed back to our hotel. Dead dog tired as I was, I agreed to one ice cold gimmick for a nightcap then made my way up to the sixth floor to find the first good sleep I'd had since the start of this crazy project.




Day Six: Palm Springs & Pain
My insides hurt.
I could blame that southwest chicken tornado Duane talked me into trying at the AM-PM. I could blame the half gallon of Stella Artois from the night before.
Instead, I'll blame the 5'8" wrecking machine standing in front of me.
Cub Swanson might be going 50 percent--hell, he's likely going less than 50 percent. But when your perspective of pain doesn't extend too far past a stubbed toe or some sun-kissed skin, each and every body shot landed brings 100 percent suckage.
The idea came at breakfast, where Duane and I sat down at Goody's for some brunch action. Recalling ideas executed during his earlier road trips, Duane discussed the time he strapped on a GoPro to spar with Bellator heavyweight
Matt Mitrione
and retired UFC vet
Chris Lytle
. After watching the videos and sharing our chuckles, Duane extended the offer.
"You want to spar Cub?"
Now...I'm sitting at a table with an up-and-coming pro fighter I just met who trains under Cub, his girlfriend, and my mentor. We brought a GoPro on the trip. We have the head strap for it. We're going to meet Cub at his gym, Tru MMA, in just a few hours. The only way out is to proclaim pussy status, so I shrug it off.
"Hell yeah. I'll do it."
My voice probably shook like Zakk Wylde's vibrato, but the deed was done. Later that afternoon, I'd spar longtime UFC featherweight contender Cub Swanson.
Remembering the
sheer violence he delivered
during his most recent victory inside the Octagon, I lost my appetite.
Somewhere between the fourth and 137th body shot, however, my appetite came back--or up, rather. Doing my best to ignore my stomach's vertical momentum, I did the only thing I could figure out how to do: move forward and throw half-hearted jabs. Slick game plan, bro.
Cub, smiling occasionally (but never while throwing), peppered away. Dig. Dig. Dig. After five minutes of abuse, I air-tapped, and we concluded the session.
Duane took the helm next, looking much smoother thanks to years of championship-level Delong's Farm fighting and various sessions with Mitrione, Lytle, and the like. Yet, a couple minutes passed, and he too was on his ass, planted by a quick trip from the Palm Springs native.
Some grappling followed, and the results were the same: We're not too good at this shit. Cub Swanson is really good at this shit. Shocker.
Balls firmly tucked in my purse, I approached Cub for my second round of grappling action.
"You can sub me all day. Teach me something."
Two minutes later, I was passing Cub Swanson's guard. Correction: Cub Swanson was letting me pass his guard, but I was applying the correct principles to do so.
After that, we continued to roll, more taps followed, then he broke it down further, four of his students watching intently on the wings. Where laughter reigned during our sparring session, Cub had their attention now.
"Look, I'll take his back," Cub said, assuming the position behind me. "He's never grappled, but he still does OK defending the rear-naked choke. It's instinct, right? So I'll switch it up. I'll attack this arm, then transition into the scissor choke while he's focused there."
Death squeeze.
Nodding, his students absorbed the message, and therein the true magic of Cub Swanson was unleashed. Even when launching rockets into my midsection, he was in full-on teacher mode. He was helping me--even if it didn't feel like it, physically, at the time.
The brief sparring session gave me perspective of not only the speed and technical prowess of a high-level mixed martial artist but of Swanson's Mariana Trench of fighting knowledge. The dude flat out gets it, and that fact was apparent in the reflection of his students' eyes.
By seamlessly teaching techniques and by breaking down philosophies on human movement and the art of striking for two dudes who throw down on the keyboard instead of inside the ring, Cub cemented his true form.
He's obsessed with the game, and he's furthermore obsessed with helping others understand its intricacies. Talking X's, O's, P's, and Q's like the 13-year pro he is, Cub brought a new level of knowledge and, for me, a new level of respect. Imagining him behind the Fox Sports desk was easy. After his flawless Dominick Cruz impression and a discussion of his thought process during the Doo Ho Choi fight at UFC 206, I'm outright convinced he needs to be behind the desk ASAP.
But for now, he's in Southern California, doing what Cub Swanson does best: Teaching his students and kicking some ass on the side.
Day Five: Los Angeles
"I'll order the first round of drinks," Cub Swanson said with a smile.
The hustle and bustle of the Friday night crowd El Tapatillo was palpable as we pulled up our table at the center of the chaos. Music blasted from a cluster of four-foot tall Alpine speakers stacked up against the wall outside of the kitchen as the deejay prepared his karaoke set across the hall.
A family of six sat at the table directly across from where we pulled up, and the matriarch shimmied her shoulders to the rhythm of the salsa beat all the while nabbing a healthy swipe of a sauce of the same name before offering it up to su hija with a smile.
A broad-shouldered security guard wearing a short sleeved security guard shirt worked the door with a steady hand as he traded greetings and gratitude at a steady clip. By the time I'd taken in a base understanding of the surroundings, a short and stocky waiter arrived to the table carrying a tray of crimson filled goblets, complete with chili powder and salt lining the brim.
Hunter's eyes popped game as ever as Swanson slid our respective glasses towards us.
"It's called Chavela and you're going to love it," he said with confidence.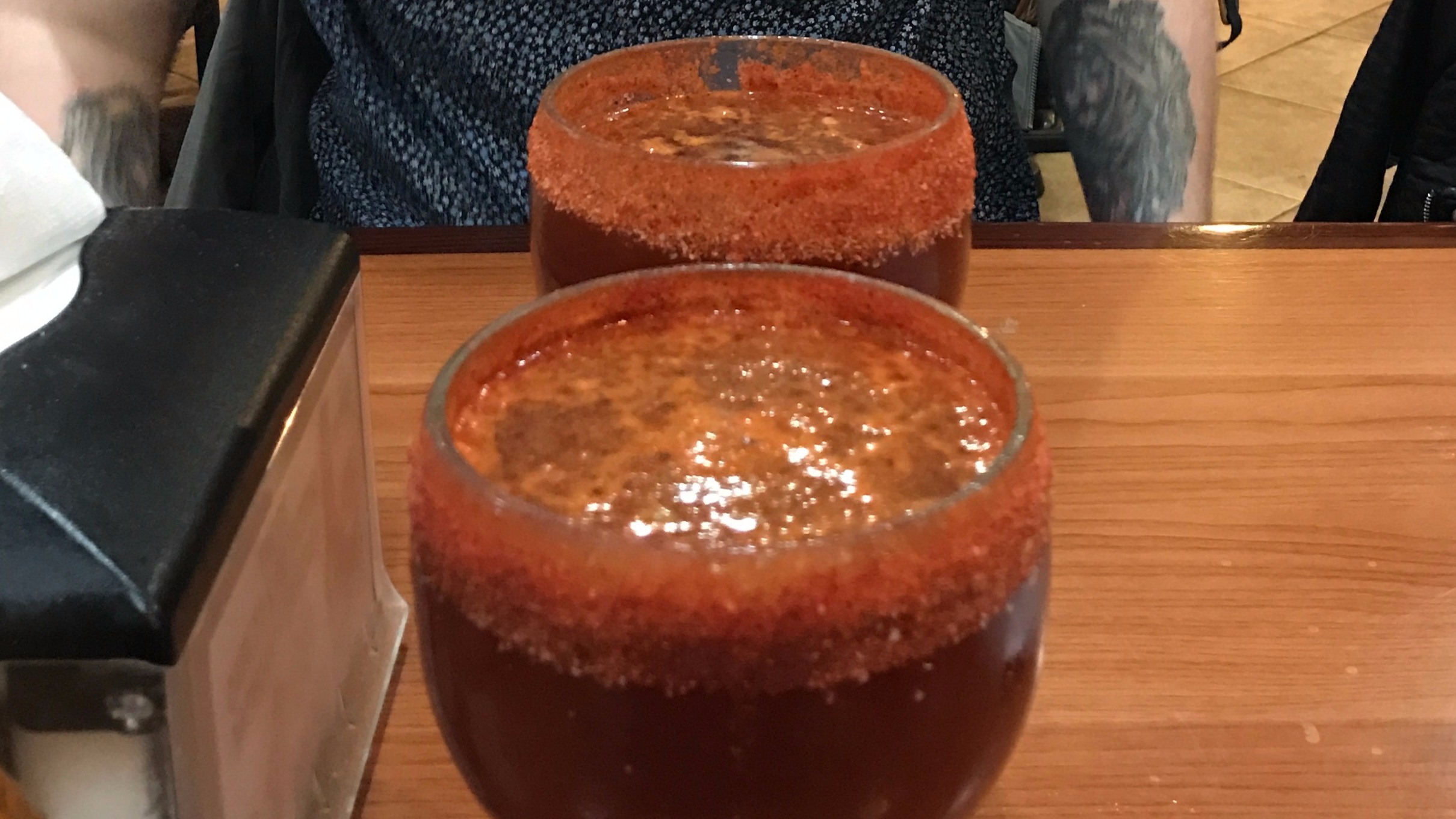 "What the hell is in it?" I asked with decidedly less confidence than the featherweight contender was showing.
"There are different beers you can use but I prefer Negro Modelo. Then they add in the Clamato, some lime juice, a touch of hot sauce and some chili salt on the outside. Drink up and let me know what you think."
While the initial thought skipping through my brain harkened a bloody mary, the actual flavor was an incredible mixture of seasoning, spice and freshness. It's strange to say a beer and tomato juice blend comes off as refreshing but I'll be damned if that wasn't the case.
Conversation rolled at a steady clip throughout dinner and drinks as the malaise of the three-hour drive began to wear off. We'd left Los Angeles in a full-on monsoon, and the storm carried on strong every mile of our journey to Palm Springs. Much to our surprise there was minimal traffic, but for all the stress missed in that department, low visibility and crazy ass Southern California NASCAR rain warriors behind the wheels of Priuses and Scions made sure to keep the anxiety on lock.
The back and forth of the windshield wipers mixed with the constant tapping of raindrops slamming off the glass of the FloCharger created a lulling effect, which we attempted to combat with talk of our visit to Kings MMA several hours prior.
We arrived at the gym to watch the Rafael Cordeiro-led squad and were amazed to what we watched unfold at the Huntington Beach-based facility. Fridays are sparring days at Kings, and the collective in attendance showed us exactly what "sparring" meant around that gym.
Several elite fighters the likes of Beneil Dariush, Kelvin Gastelum and Jake Ellenberger were there to put in work while a large cast of up-and-coming talent and veteran scrappers alike slung leather with bad intentions. And when I say bad intentions there is no exaggeration in the phrase.
Glow and I watched as fight night-level intensity blasted all around us. Punches were being thrown with whirlwind force and there were countless moments where an inch or two given would have produced the most violent of sleeps and the most abrupt of naps.
Immediately following the sparring session, we rolled out the interview magic with Ellenberger and the crew. Since Glow and I had already rocked our sit down with Gastelum the day before, we chose to take a more humorous route with The Ultimate Fighter winner. This proved to be a great decision as "K.G." provided some excellent insight on road trips and drink selections.
"I love What About Bob?," he said with excitement. "They just don't make them like they used to."
No they don't, Kelvin. No they don't.
After speaking with Ellenberger and Dariush about passion and sacrifice, the road trip crew headed out to find internet to get the videos rolling. Our first attempt came up lame when the Starbucks interwebs moved with the speed of a kidney stone, and the time spent looking locked us in a sudden grudge match with Father Time.
Traffic around Los Angeles is never going to be light, but leaving for Palm Springs after 3:45 would have put us dead smack in the middle of the very worst of it. Nevertheless, we needed to get the videos onto the site so we set out to find yet another Starbucks and crossed our fingers hoping this one would bring the "Stonkey McDonkey" brand of internet speed.
Not only were we successful in finding such things, but the location we ultimately set up shop at turned out to be a rolling comedy of errors fit for a slot on Broadway.
With the weather raging against the machine outside, the homeless population in Orange County were forced to seek refuge indoors. It just so happens the coffee shop we pulled into post-Kings turned out to be a haven for a cast of certified crazies.
The gusty gales ripping through the parking lot continued to pull the left side of Starbucks double doors open and each time the metal handle would slam off the large pane of glass on the storefront. With every resounding thud a grizzled man in a tattered blue hoodie would stand up, curse aloud and then blame some random customer for making the door fly open.
Several patrons returned verbal fire, and while it seemed as if there may be some hobo ruckus about to jump off, cooler (and saner) heads prevailed.
While blue hoodie guy continued to play guardian of the sacred green gate, a yellow hoodie-wearing man with Kid Rock inspired hair posted up next to Hunter and started to give him advice on public service.
"You should go to the hardware store and get their scrap wood to make a doorstop."
Hunter, at first unaware of who the hell the yellow-hooded man was speaking to, looked around briefly before returning to work.
"Did you hear me?" the man asked again, this time with a slight touch of anger in his voice.
"I'm working, man," Hunter replied.
"Public service, Bro," the man gruffed. "Sometimes you have to do things you don't want to do and this is one of them."
Locked in the grips of partial shock and hilarity Hunter waived Kid Rock Sr. off before diving full on back into the video processing at hand. And while Baw-wit-da-baw no longer had Glow's attention, that didn't stop him from campaigning strong to get wood from a hardware store.
He took off his yellow hoodie before standing up on one of the high back chairs and shouted, "If anyone wants to let me borrow their car to run to the hardware store I'll be back in just a few moments. It's just around the corner."
Surprisingly enough the yellow hoodied man found no takers.
Once the video was uploaded to the site, Hunter and I peeled off into the east for Palm Springs. Thanks to steady rain and a gob of traffic outside of Riverside, the normal hour and a half doubled under the weight of those unexpected elements.
And while those factors could have caused stress, any lingering frustration was quickly erased by two rounds of Chavelas and a spot-on blast of authentic Mexican cuisine.
"I wouldn't steer you wrong," Swanson said after seeing the looks of satisfaction on the faces of his guests. "Want to go bowling?"
Our ragtag collective spent the next two hours rolling bowling balls in a variety of ways before retiring to Swanson's home to call it a night. Although sleep was calling for us all, the three of us hung late to burn the midnight oil over great conversation and unconventional snacks.
After splitting a bottle of Swanson's "Killer Cub IBA" (which is all kinds of awesome) we then divide up a box of dried crickets. I shit you not….dried crickets.
"They are the protein of the future," Swanson said without a touch of sarcasm in his voice, and while that may very well be the case, I had a hard time keeping the future down.
Hunter had a far different experience. So much was the Glow's love for cricket snacks he decided to destroy the rest of the box. You can take the boy out of Appalachia but you can't take the Appalachia out of the boy.


Day Four: SoCal
Holy. Fu*king. Traffic.
If you've never had the misfortune of cruising down I-405 past Los Angeles, consider yourself one of the lucky ones. Thursday went full stop-and-go midway through, but thankfully, the traffic jam was bookended by perfection.
Bo and I kicked things off with one last stop at Alliance MMA before hitting the road. We busted out a quick interview with Head Coach/Owner Eric Del Fierro, dropped off Phil Davis' camera battery (thanks again, Phil--you saved the day there), snagged some lunch, and peaced out, smiling and rolling through the California sunshine.
The one-and-a-half hour drive to Huntington Beach felt like a trip to the grocery store after the monster trek from Albuquerque to San Diego, and soon we were smelling salt in the air and breathing deep, fresh breaths of the ocean breeze.
Kelvin Gastelum was on his way, and soon the #FCRoadTrip would claim another kickass conversation with one of the brightest stars in the game. The UFC middleweight strolled up
on his skateboard
, flanked by his roommate, 10th Planet Jiu-Jitsu black belt Victor Davila, and the game was on. From the jump, Kelvin was nothing but smiles, riffing on his fighting career, his pursuits outside of fighting--he's doing commentary for the UFC's Spanish broadcasts and voiceover work for the Eddie Bravo Invitational (EBI)--and even lightheartedly cuttin' it up about his checkered history cutting weight.
Another amazing look into the person behind the fighter down, we set off for North Hollywood to meet up with Ben Kenney, bassist for longtime rock juggernaut Incubus.
...Then that traffic hit.
Life on the road calls audibles at the line like Peyton Manning, and we had to hit a go route after going bumper-to-bumper with the world's biggest assholes for the better part of two hours. I didn't think this many cars existed on earth, let alone on one particular stretch of highway, but there we were, cursing and battling the hordes of four-wheeled maniacs. We weren't going to make it to North Hollywood, but we
were
going to get an assist from a major player in this MMA game.
UFC featherweight Cub Swanson was cornering a young fighter, Heber Castillo, at Combate 11 in Burbank, and he had some tickets for the Flo crew.
That was an offer we couldn't refuse, but things turned doubly awesome when Kenney himself made it down to soak in the violence and chat it up as well.
The event was bonkers from beginning to end. If you've never been to a regional MMA show, that is now your mission for 2017. The intensity and the fan interactions hit another level at these events. Moms, dads, spouses, teammates, friends, and wannabe friends bring the passion, pacing, cheering, and screaming wildly with every punch, kick, and takedown.
It's glorious.
Also at these regional shows is the pop of star power in the crowd--like UFC bantamweight champion Cody Garbrandt--who I was happy to catch up with in SoCal. As a Pittsburgh boy, Cody was always a "prospect to watch" in his amateur days, then his early pro days, then his UFC days, and I've had the honor of telling his story all the way up to his current position atop the 135-pound division. This, however, marked the first time I saw him as "UFC bantamweight champion" Cody Garbrandt, so it's awesome to see the suit's still clean, the hair's still fresh, and the love is alive and well.
After the fights, we ducked out to BJ's Brewhouse for a few cold gimmicks and some food, meeting up with Kenney, Cub, Cub's brother, Steve, and Kenda Perez.
When I went on the inaugural Road Trip with Ol Bo in 2014, he made me a promise.
"Stick with me, and we'll get into some cool shit."
Three years later, here I am, laughing over beers with Cub Swanson and his family and debating the merits of various metal bands with Kenney. Did I mention he plays for fuc*ing Incubus?
I'd say that qualifies as "cool shit," Bo.
The #FCRoadTrip rolls on, and this thing just keeps getting better. Stay tuned.
​To see all the content from the #FCRoadTrip, visit this page.


Day Three: Saint Diego
In a world where words are the magic we manipulate and shape into presentations both glittery and fantastical, dark and twisted alike, numbers are the baseline voodoo there is no escape from.
What is shall always be and no amount of pressure nor bullshit can shatter those ironclad restraints. This universal dominance is especially so where time is concerned.
In the midst of a journey where time zones and the high desert must be traversed, there is no shortage of anxiety tethered to the participants. Calculations are always in progress, and the realization an hour given or taken away hasn't been accounted for is the ice bucket challenge which shoots you from the comforts and warmth of a good night's sleep while giant clusters of snow stack up on the roof outside the window into a stark, upright stance staring in shock out into the darkness of the morning.
"How are we going to pull this off?" I asked to myself and a semi-slumbering Glow. Several hours earlier my young protege had given up the ghost whilst watching CaddyShack and uploading video content, but he was slowly starting to stir as chaos came to call.
The day before we'd decided to bypass our scheduled stop in Phoenix to push through into San Diego for a day of interviews at Alliance MMA. Getting the chance to sit down with the likes of Dominick Cruz, Phil Davis and Cat Zingano was nothing to pass up, and that lineup becomes even more appealing when the chance to do so in their environment arises.
In a sport where the most common interaction comes on fight week when the athlete is cutting weight and narrowing the focus to the competition at hand, the chance to sit down and explore their personalities when no pressure is hovering is a truly unique opportunity. That said, on a project such as the one we are currently enthralled, every stop is going to affect the next and so on and so forth.
"And so it goes," my Vonnegut-loving sidekick is so fond of saying, and when you are on a cosmic ride of idealism and dreams, positivity and optimism is the fuel that keeps the gas light from flickering out in the deep void of a Navajo National Forest preserve.
Although we'd stopped off to grab whatever sleep was possible, the Yucca Motel played the role of pitstop for less than four hours. Video needed to be edited and uploaded. Stories needed to be written and transcribed. Sleep needed to be had, but Jack Kerouac never saved up the midnight oil for a later burn when writing On the Road. He set it ablaze and burned it as if his life depended on it.
We were back in the FloCharger before a blood orange sun rolled out from behind the eastern hills and wrapping back North when the smell of the ocean hit. While still 90 miles away, the psychological appeal of the Pacific Ocean shifted the mood and temperament completely. We rolled down the windows to let the fresh air rip through as we carved our way through the rock formations of Route 8 toward San Diego.
The gray brown clay of New Mexico gave way to the sun-scorched red of Arizona, and entry into the vibrant green and laid-back chill of the Southern California marked our passage from the thirsty earth into the land of plenty.
Our collective moods lifted as we walked down the street and into Alliance MMA, and that condition would only amplify as the day went on. Bellator light heavyweight champion Phil Davis was the first through the door and I immediately noticed something different about the former National Champion wrestler from Penn State University.
During my time covering mixed martial arts I've developed a connection or at least a base relationship with the majority of competitors in the elite level of the sport, but somehow Davis was not on that list. We'd worked together on numerous occasions, and despite our mutual love for the positive outlook, somehow we'd never explored any type of communication or storytelling beyond common courtesy.
That would change on Wednesday afternoon.
The first thing I noticed about Davis was his general ease and the smile on his face. The Phil Davis I'd seen over the past several years was sure enough polite, but there was always a look of discontent about him. A few quick nods or a handshake was all he cared to reveal about himself, and that always seemed a bit odd to me.
After sitting back and talking with the reigning light heavyweight king of Bellator, it all makes a tremendous amount of sense in the here and now.
While Davis was one of the original fighters to test the now-popular UFC-to-Bellator avenue of free agency, his was a signing relatively low-key. The Pennsylvania native had an incredibly successful run in the UFC and was a perennial contender stamped and certified, but when the opportunity to test his value on the open market arose, he pounced. It was the best decision of his career according to Davis.
Although Davis' time in the UFC was not free of setbacks, he was a major player in a highly competitive division filled with monsters. And no matter what narrative UFC President Dana White pushed in regard to Davis not wanting the biggest fights, Davis and his team know the truth.
When asked if White was correct in his statement Davis was content at being No. 4 in the light heavyweight ranks and him not wanting to fight Jon Jones or Daniel Cormier, Davis' eyes kicked over as his head swung around and tilted against his broad shoulders in a definitive "Come on, Son!" moment.
"I heard him say that and I'm like, 'Really? That's what you are really going to tell people about me? It's not like I've been a competitor my entire life and it's not like I've always pursued a championship in everything I've done. But okay...keep saying that.'"
The state of affairs in the UFC prompted Davis to explore other options, and shortly after meeting with Scott Coker, he knew Bellator was where he wanted to be. And surprisingly enough, soon after joining the Bellator roster, Davis felt the stress and proverbial weight he'd carried so long on his shoulders fall away.
For the first time in a long time Davis was happy, and a year and a half into his run with the promotion, that joy still resonates.
The 32-year-old California transplant has notched four straight victories and has plenty of interesting matchups ahead of him. That said, there is one fight lurking in Davis' periphery he wants more than any other.
Ryan Bader is reportedly close to finalizing his deal with Bellator, and "Mr. Wonderful" would be more than happy to welcome the Arizona State University alum to his new home.
Bader is one of the few men to hold a victory over Davis and is the last man to have notched a tick in the loss column for the current champion. Not only would Davis love to avenge a previous setback, but he believes that fight in particular would show just how far he's come since his days competing inside the Octagon.
"I'm going to come at him like a swarm," Davis told Hunter Homistek. "Have you ever kicked a hornet's nest? It's not a good thing. That's what it's going to be like and he's going to get stung and stung badly."
And while Davis finished the line with a touch of laughter and carefree, the joke wasn't in the trash-talk itself, but the light nature of a man in full confidence because he knows he's doing what he was born to do in the place best suited for him to do it.
Once the proper interview had concluded, Davis joined teammates Cat Zingano and Alliance leader Dominick Cruz off to the side for a brief comedy session. Mixed martial arts is serious business with serious characters, and rightfully so, but so often the sense of humor of the athletes is put in the shadows so the companies who promote them can focus on the still framed mean mugs of pre-fight build up.
This may be a necessary evil, but not tapping into the personalities of the competitors themselves is also a large miss in the humble opinion of this scribe.
When it comes to razor barbs and the chaotic dance of the cut up or ranking, there is no sharper weapon than the mind of Dominick Cruz.
In recent years the passionate fight game collective have come to know and appreciate Cruz for his analytical prowess, but the Arizona native is equally as prolific in his ability to deconstruct in the humor game as well.
The world caught a glimpse of Cruz's chops during the lead up to his bout with Cody Garbrandt at UFC 207 back in December, but the former WEC and UFC champion's complete body of work extends much further back.
I spoke to Cruz several weeks before his showdown with Garbrandt in Las Vegas and decided to explore the topic a bit further. A human being can be as smart as the day is long, but the ability to banter and flip a joke back with precision isn't something that happens overnight. That skill needs to be forged in fire, and once Cruz explained the origins of his banter game it all made sense.
"I grew up working blue-collar jobs and you have to be quick on your feet out on a job site," Cruz said. "Those guys out there play for keeps, and you'll get murdered if you aren't on point. That's where I learned."
And while Davis and Cruz bring the strongest heat in the gym, Cat Zingano is no slouch in the riff department either. Much like her fighting style inside the cage, the former UFC women's bantamweight champion isn't afraid to go toe-to-toe with her male counterparts and throw serious shade when the opportunity arises.
Zingano had plenty of stories of her own to share, including one interesting night where a bet with fellow wrestler Davis in regard to a takedown nearly caused a public relations nightmare or pure hilarity.
While Zingano's story about her elevator battle with Davis was light hearted and funny, very little in her life has been of that nature over the past several years.
The Colorado native has endured tragedy and hardship at a clip that would break lesser human beings, and those turns pushed Zingano to a dark place she wasn't sure she could come back from. Yet, the universe has forged few as resilient as "Alpha Cat" and she's determined to make her 2017 campaign the definitive year of her career.
In order to do that, her body needed to heal (feeling better everyday) and her smile needed to return (bigger and brighter than I've seen in a long time) because one cannot navigate the rigors of a career in combat sports without having a foundation intact.
Zingano last competed at UFC 200 last July, but she saw the bout against Juliana Pena as a step back toward where she wanted to go rather than the beginning of a full-fledged comeback. Pena proved to be the better woman on that particular night, but Zingano is confident a rematch once things are back to firing on all cylinders would go much differently.
In fact, she's confident all things are possible upon her return to the cage.
She'd love to give current titleholder Amanda Nunes another smackdown and there are several reasons to motivate her.
"You would figure with how bad I embarrassed her the first time she'd want to get that fight back, but that doesn't seem to be the case," Zingano said. "She broke that night, and I guess she doesn't want that to happen again. I broke her."
Zingano also went on to describe the anger she felt with how the current women's bantamweight titleholder handled her victory over Ronda Rousey after knocking out the WMMA icon back at UFC 207. Despite having fought and lost to the "Rowdy" one several years back, Zingano admitted to feeling a kinship with Rousey and being protective of the former champion.
She felt the lengths Nunes went to rub that loss in Rousey's face lacked class and was "straight up bullsh*t" and "no way for a champion to act."
Those items paired with the history they share and the gold Nunes is currently rocking makes her a target Zingano has in her sights, and if all works out the way she hopes, the two hard-charging bantamweights will get to the ruckus before 2017 comes to a close.
And while all the conversations and interviews were great and provided ample boosts of energy to get through the day, everything led to the final one-on-one of the afternoon.
I'd spoken to Cruz plenty over the years, and together we've notched some great features, but the chance to sit down and speak with him in his element was reason enough to make the trip.
As a storyteller there are certain people who inspire you to take a closer look or push further to discover more about yourself and the subject at hand, and over the past three years I've become nothing short of fascinated by the pound-for-pound great.
Watching his perseverance to battle through and return from injuries that would have ended most fighter's careers, and re-emerging to win back a title he never lost showed there is a lot more to Dominick Cruz than fighting.
Furthermore, the former WEC and UFC champion is so game when it comes to exchanging that if you are willing to take the deep dive in the interview realm, he'll be more than willing to take that dive right alongside you.
In the final interview of the day we pulled up a few chairs and got down to it, and 20 minutes later it was all said and done. I've been talking to fighters up close and personal for the better part of a decade, and my Wednesday conversation with the former and striving to be future king of the bantamweight ranks immediately became a personal favorite.
And the response across social media platforms served as proof there were many others who felt the same.
And while we are carrying a schedule that doesn't allow for breaks or rest, being a seasoned veteran of the road I know the importance of capturing the moment and preserving energy. Hunter and I were both spent and borderline haggard wrapping up at Alliance, and there was simply no need to push toward Los Angeles on the night.
We had plenty of work to do and sleep to grab so we decided to settle into San Diego for the night and recharge our batteries. A few rounds of Tacos El Gordo and more video processing rounded out the night, and opening the windows on a 70 degree night with ocean crashing a mile down the road was truly magical.
I'd like to thank Angela Hill for recommending Imperial Beach. Beautiful gasoline fire sunset and a moment to breathe in the hectic project of a lifetime.


Day Two: I-40
This road never ends. I'm sure of it.
Trucking down I-40 West, Ol Bo and I chatter, riffing on everything. All shades of grays and browns stretch impossible distances, rising and falling just so. A mesa sits to the right, proudly overlooking the expanse, while a train bustles through the dust to the left, likely being chased by loot-hungry cowboys.
In between, the FloCharger roars on. There are 12 hours of road between Albuquerque and San Diego, and we intend to chew up every last tar-and-gravel inch.
Spoiler alert:
We came up short.
The day began perfectly. Longtime JacksonWink standout and UFC lightweight Diego Sanchez said he wanted to talk, and we intended to give him his platform whenever and however he wanted it. These conditions materialized just a few paces from the gym, outside a local coffee shop, and it was "game on" as soon as the camera clicked to "record."
For 30 minutes, Sanchez went all in, talking cage fights, street fights, finance, health, philosophy--all while sporting a pair of "jump soles" designed to help him stay light and quick on his feet (a fact he was happy to demonstrate at the interview's end).
Usually hesitant to speak to the media so candidly, Sanchez brought the heat right to us, and it provided a deeper look into the man known as "The Nightmare." He's 100 percent as wild and wacky as I had hoped, but the sincerity and passion with which he delivers his ethos was downright joyous to absorb.
Following Sanchez's thought-breakfast, we bounced from Internet cafe to Internet cafe, trying to find a connection suitable to upload the massive file. We ended up back at the home of Dan and Erica Brokaw--our fearless and loving hosts--to finally push the gem out into the scary world of the Internet.
Mission accomplished, we started the head to our next stop, Phoenix, Arizona, roughly a six-hour haul.
Then Bo got the tip.
"I have Dominick Cruz, Phil Davis, Darrion Caldwell, Cat Zingano, Jessica Penne, Eric del Fierro, and possibly Wilson Reis for you tomorrow at Alliance."
Alliance MMA. That's...That's not Phoenix. That's six
​more
​hours of driving south and west, doubling up our already-significant trip. It took three seconds to make our decision.
​

Omaha.

The audible was called at the line, and our carriage was rerouted. The drive would suck, but the payoff would be sweet, and we could still catch Phoenix on our way back before heading home. We took off into the afternoon, then the night, chewing up tarmac and marveling at the geography.


Peep my dude @DuaneFinleyMMA at it again with an epic road trip https://t.co/3w0fJSQ7cK

— Frankie Edgar (@FrankieEdgar) February 15, 2017


A pit stop in Gallup, New Mexico, cut to the core of what makes the Road Trip style so special. Best friends since childhood, Duane called up Kevin Stewart--a New Gallup transplant--for some food. The destination set at 505 Burgers & Wings, we slid off the interstate to meet with Kevin and three of his four boys for food and shared memories.

Like any true family, Kevin and Duane never missed a beat. They hadn't seen each other in years, but they lobbed old stories back and forth, forth and back, each one smacking the pitch farther and farther, sending the table into fits of laughter and disbelief.

Five annihilated burgers, one picked-at salad, and six satisfied souls later, we were back on our way, jumping back on that endless Route 40 in search of Cali before sunrise.

"We should snag a hotel."



It was inevitable, really. Four hours from San Diego, we decided we'd struggled enough for the night, and we found our oasis in the form of the Yucca Motel. While only a small step from the murderous picks usually reserved by Duane's wife, Renee, we were happy to have a bed, a shower, and a place to decompress all the same.

Tomorrow, the journey continues, and if the lineup waiting at Alliance MMA is any indication, this thing is just warming up.

Day One: JacksonWink
When I did the original road trip project back in 2014, it was the famous desert outpost I chose as the first stop. Three years later and still so inviting.
While Albuquerque is out in the middle of nowhere, that is part of the appeal to those who call the Jackson/Winkeljohn gym home. Other cities like Los Angeles and Las Vegas come jam-packed with distractions gift-wrapped in a fast-lane lifestyle, but down in the heart of the thirsty earth there's nothing to do but train. When that is the case, you get fighters covering every inch of mat space available as they grind out multiple 90-minute sessions a day in hopes of furthering their respective crafts.
Some just stay in house all day because that's the best thing for them, and that's welcome as well.
Hunter and I rolled in through the doors where "the best fighters in the world train" and we were immediately welcomed by two giants in the game. Greg Jackson and Mike Winkeljohn have been forging champions and contenders for the past two decades, and to see Coach Wink's gym thriving strong is a sign the future of the fight game will remain bright.
I exchanged some hugs and high fives with longtime friends in the fray, such as Donald Cerrone and Keith Jardine, before settling in to watch the morning session unfold on the mat. With this visit being Hunter's first visit to Albuquerque, the Big Glow sat in wide-eyed awe as future champions worked out of D'arce chokes on the mat and Michelle Waterson cracked mitts in the big cage in the center of the facility.
Legendary wildman Diego Sanchez and "Cowboy" looked on, but their respective presences were felt by everyone in the gym. It's one thing to have their large profile pics lining the wall above the cage, but it's another to have two legends moving about seamlessly in the chaos of the day.
My personal history with both men has been nothing short of entertaining, and Diego made sure to stop by and promise to give something extra special to the road trip project. For a fighter who has been there and done it all, "The Nightmare" loves everything about the mission we've undertook, and we locked down a time-slot for tomorrow morning to mine this gold.
Fifteen minutes after leaving the gym, I received a text from Diego assuring me our interview would be epic, and that's absolutely worth sharing with the readers of this journal. If that doesn't make you hyped, then I don't know what will. All I know is that a fired up Diego Sanchez will never disappoint.
After catching a few epic interviews with Mike Winkeljohn, Joby Sanchez (complete with a Diego cameo) and Diego Brandao, Hunter and I made our way across town for a lunch appointment with renown heavyweight knockout artist Alistair Overeem.
Before leaving the gym, Coach Wink assured me Overeem would be at least an hour late, and sure enough, "The Reem" cashed in Wink's prop bet. One hour to the minute, Overeem walked through the doors of Taj Mahal of Albuquerque with a squad eight deep in tow. Most of his crew was unfamiliar, but seeing Chris "Huggy Bear" Barnett put a smile on my face.
Anyone who has seen the compact, yet highly athletic heavyweight do his thing knows it's rare to see Barnett in a bad mood, and he sure enough didn't disappoint. Nevertheless, it was Overeem who made the lunch hour worthwhile for an old storyteller.
I listened intently as the Dutchman spoke about the process of it all. While Overeem has been there and done everything there is to do in the fight game, he's still very much a student of all this chaotic realm has to offer. The former Strikeforce and Dream champion was in great spirits as he ribbed yours truly on a few of the easy turns, but he was sincere in his well wishes for a great project to be had in this grand endeavor. While many believe they know the man, the one thing I can absolutely confirm is this: If Alistair Overeem cares about you....he will do everything in his power to make sure you are taken care of and okay.
A fighter in his position doesn't have to do anything of the sort, but that's just who Overeem is. We enjoyed a great lunch and made private talk to lock up a time to do the interview the right way, and I promise you it won't be something to miss.
After walking out of the lunch, we made our way over to see Adrian Gonzales at Elevate PHW.
Inside the walls of that facility is where Albuquerque's best get their strength and conditioning. I've known Adrian for quite some time, and he's helped with a few personal training projects, but today's visit was of a different nature. With my son Atticus being a young super athlete, Adrian has built a workout plan that will ensure his body and muscles grow the right way as he hits the rigors of invite leagues and AAU basketball. I'll forever be grateful for Adrian's guidance, and now that he's helping my son, my appreciation carries on even stronger.
Shortly after walking through the doors I noticed a familiar form pounding a medicine ball of the back wall. In full disclosure my heart jumped a bit because I wasn't expecting to see this person until tomorrow, but any time you get with Carlos Condit is worthwhile in every sense of the word.
Anyone who has followed my career knows how close I am with Condit and that' s due in large part to the six-part chapter series I did with him in the lead up to the fight with Robbie Lawler. While most of our conversation was simply two friends catching up and exchanging pleasantries, I can share that the Natural Born Killer is looking as strapping as ever these days. He was in great spirits, and I'm glad my young protege finally got the chance to meet one of the most fascinating individuals I've ever had the pleasure of meeting.
"Damn, that dude is even more handsome in person," Hunter said upon our exit. No greater truth has ever been spoken, Glow.
Upon exit from Elevate we raced back to the gym to catch our scheduled session with Lando Vannata.
While "Groovy" understood the chaos of the day, he made sure to make time to spend for FloCombat readers and fans. We watched the surging lightweight work through a blistering pad session, then sat down for a smooth interview with the rising star. If you can watch that video and not think he's one of the coolest cats in the fight game, I don't know what to do for you.
We finished up the night with a few conversations and a ton of video processing and social media goodness. All in all, it was a solid first day, and one that reminded me just why I wanted to do this in the first place. All the love and warmth I feel in this city is what has made it a second home to me, and I was so happy to share that energy with young Glow.
I'll go to sleep knowing there is greatness on deck tomorrow morning, and today was an excellent start to this one of a kind project.
Thank you all and good night.

#FCRoadTrip Preview
The road is what connects us all.
Although technology has swooped through in rapid-fire progression over the past 20 years and seemingly tethered us together, it's the road that remains the fixed constant.
In mixed martial arts it's no different.
Fighters are nomadic by nature, traveling from city to city to grind out a paycheck. For a select few, the stages get bigger with each and every contest, which eventually leads to glory under the bright lights. On the flip side, the road is littered with those who are still fighting to find their way, keeping the dream alive with every rigorous session inside the gym.
I've spent the past several years out on that road, telling those stories, and the process has been an investment unlike any other I've experienced. As a writer, you push to get beyond the surface, to find those elements that will help a passionate audience understand the truth of those athletes they follow.
Getting out on the road and into the lives of those fighters has allowed me to bring you a different side of stories you already thought you knew, but were suddenly shaped in a much different way. Stepping into their worlds has also created incredible connections and relationships that kept that door open if and when the opportunity to return ever presented itself.
And here we are.
The next 10 days will bring a whirlwind of miles and chaos spent hopping from town to town, fight camp to fight camp, in order to bring you all something special. The fighters on the lineup were all willing and inviting to be a part of this project because they also believe their stories deserve telling in a unique way. This isn't journalism by any scope. This is storytelling, and who better to lead you down the path than Ole Bo and the Big Glow?
So buckle up, strap in, grab some coffee or a few cold gimmicks and take this ride with us. We'll have videos, podcasts, articles, journals and everything in between. We are setting off into the west to find what makes your favorite fighters tick, what they love and fear and what they envision as the ultimate goal as they push down their individual paths.
We are doing this for you so let's dive in. Share, like, push and enjoy. The road is calling and this is our chance to do something that's never been done before.
And that's coming from a man who has done it all before. That's how I know this is going to be special.