In a sport filled with big names and larger-than-life personalities, there are few who can claim the type of recognition Quinton "Rampage" Jackson has earned.

The former Pride star and former UFC light heavyweight champion has been one of the fight game's biggest stars for the better part of the past two decades. Over the past 18 years, "Rampage" has built an incredible resume by facing some of the biggest names to ever compete in the realm of mixed martial arts, and his success inside the cage has solidified Jackson as one of the most prominent figures in the history of MMA.

But it's never just fighting where Jackson is concerned.

The 38-year-old knockout artist's sense of humor and unorthodox approach has made him one of the sport's most polarizing figures as well. And it's a badge he's worn with a considerable amount of pride.

When there is a fight on deck, like his upcoming rematch with Muhammed "King Mo" Lawal that is set to take place March 31 at Bellator 175, Jackson shifts into a different type of monster. The volume and intensity increase as the spotlight draws near, and the reason he's a fighter and entertainer with few peers becomes crystal clear.

That said, the rivalry between Jackson and Lawal is as real as it gets, and "Rampage" has every intention of putting a stamp on the unfinished business between them in Chicago.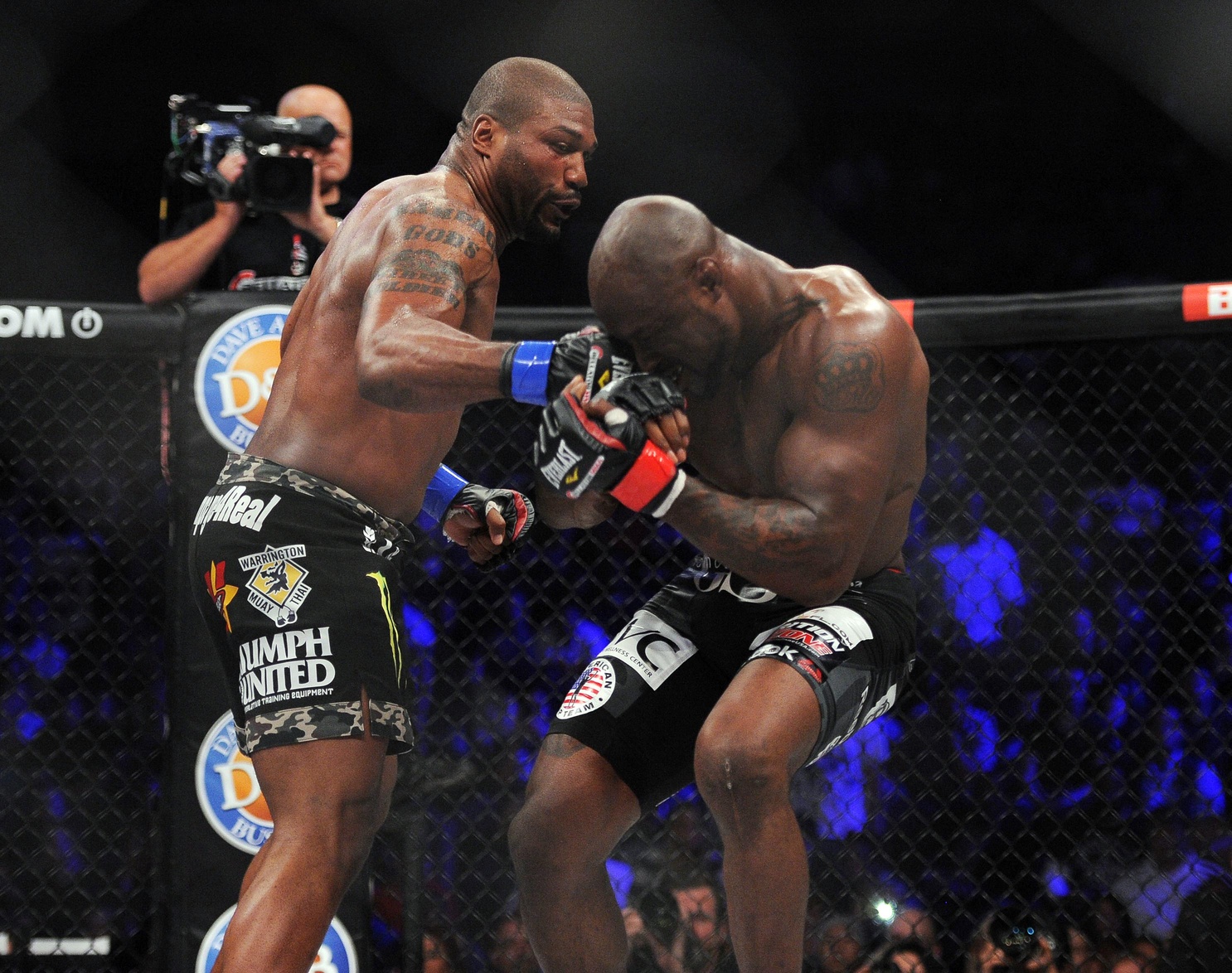 May 17, 2014; Southaven, MS, USA; Muhammed Lawal (red gloves) fights against Quinton Jackson (blue gloves) during BFC 120 at Landers Center. Quinton Jackson defeats Muhammed Lawal by unanimous decision. Mandatory Credit: Justin Ford-USA TODAY Sports

"I'm going to knock his ass out," Jackson told FloCombat. "That's my entire motivation, and I told him that right after our first fight. I wasn't able to knock him out then, but that's the entire reason I'm going to fight him now because when you look at it, what does fighting Mo do for me? Nothing. Especially considering how he fought me the first time.

"There's no way you can watch that first fight and say he went in there to fight me. All he wanted to do was hold me down and hump my legs. I don't talk about this much, but after our first fight I had to get my leg an abortion. It was a horrible thing and I didn't even know a leg could get pregnant, but when it gets humped the way Mo did mine, I guess anything can happen.

"He didn't come in there to fight, but that doesn't stop me from being disappointed for not knocking his ass out," he added. "Then after I beat him, Mo went and told all five of his fans he won and they start tweeting and retweeting. He doesn't need to worry about crying to all six of his fans this time. I'm knocking his ass out cold."

When a fighter carries the magnitude of profile Jackson carries, it can be difficult to see where the person stops and the persona starts. That said, even when he's riffing on the vibe of promotional push to sell a fight, it doesn't stop him from bringing things to a halt and addressing the real.

"Real talk though….it's never okay to to assault someone sexually or otherwise," Jackson said firmly. "I am playing around with some of the stuff I'm saying about Mo, but there are some very serious things happening in the world right now where statistics show the majority of women deal with that. These are our daughters and sisters out here and guys need to understand no means no. I couldn't be more serious with it. The sh*t needs to stop.

"I've had my own history with it, but that was all playing around," he added in regard to his notorious track record of interactions with female reporters. "There wasn't one of those girls who didn't flirt with me and follow me on Instagram. It was just messing and nobody got hurt or anything like that. Reporters be acting funny sometimes and want attention for their sites. I have no problem playing around, but that isn't the same as what's going on in the world right now."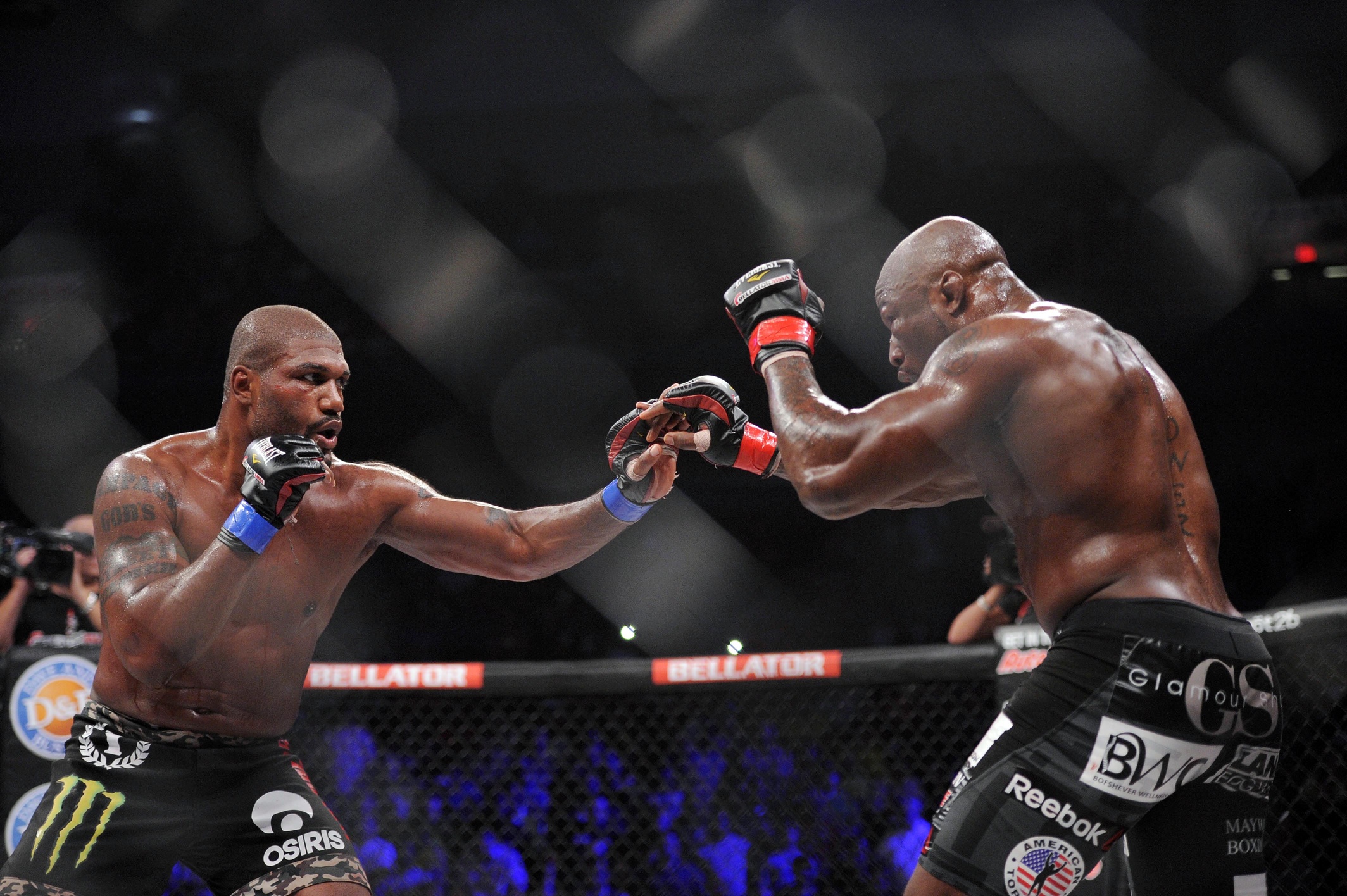 May 17, 2014; Southaven, MS, USA; Muhammed Lawal (red gloves) fights against Quinton Jackson (blue gloves) during BFC 120 at Landers Center. Quinton Jackson defeats Muhammed Lawal by unanimous decision. Mandatory Credit: Justin Ford-USA TODAY Sports

As the weight of the conversation began to shift, a side of Jackson sports media doesn't choose to focus on came to light.

By all accounts the hard-nosed Memphis native has always been a howlin', chain-link rockin', heavy-handed nightmare once the cage door closes, but he's also an individual who has played a crucial role in the careers of so many of his fellow fighters. Jackson not only prefers to keep the focus off his good deeds beyond the cage, but has a solid reason for keeping that narrative running below the radar.

"I've never been a guy who has ever helped anyone just to brag about it," Jackson said. "That's a bullsh*t way to be. If you help someone, that's business between you and that person, and that's where it needs to stay. I've low-key helped a lot of people during my time in the fight game, but there's no reason for me to go out there and talk about it because that's not what it's about. Being a good person, having good karma and helping make people happy is something everyone should strive for.

"And if you can't do good, be good. It's not a hard thing to do.

"I've reached out and extended my help to plenty of people who have used that to their advantage and f*cked me over," Jackson added. "Former managers who were shady and other people like that have f*cked me out of millions of dollars, but you're never going to hear me say life is about money. Yeah….getting paid in this fight game and getting paid what you are worth is very important because that's how I make a living, but money isn't something you can take with you when it's all said and done."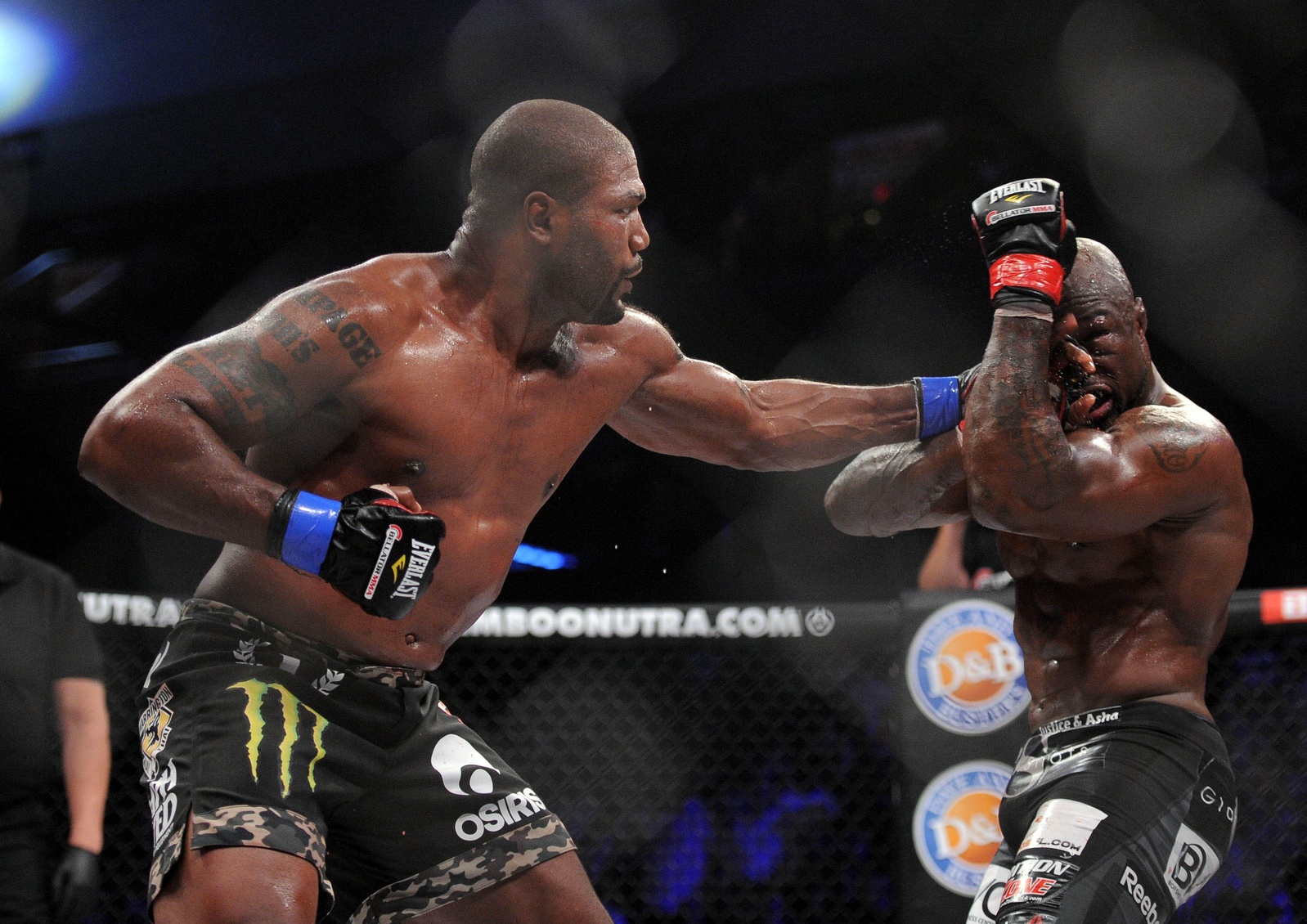 May 17, 2014; Southaven, MS, USA; Muhammed Lawal (red gloves) fights against Quinton Jackson (blue gloves) during BFC 120 at Landers Center. Quinton Jackson defeats Muhammed Lawal by unanimous decision. Mandatory Credit: Justin Ford-USA TODAY Sports

While Jackson is undoubtedly in the latter stages of his career, time spent and wars waged haven't taken anything away from him, and this is especially true where his sense of humor is concerned. He's all about the back-and-forth necessary to sell a fight, but his Memphis roots and street smarts make him a dangerous foe when the ranking and roasting gets to getting.

Lawal cast some heavy stones during the press conference to announce the bout a few weeks back, and Jackson has been more than willing to return fire. He's made his intentions to leave Lawal flat on the canvas very clear, and Jackson isn't pulling any punches in the banter game either.

He's going for blood because it's the only way he knows. And while recent performances and stylistic matchups have kept his killer instinct at bay, the upcoming bout with Lawal has Jackson ready to throw with the worst of intentions.

He's currently riding a five-fight winning streak, two of which came via devastating knockout, which is the signature "Rampage" calling card if there ever was one. Jackson is confident Lawal will be the next victim on his list, and remind every fighter on the Bellator roster why stepping in with Quinton Jackson is a bad idea in every measure.

"I have respect for Mo because he'll step in that cage with anyone, but that's where it stops for me," Jackson said. "I low-key don't care for him because he's a dude talking all tough and the dude has nipple rings. You hear me? Nipple rings. We are supposed to be the alpha males of the f*cking world and this dude has nipple rings.

"He's out there trying to fat shame me and all this bullsh*t and the dude has nipple rings. It doesn't get any worse than that.

"I'm not trying to be a d*ck but Mo is a guy who is below me. If you really look at it, what does fighting him again do for me or my career? Nothing. The only thing pushing me in this fight is finishing what I left unfinished in the first one. He got to walk out of that cage with a loss, but with his senses still intact. That's not happening in this one. Mo is getting knocked out and I'm going to shut him up for good."