Karolina Kowalkiewicz Ready to Give Joanna Jedrzejczyk No Option
Karolina Kowalkiewicz Ready to Give Joanna Jedrzejczyk No Option
Former UFC strawweight title challenger Karolina Kowalkiewicz ready and willing to earn her rematch with Joanna Jedrzejczyk.
Feb 10, 2017
by Jim Edwards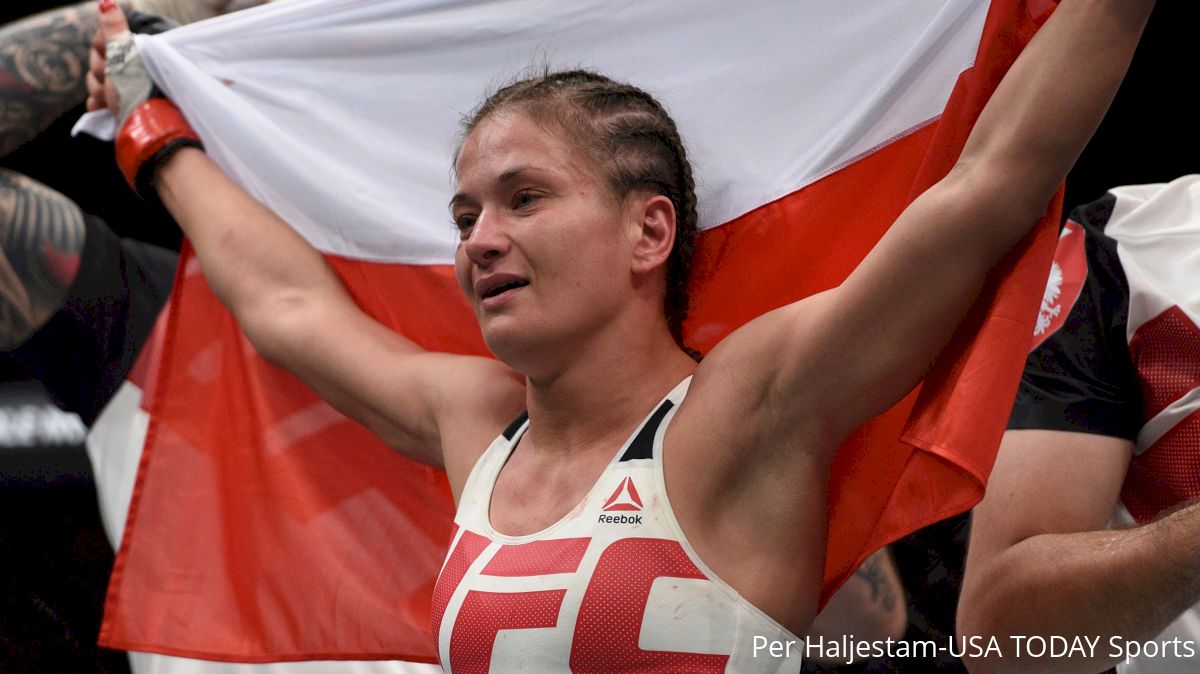 After realizing a dream at UFC 205 in Madison Square Garden, Karolina Kowalkiewicz is back and promising to take things to the next level in 2017.

Having contested for her first ever UFC title back in November last year and been defeated by fellow Pole Joanna Jedrzejczyk, Kowalkiewicz has now had time to reflect on the loss and learn the lessons from her defeat.


Looking back at UFC 205 proudly

While the result may not have been the one she was striving for on the night, Kowalkiewicz still looks back upon the event proudly and said that Madison Square Garden was everything she imagined it would be.

"It was my dream to fight at Madison Square Garden," Kowalkiewicz told FloCombat exclusively. "Unfortunately, I lost the fight and I didn't get the title. but it was a really exciting experience and New York is an amazing place. "I'm still happy I could be a part of that historic event and it will be something I always look back on fondly.

[tweet url="https://twitter.com/KarolinaMMA/status/795474540725932032" hide_media="0" hide_thread="1"]

"It was amazing coming back home to Lodz afterwards. I was greeted so warmly by everyone and I received awesome support that I need to say a big thank you for. I had never received as many congratulations after any fight before. I can't wait to take the belt home to them soon."


Only one went to hospital

On the night, all three judges scored the bout 49-46 in the favor of the champion. While the result may sound academic on paper, it was anything but that and in the fourth round Kowalkiewicz nearly shocked the world when she dropped Jedrzejczyk with a massive right hand and sent her straight to the mat.

The champion recovered well to see the danger out, but the damage was there for all to see after the fight with Jedrzejczyk's nose clearly broken and with a large hematoma protruding from the side of her face. Reflecting on the fight now, Kowalkiewicz says she's able to draw many positives from her performance and pointed to the fact that only one of them needed to visit the hospital afterward.

"I don't really like to score my own fights because I'm very critical with myself," Kowalkiewicz said. "I will say though, I'm pleased I proved wrong the critics who were saying it wouldn't last longer than two rounds. We went the distance and you can look at pictures of us afterward how damaged Joanna's face was and how mine wasn't.

[tweet url="https://twitter.com/KarolinaMMA/status/800699196609359872" hide_media="0" hide_thread="1"]

"Maybe she threw more volume, but my counter attacks were stronger and you can see that on her face. Nobody has put that kind of damage on her before—she couldn't even make it to the press conference because she got taken to hospital. On the other hand, I'm mad at myself because I was so close to winning this fight and I know I can push even harder."


Ready to give the champion no choice again

With it now almost certain that Jedrzejczyk now takes on Jessica Andrade in the next UFC women's strawweight title fight, Kowalkiewicz is aware that she must likely fight one more time before getting a rematch. With the champion seemingly doing everything she can do to distance themselves, Kowalkiewicz says it will be a matter time before she has no choice but to face her again.

"I'm a realist and I know I need to have one more fight before the rematch," Kowalkiewicz said. "But, I will do everything I can to get this fight before end of the year and I believe I will do it. I know how to fight Joanna now and I know I will beat her the next time we get inside the Octagon.

[tweet url="https://twitter.com/KarolinaMMA/status/828989112707321859" hide_media="0" hide_thread="1"]

"Joanna likes to talk a lot. Before she was talking over and over saying that I'm not on her level and that our first fight was never going to happen. Now she is saying that I don't deserve rematch, well ok, we'll see about that."


Gadelha in May sounds right

With Kowalkiewicz now back in the gym after taking the holiday season to relax, she now has her sights set on getting a fight booked. While not the type of fighter to call anyone out, Kowalkiewicz gave both her ideal opponent and timeframe for her next outing in the Octagon.

"I don't have any confirmed information or contract yet, but I would like to fight at the beginning of May," Kowalkiewicz said. "I can't wait to return to the Octagon because I think people are going to see I've not just been taking time off, I've already made big improvements and the next time you see me I'll be even better than what you from me at UFC 205.

"I don't pick my opponents, but a fighter I want to test myself against next is Claudia Gadelha. I think she's one of the best female fighters in the world and I think it makes sense with us both at the top of the rankings."


Sole focus on the UFC women's strawweight title

With the rest of 2017 ahead of her, Kowalkiewicz laid out her goals for 2017 and made it clear that regardless of any other weight divisions that open, the strawweight title is her focus and that will not be changing in the near future.

"I want to fight two or three times in 2017 and my goals are very simple," Kowalkiewicz said. "I want to keep fighting, winning and win the UFC strawweight title before the end of the year.

"Everyone talks about the possibility of a new flyweight division opening up, but that's not my goal. I'm usually around 58 kg and cutting weight isn't an issue for me. I'll be staying at strawweight whatever happens and it's only matter of time before I get the title."