Joanna Jedrzejczyk Plans Historic 2017, Open To Competing At 125
Joanna Jedrzejczyk Plans Historic 2017, Open To Competing At 125
UFC strawweight champion Joanna Jedrzejczyk reveals big plans for 2017 and says she'd like to fight at 125.
Feb 7, 2017
by Jim Edwards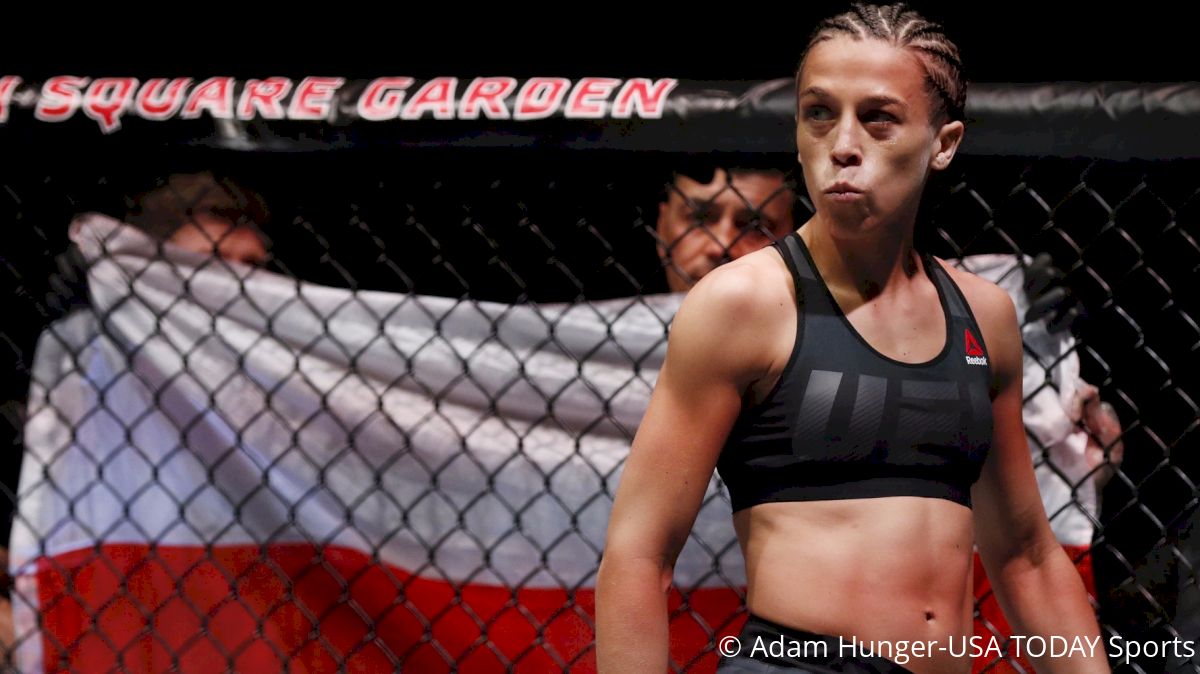 UFC champions have come and gone in rapid succession for the past two years, but UFC women's strawweight champion Joanna Jędrzejczyk has proven time after time that she's the best in the world at 115 pounds.
Jędrzejczyk, 29, won the UFC women's strawweight title in dominant fashion against Carla Esparza back in March 2015. Since then, the Polish fighter has answered all challenges placed in front of her, and in November last year, the UFC granted her wish to defend her title on the biggest show in the company's history at UFC 205 in New York's historic Madison Square Garden.
The first woman to defend a UFC belt in New York
The UFC's debut show in New York was an event Jędrzejczyk always dreamed of being on, and speaking to FloCombat this past weekend, the Polish champion said it lived up to all her expectations.
"The show was amazing. We didn't have time to speak after the show," Jędrzejczyk said. "I was very happy. Just last week I watched my fight with Karolina [Kowalkiewicz], two months after the fight and I'm very excited. I'm very hard on myself every day, but I'm happy. This fight was very good. I don't know why people are still asking me about a rematch with Karolina--I won this fight definitely.
"There is a difference between me and Karolina and our fighting styles. I'm happy with this fight, and like I said, I know what I can work on being better [at] and proving to people I'm an even better fighter in my next fight and defend my title. I hope that the UFC will go to Madison Square Garden, New York, again this year, and of course I would like to be part of it because the show was just amazing--amazing. All the fighters put on amazing performances and the numbers show it was one of the greatest ever."
Not just the best in Poland--the best in the world
In interviews prior to UFC 205, both UFC President Dana White and former UFC matchmaker Joe Silva said that Jędrzejczyk had requested Kowalkiewicz be brought into the promotion so she could show everybody in Poland who the better fighter was. The strawweight champion didn't quite buy into that narrative, saying that she was solely focused on proving to everybody she was the best women's strawweight fighter in the world.
"In Poland, so many people wanted me to prove who is the best in Poland and they wanted me to fight Karolina many times before she even got to the UFC," Jędrzejczyk said. "But, even at that time three years ago, I said, 'I don't want to prove to you guys I'm the best in Poland because I know who I am. I know I'm the best in the world, and I'm going to prove that.' And this is what I did.
[instagram url="https://www.instagram.com/p/BM1CMydjIlA/" hide_caption="0"]
"I faced Karolina in my last fight, but that's all gone, it's the past and now I'm looking forward. I don't mind anymore about her."
A big difference between the Polish No. 1 and No. 2
Jędrzejczyk defeated Kowalkiewicz via unanimous decision at UFC 205, with all three judges scoring the contest 49-46. Having won four of the five rounds in their first fight, Jędrzejczyk says she can't understand why people are calling for a rematch given how conclusive the decision was.
"Of course I've shown that I'm the better fighter," Jędrzejczyk said. "A lot of emotions were going on at that time. It was two Polish fighters, an amazing fight for both of us and Polish MMA, European MMA and for female fighters not just in Europe, but for all over the world.
"I think that I showed to Karolina and to everybody that she's far behind me. OK, she's tough and it was a good fight, but come on--there was a big difference. The punches, the kicks, OK, she was dangerous for a moment in the fourth round, but it was like for 30 seconds, that's all, you know? She couldn't do any more."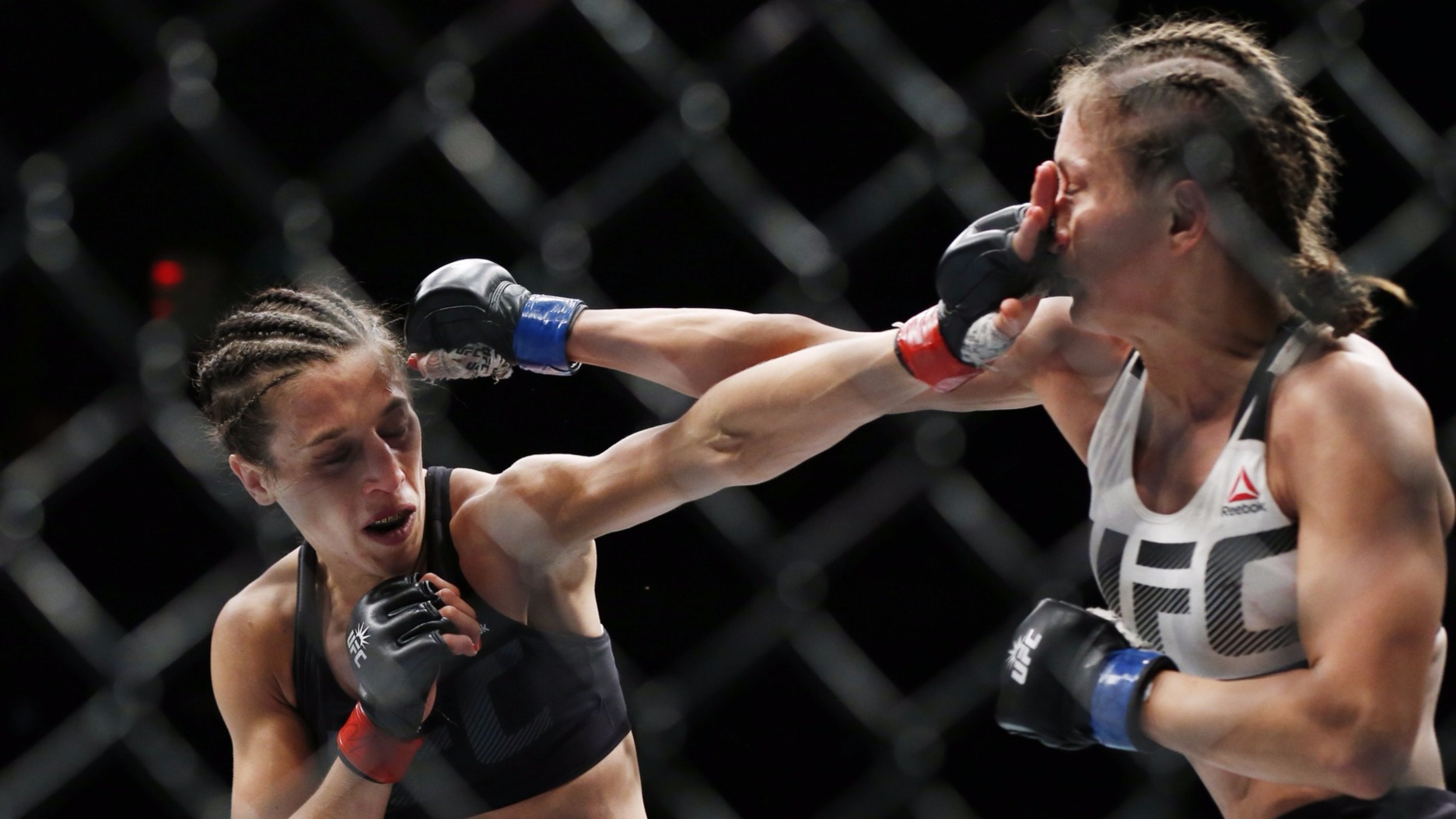 Perfecting Athletes, perfecting the champion
Jędrzejczyk made some big changes in the second half of 2016 and decided to make the move across the pond to train at American Top Team in Coconut Creek, Florida. Aided by a strong support team that includes her nutritionists Perfecting Athletes, the Pole says she's settled in well and that she's living a happy, healthy lifestyle.
"I'm enjoying my life, and Perfecting Athletes have changed my point of view on my diet," Jędrzejczyk said. "They changed my supplements, my diet and my preparations--I will do this now for every camp. This will be our third camp together, and it's a pleasure for me to work with Michelle [Ingels] and Paulina [Indara].
"I feel just healthy, you know, and I feel at home here. Of course, I miss back home, but here I have very good people--Perfecting Athletes, Mikey Brown, Kami [Barzini], Katel [Kubis] and all the other people from American Top Team. We are like a big family, and I feel just amazing. I'm happy, I'm healthy, and when I'm both of those things I know I will keep on winning my fights.
[instagram url="https://www.instagram.com/p/BMvz7FRg82K/" hide_caption="0"]
"Of course, I want a 125 [pound] division. The weight cuts are never fun--but that's part of our job. They've changed all that now--I feel healthy. I feel like I can put on weight in my off season, but I can still make 115 and stay healthy. I can be powerful and I don't have bad days during the middle of the camp. I'm very happy, and I'm very excited to work with them. All these fighters can see what a big difference there is between Perfecting Athletes and other nutritionists in the business. They are the best in the business."
Big plans for 2017
While Jędrzejczyk feels that making the 115-pound limit is as easy as it's ever been, the prospect of competing in a 125-pound flyweight division remains attractive. Regardless, the champion is going to sit around waiting for it happen and still has some very big plans for 2017.
"Sure, if they open the 125 [pound] division I will go up," Jędrzejczyk said. "I want to keep on fighting in 115 and 125 because like I said, with Perfecting Athletes I know I can do this and stay healthy. Definitely I would like to do this, but I have very big plans for this year in the 115 division. I want to fight somewhere in April or May, then maybe summertime, and then at the end of the year in Madison Square Garden again.
"I have good plans for this year and I want to keep on being busy and I don't like sitting around without a fight. I'm a very active person, so I just like to keep on fighting. I know that my fighting career will not be forever, so I want to get as much in as I can while training and fighting smart as well."
Fighting in Poland still a dream
MMA in Poland is a sport going from strength to strength, with the homegrown promotion KSW later this year planning to hold the nation's first ever MMA stadium event at the 58,000-seat National Stadium in Warsaw. While the sport in the country is strong, the UFC has yet to make inroads on the market, hosting only one event there in April 2015 in Krakow.
That evening, Jędrzejczyk sat cageside, having won the title just a few weeks earlier at UFC 185. With the UFC having not returned since, Jędrzejczyk's never had the opportunity to fight in front of a home crowd inside the Octagon. Suffice to say, the prospect of doing so remains a dream, but for the next six months at least, it sounds like it will stay just that.
"No one knows what's going on in the UFC offices right now," Jędrzejczyk said. "There was supposed to be no 145 [pound] division, but then we got one. I'm happy we did, because it's good to see more women's divisions, but the thing is it proves we really don't know what they are planning. I spoke to some of them in the UFC office about a show in Poland, but they said they aren't planning to have a show in Poland for the next six months, but maybe the second part of this year.
"I just want to fight and put on the best fight every time, on the biggest UFC shows. But, on the other side, just let me fight--it doesn't matter where. I would [like] to fight in front of my family and all of my people in Poland and put on a show--just not with Karolina Kowalkiewicz.
"She doesn't deserve to fight for a title again for the next few long months."