Jessica Aguilar Wants Maryna Moroz Fight at UFC 211
Jessica Aguilar Wants Maryna Moroz Fight at UFC 211
Former WSOF strawweight champion Jessica Aguilar talks about her storied past and bright future at UFC 211 in May.
Feb 4, 2017
by Duane Finley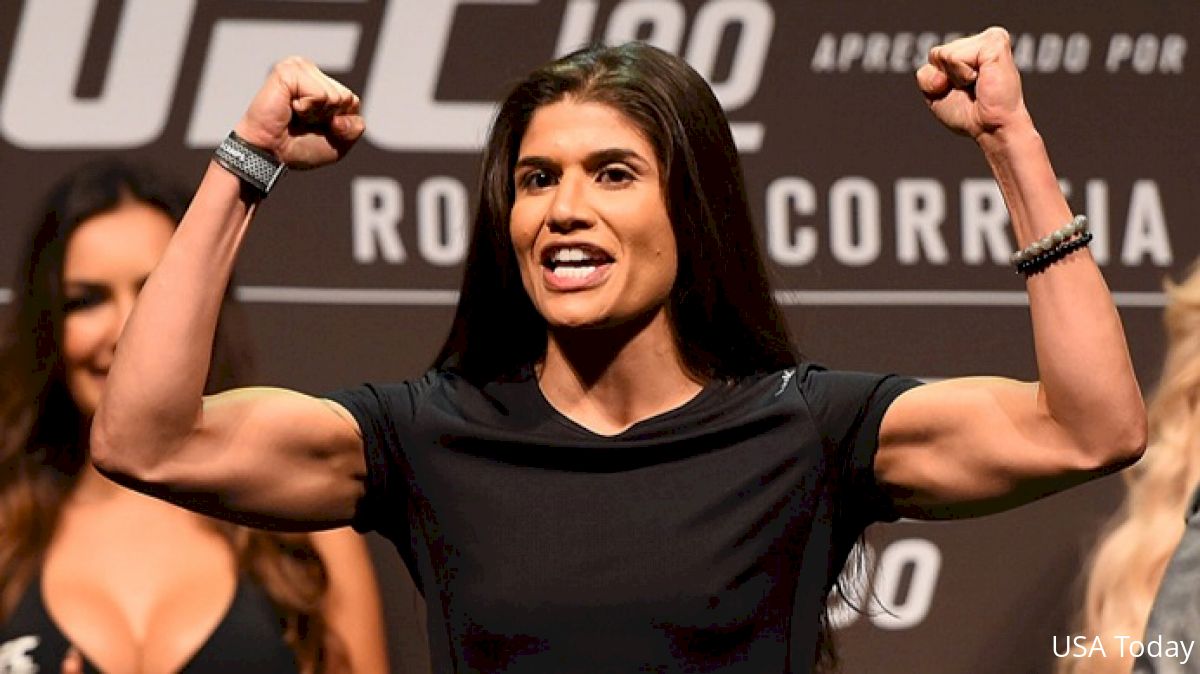 Jessica Aguilar doesn't feel she has anything to prove, and there isn't any sign of a chip on her shoulder. Yet, in a way that's very personal to her, the goals once set are very much on the radar, the quest to show herself she has what it takes is the sole objective.
That's the only thing that has ever mattered, but now, it matters more than it ever has before.
"It's not about proving anything to anyone else," Aguilar told FloCombat in an exclusive interview. "It's about proving it to myself. I hold myself to a high standard and I'm the person I answer to. I ask myself, 'Can I do it?' and it's a mindgame I play with myself. It's not for anyone else. When I do like I've done in the past and accomplished a goal no one thought I had a chance at doing, it's nice to see the faces of who didn't believe in me. They get congratulatory all of a sudden, and for me that's always an added plus.
"Sharing my story has also been a great part of this journey. To be sharing my story with other women and know I'm motivating them to do whatever it is they want to do is special.
"I've always been an underdog," she added. "At the beginning of my career I was always going in to be a stepping stone, and I proved them wrong time and time again. The underdog role is one that has fit well for me."
Over the course of her career, the 34-year-old veteran has won belts and garnered acclaim on major stages all across the sport, which lead to Aguilar being recognized as one of the top, and according to some the very best 115-pound female fighter in the world.
Yet, without the premiere organization in mixed martial arts hosting a strawweight division, Aguilar was forced to perform the vast majority of her work beyond the spotlight of the UFC's Octagon.
[instagram url="https://www.instagram.com/p/3zur7XIDNS/?taken-by=jagatt" hide_caption="0"]
Nevertheless, after a lengthy journey that traveled through once prized but now defunct promotions such as Bodog and the Indiana-based institution of Hook-N-Shoot, the former World Series of Fighting champion finally received a call from the UFC in 2015.
It was an opportunity many--Aguilar included--felt was long overdue, and one she was determined to make the most of.
"Coming to the UFC for me was just the icing on the cake," Aguilar said. "I've been a pioneer of the sport and I've competed in all of the biggest shows in MMA. Back in the day I fought for BoDog and then over to Bellator. I was on the U.S. Grappling Team and did Hook-N-Shoot. I've done it all and maintained my status as the best strawweight in the world.
Where the UFC had forced former champions of competitor promotions to take an extended road to the top of their divisions, Aguilar jumped directly into the fire in her official promotional debut. The American Top Team representative squared off with recent title challenger Claudia Gadhela at UFC 190 in a bout that was deemed an official title eliminator.
The winner of the tilt would go on to face reigning champion Joanna Jedrzejczyk for the 115-pound crown, and those were precisely the caliber of stakes "JAG" came to Zuffa-land to find.
But all wouldn't go her way that night in Rio de Janeiro. Gadelha's pressure and pace were simply too much, and while Aguilar saw the fight slipping away as in-fight adjustments failed to materialize, one of the pioneers of women's MMA came up short against an established young talent.
In true Aguilar fashion she gave what she had to give until the final bell sounded, but it would be Gadelha who exited the cage that night in Brazil on her way to a championship opportunity.
With a disappointing result in her first showing inside the Octagon, it would have been easy for doubt to set in. Many figured Aguilar to barnstorm the strawweight scene with many more assuming she'd crown herself Queen in short distance from signing her UFC contract, but if a decade competing in the guts of an unforgivable game teaches anything it's nothing is given and short memories are key.
Being the true definition of a veteran fighter, Aguilar harkened to junctures in the not-too distant past as reference points to guide her back to confidence. She was the woman who toppled Japanese legend and recognized WMMA deity Megumi Fujii not once but twice, with the latter meeting coming on the demure giant's home soil.
Photo Credit: World Series of Fighting
"I beat Megumi Fujii who was, and still is my idol," Aguilar said. "I defeated her in Japan and won my title in WSOF, and then the UFC opened up a strawweight division. It's the icing on the cake and it's been a great journey. I'd say it's been a pretty good career for me and it's not over yet. It's far from over."
Aguilar's intentions of getting her hands on yet another title, and this time the most prestigious in the sport, were all the motivations needed to spark a fiery run at redemption. When she booked a bout against Julianna Lima at UFC 197 in March of 2016 the mission of championship tier assault further took shape. Aguilar now had a face to put with the fury, and Lima was a target to be punished.
The intensity pulsed through every training session. Every minute in the gym had purpose, but in the cruel way a sport born of adversity decides to up the ante, an unfortunate turn on another groundhog day of training, stopped the Mexico-born strawweight in her tracks as a torn ACL put Aguilar's comeback in the worst type of limbo.
The loss and subsequent injury could very well be notched as back-to-back losses, and for a time in the earliest times post-surgery the dual misfortune hovered as a potential reality. Yet, experience is a prized commodity held above most in such a rigorous sport, and Aguilar once again leaned on her past to keep the door propped to her future.
Rather than fall victim to doubt and self-pandered woe, Aguilar looked at the road ahead and chiseled opportunity out of resistance. Projections of time and distance were laid out before her, but in a vehicle set at a fixed speed there's no reason for excitement and anticipation get the best.
Therefore she decided to embrace positives across the board. Her fiance Elena provided rock-solid support and partnership as they opened a business together, and Aguilar's expertise in the fight game earned the former world champion to try her hand at matchmaking duties for an upstart promotion.
"My time off has been really good," Aguilar explained. "My fiance Elena and I opened up Carbon [Juice Bar] nine months ago and that kept me busy while I did physical therapy for the knee. Everything went by super quick and that was great. I stayed busy helping her out."
[instagram url="https://www.instagram.com/p/BMosz40hY24/?taken-by=jagatt" hide_caption="0"]
While the intensity of the work attached to her recovery increased and her knee would heal, Aguilar took notice of the shift in perspective that had happened along the way. Fighting, which had dominated and ruled her life for a decade hadn't suffered in importance or significance, but the other avenues she traveled throughout her recovery weren't time-passing endeavors for a weekend hobbyist.
Aguilar developed a newfound versatility that extended beyond a well-rounded fight game, and that has her looking forward to a future never brighter. Make no mistake about it: There is still a UFC championship belt dangling somewhere in the gray behind her eyes, but that goal isn't the only occupant in the space where Aguilar's ambition exists.
"When I started MMA it was a hobby," Aguilar said. "I never knew where it would take me to, but I always felt it was going to be my platform to do some other thing. MMA is my career, but I like to do other things as well because I understand someday fighting will come to an end. I've done some matchmaking and I'm currently doing it right now for Titan FC. I've done some announcing and I know I need to get better at those things because I'm interested in doing more with them in the future.
[instagram url="https://www.instagram.com/p/BGfe7QDIDM7/?taken-by=jagatt" hide_caption="0"]
"I haven't acted in a long time, but that's something I would also like to do if the right opportunity presented itself. My fiance and I had the idea of opening up a business because the opportunity was there and we did it. Now that I've been doing these other things, I think I would go crazy is fighting was the only thing I did.
"I spend so much time training and being around it I needed to get away from it a little bit," she added. "I decided to learn other things and explore other avenues and I'm very happy I made those decisions."
Nevertheless, beside the boxes waiting to be checked, the most prominent area of focus is undoubtedly Aguilar's return to the Octagon. The 115-pound scrapper knows that unexplainable thing she loves to do--that thing that looked as if it had been taken away for good--is once again drawing near, and Aguilar is happy because of it.
She's a fighter born and bred, and the imposition of will is an attraction etched in every fiber..
"The great thing about MMA and all of these different martial arts is that you are always learning. At least for me...that's how I see it," Aguilar said. "I'm never going to say I've learned all there is to learn. I'm always going to know there is more out there and that is what keeps me going.
[instagram url="https://www.instagram.com/p/BPeERy8DT2Z/?taken-by=duanefinley" hide_caption="0"]
"At this point in my career I want to have more fun with it because I love what I do. Once you've been training for a long time and you are so deep in this sport, you kind of forget about having fun. You become so focused where the only thing on your mind is to work, keep working and work harder.
"This past year and a half I've had a lot of time to think, and I want to go back in there and I want to have fun with it. I'm not going to take it as a hobby--it's still very much work--but I want to take the time to enjoy everything that comes with it."
The typical process would see Aguilar wait patiently until her name came around in the matchmaking till, but the taste she got for pairing exciting bouts has her helping out the UFC brass in any way she can.
The South Florida transplant not only knows the time and place she wants to stamp her return, but the opponent she'd like to throw leather with inside the cage. So heads up Maryna Moroz, if your schedule is open on May 13...there is a willing dance partner waiting at UFC 211 in Dallas, Texas.
"I am back to actively training and have been doing so since the first of the year," Aguilar said. "I would actually love to come back on May 13. I'm putting it out there. The UFC is coming to Dallas and that would be the perfect date for me. I want to dance and I'd love to do that dance with Maryna Moroz.
"I know she's coming back and wants to do so in May so that would be the perfect matchup. I'm just waiting for her to respond and we can make it happen."
Aguilar has officially started her campaign to land a bout with Moroz in May, but that hasn't stopped her from watching her division at large from the sidelines. During her absence the strawweight collective has flourished as challenger and contenders have risen and fallen in the natural ebb which occurs when a division is running at a healthy pace.
And even with all that activity paired against her inability to advance her own personal placement, Aguilar still very much believes the 115-pound divisional ladder is ripe for the climb.
"My division is wide open," Aguilar said. "In the UFC you never know what could happen. A win or two can land you a title shot. Basically anyone in the top 10 can get a title shot with a few good wins. It's wide open for anyone who is hungry, and let's see who is hungrier than I am."