Jorge Masvidal Open To Fight With Nick Or Nate Diaz
Jorge Masvidal Open To Fight With Nick Or Nate Diaz
Jorge Masvidal says he's open to a fight with either Nick or Nate Diaz and reveals an emotional moment with Donald Cerrone's grandmother.
Jan 29, 2017
by Jim Edwards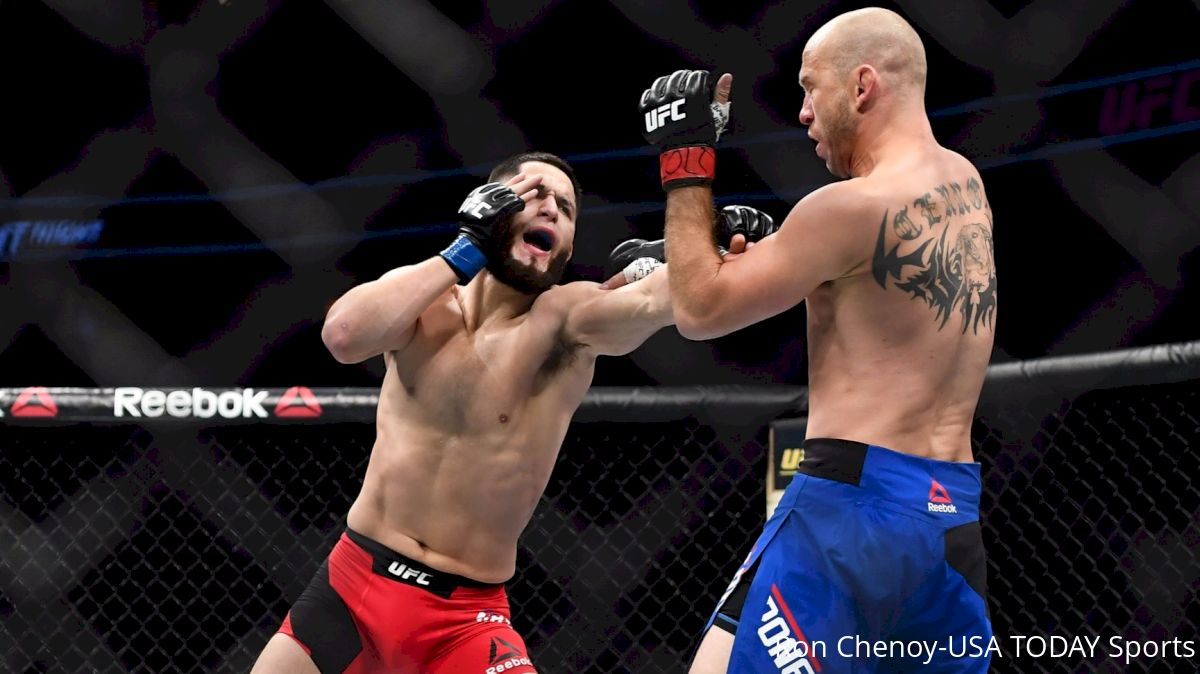 Jorge Masvidal picked up a massive win at UFC on Fox 23 (UFC Denver), defeating Donald Cerrone in the second round of their co-main-event contest.
Judging by the reaction online to his win, many would've thought Masvidal would wake up this morning delighted having recorded the best win of his career so far. Speaking immediately in the aftermath of the fight last evening, however, Masvidal wasn't quite so fast to put that label on the fight.
"I'll let the fans say that, it may be my biggest win the UFC, but I've been all over the world kicking butt for a long time before I got here,"
Masvidal told UFC.com
. "In my book, no, it's not the biggest, but in the UFC people can rank it wherever they want, but I fought some greats back then outside of the UFC."
Prior to the fight, the build-up between the two had been intense, with neither man seemingly a fan of the other. After the fight, the resentment was gone, and Masvidal was quick to show his respect for Cerrone.
"After the stoppage, I looked over, and he looked up in my eyes and he was completely done," Masvidal said. "He then sat back down and then about 25 seconds later I managed to get eye-contact with him—he wasn't looking at me, but I was looking at him and I could see he was still out of it.
"I knew he was going to come out cautious [in the second round]. The guy is a warrior. The shot that I hit him with and the shots that I hit him with on the ground, not a lot of dudes would want to get back up and keep going, but he gave it all he had. He has all my respect in the world."
After the fight, Cerrone's grandmother, who sat cageside, had words with Masvida.
"Man, she killed me, man," Masvidal said. "She just came up to me and said, 'That's my grandson, and you're a great fighter, and no one has taken out my grandson like that.'
"I might be a bad guy, but things like that get me, man. I don't want to beat no one in front of their grandma. I got family, I've got kids, and I can't imagine seeing my kids going in there, you know? That hurt a little bit, you know?"
With three straight wins, Masvidal now has several prospective big-time fights available to him. With fans online immediately clamoring for a fight with one of the Diaz brothers, he said he'd be open to anything at any weight—just as long as the money is right.
"The money interests me," Masvidal said. "The Diaz's—one is at [1]55 and one is at [1]70 or [1]85. I'll fight wherever the money is, and I'll fight whoever is in front of me.
"There are no brothers and sisters in this game. My only concern is to feed my family. Whoever gets put in front of me, that's who gets taken down."
​Listen to Masvidal's full post-fight interview here: