Time has a funny way of shifting things into perspective.

Joe Lauzon still feels the core of what made him a staple in the talent-stacked lightweight division is very much firing strong, but elements of the equation have certainly changed. Lauzon is still as scrappy as he's ever been, but the sport around him has taken a much different shape.

Where fighting for the sake of fighting was once the motivation, the business of combat sports and taking care of his family is now at the center of everything. Nevertheless, Lauzon's blend of cerebral analysis and dogged toughness have kept him right in the thick of things in the 155-pound fold.

And in a sport where elder statesmen tend to get washed out by the rising tide, Lauzon has proven to be among the collective who are still rolling strong.

"All the guys like myself, Jim Miller and Diego [Sanchez] who are still doing it got into fighting when there was no money to be made," Lauzon told FloCombat. "A lot of the guys who are getting into the sport and are coming up now are good athletes, but I don't think they invest themselves into doing all the things they need to. Maybe they don't have the time or something like that, I'm not quite sure.

"I see it all the time--even at my gym--where guys want to fight and they are very good, but it's because they are much better athletes. They just don't want to put the time into all the other stuff. They have a lot of the major tools to be good fighters, but they are missing a lot of the subtle things that make a huge difference.

"When those fighters run into things that myself, Jim Miller or Diego would shake off no problem because we've put in the time; they are getting caught," he added. "I have to make sure that's not happening to me. If Marcin Held has some new version of a leglock I'm not working on then I have to make sure I search that out and put the work in. It's cool to see how it's all shaping up though. I think the future of this sport is strong and it's only going to get better and better."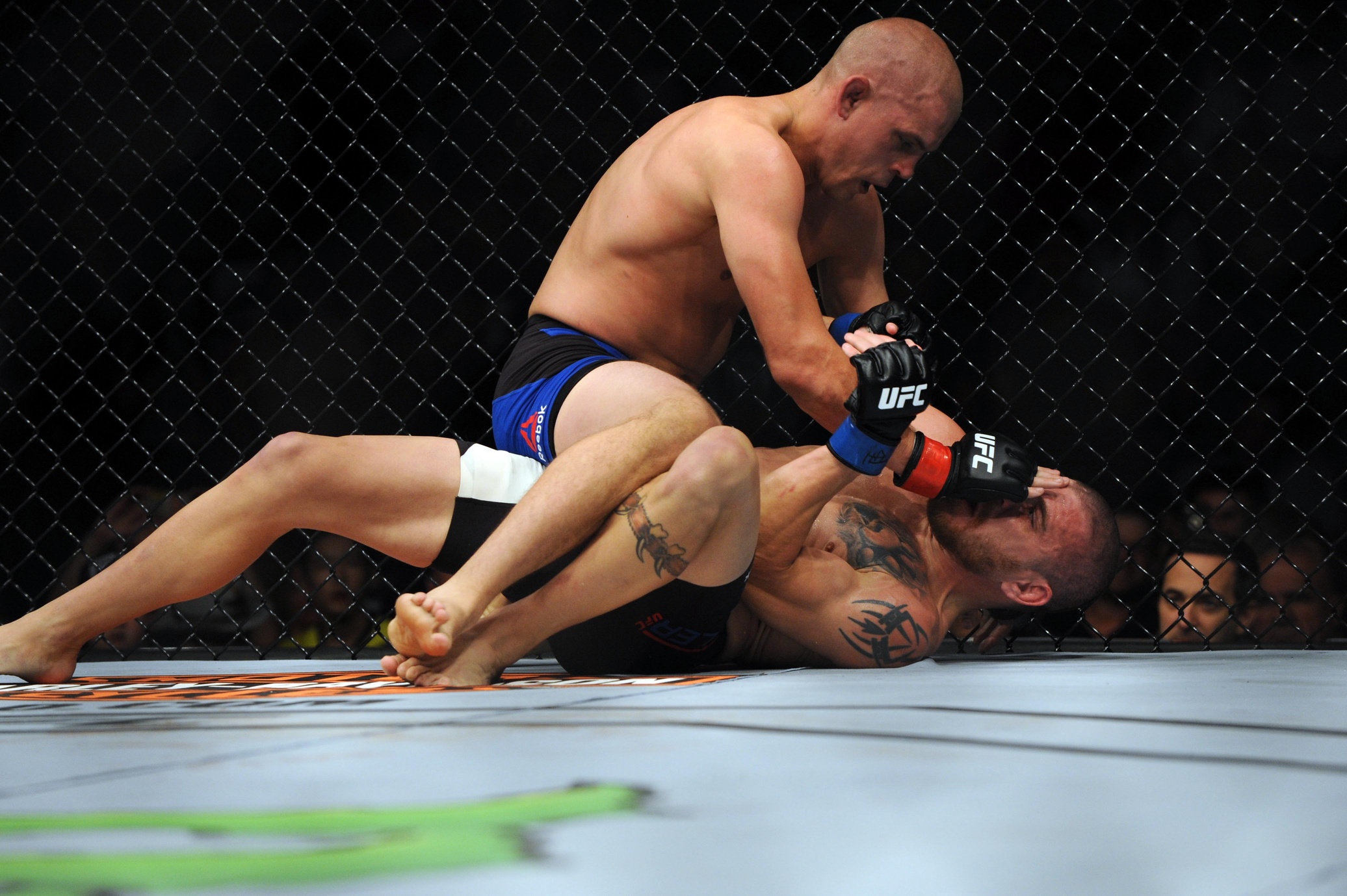 Aug 27, 2016; Vancouver, BC, Canada; Joe Lauzon (red gloves) reacts to fight against Jim Miller (blue gloves) during UFC Fight Night at Rogers Arena. Mandatory Credit: Anne-Marie Sorvin-USA TODAY Sports

The past few years have seen Lauzon mix it up with fellow veterans of the sport, but his next challenge will give him the opportunity to test himself against new blood in the lightweight fold. The 32-year-old bonus machine will face former Bellator title challenger Marcin Held at UC Fight Night 103 in Phoenix on Jan. 15.

While Lauzon is the first to admit he wasn't all too familiar with the Polish grappling ace at first, the research he's done in camp has him plenty interested to hit the Octagon with Held in Arizona.

"I kind of knew who he was but didn't know a ton about him," Lauzon said. "I'd seen the highlight of him fighting Diego and him going for the guillotine and Diego jumping off the fence. I knew it was going to be a fun fight because it's clear Marcin isn't afraid to go for things in there. I honestly didn't know a whole lot about him otherwise, but I did my research.

"He's obviously a good leglock guy and has a ton of finishes that way. He's a blackbelt in jiu-jitsu and once I learned more about him I became really excited for the fight because I feel like all I do is fight kickboxers. It's been just one kickboxer after the next, but now I get to fight a badass grappler and I want to see how it goes. I'm pumped for it."

In his preparation for Held, Lauzon couldn't help but recognize a lot of tendencies he found familiar. Although the Brockton native has earned a reputation for his willingness for going toe-to-toe, his ground game has always been the most dangerous part of his skill set.

The same is certainly the case when it comes to Held's weapons, and Lauzon is eager to put his ground game to the test this Sunday night.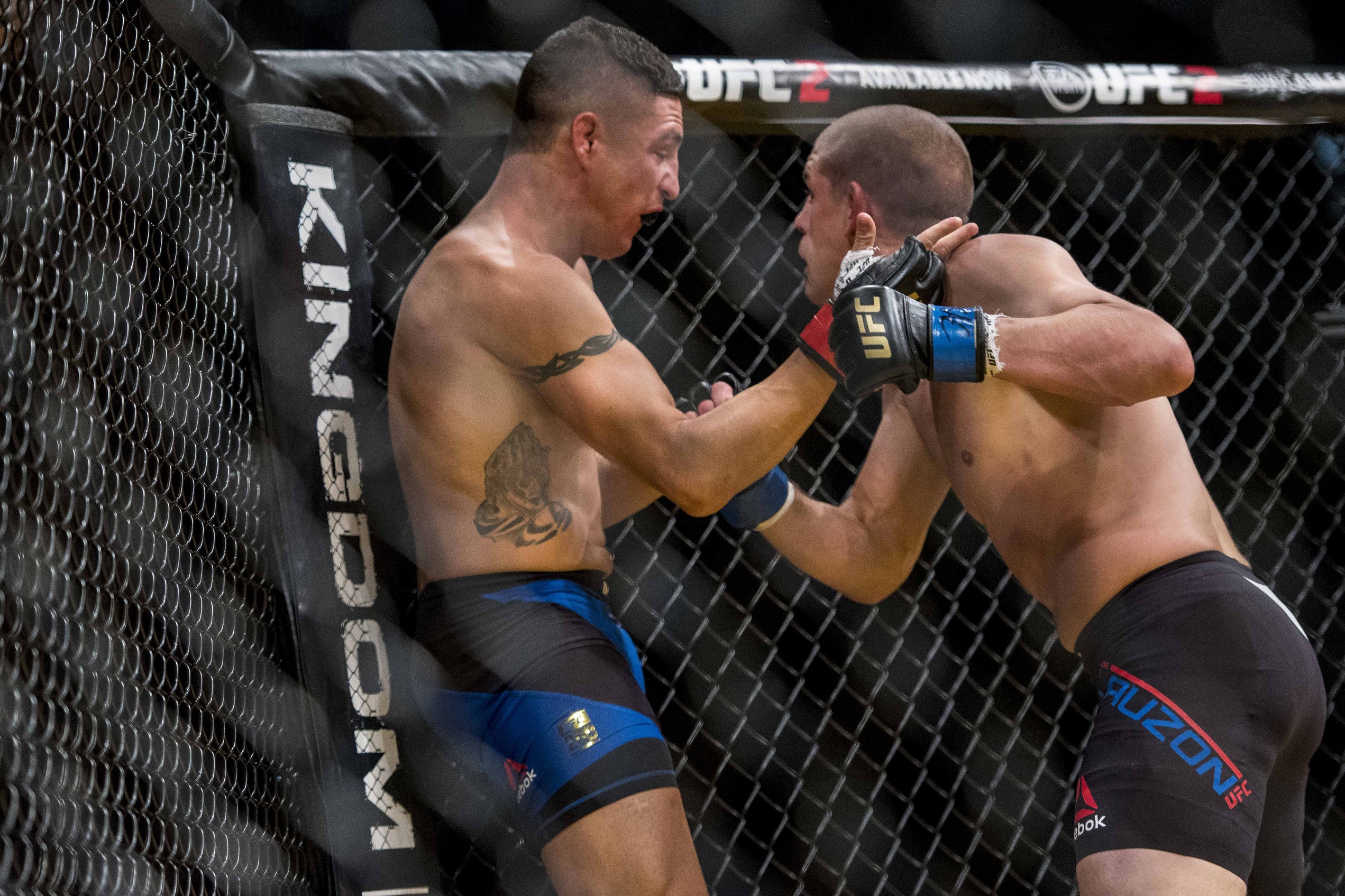 Jul 9, 2016; Las Vegas, NV, USA; Joe Lauzon (blue gloves) punches Diego Sanchez (red gloves) during UFC 200 at T-Mobile Arena. Mandatory Credit: Joshua Dahl-USA TODAY Sports

"I feel like I'm fighting myself from six or seven years ago in this one," Lauzon said. "I've made a lot of improvements since then, and definitely feel I'm the best version of myself, but I don't get to showcase some of the things I've worked on because of the matchups. I look at Marcin and see a lot of things in him that remind me of myself at a different time. That's a cool element to this fight for sure."

With 13 years as a professional mixed martial artist under his belt and nearly 40 fights on his resume, Lauzon is one of the longest standing fighters on the UFC lightweight roster. And while the past few years have seen the savvy veteran trade wins and losses inside the cage, those fights have been consistently waged with other elite-level competitors in his weight class.

Lauzon has found his fair share of success in recent years, but his failure to string together a hefty streak has generated doubt surrounding his elite status in the 155-pound ranks. And while Lauzon admits he's never been one to give much thought to critics, he was willing to share his thoughts on where he currently stands in his career.

"I was reading an article that popped up on my TimeHop on Facebook from five years ago that questioned if I was slowing down," Lauzon said. "Here I am five years later and some of the biggest wins of my career came after that article. I don't think I'm slowing down one bit.

"I don't feel any worse for wear than I did when I was 21 years old and that's the truth. I take care of my body better is all. I get messages. I ice and rest when I need to. When I was 21 I didn't need to do any of that stuff. I recovered a little bit faster, but I didn't take care of my body like I do now.

"I don't feel I'm at the end of anything," he added. "I'm very much the type of person who needs things to be done the exact way I set my mind to. If I get to the point where it can't be done that then I'll have no problem walking away. But I'm still going strong and getting better every day."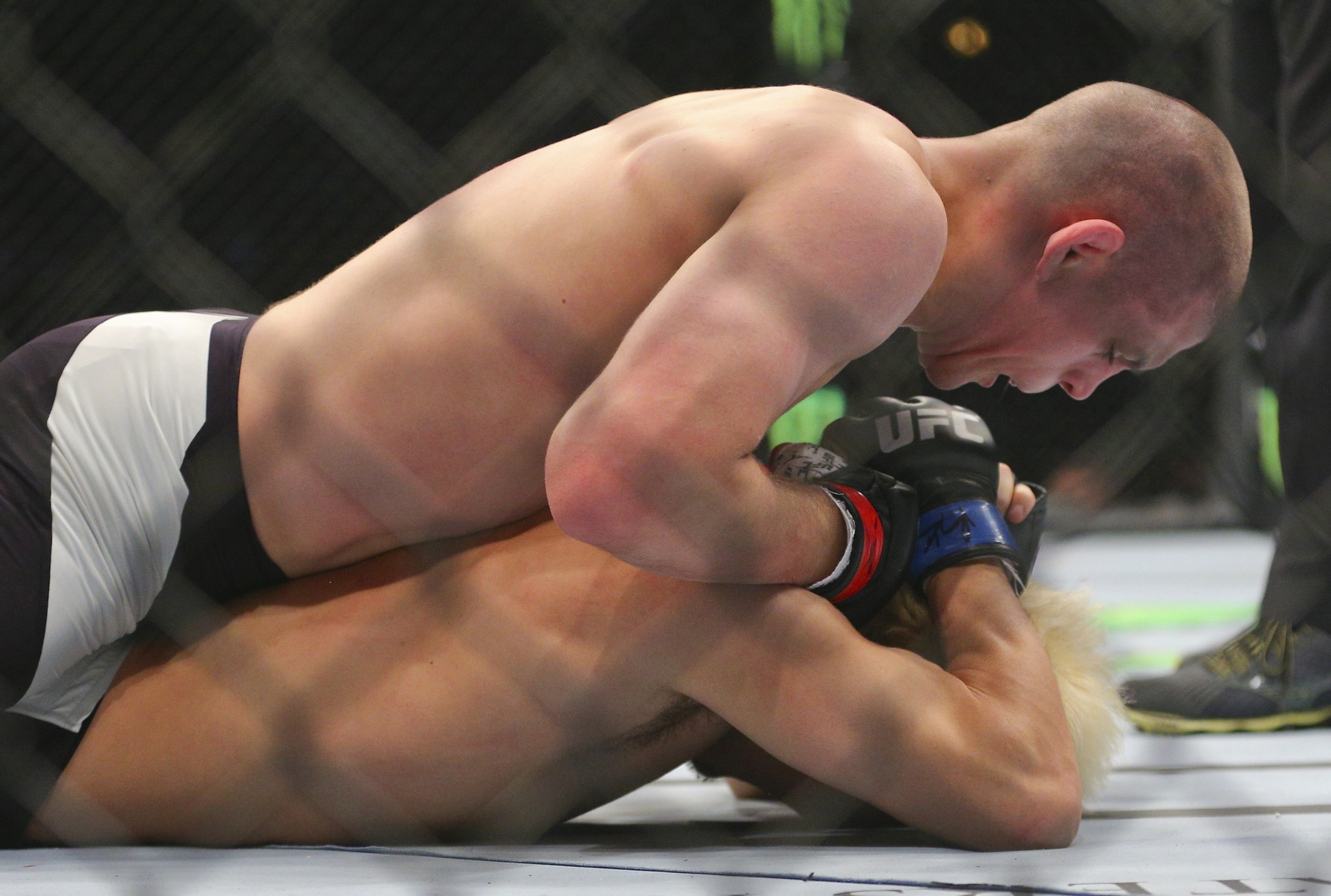 Jul 25, 2015; Chicago, IL, USA; Takanori Gomi (blue gloves) fights against Joe Lauzon (red gloves) during UFC Fight Night at United Center. Mandatory Credit: Dennis Wierzbicki-USA TODAY Sports

And when it comes to his career path and goals on the horizon, it should come as no surprise Lauzon has his priorities in perfect alignment.

"I'll break this down into a few parts but the key factor is I'm always trying to get better," Lauzon said. "I preach that to my guys and I preach that throughout each one of my training camps. You should always be trying to get better. Fighting is nice in the sense it gives you something short term to focus on and you can test out the things you've been working. I love training and that feeds into the quest to always get better so that works out.

"The second aspect is this is what I do for a living now. This is how I make money. I was able to get my kid an awesome power wheels truck for Christmas this year because this is what I do for work. That's a big piece of it all, but just one of a lot of pieces that combine to become my motivation.

"At the end of the day I'm really just a super-competitive person and I'm very stubborn. I'll know when it will be time to call it a day, but it's not now."

Lauzon prefers to keep things moving at a smaller scale for focus reasons when it comes to his career trajectory, but he's been steps ahead of the game in many other regards. The New England representative was one of the first fighters pushing the social media curve and became a true innovator when it came to giving fans a look behind the curtain of the fighting life.

From his website to fight week video blogs, Lauzon realized the importance of generating content for branding purposes from the jump.

The growth of his family and responsibilities have slowed some of those efforts down a bit, but Lauzon is happy to see how his peers have taken certain mediums to an entirely different level.

"That's just the way it goes," Lauzon said. "I used to have a checklist and I would go through to make sure I was doing this and that, updating social media every single day. Now there are times a week will go by where I don't do anything like that, but I have a son now and my priorities have changed. Updating my Twitter or Instagram isn't even in the same universe as hanging out with my kid or throwing the ball around with him.

"Priorities change. I wish I had time to do all of those things, but I just don't. I'm very aware everyone else has started to catch up to me on all the social media stuff, but I think it's cool because everyone is doing cool things. I just watched Rose Namajunas' 'Thug Diaries' which I think are awesome.

"There are a lot of people putting out really cool stuff and it's awesome to get a glimpse into everyone's lives. I love where things are going in that regard."






FloCombat's hottest content, delivered to your inbox
Don't miss breaking news, feature stories, event updates, and more. Sign up for the FloCombat mailing list today.