Create a free account to unlock this article!
Get Started
Already a subscriber? Log In
Ricardo Lamas has championship ambitions in 2017.
The former featherweight title challenger weathered the storm of a 2016 campaign that brought an ample amount of frustration with a cancelled card in Manila and opponents falling out or missing weight. Nothing appeared to be going Lamas' way, but he stayed the course and put a strong cap on the year by submitting grappling ace Charles Oliveira at The Ultimate Fighter Latin America 3 Finale in November.
With the victory, Lamas was able to get himself back into the win column, and set his sights on making a run back to contention in the new year.
"Anytime you are coming off a loss you have to prove yourself all over again," Lamas told FloCombat. "It was kind of a short notice fight and I was just happy to get one. There was a while there where it wasn't looking good, and the UFC tried to line up several different opponents but they all fell through. We were able to get the fight with Oliveira in Mexico, but that meant dealing with elevation and there wasn't enough time to prepare for that properly.
"We get to fight week and hear Oliveira is nine pounds overweight. Reed Harris came up to me on the morning of weigh ins and said Oliveira is over and if he comes in more than six pounds over the limit the commission isn't going to let the fight happen. I was stressed out about that because I'd put in all the work, made weight and suddenly it was all in jeopardy.
"They came back up to me later saying he was nine pounds over, but if I was okay with that they would allow the fight to happen," he added. "I came there to fight and that's what I was going to do. Getting the win, submitting Oliveira and getting the bonus; things couldn't have gone any better."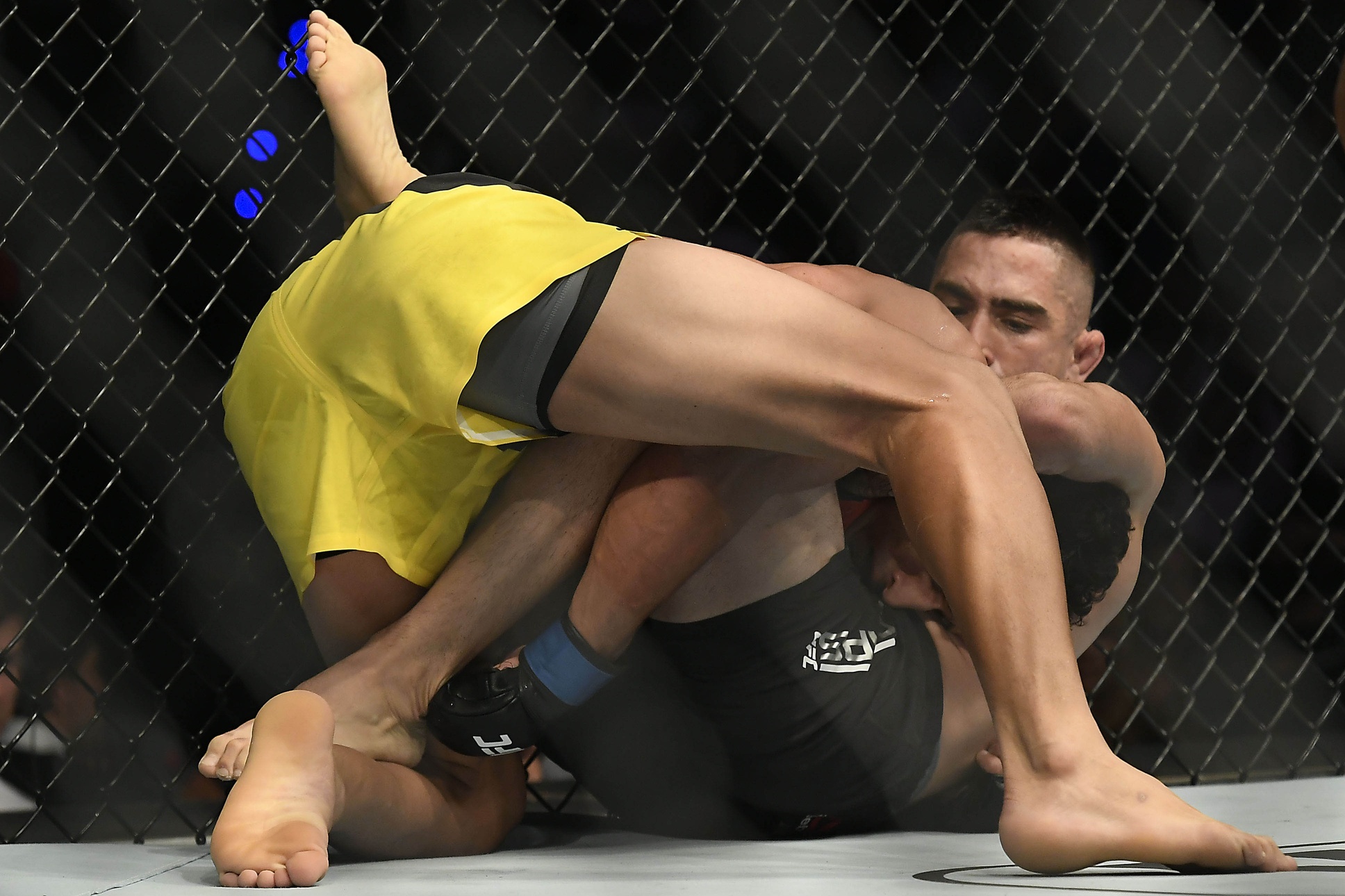 Nov 5, 2016; Mexico City, Mexico; Ricardo Lamas (red gloves) fights against Charles Oliveira (blue gloves) during UFC Fight Night at Distrito Federal. Mandatory Credit: Etzel Espinosa-USA TODAY Sports
For the past several years Lamas has held perennial contender status in one of the most competitive divisions under the UFC banner. Accomplishing this task has been no small feat, but the Chicago native has never been one to rest on his laurels. Lamas has consistently tested himself against the best the 145-pound fold has to offer, and the 34-year-old has no plans of changing that approach anytime soon.
In fact, Lamas believes there's one opponent out there who makes a tremendous amount of sense, and he'd love nothing more than to mix it up with the former champion in the coming months.
"The only fight that makes sense for me right now, and the only fight I want is a fight with Frankie Edgar," Lamas said. "I read an interview where he said the same thing. Edgar said the only fight that makes sense for him right now is a fight with me so let's do it. I would love that fight and hopefully we make it happen.
"In a perfect world I would love to fight Edgar in early April. I have some things going on with my family and my mother is currently undergoing chemotherapy. Her last round of treatment will come at the end of this month and that will take a lot of weight off my chest. That leaves me time for a solid two month camp and then fight in early April."
While Lamas has never been one to allow himself to get caught up in the drama of the fight game, he's quick to admit the landscape of the fight game appears to be changing. There are several divisions in addition to his own that seem to be locked in a holding pattern, and he'd love to see things shift back to the way they've always been in the modern era of MMA.
The only way for contenders to rise is for champions to put their belts on the line, and Lamas believes the featherweight division has been held up long enough as is.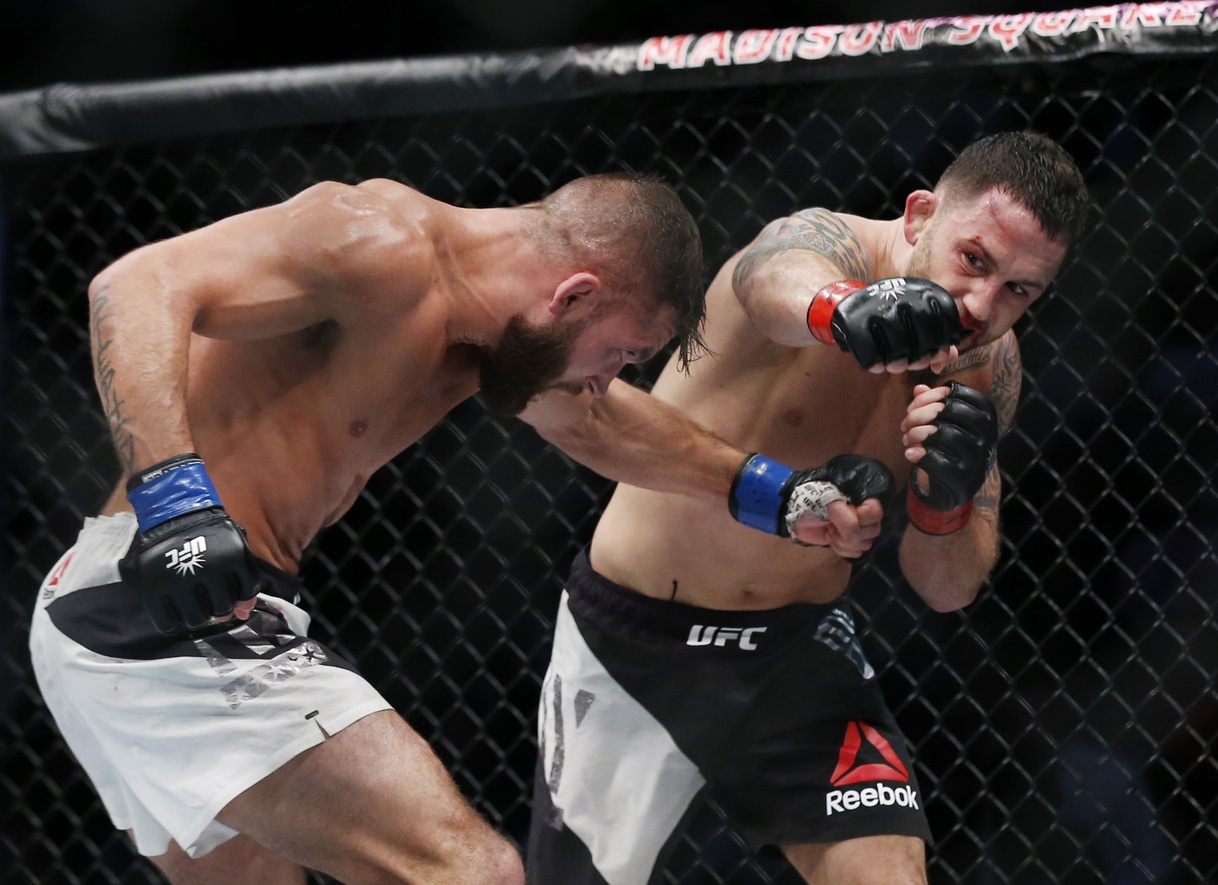 Nov 12, 2016; New York, NY, USA; Frankie Edgar (red gloves) fights against Jeremy Stephens (blue gloves) during UFC 205 at Madison Square Garden. Mandatory Credit: Adam Hunger-USA TODAY Sports
"This whole [Conor] McGregor moving up weight classes is kind of pushing other champions to look for bigger money fights rather than defend their titles against up-and-coming contenders," Lamas said. "It's causing a weird ripple effect throughout the entire UFC roster.
"I don't know what's going on with Jose Aldo. I heard he's talking about moving up in weight instead of fighting Max Holloway who is the interim champion. The entire situation is just strange."
Lamas may not have an official fight locked on the schedule, but that isn't stopping him from continuing to push his skill set to the next level. Since his days competing on the wrestling mats the scrappy featherweight has known it takes work ethic and the ability to absorb new methods to truly evolve, and that approach is what has kept his fight game on a constant progression.
"I refuse to stay stagnant and keep an open mind," Lamas said. "I learn things from everyone. Whether it's from my coaches or training partners; everything is a learning experience. Every fight I watch is a learning experience. I've seen a lot of good fights and have taken a lot of great things away from them.
"That's something I took from my wrestling background. Watching other athletes and film to take little things from here or there and implementing them into your own style. You have to stay progressing in this game and that's what I've always done and will continue to do.
"I try not to look too far ahead," he added. "I figure one more good win, especially over a guy like Frankie, would put me right back into title contention. I'm keeping my head down and staying in the gym training and hoping for a good fight to pop up for me."