Lando Vannata Working Up To Tony Ferguson Rematch
Lando Vannata Working Up To Tony Ferguson Rematch
Upstart UFC lightweight Lando Vannata is on a mission to reach the top of his division.
Jan 9, 2017
by Jim Edwards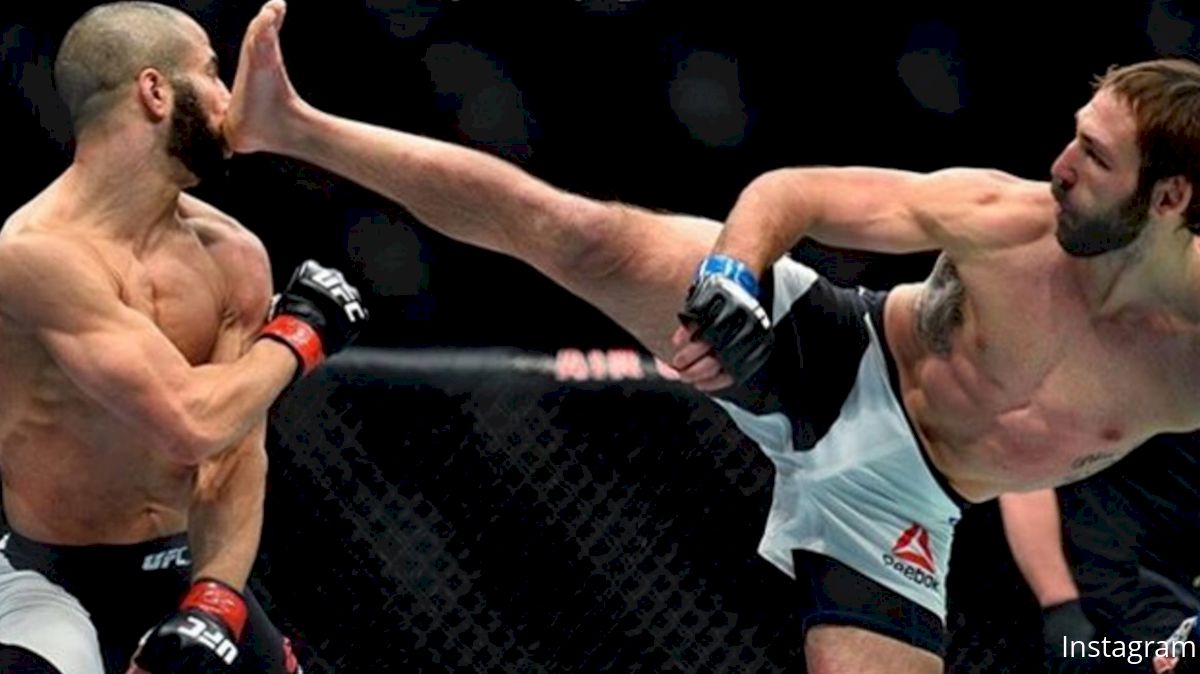 It was a year full of breakout stars in the UFC, but few can say they had two fights as memorable as Lando Vannata in 2016.

After putting on a barnburner with Tony Ferguson when called up at late notice at UFC Fight Night 91: McDonald vs. Lineker in July, Vannata went on to record his first UFC win in Toronto, Canada, in December, when he hit John Makdessi with one of the most stunning spinning heel kick knockouts ever seen inside the Octagon at UFC 206.


Staying humble

Vannata made an impact like no other man last year, but despite creating some serious ripples already, he's staying humble to core.

"Getting my first win meant a lot to me, but one thing it meant was that a silenced all the doubters," Vannata said. "After coming in against Tony [Ferguson] on two weeks' notice and putting it to him like I did, one of the biggest things for me was going out there and showing the world what I'm really capable of, and yeah, it turned out to be a really good night."


Hitting 'that' kick

Despite his knockout at UFC 206 coming so late in the year, Vannata has been the winner of several of the "knockout of the year" awards being dished out online.

Receiving such recognition is something he's enjoyed, but he's not letting all the love go to his head.

"It's been cool, but it is what it is," Vannata said. "It's a little whatever to me, but it was really cool coming back from vacation and walking in to the gym and seeing there was a package with a trophy in it saying '2016 Knockout of the Year' from one of the websites.

[instagram url="https://www.instagram.com/p/BN45BZKhv7z/" hide_caption="0"]

"I don't know, it's pretty cool to get that man, but yeah, I don't know--it was a cool knockout," he said, almost sounding a little embarrassed by the accolade.

"It was true," he said in regards to it being something he'd been practicing before. "In that Tony Ferguson fight I threw that same kick and a spinning backfist. In that last camp I was practicing that kick a lot and throwing little side kicks along the way to set up that spinning heel kick. I was throwing a whole bunch of different techniques form that series right there. I have a whole series of my own from that set up.

"It was just one of the techniques I'd been drilling a lot at the time. I was drilling it through the camp, the day before the fight, the day of the fight, in the locker room warming up, just throwing it over and over again. And yeah, it just found a home on fight night."



Excitement to the end

Having put on two spectacle performances so far, Vannata promised that this was only beginning and that we should all expect a lot more exciting fights from him to come in the future.

"The last four fights I've had have all been pretty damn exciting fights," Vannata said. "I've had some snorers in the past, but as of recent years I think my style is exciting. I think it's one of a kind, and I think it's very offense orientated. I think I'm going to be a fan favorite."

Vannata isn't a man to wait around, and shortly after picking up the win in Toronto he already had his next fight booked for UFC 209 on March 4. He will face David Teymur, a veteran of the TUF 21 series who has since gone on to pick up two wins inside the UFC.

"I told them I wanted to fight on March 4, UFC 209, and I gave them a list of opponents," Vannata revealed. "They said they would see what they could do, and I got the fight. It's a secret who else was on the list, but Teymur was on it.

"I think I'll definitely beat this guy. He's a good striker, but I think he's overconfident in his striking. He has a good background in Muay Thai and K-1, but it's basically boxing. And while that may work against other boxers, we are playing a different game, and it's not going to work against me."


A man with a plan

The man from Jackson Wink MMA Academy isn't getting ahead of himself, but he's got a clear idea in his mind of the way he wants to work up the UFC rankings.

"I'm going to sleep David Teymur and then try and get a top 20 guy and continue to progress from there," he said. "I want to try and go top 20, top 10, top five with good highlight [reel] finishes in each one. That's what I'm looking for this year."

Along that journey, one fight that obviously appeals to Vannata is a rematch with the only man to defeat him in his professional career -- Ferguson. While not holding a grudge, Vannata believes that they will meet again and that there will be even more fireworks than in their first crazy fight.

"F**k yeah," Vannata said without thinking when asked if he wanted the rematch. "That's one that, err, I try not to hold onto anything or keep that brick in my pocket, but yeah, it's one I want to get back in the future.

"I'm going to keep climbing up the rankings, and in time, me and Tony are going to meet again and it's going to make for a good story--I can't f**king wait for the day."