Neil Magny is coming off the biggest win of his career against former UFC Welterweight Champion Johny Hendricks at UFC 207. It's a fresh start to a new year, after learning a big lesson in 2016.

At UFC 202, Magny faced Lorenz Larkin and lost in the first round via TKO, putting an end to a three-fight win streak. It was a fight he overlooked as he felt he was confident enough in his skills to simply show up on fight night and get his hand raised.

"There are times where training should be 100% geared towards sharpening your tools and getting yourself better in a particular skill set," Magny explained while speaking exclusively with FloCombat. "There are other times where training should be focused on 100% getting ready to actually go out there and compete at the highest level, and I feel that's one thing that I didn't do going into the fight against Lorenz Larkin."

Using that loss as a teaching point for the future, Magny was able to rebound quickly and get his hand raised against his toughest opponent to date in Johny Hendricks.

"I went against one of the best wrestlers the welterweight division has ever seen," Magny said. "I was able to take him down once and I was able to stuff two of his takedowns, even though he took me down six times."

Despite being on the wrong end of multiple takedowns, Neil believed he was doing enough off his back to win the fight.

"When he did get a takedown, I didn't freak out. I just kept my mind on needing to keep working, keep moving, and keep trying to better my position," Magny said. "Even from the bottom position I was able to relax in the guard. I was throwing up submissions. I was throwing strikes. I was trying to reverse positions. I was doing a lot of things the judges were able to score in my direction."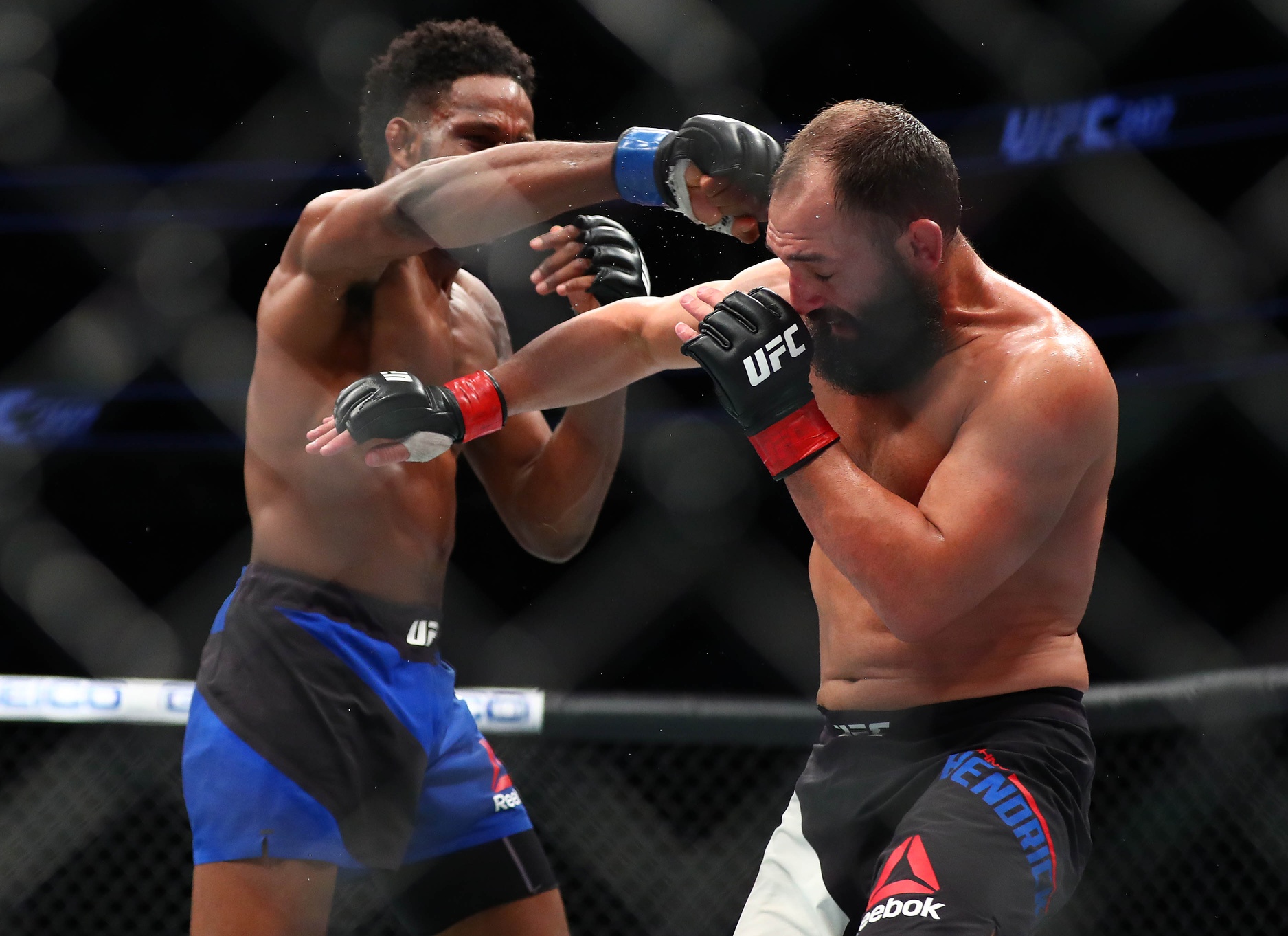 December 30, 2016; Las Vegas, NV, USA; Neil Magny moves in with a hit as Johny Hendricks defends during UFC 207 at T-Mobile Arena. Mandatory Credit: Mark J. Rebilas-USA TODAY Sports

Currently ranked eighth among UFC welterweights, Magny has his eyes set on climbing the ladder.

He is focused on the ultimate goal of becoming a UFC champion. Along with teammate and former UFC Bantamweight Champion T.J. Dillashaw, who also picked up a win at UFC 207, the pair have laid out a master plan for the upcoming year.

"One of the things that T.J. and I spoke on at the after party was the fact that 2017 could be a year that Elevation Fight Team has two champions," Magny said. "That's something we'll both be pushing each other to do this coming year. It's 100% doable. We're going to hold each other accountable and push towards those goals."

In order to reach that goal, Magny has to dial back the hunger to get in the cage just to take a fight. All fights going forward need to make sense for the title picture and Magny is willing to make that sacrifice. For a fighter who tied the UFC's record for five wins in a calendar year in 2014, followed up by another five appearances in 2015, Magny is now focused on quality matchups against higher-ranked opponents.

"I put myself in a position in the Lorenz Larkin fight where I was just so eager to get in the cage to just get a fight like 'Oh, sure, put me against this guy,' that it didn't help me at all," Magny said. "I went into that fight with a lot more to lose and not much to gain. Now I'm in a position where I'm coming off a win against Johny Hendricks. So, my next opponent, I want to make it to where I have something to gain from it. I want to fight a guy who is ranked higher than me, the guy who's going to put me closer to fighting for a title."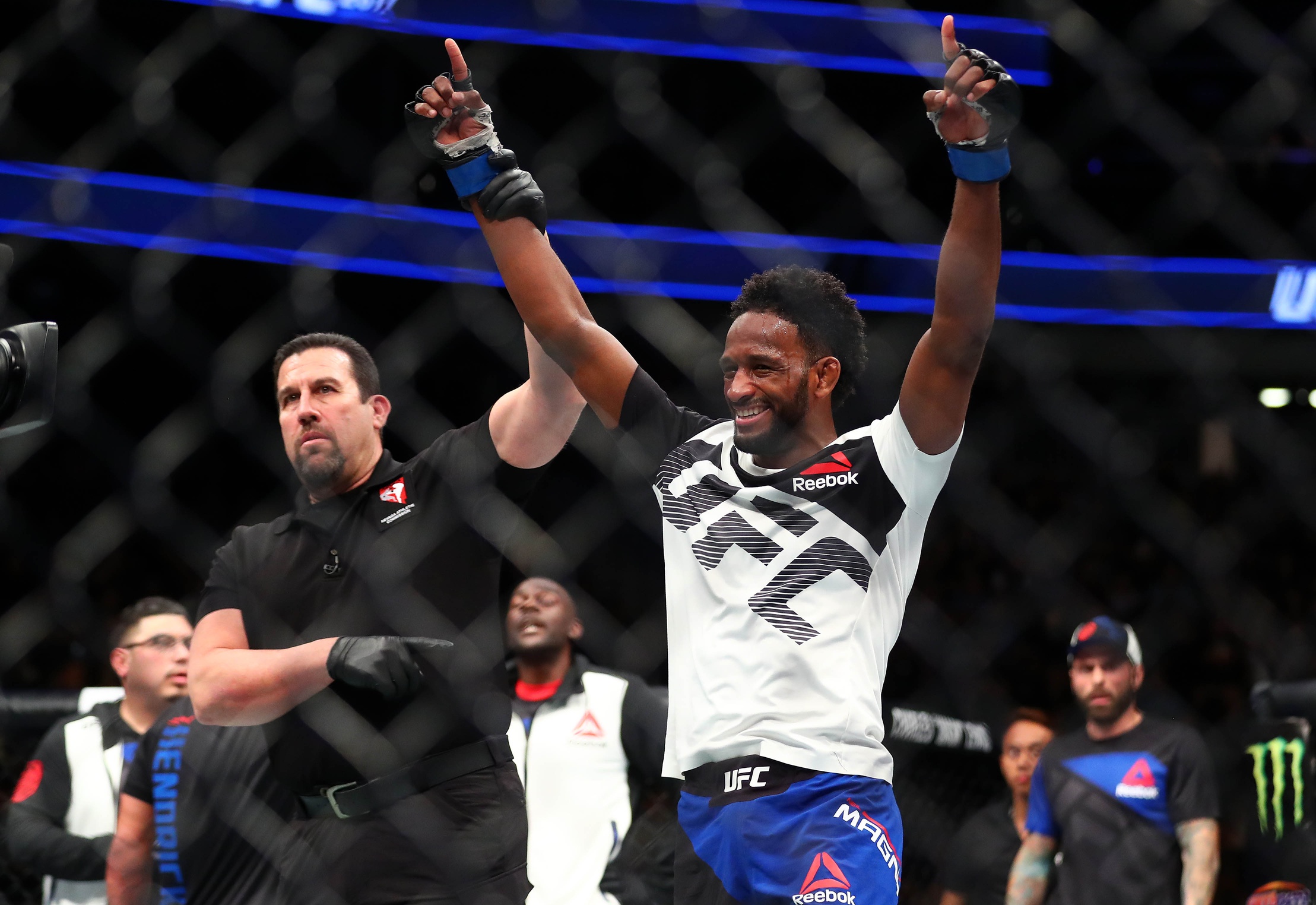 December 30, 2016; Las Vegas, NV, USA; Neil Magny reacts as he is declared the winner by decision against Johny Hendricks during UFC 207 at T-Mobile Arena. Mandatory Credit: Mark J. Rebilas-USA TODAY Sports

Unfortunately, Magny feels he won't get a matchup that makes sense for the upcoming UFC 208 card in his hometown of Brooklyn, New York.

"The Brooklyn card is getting harder and harder and I don't think it's going to happen this time around. It's more so about opponents at this point."

Whether it be against Robbie Lawler, avenging his loss to Demian Maia, or a man he was set to fight a couple of times in the past in Dong Hyun Kim, Magny is ready for the next challenge as long as their ranking is higher than eight. There's only one exception he'd hold out on.

"The only one I wouldn't necessarily want to fight is Donald Cerrone, he's kind of a buddy of mine. He and I train together often. That's a fight I would actually wait until we actually had to do it. If it was for a belt, then yeah, we'd have no other choice. Anything leading up to that, I'd avoid that fight if I could. Any of those other guys would be a great matchup."

Looking to build upon his lessons learned over the past calendar year and with no opponent lined up just yet, the only other question to be answered right now is how Magny plans to top his incredible Halloween costume that saw him flawlessly imitate the late legendary singer Prince.

"HAHA! I think the only way to top being Prince for Halloween is by being Michael Jackson this year!"


By Matthew Wells