Neither UFC middleweight champion Michael Bisping nor welterweight Tyron Woodley have their next opponents lined up. But that hasn't stopped them from trying to play matchmaker themselves as earlier this week cameras caught the two champions backstage at UFC 207 trying to negotiate a 180-pound catchweight fight.



While the two titleholders seemed eager to accept the fight, the jovial exchanged quickly turned heated when Woodley called into Bisping's SiriusXM show The Countdown.

"Don't believe everything that people say to you, Tyron, because people kiss the ass when you're a world champion," said Bisping sad. " I've been around long enough to know that it's all bullsh*t, so don't believe everything that all your little team, all your little 'yes men.' Everything they're telling you, it ain't true, because I'll do to you what f*cking Nate Marquardt did to you and beat the f*ck out of you, buddy."

Bisping (30-7) most recently defended his 185-pound title with a hard-fought decision win over former rival Dan Henderson at UFC 204 in October. While the UFC hasn't announced which middleweight the Englishman will challenge next, Woodley is hoping they pull the trigger on the proposed champion vs. champion fight.

Bisping could only laugh at Woodley's prediction of a short night if he were able lay his hands of him

"It's an easy fight for me," said Bisping in response. "You're an easy fight."

Woodley, to his credit, refused to backdown from these comments.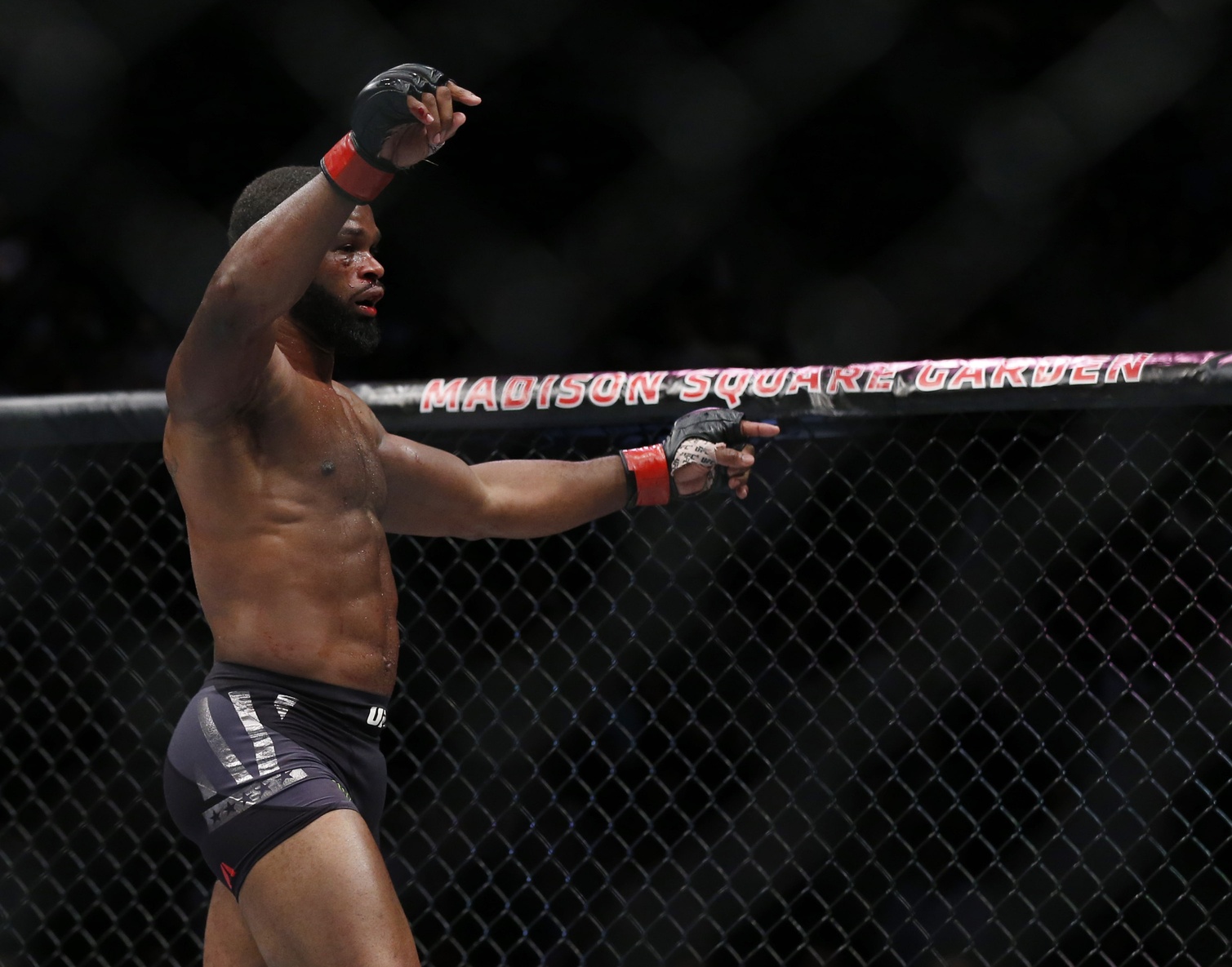 Nov 12, 2016; New York, NY, USA; Tyron Woodley (red gloves) reacts after his fight against Stephen Thompson (blue gloves) in their welterweight title bout during UFC 205 at Madison Square Garden. Mandatory Credit: Adam Hunger-USA TODAY Sports

"Do the math. Bisping, do the math," said Woodley. "How many fights have you had in the UFC and how many wins? I'm the UFC champion with six or seven wins. I'm just smarter. I fight tougher guys and I actually beat them. You fight the tougher guys and lose to them. Eventually, as long as you kept up with the sport, you were eventually going to fight for a world title and get lucky. We all knew that. It's a numbers game."

Woodley (16-3-1) earned his 170-pound title after dethroning former champion Robbie Lawler in the first round of their UFC 201 title fight in July. While the former Missouri wrestling standout hoped to challenge returning champion George St-Pierre of fan favorite Nick DIaz in his first title defense, FUC officials matched up against standout striker Stephen THompson at UFC 205 this past November.

What came next was a violent 25-minute draw. While Woodley didn't emerge victorious, he was still able to keep his belt. But even with his business against Thompson still unfinished, Bisping is more than willing to accept the fight.

"I just [talked to] my manager," said Bisping. "We said we'd do it, and he said, 'You don't want that really because no one gives a sh*t about Tyron, because the way he fights is super boring,' and he said no one really wants it. But screw it, if you want to do it, I'm in.

"One hundred percent I'm down. Just let them know. Let [the UFC] know. Tell him, send the text to Dana (White) saying, 'yo, we were serious about that.' I'll do the same thing right now."

The UFC has yet to comment on the two trying to book their next fight.