Joe Schilling Talks Brawl in Italy, Wants Wanderlei Silva Fight
Joe Schilling Talks Brawl in Italy, Wants Wanderlei Silva Fight
Glory kickboxing tournament champion Joe Schilling recalls crazy fight in Italy and wants to meet Wanderlei Silva in the cage.
Jan 1, 2017
by Tony Reid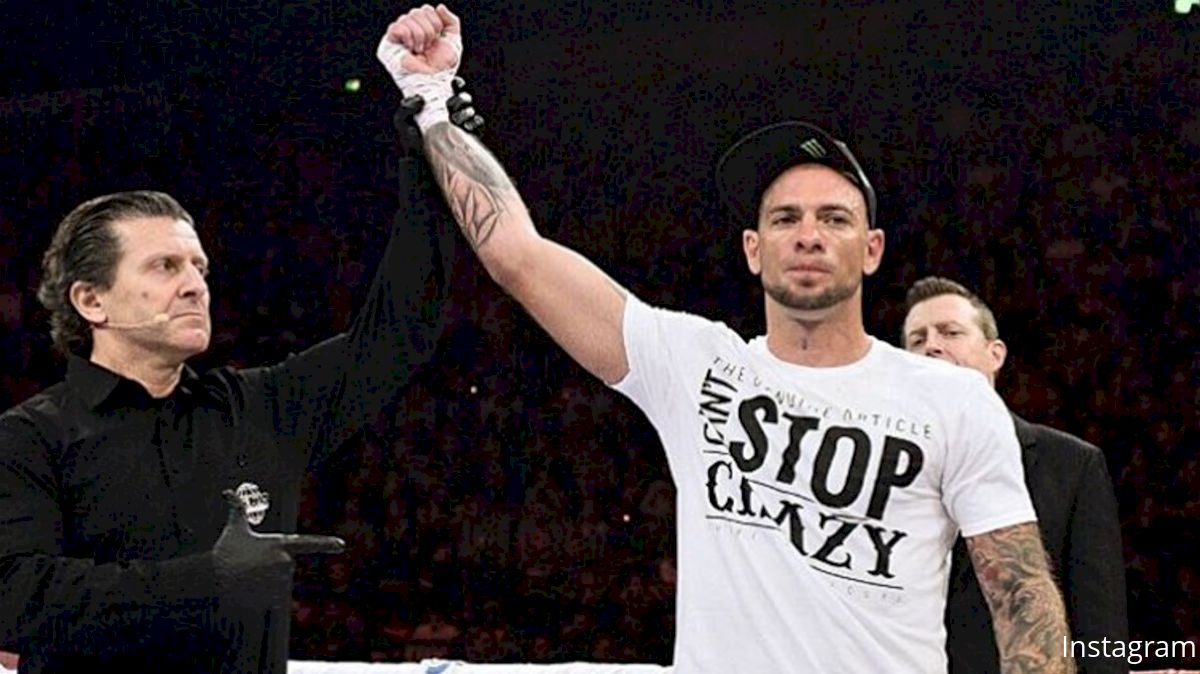 Bellator MMA and Kickboxing middleweight smasher Joe Schilling is the most lethal two-sport athlete since Bo Jackson ran through defenders in Los Angeles and up the outfield walls in Kansas City in the late eighties.

Joe knows knockouts.

Joe knows the violent arts.

Joe knows crazy and crazy can't be stopped.

[instagram url="https://www.instagram.com/p/BODrumwA9qy/?taken-by=joe_schilling&hl=en" hide_caption="0"]

Evidence of his finishing prowess is plastered up and down his resume, but a recent dominant performance at Bellator Kickboxing 4 in Florence, Italy earlier this month is a great place to start. Schilling knocked Vittorio Iermano down twice, forcing the referee to step in and wave off the action halfway through the first round.

The win snapped a two-fight losing streak and put Schilling right back in the mix in the middleweight division.

"I think it went pretty well." Schilling said. "I was disappointed the referee stopped it when he did. It was anticlimactic. I didn't get to lay him out. I hit him with some good shots and he started folding right away."

The damage Schilling inflicted in the ring didn't end there. Shortly before stopping his opponent he dropped a poor, unsuspecting cameraman, knocking him clean off the ringside ledge after landing a shot on his in-ring opponent. The footage of the TKO of the photog took on a life of its own and grew legs on social media shortly after the fight ended. Although Schilling was in the heat of battle he couldn't help but take notice of his unintended, unsanctioned handiwork.

"The crowd started cheering after I hit my opponent with a straight left." Schilling said. "He bounced off the ropes and hit the cameraman. I was locked into the fight, but I looked out of the corner of my eye and saw him (the cameraman) fall. It was pretty funny. As soon as the fight was over I told my coach 'I dripped the cameraman, too.' It was cool."

As if that wasn't enough action for one night, Schilling and his coaches went toe-to-toe with a group of rowdy locals in the streets of Florence after the kickboxing event. An unruly man had approached Schilling and company and made disrespectful comments and advances to the women in Schilling's party. In the aftermath of the brawl, Schilling posted a picture on Instagram of his and his coaches' bloody knuckles in the center of "The Yard" style huddle after the altercation.

And if there is one thing Joe definitely knows it's how to scrap.

[instagram url="https://www.instagram.com/p/BN2fbYAgjZl/?taken-by=joe_schilling&hl=en" hide_caption="0"]

"I was leaving the venue with my fiancé and my coaches." Schilling said. "We stopped at a food truck. This guy started messing with my fiancé. I didn't trip out on it. I could tell she was bothered by it, so I told the guy to go away. He acted like he didn't understand English. I motioned the hand signal of a ring on her finger. I was being respectful. Then he made the international sex sign with his fingers and tried to grab her. I smacked his hand away. I was still being cool about it. My fiancé was pissed. My coaches were telling him to get the f*ck out of there."

"He left and came back with his buddies barking and yelling shit. The biggest one thought it would be a good idea to throw a right body kick at me. I caught his kick and hit him with a straight right hand. As he went down his friends all came in to help him. My coaches were standing there to take on the friends. It was a dangerous situation that was completely unnecessary.

"I was fighting them off and they ended up on the ground. There were just too many of them, though. We jumped in to a cab and took off. I cut my hand on the one guy's teeth. My coach buried a tooth in his knuckle. It was not good but it was pretty epic to have that happen with your coaches. We have been training together for ten-plus years and that has never happened."

With Bellator signing so many big name free agents and legends of the sport there are a few guys Schilling would like to step back into the cage to test his skills against. He had many in the combat sports community dreaming of a potential firework filled fight with MMA legend Wanderlei Silva after posting a picture of the two together after the recent Bellator event in Florence.

"That would be an awesome fight." Schilling said. "That (picture) was my doing. I am a big fan of Wanderlei. He is a pioneer in the sport and an all around badass. Stylistically, it's a fight that would be good for me career wise. If they wanted it to happen down the road I would be on board. If I was ever to get offered that fight I would definitely take it."