UFC 207: Amanda Nunes vs. Ronda Rousey
Ben Rothwell to Fabricio Werdum: 'You're a F******g P*ssy'
Ben Rothwell to Fabricio Werdum: 'You're a F******g P*ssy'
UFC heavyweight Ben Rothwell sounds off on former champion Fabricio Werdum and much more.
Dec 28, 2016
by Duane Finley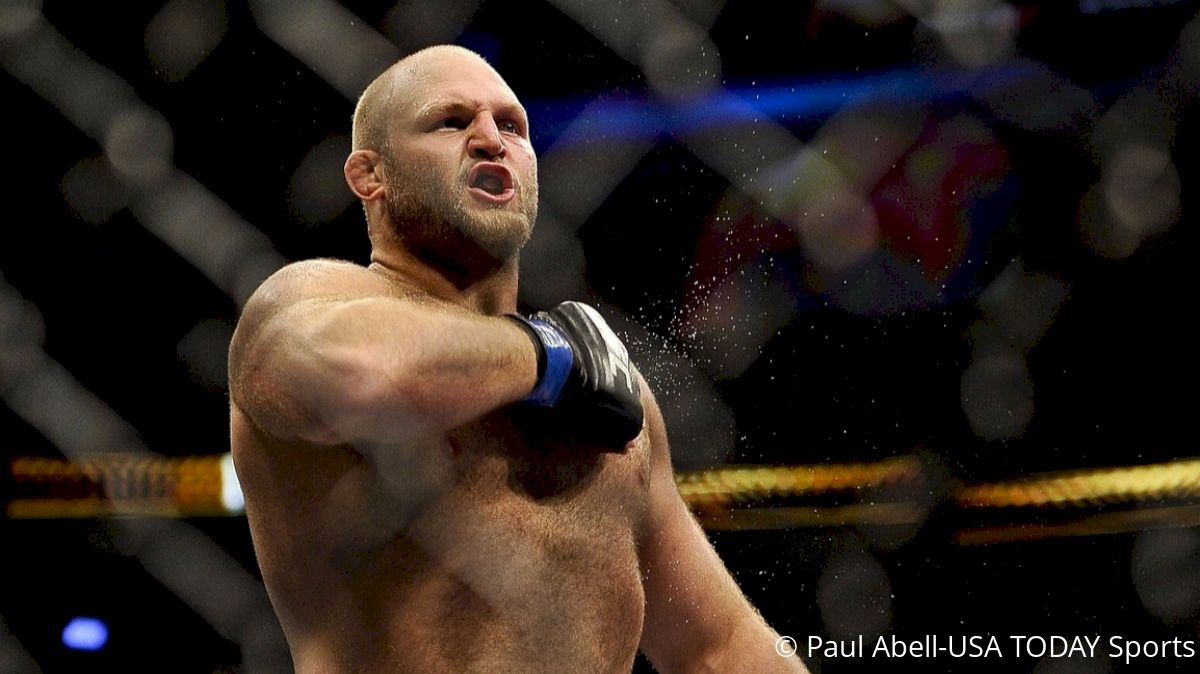 Capturing the essence of a fighter is no small task.
While most are straight-forward with their presentations, there is a small collective with the complexities of a character from a Greek epic, and of this contingent Ben Rothwell is a certified member.
There are few simplicities when it comes to the 35-year-old's career in mixed martial arts, but the fact Rothwell is good and pissed off is sound evidence of his greater journey. Had the journey to Hell and back been expedited, things may have happened quicker, but the fact Rothwell currently sits in the elite tier of a divisional picture he was once considered a non-factor shows the transformation was valid.
It's been a long road to become the most dangerous version of himself, and one that seemed unlikely for a very long time.
"I face every day that I don't talk about it because it's nobody's f*****g business, but I put a lot of hard work into this," Rothwell said. "I did put a four-fight winning streak together against guys who have names that mean something.
"I reached the number five ranking where there are only four guys ahead of me and that's when it set into my head I'm going to do this. In my mind...winning the UFC heavyweight title is something I'm going to do and that will be accomplishing something just shy of impossible.
"I've already done things that seemed impossible so why stop now? I'm close and my driving force is that I believe I can become a champion like there has never been before. I always fight for something more than myself and now it's about proving it. I'm not into talking about it. I'm about making it happen. And when I do that I'll prove what I've been saying all along."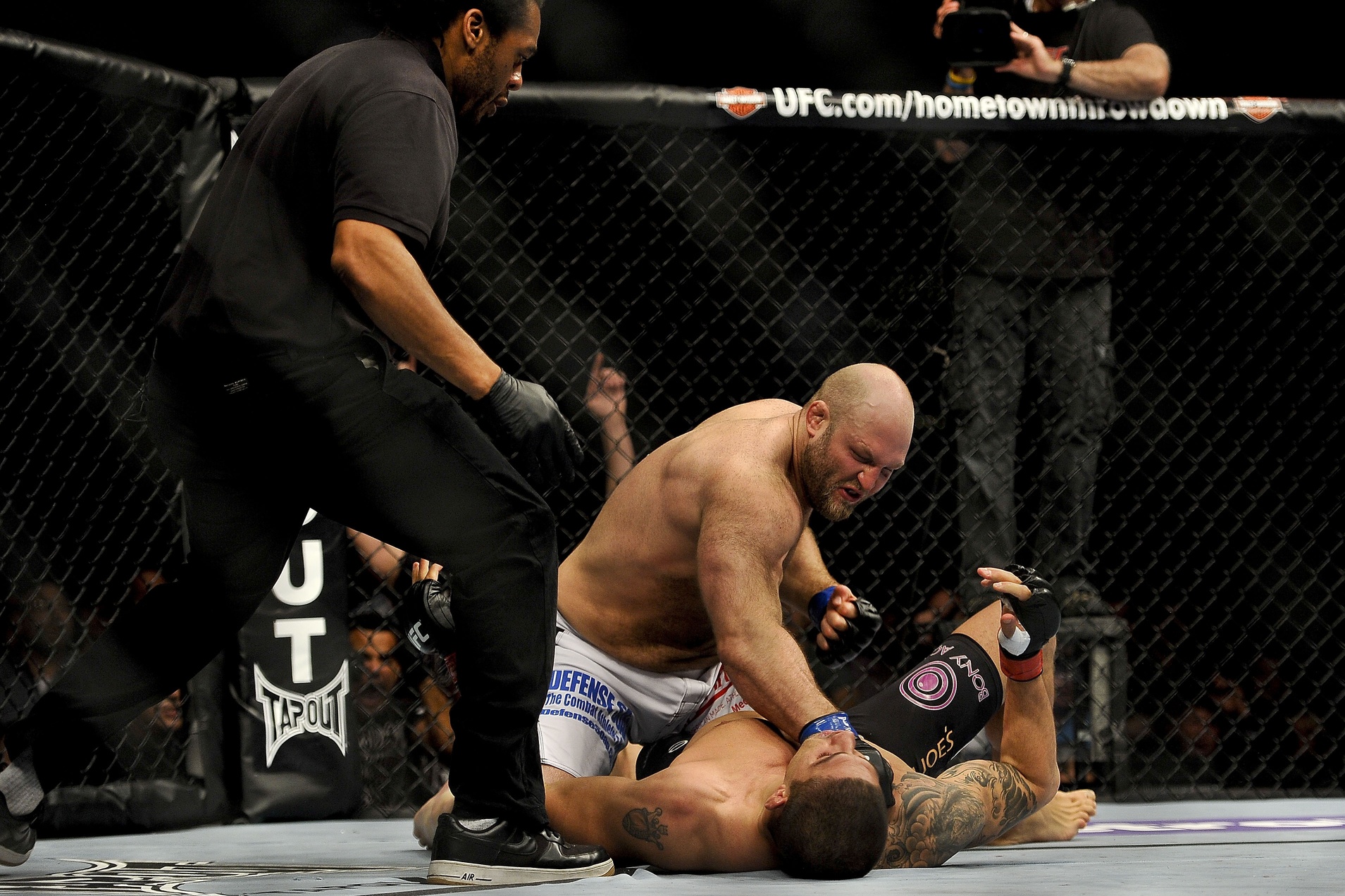 Apr 21, 2012; Atlanta, GA, USA; Brendan Schaub (right) fights Ben Rothwell fights in a heavyweight bout during UFC 145 at Philips Arena. Rothwell won the bout by technical knockout in the first round. Mandatory Credit: Paul Abell-USA TODAY Sports
The Kenosha native has spent the better part of the past two decades face-smashing and neck-cranking his opposition in cages around the world, and for much of that time the storyline surrounding Rothwell seemed to be simple. A durable, yet gentle giant of a competitor slinging leather with the intention of carving out a career in a chaotic sport.
Rothwell found success in strong clips, which led to a defining run to earn his first major world title under the IFL banner. Nevertheless, winning gold in an era where the heavyweight divisions in Pride and the UFC were the crowns that mattered most, Rothwell hovered on the fringes or was flatout omitted from the broader conversations.
When Rothwell finally arrived on the UFC stage in 2009, it appeared as if the time to finally show and prove had arrived, but mixed results in his initial outings forced many to write the Wisconsin-based heavyweight off entirely.
He would find victory in only two of his first five outings inside the Octagon, and while Rothwell showed flashes of tenacity and a solid technical skill set, it simply didn't seem to be enough to swim in the deep waters of the UFC heavyweight ranks.
"The story isn't done yet, but there's no doubt before I came back I was written off," Rothwell said. "In my first interviews in the UFC people had some excitement because I was the IFL guy but then I went one for three in my first few UFC fights and people just closed the door."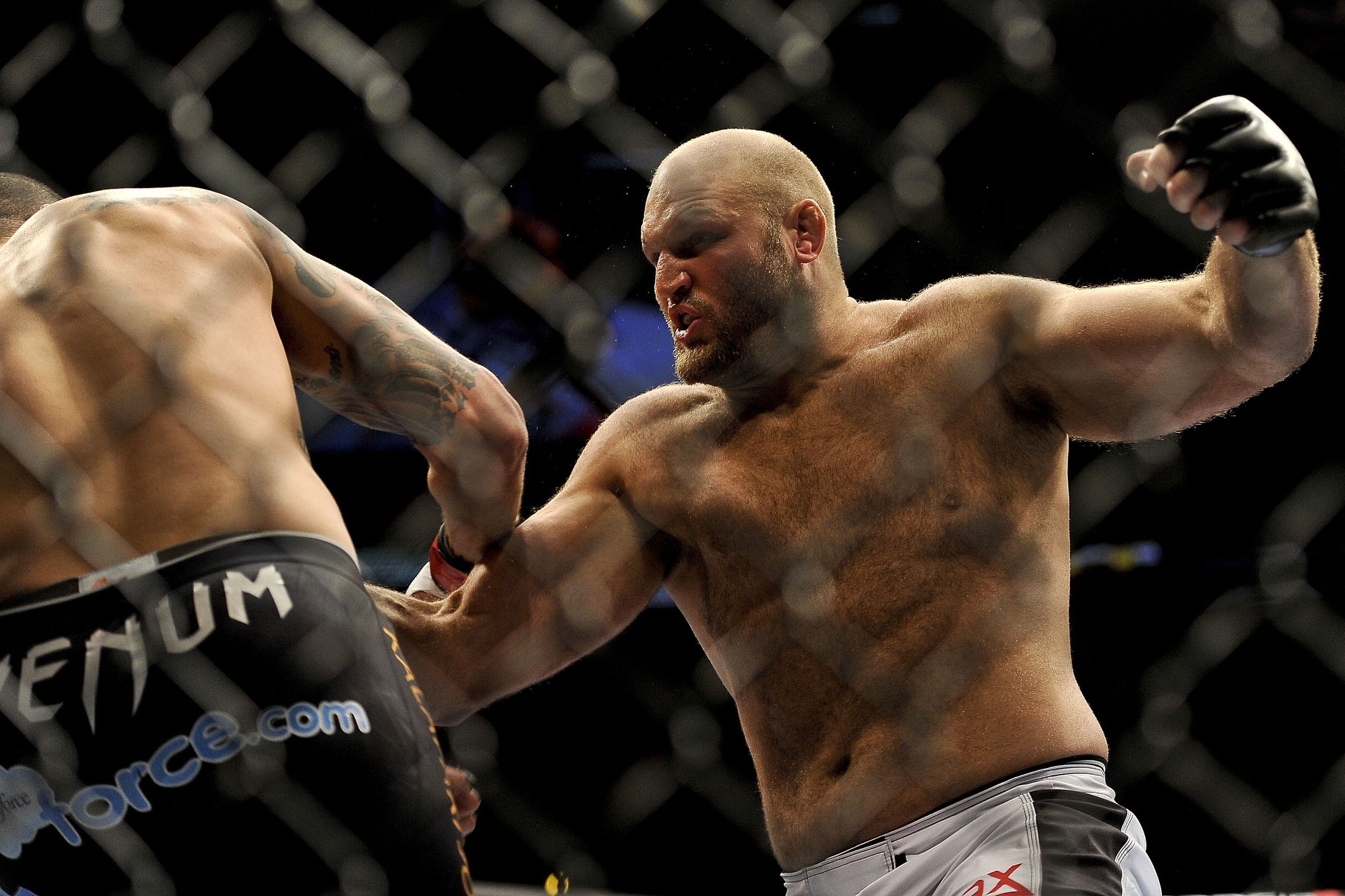 Apr 21, 2012; Atlanta, GA, USA; Brendan Schaub (left) fights Ben Rothwell fights in a heavyweight bout during UFC 145 at Philips Arena. Rothwell won the bout by technical knockout in the first round. Mandatory Credit: Paul Abell-USA TODAY Sports
Rothwell took a long hard look at his situation and after a lengthy period of soul-searching realized he knew exactly what was missing.
In addition to opening his own gym and building a team of coaches to focus specifically on his needs, Rothwell tapped into the silent rage that had been steadily flowing beneath the surface.
Rothwell had utilized his personal pain. He'd graciously hidden the chip etched into his shoulder, chiseled by an eternal uphill climb to even break the surface of respect. Rothwell had kept the darkness at bay because in the stories and movies the majority of people enjoy it's always the light that wins.
Simply put: Rothwell had to allow himself to become a monster. And in the process, the grizzled veteran became a fighter to fear in the wild west that is the UFC heavyweight division. He rose from the darkness primed to be a hero or a villain, but no matter the perception, definitely a force to be reckoned with.
"I like being that split guy," Rothwell riffed. "You think I'm the bad guy then I go do good. I like being that guy. Look at the Transformers for proof. The Autobots always got their f******g asses kicked and the Decepticons were always cooler. The Decepticons always tuned them up, but the Autobots would pull some sh*t out of their asses to win in the end. The coolest one was the former Decepticon turned Autobot and he was the baddest of the bad. That's who I am.
"I came out of the depths of Hell and resurrected into who I am now. I know enough about the dark side but I'm still trying to keep a good heart. Mace Windu in Star Wars represented that too. He was the highest level and knew the most about the dark arts but still remained a Jedi. They showed it in the movie because he almost took out the f*****g Emperor.
"Mace Windu was the baddest and was badder than Yoda," Rothwell added. "He was the best because he used parts of the dark side and I think there's some of that in real life."
In order for Rothwell to keep the mean streak front and center he needed to shift his perception from sport to something more brutal. Rothwell needed to see the man standing opposite him inside the Octagon as an enemy who needed to be ended and finished in the most violent of ways.
Therefore the veteran heavyweight needed to find ways to make to make the matchup a grudge match, and his ability to do so has been the key to his recent success. Outside of a unanimous decision loss to Junior dos Santos in his most recent outing, Rothwell has found success in his four other showings, with each win coming by way of destruction.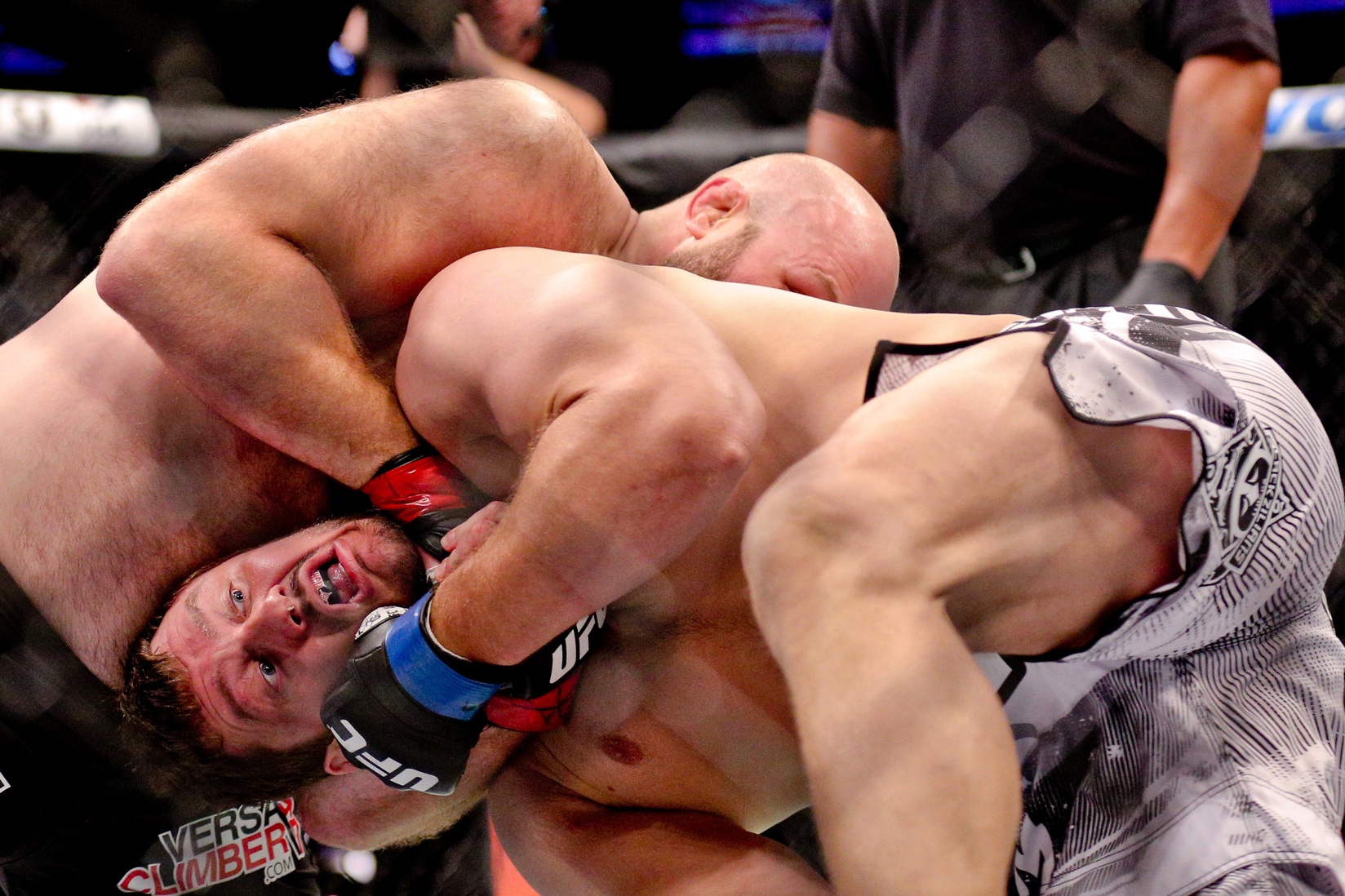 June 6, 2015; New Orleans, LA; Ben Rothwell (red gloves) fight Matt Mitrione (blue gloves) in a heavyweight bout during UFC Fight Night 68 at the Smoothie King Center. Rothwell won the bout by submission in the first round. Mandatory Credit: Derick E. Hingle--USA TODAY Sports
"I've never lost a fight where it's been personal," Rothwell said. "Junior is smart because he kept it friendly, kept me cool and I went into that fight like a sparring match. He kept my emotions out of it and fool me once then shame on me. It's my f******g fault and I just didn't flip the switch in that fight.
"Going into the fight with Overeem they put my back against the wall. All I was hearing was that I wasn't going to win and that I was a piece of sh*t. Then you throw in how Overeem is naturally and it was really easy for me to make the sh*t personal. It was a bit different with Josh Barnett because I have a tremendous amount of respect for him, but I went in there to fight like I needed to. I didn't pull any punches and I was in there to end it.
"In this next fight I'm getting back to it. I have a chip on my shoulder and I have something to prove all over again. That's when I'm at my best."
When it comes to the topic of his next matchup, Rothwell wastes zero time locking onto who he wants to see standing across from him. Former heavyweight champion Fabricio Werdum is firmly locked on Rothwell's radar and the Dark Lord of Chaos will do whatever it takes to bring that scrap to life.
[tweet url="https://twitter.com/RothwellFighter/status/812413624299962368" hide_media="0" hide_thread="1"]
"I put my wishlist out there for everybody to see," Rothwell stated. "I definitely want the [Fabricio] Werdum fight. He talks a ton of sh*t but never has anything to say to me. He talks sh*t to Junior [dos Santos] and other people, but I think they believe the best way to disrespect me is to just to ignore me. I'm sitting over here like, 'No...you're just a f****g p*ssy. You won't acknowledge me because you're a f*****g p*ssy.
"When you are just ignoring me that means you don't want to poke the f******g bear. That's exactly what that means. I'm not a good fight for anyone in this division and I believe that in my heart.
"Hats off to Junior," he added. "He got me in Croatia and good for him. We have good nights and bad nights in this sport, but when I have a good night it's bad for everyone. I can defeat anyone in this division and I don't believe every heavyweight can say that. I f******g know that in my heart. I know if I connect with a punch or slap on a submission I'm going to end you."
Werdum was initially slated to face fellow former titleholder Cain Velasquez at UFC 207 this Friday in Las Vegas, but the AKA staple was pulled from the fight for medical issues by the Nevada Athletic Commission. Werdum immediately began jockeying for a fight, but those plans were scratched by the UFC when the stars failed to align.
The entire situation puts a twist of excitement into Rothwell's spirits and the proprietor of the signature gogo choke let the flames loose as he spit fire on the subject.
"This is the beginning of 2016 all over again," Rothwells said. "Cain pulls out of a fight and Stipe stepped up and said he would fight. I stepped up and said the same. I beat Josh Barnett and I was ready to fight him, but he didn't want to fight none of us. He did the exact same thing. The same exact f******g thing. He came out saying he was suddenly injured and no he wasn't. And Werdum got his for it.
"He brought that bad karma on himself and then went and got himself knocked out in Brazil. I wouldn't wish that on anyone, but Werdum brought it all on himself. Then he went and lost his deal by talking sh*t on Reebok. I think he's lost it and is spiralling out of control. He has his wife out there doing interviews saying how she doesn't want him to fight anymore. She's saying how she's all worried about him and that can't be good."
As the topic hovered, Rothwell also took a few moments to shed some light on his personal theory as to why Velasquez took the scratch from the rematch at UFC 207.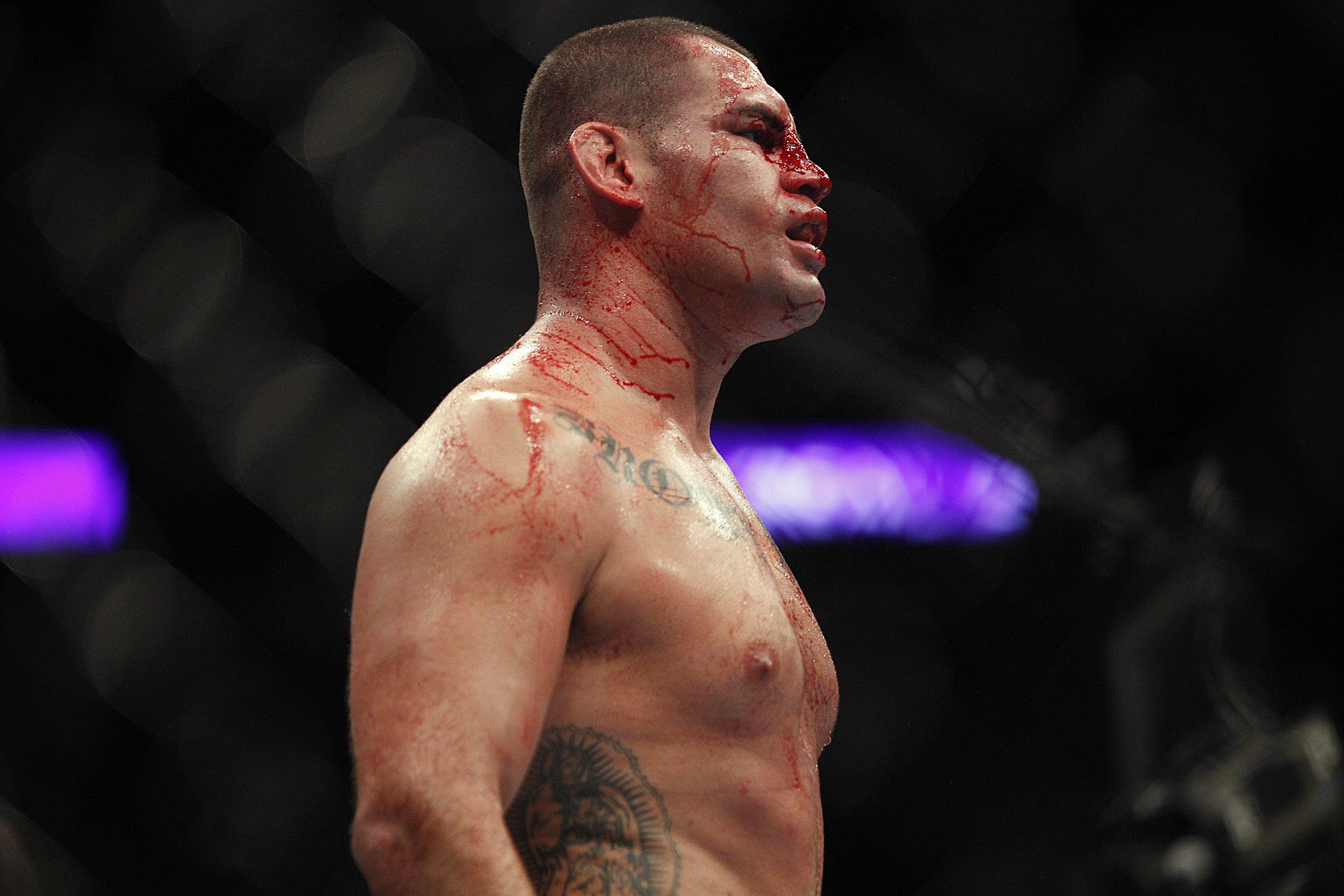 Oct 19, 2013; Houston, TX, USA; Cain Velasquez (red gloves) fights against Junior Dos Santos (not pictured) in the world heavyweight championship bout during UFC 166 at Toyota Center. Mandatory Credit: Andrew Richardson-USA TODAY Sports
"People are also surprised Cain got pulled and that baffles me because it's not surprising at all," Rothwell said. "He started saying all that sh*t in public knowing he's going to get pulled. Telling the commission you're doing marijuana to manage pain and your back surgery is already scheduled is a surefire way to tell them you're not fit to fight. But that's pretty convenient because now it doesn't look like Cain pulled out and it's the commission who wouldn't let him fight.
"Cain going public with all that sh*t two weeks before a fight is evidence he didn't want to fight. Don't sit there and tell me you've been in this business for that many years and don't f*****g know how this works. You obviously needed them to pull you out of the fight."
While Rothwell doesn't have an official bout on the schedule, he's patiently waiting for his chance to return. He's successfully recovered from a medical procedure on his knee and is eyeing April or May as prime months to resume his run at a UFC title.
And while Rothwell isn't certain he'll get what he's asking for, the one thing he knows in his heart is the division he's called home for the past seven years desperately needs him. In Rothwell's mind the heavyweight fold has gone stale and nothing can bring the 'baddest division in combat sports' back to life than some 'Big Ben Berserker Rothwell'.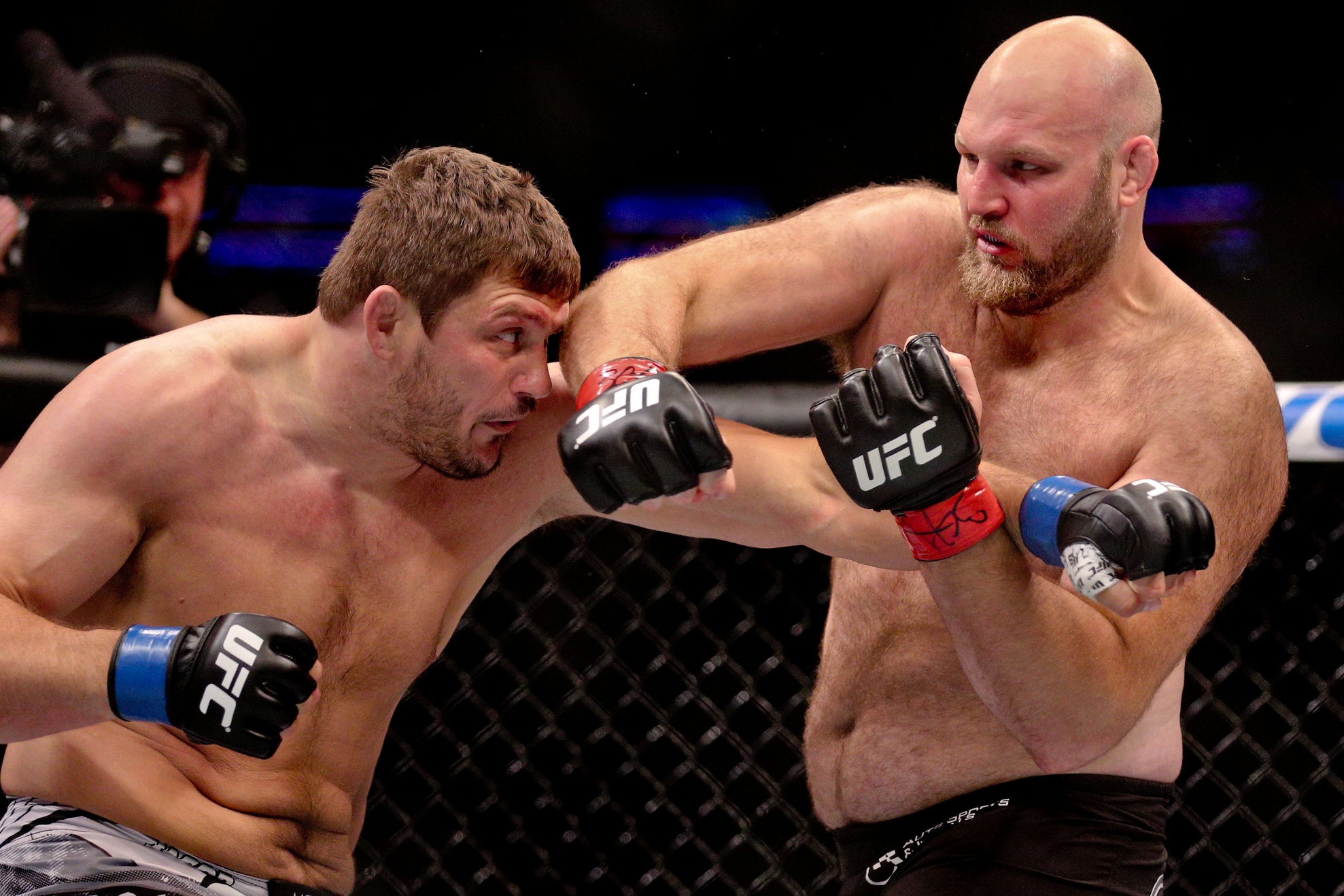 Jun 6, 2015; New Orleans, LA, USA; Ben Rothwell (red gloves) fights Matt Mitrione (blue gloves) during UFC Fight Night at the Smoothie King Center. Mandatory Credit: Derick E. Hingle-USA TODAY Sports
"I really believe this division needs me," Rothwell said. "It needs my energy, my antics and needs me to go in and f*****g smash somebody. We need to get people talking about this division again because I feel like we need to remind people we are the biggest, baddest motherf*****s on the planet. We need to make things exciting.
"I mean...even the night where Stipe beat Overeem, that was a great fight but the other heavyweights failed. Werdum and Browne looked goofy out there and that was horrible. Overeem talked a bunch of hype and didn't look right. The worst part was people were done talking about it as soon as it was over. The one thing I can say in all of my last several fights is I got people to talk weeks after the fight and I can't even take all the credit because I don't even know what the hell I do sometimes.
"I feel like the heavyweight division is dormant. I'm coming to make some noise in 2017. I'm going to remind people who I am and give the UFC a reason to give me a title fight."
FloCombat's hottest content, delivered to your inbox
Don't miss breaking news, feature stories, event updates, and more. Sign up for the FloCombat mailing list today.