Dominick Cruz Rips 'Spineless, Gutless' Approach from Cody Garbrandt
Dominick Cruz Rips 'Spineless, Gutless' Approach from Cody Garbrandt
UFC bantamweight champion Dominick Cruz blasts challenger Cody Garbrandt ahead of UFC 207.
Dec 21, 2016
by Duane Finley
Dominick Cruz is the walking definition of a champion's mindset.
The greatest bantamweight in the history of the UFC has proven to be technically brilliant inside the cage and cerebrally crisp in his work at the analyst desk. Whatever endeavor Cruz invests his energy to not only gets the best he has to offer, but also becomes an avenue he has every intention of dominating.
Cody Garbrandt is currently the object of that focus.
The heavy-handed Team Alpha Male representative heavily campaigned for a title shot against Cruz and is set to tangle with the 135-pound king at UFC 207 on Dec. 30 in Las Vegas. Garbrandt has been flawless as a professional fighter and has repeatedly steam rolled his opposition en route to landing a shot at the bantamweight crown.
And while the Ohio native has showcased some impressive skills during his time inside the Octagon, Cruz has been none too impressed.
The last man to hold the WEC bantamweight title and the first man to hold the UFC strap has been speaking his mind every step of the way during the lead-up to UFC 207, which has led to some fire exchanges between champion and challenger.
Their most recent back and forth occurred during the broadcast for UFC on Fox 22 where Cruz verbally mauled the 25-year-old slugger throughout the exchange. Garbrandt did his best to keep pace, but Cruz's attack proved to be as efficient as his game inside the cage.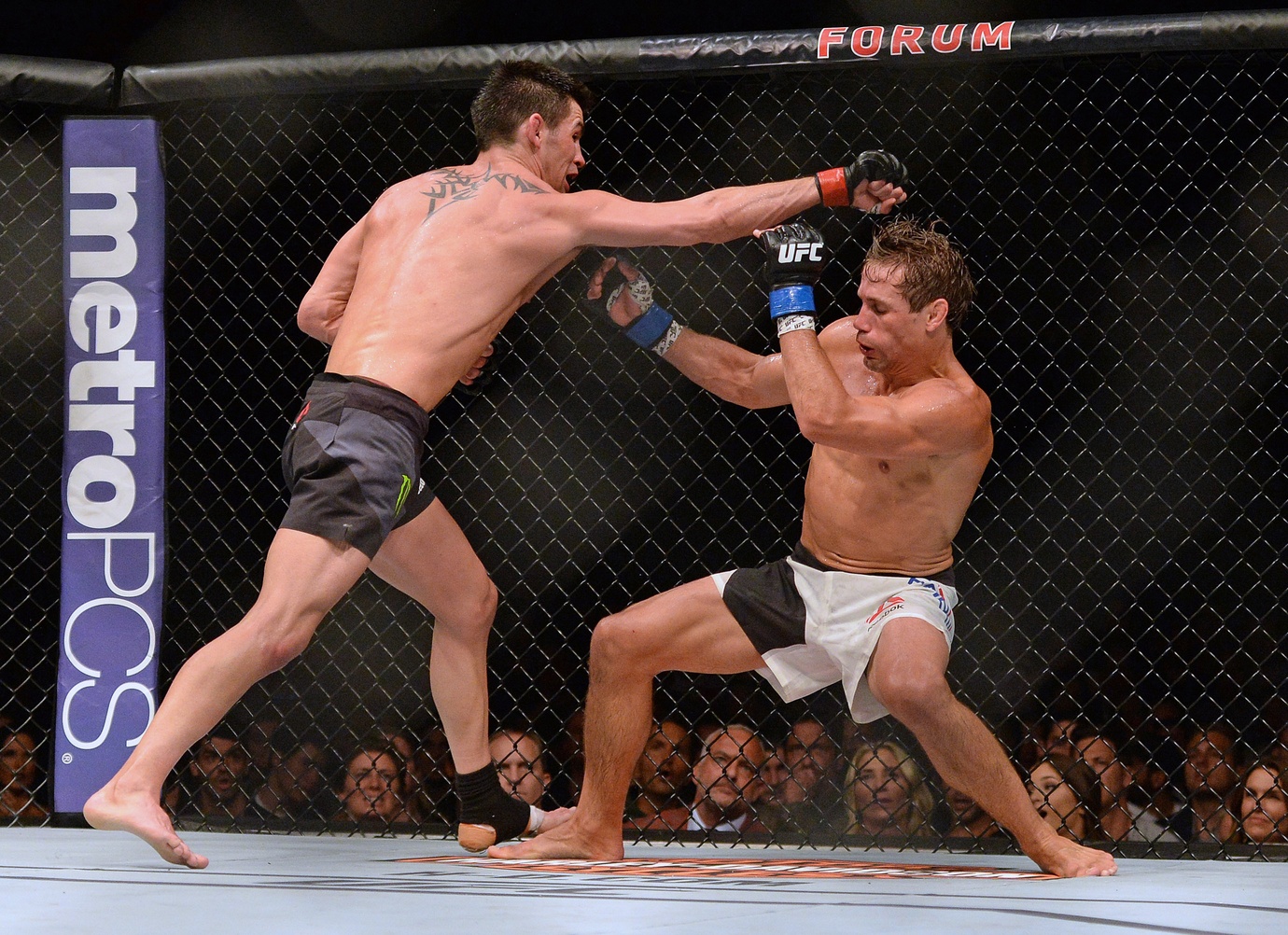 Jun 4, 2016; Los Angeles, CA, USA; Urijah Faber (blue) fights Dominick Cruz (red) during UFC 199 at The Forum. Mandatory Credit: Jake Roth-USA TODAY Sports
"I kind of blackout when I talk sometimes, but afterwards I realized I had a tactical answer for every idiotic thing he had to say," Cruz told FloCombat. "It was funny because you could almost read into everything he was going to say because he's not a big thinker. He's the type of guy who has to force everything and there's no real thought put into anything.
"Everything he says is, 'I'm stronger, I'm faster, I'm better looking and I'm this and that,' and that's gotta work, but it's like, 'What's plan B for you guy?' I can match him on all those things and more, and since he doesn't have a plan B I can make him look silly. He really just does that all on his own though."
Although Garbrandt had the louder moments during the segment last Saturday, Cruz was the one scoring hits consistently. The San Diego-based fighter stayed witty and sharp throughout as everything he launched in Garbrandt's direction landed with precision.
Social media platforms lit up during the interview and mirrored Cruz's ruthlessness throughout their exchanges. The end results was Cruz picking up a lot of momentum from a community brimming with excitement to see the two men scrap it out at UFC 207.
"It's like when you are a little kid and you literally repeat what the other person just said," Cruz said. "At a certain point I thought he was making us both look dumb because he was so bad at speaking. I would say something and he would just start yelling loud noises at me because he didn't want me to get my thought out.
"It actually reminds me of [Urijah] Faber because that was Faber's tactic. Anytime we had a press conference or a media scrum where we were supposed to exchange points every time I would start talking he would just start screaming nonsense over the top so I couldn't even say what I wanted to say.
"What you get is me trying to talk and these other people screaming absurd things over top of me and it kills the interview," he added. "It's a spineless, gutless and sad approach that's very weak."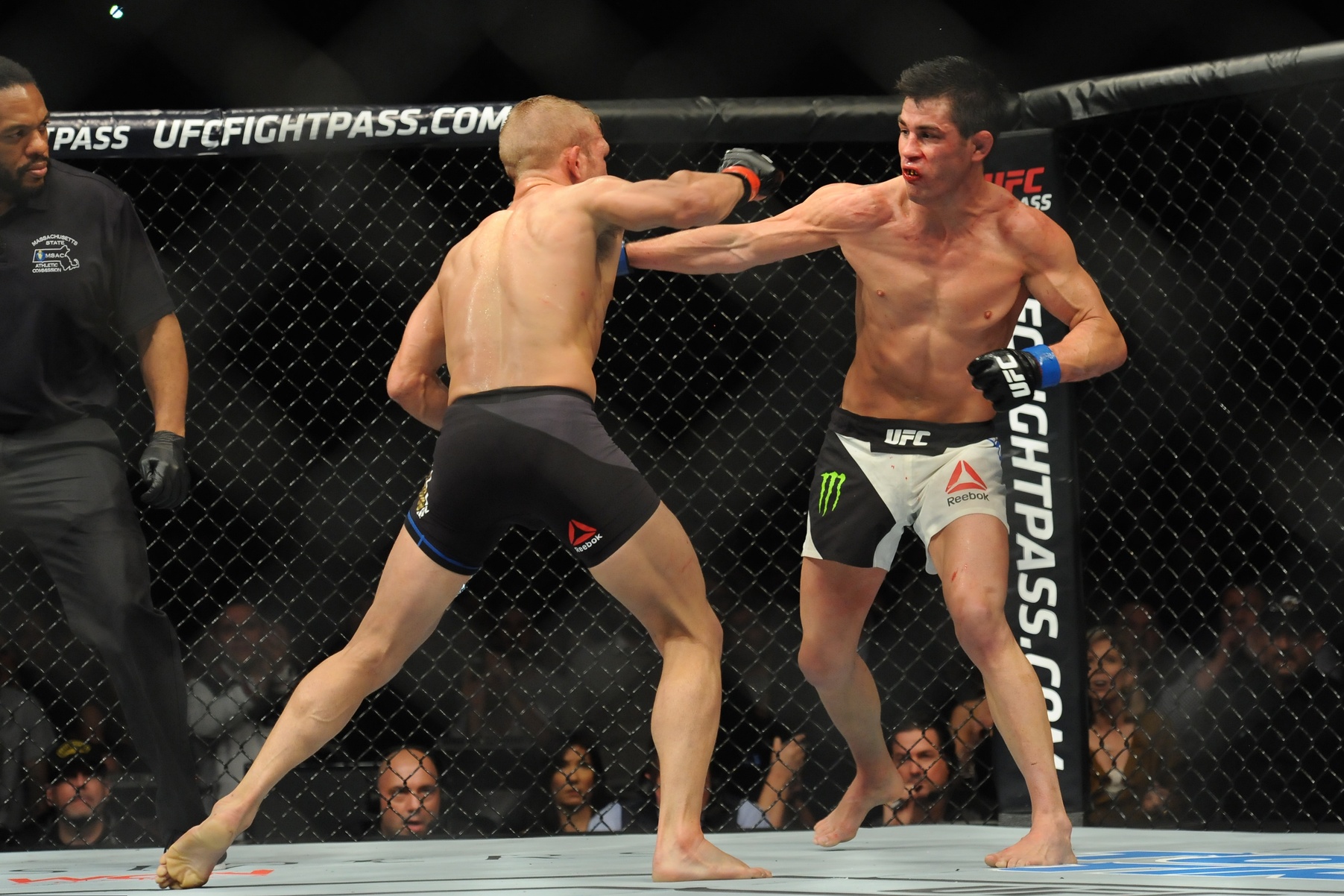 Jan 17, 2016; Boston, MA, USA; TJ Dillashaw (red) punches Dominick Cruz (blue) during a world bantamweight championship bout at UFC Fight Night at the TD Garden. Cruz won after five rounds by split decision. Mandatory Credit: Bob DeChiara-USA TODAY Sports
One of the consistent themes Garbrandt wanted to revisit time and time again throughout the interview was his insistence he'd knockout Cruz in Las Vegas. Not only was the bantamweight champion opposed to this line of thinking, but insisted the title challenger would struggle to find a home for his signature power.
Cruz's signature style is one built on elusive movement, and he is confident Garbrandt won't be able to figure out the puzzle he presents inside the Octagon.
"Everybody gets hit when they fight," Cruz said. "In every single fight I've had I've been hit. What I'm saying is that I'm going to get hit far less than I hit him and that I can guarantee. He's not going to hit me or connect as much as I'm going to hit him and the point is to win this fight. My finish will come when my hand is raised in the air and I walk out of the Octagon with my title yet again.
"That's the finish I want and anything else is just the cherry on top. And I see that coming to fruition very soon. I have 12 days and I'm in outstanding shape going into this fight. I have no injuries and this is my third fight this year. I just have to show up, trust my instincts and let everything flow."
Where Cruz spent a large portion of his career receiving support from the passionate MMA fanbase, those tides have shifted since his return to prominence.
The 31-year-old champion earned a swath of respect during his time on the sidelines as he rose to become the most respected analyst behind the desk at Fox Sports 1. Cruz's ability to break down the action and explain the chaos to the common fan endeared the fighting faithful to him like never before.
When Cruz made his long-awaited return from injury to defeat T.J. Dillashaw at Fight Night 81, the support continued to pile in, and none of it was lost on the appreciative titleholder.
Jan 17, 2016; Boston, MA, USA; Dominick Cruz (blue) celebrates his win over TJ Dillashaw (not pictured) in a world bantamweight championship bout at UFC Fight Night at the TD Garden. Cruz won after five rounds by split decision. Mandatory Credit: Bob DeChiara-USA TODAY Sports
"Support is nothing but positive energy and that's great," Cruz said. "It's not something I need, but it is something I prefer and enjoy of course. I'd much rather have the support and energy of the fans than the negativity and the hate. You can feed off and use both in their own ways, but if I had to pick one I would definitely choose positive energy and I've been feeling a lot of it lately from the fans.
"The key is not to need it though. The key is to need all the positive energy you can get from yourself so that way anything you get from other people becomes an extra."
One of the biggest storylines surrounding the bout between Cruz and Garbrandt is the champion's ongoing rivalry with Team Alpha Male. What started with Urijah Faber has carried on for nearly a decade as Cruz has battled every elite member the Sacramento-based collective has produced.
Garbrandt is not only the most recent star to emerge from the squad, but perhaps TAM's final hopes of landing a UFC title. That said, Cruz doesn't feel like the upcoming matchup matters in the greater scheme of the feud because he believes his victory over the group has already been solidified.
"This rivalry has been done, man," Cruz said. "I think after I shut out Faber in this fight and sat him on his butt twice, and him realizing everything he's said about me over the past 10 years has been completely off and wrong; I put an end to this thing. This right here is just to put a stamp on it and have some fun by beating up a guy who has been talking way too much and is trying to cash a check he can't cash because he just doesn't have it in him.
"I'm going to prove that in this next fight. On New Year's Eve I'm going to beat the hell out of this dude and I can't wait for it."
FloCombat's hottest content, delivered to your inbox
Don't miss breaking news, feature stories, event updates, and more. Sign up for the FloCombat mailing list today.