UFC 208
Max Holloway to Jose Aldo: Stop Crying and Let's Fight
Max Holloway to Jose Aldo: Stop Crying and Let's Fight
UFC interim featherweight champion Max Holloway is eager to lockdown a unification fight with Jose Aldo.
Dec 17, 2016
by Duane Finley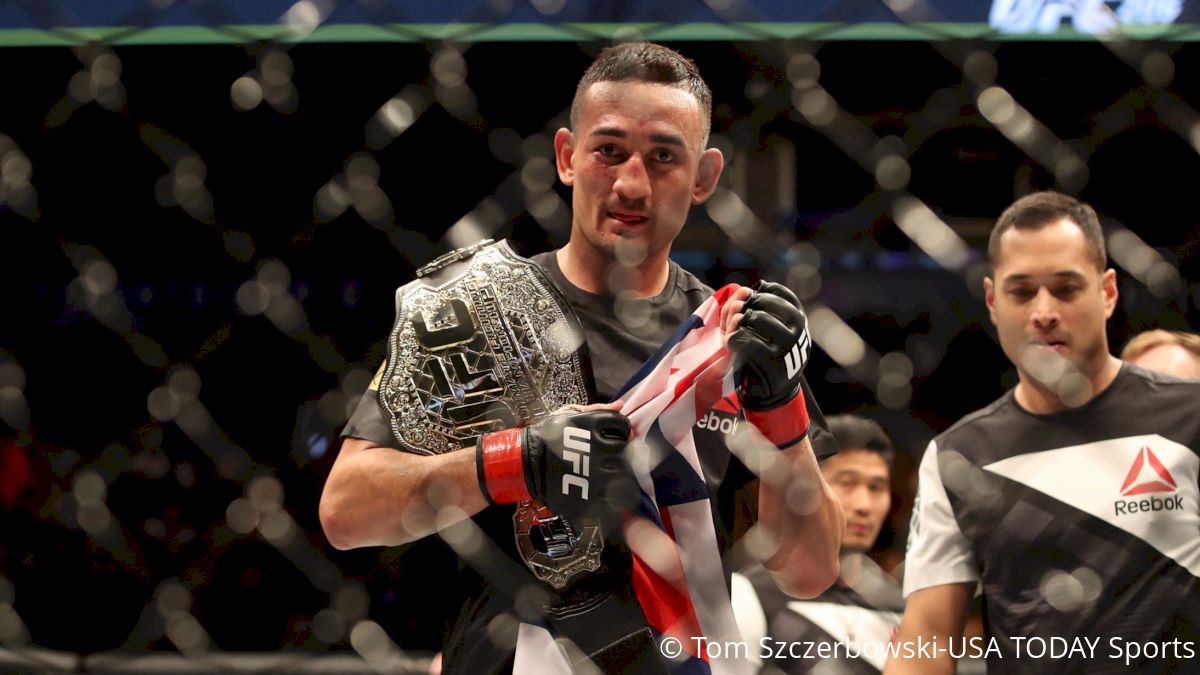 Max Holloway is on top of the world.
The 25-year-old Hawaiian has been on a steady rise to the top of the talent-rich 145-pound fold over the past few years, but his recent TKO victory over Anthony Pettis at UFC 206 elevated his status to an entirely new level.
Holloway's win over the former lightweight champion added a tenth-straight victory to an already impressive resume and notched his first world title under the UFC banner as he became the official interim champion of the featherweight division. Folding up 'Showtime' marked Holloway's first world title and the outpour of support he's received in the aftermath of of his biggest victory has been more than the modest island kid can process.
"I truly wish everyone could experience this with me because it's been unbelievable," Holloway said. "I have been receiving so much love and support from everywhere and I honestly don't have words to describe it. The little city I'm from has been reppin' hard for me and I'm beyond honored. It's an amazing feeling.
"Yesterday was Max Holloway Day in Oahu and that's just crazy to me. It's funny though because I told my friends that some people get days named after them but I want a month. I'm slowly working toward that goal, but now that I have my own day my next goal will be to get my own week, then a month will come after that. It's all just crazy but I feel the love and it's great, man.
"I'm the one who has to go out there and do it but it's not just me," he added. "There's a lot of hard work and sacrifice put in by my family and coaches to get to this point. I'm very grateful for everything and this is just more proof that hard work and dedication truly pay off."
[tweet url="https://twitter.com/BlessedMMA/status/809773070210609152" hide_media="0" hide_thread="1"]
Holloway's victory at UFC 206 set the stage for a unification bout with recently re-crowned champion Jose Aldo in early 2017.
The former divisional king cashed in the interim strap he earned at UFC 200 for the undisputed title once the UFC stripped two-weight king Conor McGregor earlier this month. Although Aldo was leveled by McGregor in a 13-second wrecking at UFC 189 back in 2015, the Brazilian striker was elevated to top dog status once the promotion stepped in to take one of the Irish superstar's belts.
Therefore, with Aldo and Holloway both holding divisional championships, a collision between the two should have been an easy match to make, but bickering from Aldo's camp has turned the situation sour. Holloway is baffled by the noise the the longtime pound-for-pound great has been kicking up, and promises all the talk Aldo has been dishing out won't save him once the two champions come face to face.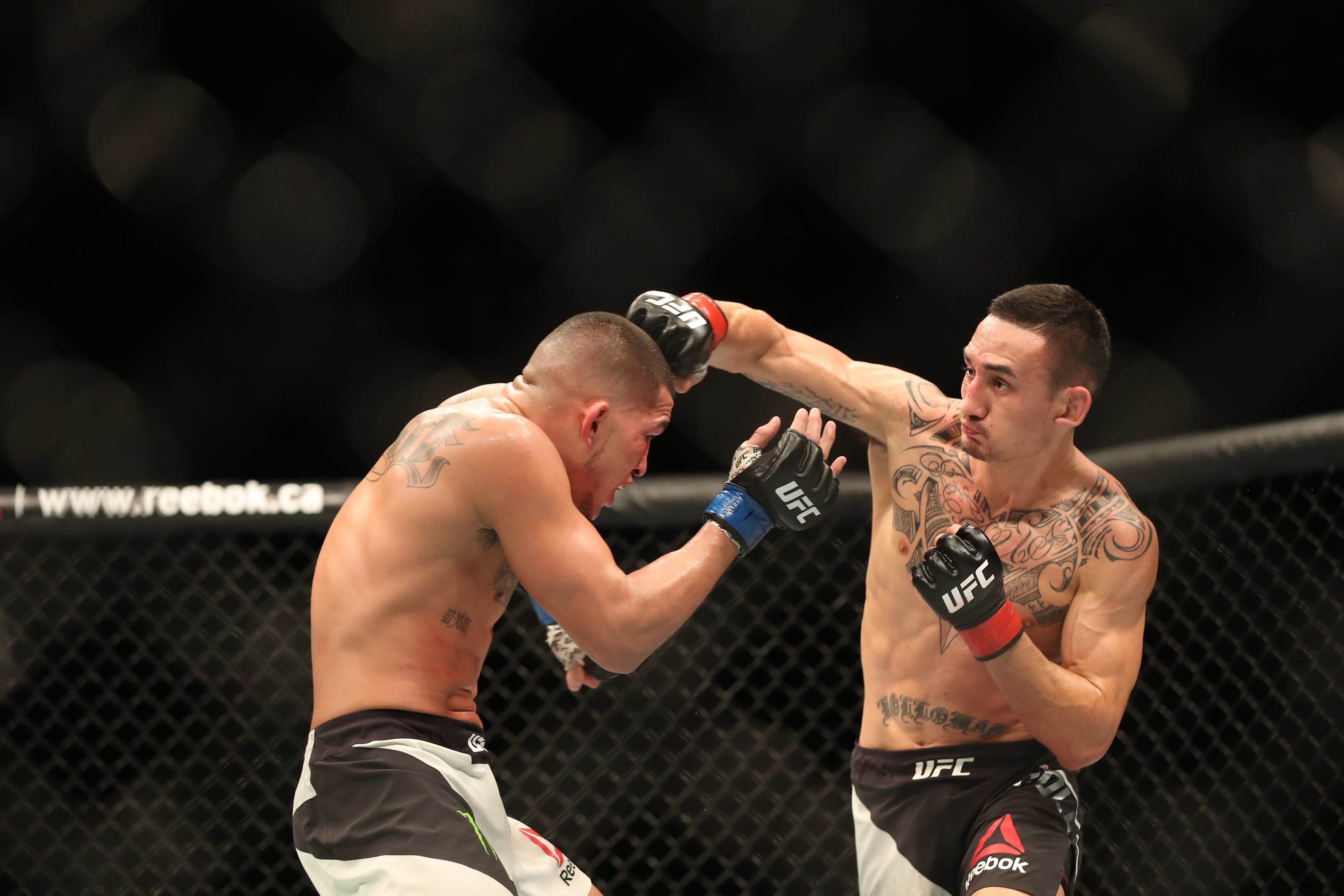 Dec 10, 2016; Toronto, ON, CAN; Max Holloway (red gloves) fights Anthony Pettis (blue gloves) during UFC 206 at Air Canada Centre. Mandatory Credit: Tom Szczerbowski-USA TODAY Sports
"At the end of the day he's going to have to see me inside that cage," Holloway said. "People asking me if I'm hearing the things he's been saying about me out there, but he doesn't understand. They all act like they are unimpressed and think I'm just another guy until they step into the cage with me. When they find out what I'm about it's always too much for them.
"I'm telling everybody right now to switch the channel and jump on the train. The Blessed Train has been rolling and the seats are filling up quickly. Hawaii is warmer anyway and it's time for people to quit sleeping on me. I'm going to keep waking them up every damn time until everyone understands I'm the baddest guy on the face of the Earth."
Per several reports Aldo's camp pushed for a showdown at UFC 208, but Holloway doesn't see that as a realistic timeframe. The interim featherweight champion has reasons both personal and professional, but what it truly boils down to is his genuine disbelief Aldo would actually make the walk when the UFC debuts in Brooklyn two months from now.
"The thing is I would love to fight on February 11 but there's no way I can trust this guy to show up," Holloway said. "If I could trust this guy and know without a doubt he would show up on that date it wouldn't be a problem, but this guy has a knack for not showing up to fight. Injuries happen, and I know how that goes, but injuries happen to this guy four or five times more than anyone else.
"I'm going to fight Jose Waldo next and we'll go from there. My son's birthday is in January and I'm taking time off for that. All the dads out there definitely understand I'm not trying to miss my son's birthday because I ain't about that life. My family means everything to me and I already gave up Thanksgiving and my birthday.
"Look at the guy who has the belt in Conor McGregor. He's taking time off because he's about to have a kid and I respect that, man. I have a family and know how it is so respect to him for taking the time."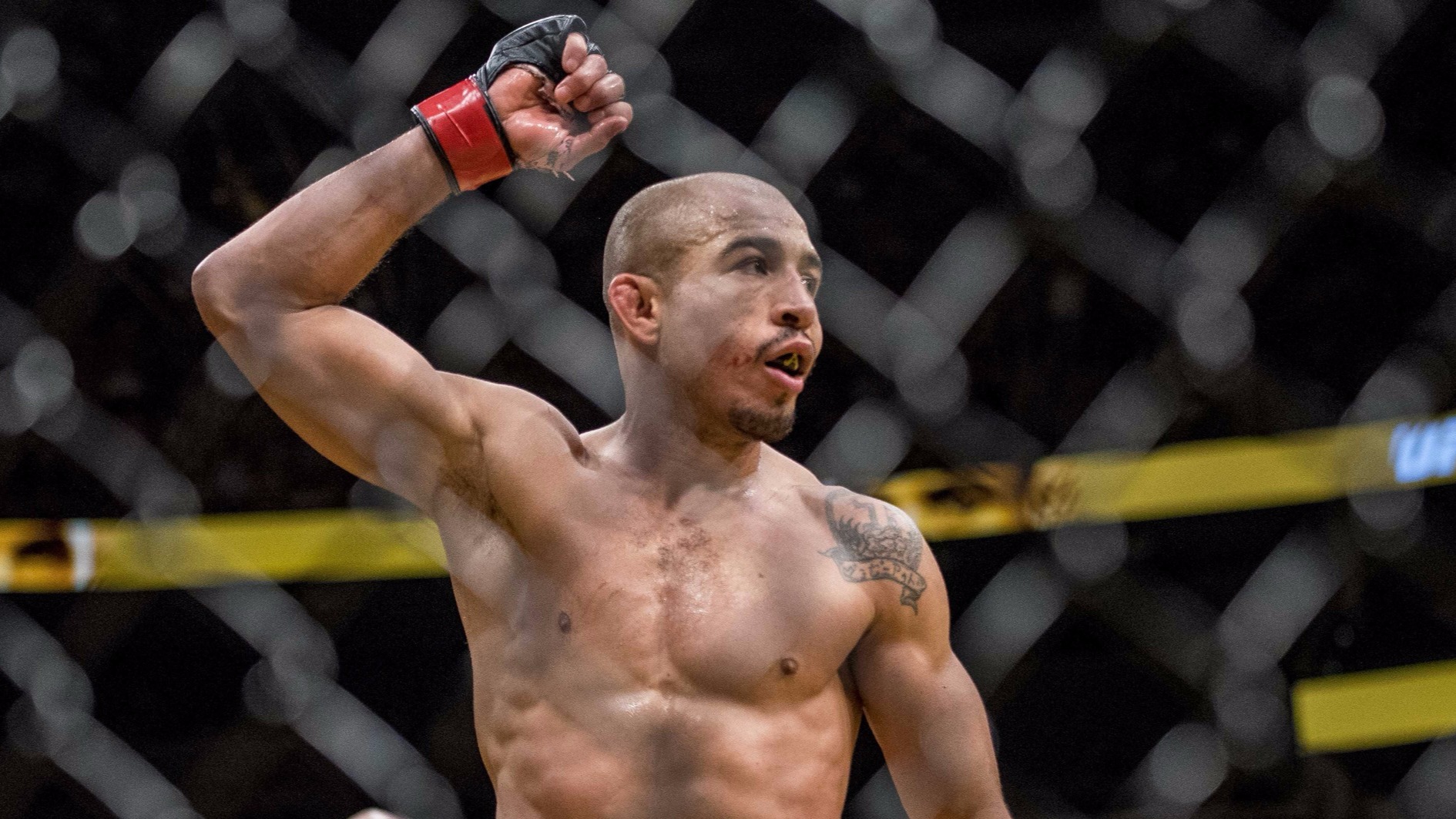 © Joshua Dahl-USA TODAY Sports
Regardless of whatever obstacles may be standing in the way of the fight with Aldo becoming official at the current time, Holloway is beyond confident the UFC will make it happen sometime in the coming year. Holloway sees all the talk of him ducking out as complete nonsense because his track record is rock-solid when it comes to facing each and every challenge presented to him.
"Someone pointed something crazy out to me, man," Holloway explained. "I am on a 10 fight-winning streak and I have more wins than this guy has fights in the UFC. And this guy was our former champion? Come on, man. People talking out saying my interim title is fake, but the last time I checked I'm the one who actually fought for my title. The sh*t didn't get handed to me twice like this other guy.
"Some of these fighters, when the UFC calls they don't answer. When Dana [White], Joe [Silva] or Sean [Shelby] call they don't pick up because they don't want to fight or they get the one dial tone and all they hear is 'Can you hear me now? Can you hear me now?'
"When Dana calls me I answer every damn time," he added. "You know that and the fans all know that is true. Verizon needs to sponsor this new champ right now because I'm not one of those 'Can you hear me now?' fighters. Hey Verizon….give your boy a call and get in on the ground floor because the prices are going to blow up soon."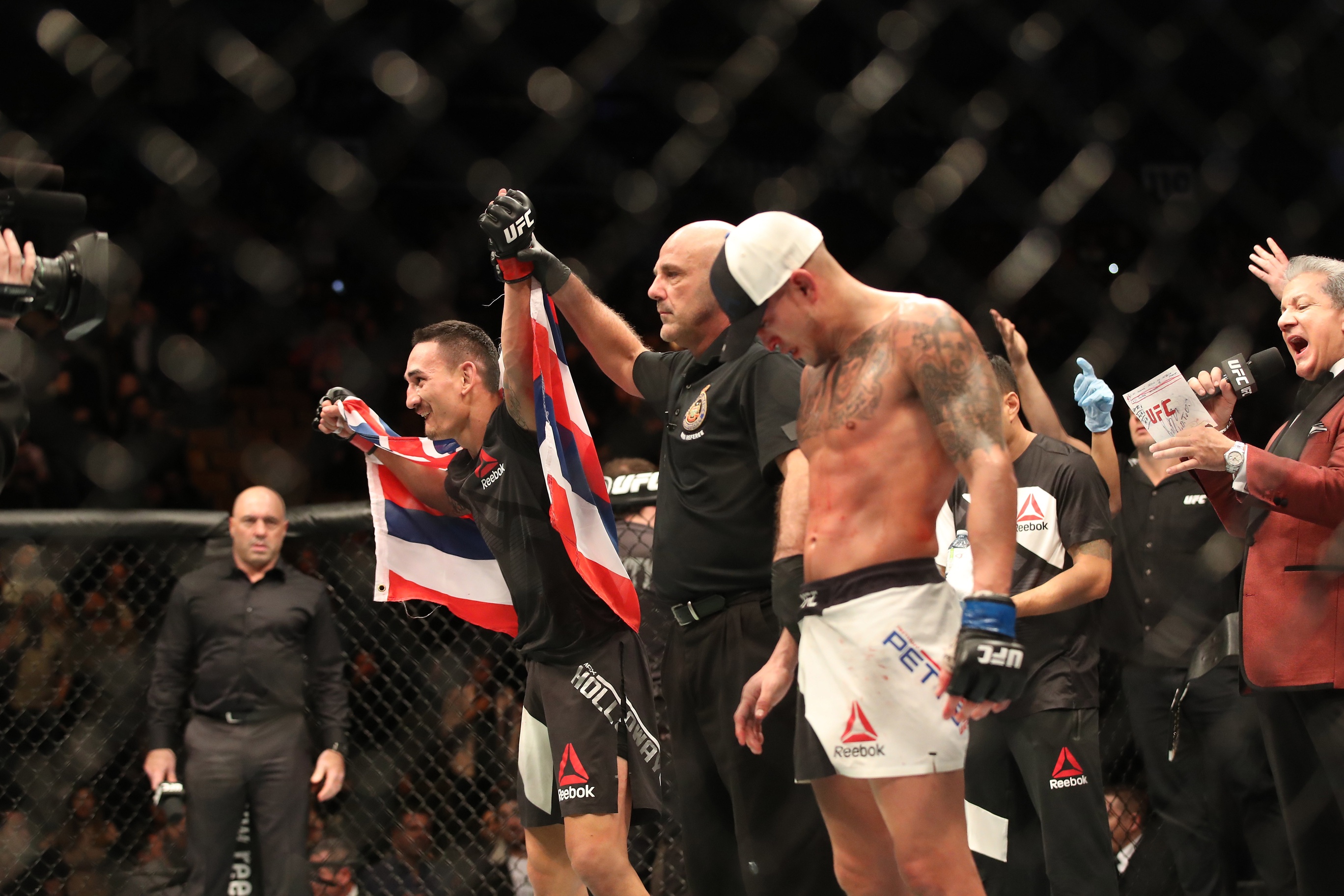 Dec 10, 2016; Toronto, ON, CAN; Max Holloway (red gloves) reacts to fight with Anthony Pettis (blue gloves) during UFC 206 at Air Canada Centre. Mandatory Credit: Tom Szczerbowski-USA TODAY Sports
Holloway's sole focus in currently fixed on locking down a fight with Aldo, and he sees the turbulence in the scenario as just another example of how crazy the division he calls home has become as of late. Where the 145-pound collective was once a picture where contenders rose and champion's defended, the star-studded division has become nothing short of a circus with Aldo playing a large role in the insanity.
Holloway's solution to the problem at hand is quite simple, and believes he'll get what he's after in the coming months.
"It's been crazy the past few years in this division," Holloway said. "We have one guy who chased down the champion then went chasing another belt, then the guy who he beat has now started chasing him. Jose needs to face the music and stop crying about it. Sometimes things don't happen the way you want them to so be a man and face up to what is in front of you. Let's fight.
"The UFC was already trying to make this fight. We were supposed to fight at UFC 205 and 206 but Jose was trying to pick up an easier fight. He said he wanted a more marketable fight, which means he wanted an easier fight, but I'm the guy to fight at 145. At the end of the day he can run his mouth and say whatever he wants, but I'm going to see him inside that cage.
"He can count his blessing now, but we are going to meet face to face and he's going to find out what I'm about."