Scott Coker Confirms Bellator in Negotiations With Lorenz Larkin
Scott Coker Confirms Bellator in Negotiations With Lorenz Larkin
Recent free agent Lorenz Larkin is in talks with Bellator according to the promotion's CEO, Scott Coker.
Nov 28, 2016
by Jim Edwards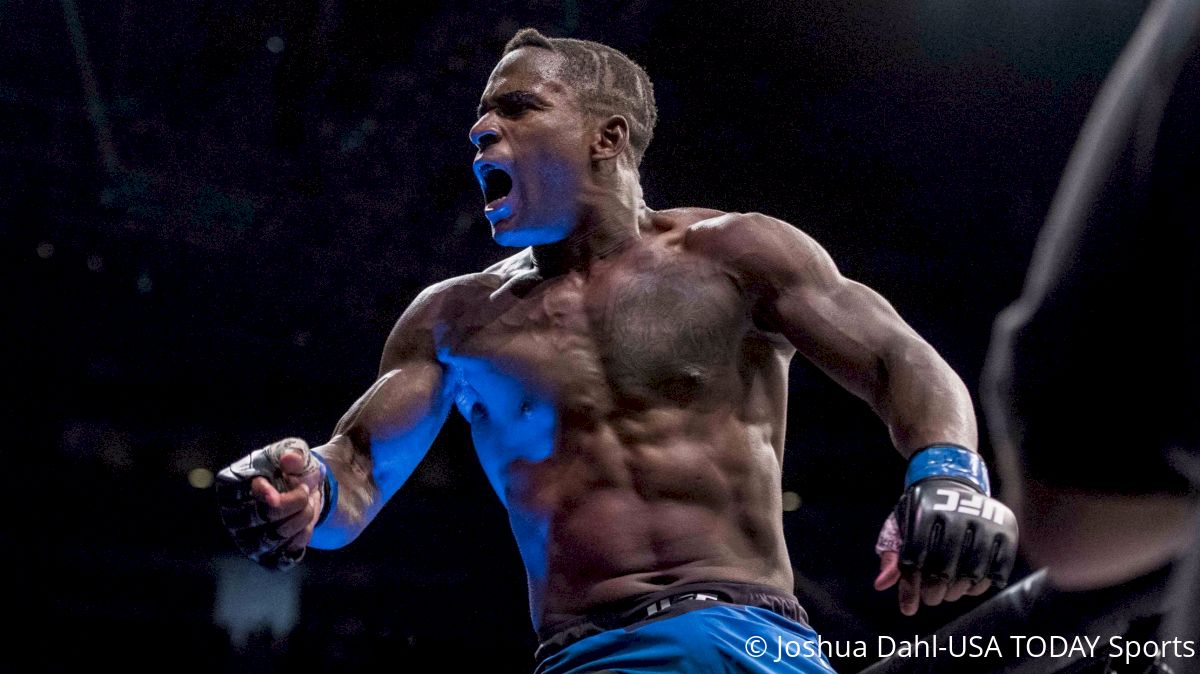 It's been a great few years for Bellator MMA, and things could hit a whole new level in 2017.

Having made some huge free agency signings this year with Benson Henderson, Rory MacDonald, and Chael Sonnen already, Bellator president Scott Coker revealed this past weekend that the promotion is currently in talks with another former UFC fighter who is currently testing the free agency waters--Lorenz Larkin.

"I think our guys are talking to him, but I think we are a little bit apart on the money and that's the hold up of why Lorenz hasn't signed with us yet," Coker told the Combat and Strength podcast. "I think it's just a financial thing at the moment, but I'm going to look into it a bit more and see if I can help negotiations along, but I would love to him here. I think his fighting style would be fantastic in Bellator, and I think he could kick box as well as compete in MMA. I think he has the style to do both.

"I've been following him while he has been fighting in the UFC, and I've been very impressed. So hopefully we'll be able to come to a deal, and he'll come and fight over here at Bellator."


Another show in London?

Having made its debut in the U.K. earlier this year on July 16 at Bellator 158, the organization is now looking at the possibility of bringing Bellator Kickboxing across the pond next year, according to Coker.

"We are signing fighters we want to build, but it is going to take time to build them," Coker said. "So far we've done most of our cards in Europe, but in 2017 I think we will do at least one show in the United States and the other three in Europe with one possibly being held in London."

Coker then went on to say there is a possibility the show could be one of Bellator's hybrid MMA and kickboxing shows that it calls "Dynamite."

"We are scheduled to do a couple fights in Italy and Budapest (Hungary) during the first half of next year, so if we do something in London it will probably be third or fourth quarter of 2017," Coker said. "I know kickboxing has a terrific fanbase there, and the talent in the U.K. is some of the best in the world so its definitely possible.

"One of the shows I really love promoting is our Dynamite shows where we set up the ring and the cage together. I really love that format, and I think it will go down really well in the U.K."


Signing of Fedor

One of the biggest stories this year was the announcement made during Bellator 165 that the promotion had signed Fedor Emelianenko to fight Matt Mitrione at Bellator 172 on February 18.

However, reaching an agreement with Fedor wasn't all smooth sailing from the start.

"I have a long-standing relationship with Fedor ever since I owned Strikeforce back in 2008-2009," Coker said. "He had some fights [with us], then he fought in Russia, then he fought in Japan, but we've always kept in touch and I started talking to him about a year ago.

"I asked him at fan fest whether he'd consider coming back and he was like 'Yeah, I will. I will let you know when I'm ready.'" He then fought in Russia, and after a three-year layoff he had a tough outing. It had been a while since he fought competitively at that level.

"We then started talking about another three or four months ago and told him I really want him to do this. Then it was really just about three months of negotiations. It wasn't easy, and every time we looked at it, it was a different contract and we were miles away. There was a tough translation and language barrier, and it would've been easier if we just sat down."

Once the deal was settled, the Bellator CEO circled in on Mitrione as a possible opponent for Fedor.

"Matt Mitrione came to my mind," Coker said. "Matt is a big fan of Fedor, but when I asked him he said he'd loved to. We announced it last Saturday, and man it's buzzing.

"I don't care what you say about Fedor Emelianenko, to me he's the greatest, the greatest of all time. As far as I'm concerned the buzz we've been receiving from this fight has been amazing, and I'm so happy we are going to do it."