The easy route isn't a path on a map of Michael Johnson's fight career. And he doesn't intend to make that addition any time soon.
Proof of this notion can be found up and down the Missouri native's resume, as The Ultimate Fighter alum turned lightweight contender has stepped in with some of the best the 155-pound ranks have to offer. Johnson has consistently shown a willingness to square off with fighters many try to avoid inside the Octagon.
"I'm not hiding from tough fights and I never will," Johnson said. "I'm not going to say names but there are certain guys in the UFC who pick their fights and the UFC allows them to do that. If you look you'll see they are never outmatched in size or ability in any fashion, and they pick those matchups for a reason. That's not who I am.
"I've always been open about who I want to fight and I always call out the top guys. I always call out the toughest guys who other people won't fight or would want a bunch of extra time to prepare to face them. I'm always looking to face the best in the world, to beat the best in the world because those are the tests that will make you a champion."
His recent bout against Khabib Nurmagomedov is a further example of the point at hand.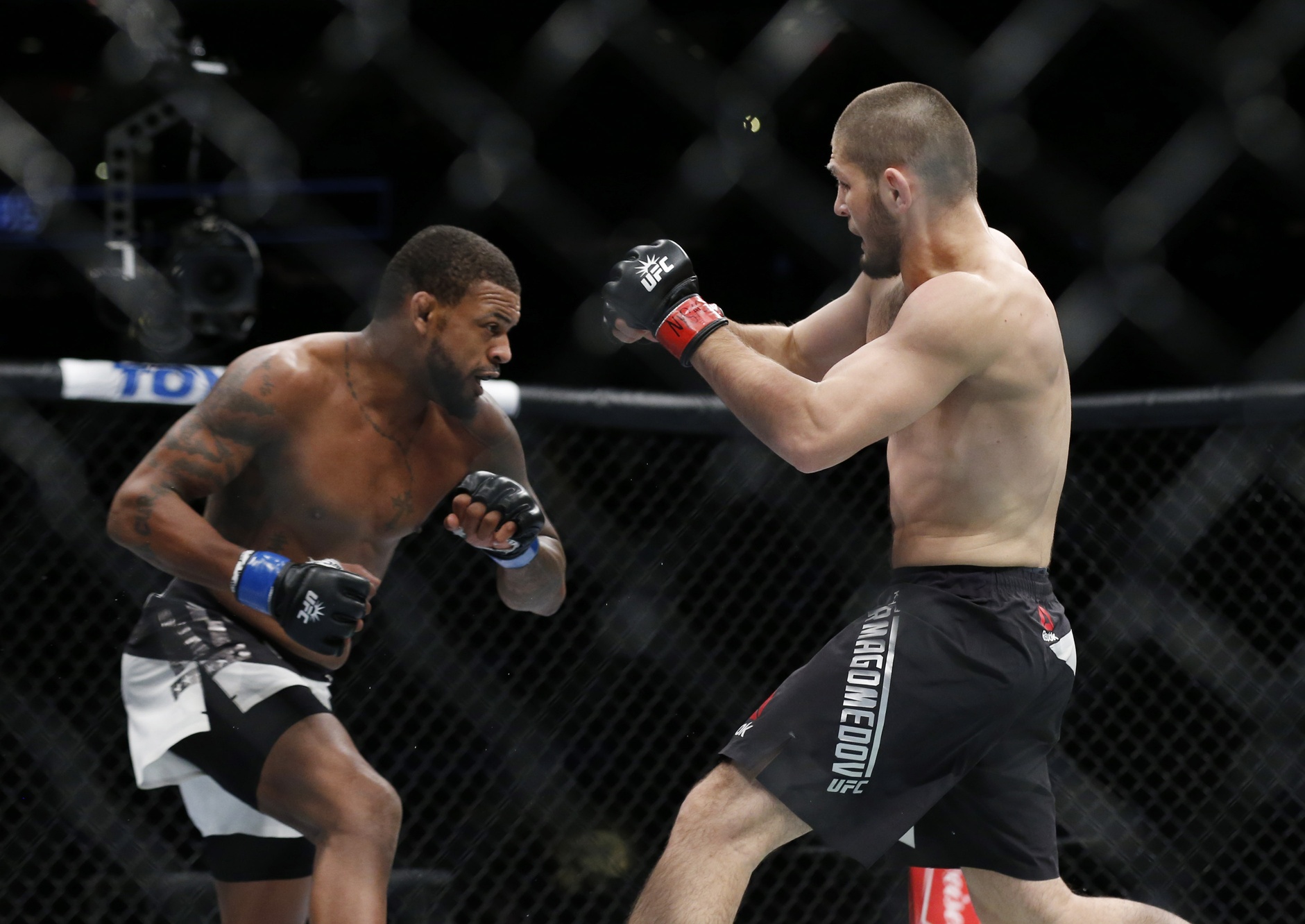 Nov 12, 2016; New York, NY, USA; Khabib Nurmagomedov (red gloves) fights Michael Johnson (blue gloves) during UFC 205 at Madison Square Garden. Mandatory Credit: Adam Hunger-USA TODAY Sports
The undefeated Russian grappling machine has steamrolled everyone he's faced under the UFC banner, but Johnson wasn't rattled in the slightest. The Team Blackzilians representative saw Nurmagomedov as the toughest test in the lightweight division, and went into their matchup at UFC 205 looking to lay it all on the line.
And while the end result wasn't victory, Johnson is confident the experience will make him a better fighter. It will also ensure the next time things will be different the next time they meet.
"I'm eager to get back to it," Johnson said. "It's one of those things where I fought the best in the world and I came up a little short. I really just need to prove to myself I belong at the top because I know I'm there. I need to clean my game up a little bit more and I'll make myself a champion."
Although Johnson found his range early and used his speed to baffle a flat-footed Nurmagomedov, tides would change drastically in the second round. The Dagestan native was able to get ahold of Johnson, then put him down at will. Nurmagomedov has proven to be a nightmare from top position, and Johnson can attest to the power of the AKA fighter's ground and pound attack.
"I can definitely build some confidence off of that first round," Johnson said. "I think he went out there and strayed from his game plan because he wanted to prove to himself he could stand up with me. Once he realized that really wasn't going his way he got me down. I slipped up by letting it happen, but there are definitely things I can take from that fight and I'll be back stronger."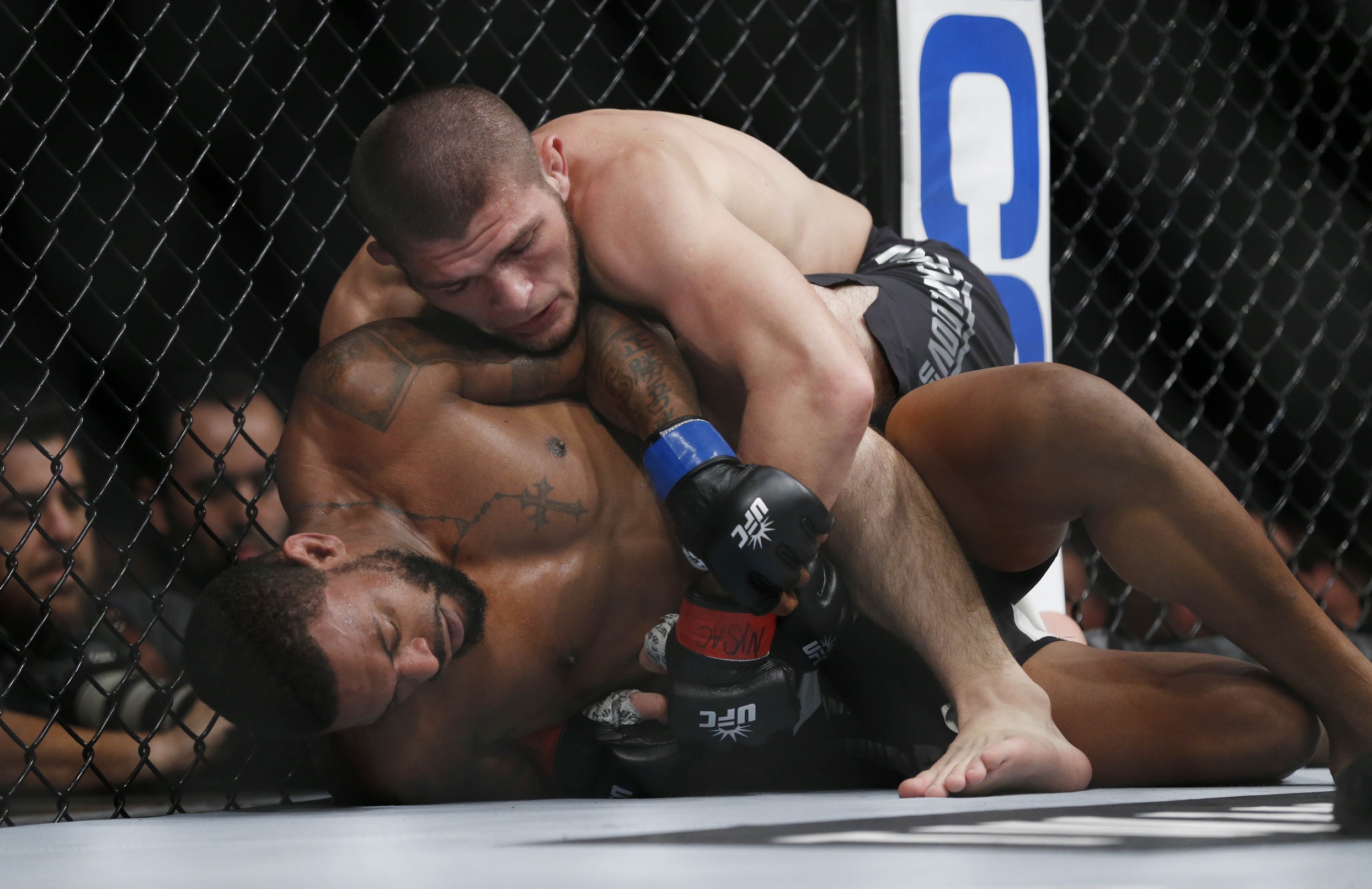 Nov 12, 2016; New York, NY, USA; Khabib Nurmagomedov (red gloves) fights Michael Johnson (blue gloves) during UFC 205 at Madison Square Garden. Mandatory Credit: Adam Hunger-USA TODAY Sports
In the days following their bout at Madison Square Garden, audio footage surfaced of Nurmagomedov holding a continued conversation with Johnson as the fight unfolded. Johnson confirmed Nurmagomedov was talking throughout the entire fight, but he had bigger things to worry about than the words coming out of the Russian's mouth.
"It wasn't weird at all," Johnson explained. "I really didn't think anything of it and just responded back a little bit and tried my best to get the f**k up. He was telling me to give up and that he deserved to fight for the title and sh** like that, but it didn't take me out of my game. I just didn't pay attention to it that much and kept fighting."
Where the majority of fighters would take a step back and assess the next calculated move to be made, Johnson is looking to get right back on the grind. He as the ideal opponent in mind for his next go and has set his sights on a former champion.
Rafael dos Anjos may be coming off back-to-back losses, but Johnson believes the fight makes sense for both parties. In fact, Johnson is willing to double down in his pursuit and says he'll fight RDA in his homeland when the UFC returns to Brazil in March of 2017.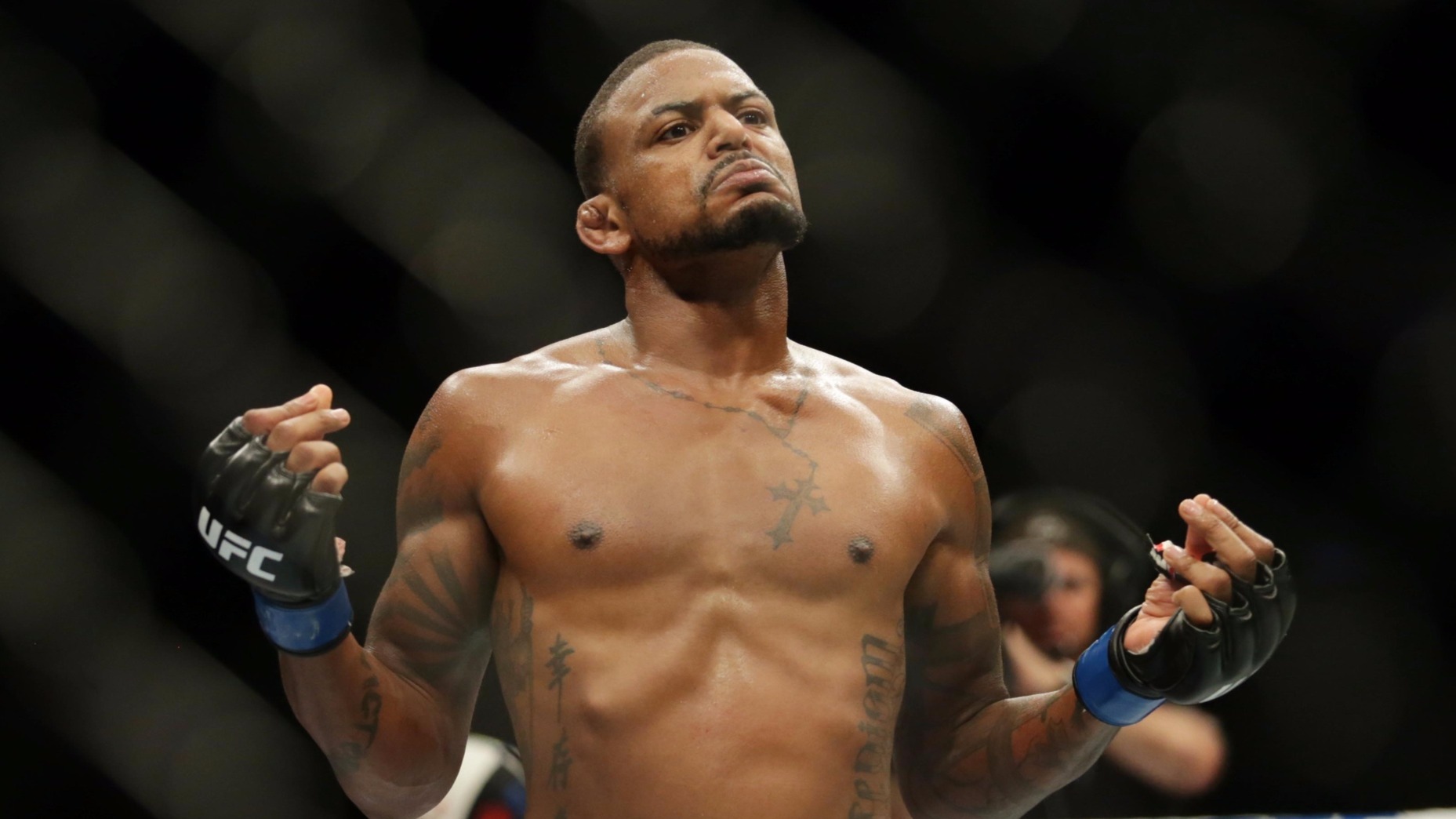 "Dos Anjos is the fight I want next. I don't know if he agrees with me, or if that's a fight he wants, but that is what I'm going after. I was just down in Brazil for my brother Kamaru Usman's fight and was sitting at the press conference when they announced the UFC would be coming back to Brazil in March. I thought, 'Why not fight RDA in March?' I'll come to his backyard and fight him in his home country. I have no problems with that at all.
"I think it would be a great fight. He's a guy who likes to stand and trade and I'm the exact same way. We are both coming off tough losses to guys who we both would love to get back in there with. I think it's perfect timing for this fight. I said before all the stars had to align for me to face Khabib and I think the same thing is happening now with RDA as well.
"A lot of fighters talk about being down to fight anytime or anyplace, but very few are really about it," he added. "I'm one of the few who live it. Anytime there is a contract to fight in front of me I'm going to sign it and show up and fight my ass off."