UFC 205: Alvarez vs. McGregor
Frankie Edgar Looks Back on Memorable Night at UFC 205
Frankie Edgar Looks Back on Memorable Night at UFC 205
UFC featherweight contender Frankie Edgar reflects on hist victory at UFC 205 in Madison Square Garden.
Nov 15, 2016
by Duane Finley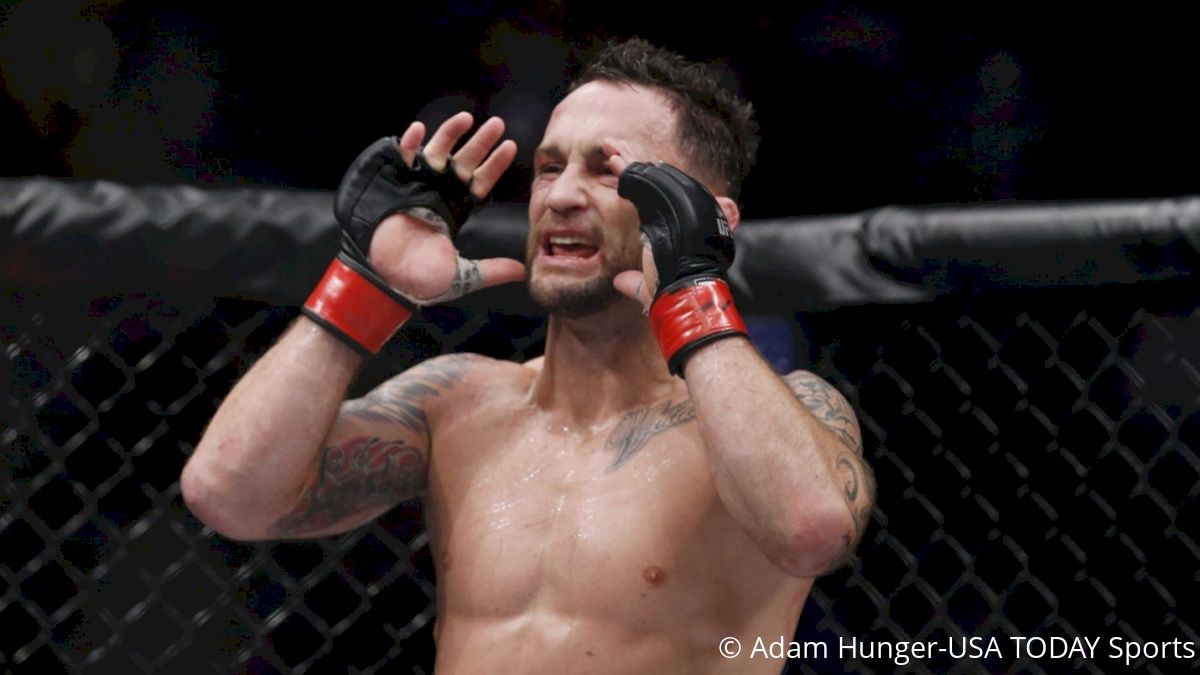 The end goal of every fight is victory, but there are different measures to the shine that comes with a great performance. Frankie Edgar has experienced them all.
The New Jersey native has forged a storied career filled with memorable battles and championship tilts where he's stood toe-to-toe with some of the best fighters to ever compete in mixed martial arts. That said, Edgar was able to notch an entirely different type of accomplishment at UFC 205 last Saturday night in New York City.
The 35-year-old former champion made a childhood dream come true by competing under the bright lights of Madison Square Garden where he defeated Jeremy Stephens via unanimous decision. Edgar worked behind his signature frenzied pace and was able to defeat Stephens on the judges' scorecards.
Getting his hand raised at fight's end is always the goal Edgar sets out to achieve, but getting the job done in the most historic venue in combat sports will forever hold a place in his heart and mind.
"That was something special," Edgar said. "I definitely felt the love and energy from that crowd and it's something that will last forever. You try to live in the moment as much as you can, and I was so focused on Jeremy and the fight at hand, but when you get a chance to take a step back it was definitely an experience I'll never forget.
"It's special for a different reason though. Just the magnitude of it being in Madison Square Garden and the history that building has. I was also one of the fighters really working to get MMA pushed through and legalized in New York.
"To see all the work put in by myself and many others was a special moment," he added. "It was a dream come true to finally fight and have a UFC event at The Garden."
[instagram url="https://www.instagram.com/p/BMwg9G1gFTx/?taken-by=frankieedgar&hl=en" hide_caption="0"]
While the larger scope allowed Edgar to take in the fruits of a job well done, the labor invested to achieve his goal was also impressive. The former featherweight title challenger used a workman effort to neutralize his hard-hitting opposition with a blend of movement and striking mixed with well-timed takedowns and slams.
"I figured I was going to be able to land strikes on my feet and look for takedowns," Edgar explained. "He stuffed the first couple, but that happens in a lot of my fights because I'm not overcommitting on them. Everything else went according to plan. I could have done without getting kicked in the head, but it definitely made for some drama.
"I was definitely a lot smaller than Jeremy, but I don't think it's about size or strength as much as it is about technique, know how and grit. I think I make up for a lot in those areas."
Save for one rough patch in the second round where a Stephens headkick landed flush, Edgar was happy with his overall performance at UFC 205. Furthermore, his ability to once again bounce back from adversity will only serve to further the narrative that hardship brings something special out of the fighting pride of Toms River.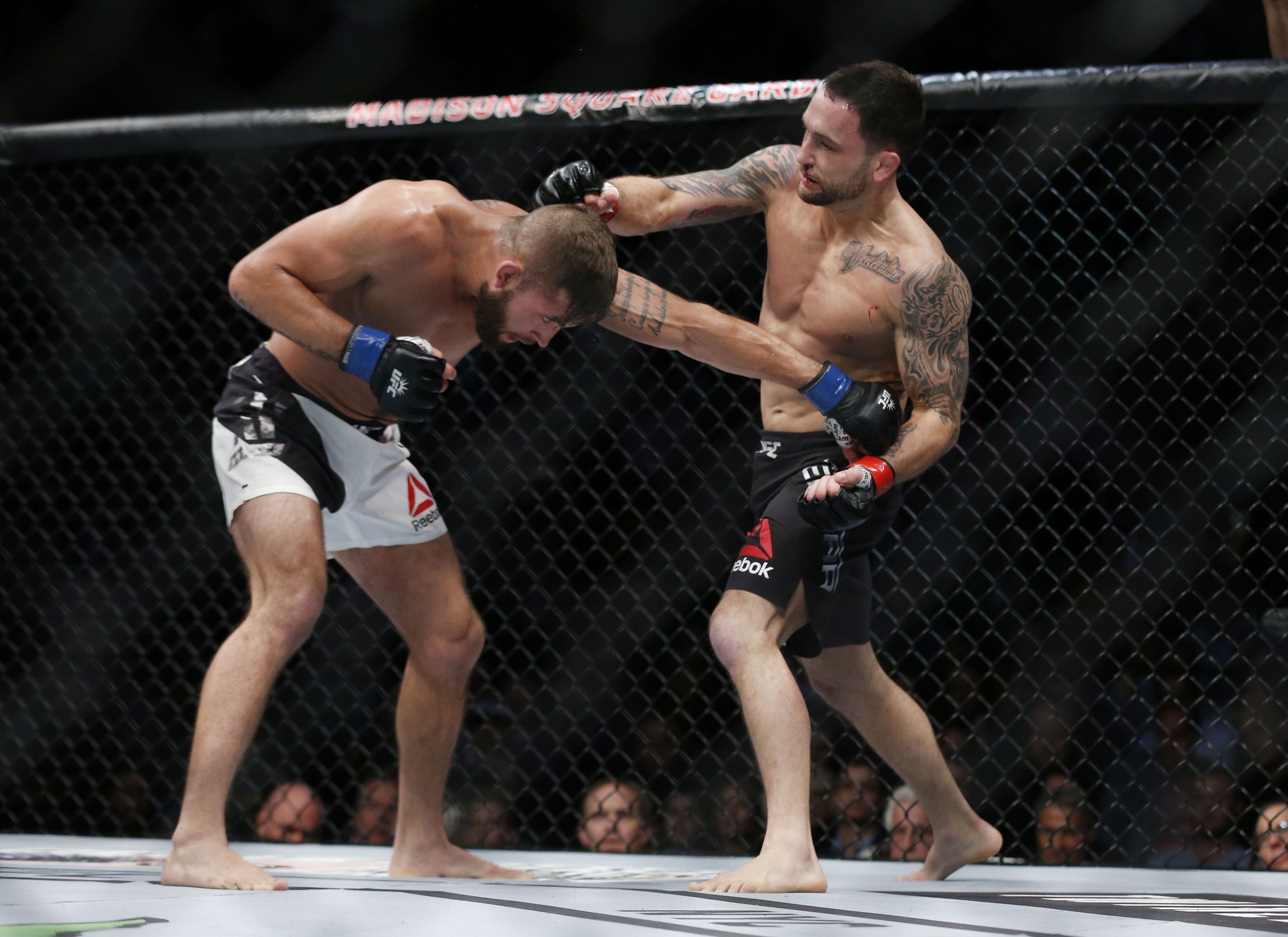 Nov 12, 2016; New York, NY, USA; Frankie Edgar (red gloves) fights against Jeremy Stephens (blue gloves) during UFC 205 at Madison Square Garden. Mandatory Credit: Adam Hunger-USA TODAY Sports
"It certainly seems that way, but I don't know," Edgar laughed. "It probably looks like I need to take a hard hit before the engines come on, but maybe that's just something I have inside of me. I'd much rather not take a kick to the face, but I actually thought it was a punch at the time. It's one of the few things I really went back and looked at because I had my hands up, but it was just a very well-timed kick by Jeremy."
Edgar spent much of the past two years heavily campaigning for a shot at the featherweight title, but there was plenty learned in the frustrations of that pursuit. Going after what he felt was earned and still coming up on the short end made Edgar realize that wasn't an area he wanted to continue wasting energy in.
With Conor McGregor holding two belts and continued uncertainty in regard to title contention in his division, Edgar has decided to keep his focus on his personal progression. The former lightweight champion wants to remain active, and wouldn't mind his next fight taking place in New York as well.
"There is so much unknown right now and I have no idea what is going to happen so that's not something I'm going to worry about," Edgar said. "I'm going to let my body heal up a little bit then I'd like to get back in there and stay active. There is an event in Brooklyn in February and that's a card I'd like to get on but we'll see. Fighting so close to home was awesome because it was a lot easier on myself and my team.
"This win was a good way to end the year. I had a hiccup back in the summer, but it was good to end the year with a win, and I'm looking forward to next year. I believe I'm still getting better and I certainly don't feel 35. As long as these wheels are still turning I'm going to keep going."
FloCombat's hottest content, delivered to your inbox
Don't miss breaking news, feature stories, event updates, and more. Sign up for the FloCombat mailing list today.