UFC 205: Alvarez vs. McGregor
Tyron Woodley Not Against Facing Demian Maia at UFC 207
Tyron Woodley Not Against Facing Demian Maia at UFC 207
UFC welterweight champion Tyron Woodley is open to facing Demian Maia in Las Vegas.
Nov 15, 2016
by Jim Edwards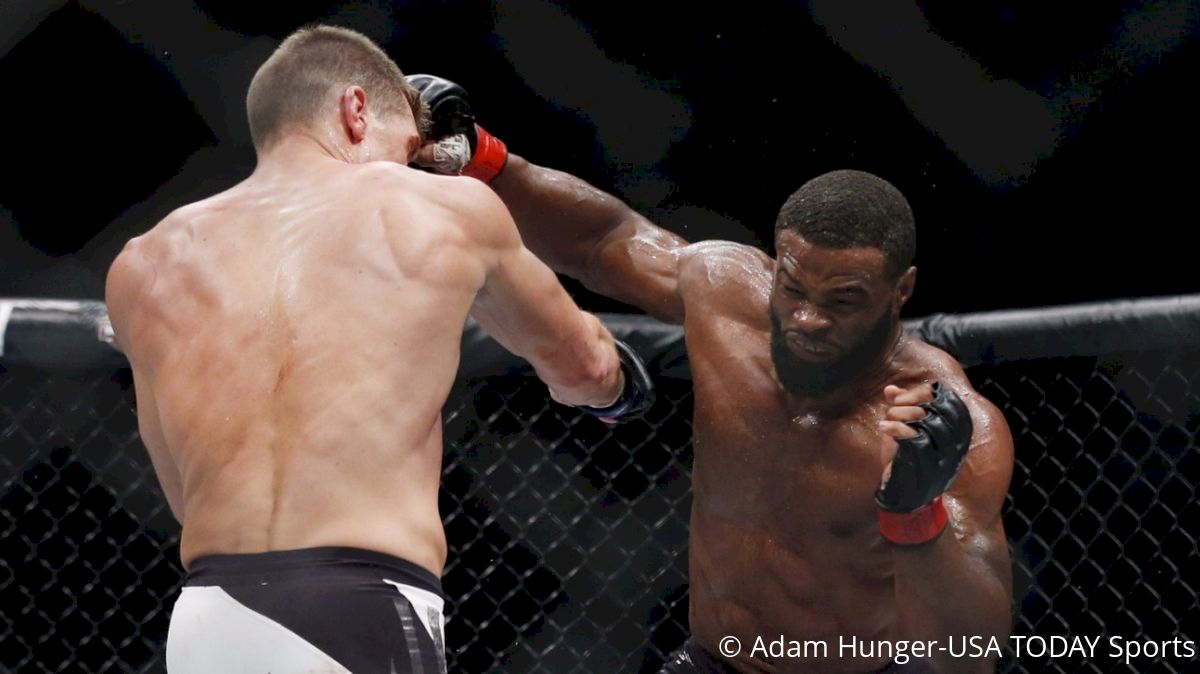 Tyron Woodley is only a few days departed from his epic fight with Stephen Thompson last Saturday, but the UFC welterweight champion is already getting himself mentally prepared for his next fight.
Speaking with Ariel Helwani on
the MMA Hour
Monday, Woodley suggested he'd even be prepared to jump back in on short notice if the UFC gave him the call for UFC 207.
"2017 is going to be a big year for me, but who knows, I'm going back to the gym right now to train and move around," Woodley said. "Maybe December 30 they want me to go in there again and get it on again--I'd be ready.
"What am I waiting on, I'm not hurt. I know I could've given a little more in that fight. It was a great performance, but you know, I'm always anticipating the 'hey man can you jump in' on this short notice call so I never want to be taken off guard."
Woodley was later asked for his thoughts on Demian Maia and the champion said he could relate to the situation that the Brazilian currently finds himself in.
"I feel your pain brother I'm not even going to lie," Woodley said. "I'm a martial artist and my teammate Anthony Pettis was in the same situation with Frankie Edgar and Gray Maynard when they had a draw.
"I respect him as a martial artist and in the case of a victory [against Thompson] I would compete against him. We had some words in the back and he said he wanted to compete against me. I said, 'Hey man, I'm not against that'. The thing is I'm not against anything. People like you to hear any time any place because it sounds great, but as a true sportiest, I'm not against doing the right thing."
Woodley went on further to suggest he didn't just respect Maia as a man, but also for how well he'd been doing in the Octagon lately.
"I've been in the number one contender spot four times and one time did I get the actual shot I know what he's going through mentally so my message to him is I respect him as a fighter, he's a guy that's on my radar obviously and I want to compete against him.
"I see what he's [Maia] done to the guys in the Octagon and as I always do, I want to get in there with guys that do well and I want to put them in my world."
When asked who he thought he would be matched up against next, Woodley surprisingly suggested he'd happily face Maia in December and then rematch Thompson at a later date once fully healed up.
"Let's see what the UFC decides," Woodley said. "Stephen is busted up--his nose, his face, his eyes are shut. We don't know what they [UFC] want to do. Maybe it's time for me to get a fight in with Maia in December and if Wonderboy wants to get into after that maybe we get it on then. Who knows. All I'm saying is I'm not against anything."
FloCombat's hottest content, delivered to your inbox
Don't miss breaking news, feature stories, event updates, and more. Sign up for the FloCombat mailing list today.