UFC 205: Alvarez vs. McGregor
Father Tony McGregor Talks 'The Real' Conor McGregor
Father Tony McGregor Talks 'The Real' Conor McGregor
Conor McGregor's father talks about his son's personality and motivations outside of fighting.
Nov 15, 2016
by Jim Edwards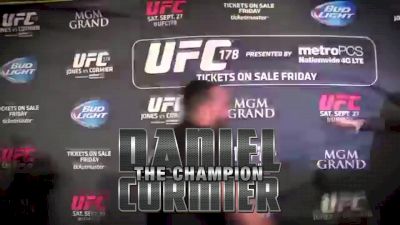 Muhammad Ali, Pele, Michael Jordan … Conor McGregor?

Sporting legends don't come around that often, but has mixed martial arts got one in Conor McGregor? After becoming the first ever Ultimate Fighting Championship two weight world champion at UFC 205 last weekend, the case in favor of the Irishman being a sporting legend is certainly starting to build.

If you were to ask Conor's father Tony McGregor, he would say his son should already be considered one of the greats and speaking to British Journalist Jonathan Shrager in New York last week, he stated his case.

"That's the thing about these sporting legends, they only come around once in a lifetime," Tony said. "There are great sports people who come around all the time, but the standout sports people they only come once in a lifetime and Conor is a standout sports personality."

Conor's father then expanded on what characteristics of his son made him special.

"If you were to ask his coach John Kavanagh he'd say that no one has talent at all--it's just dedication," Tony said. "Obviously, they need to have the vision, the dedication, they have to take the knocks, they need to roll on and just dust themselves off and continue with it and get on.

"They need to follow the dream. Conor had the dream and he kept it very close to himself. No one knew he had the dream, but he followed it all the way through. He saw that dream, he had that dream over a decade ago and he never let it go."

While we all know Conor in the public eye to be the extroverted outlandish character we see at the UFC press conferences, back at home in Dublin, Tony revealed his son is a totally different person.

"All they see is the brash person, the confidence, the arrogance, but he actually is quite private as well," Tony said. "At home, he will walk the dogs, cycle around on his Lo-Cal and he likes to put his feet up and just crash out on the sofa in his off time.


"He likes his downtime, his hometown and his own time. He's very private as well. Conor is very loyal to his close people and you got to remember they all rose from nothing as well. His coach, his team members. They just rocked up to the gym with a backpack on their back and that's all they had."

Tony then described that his son only surrounds himself with a tight-knit group of people and that they are the ones who have helped him keep his feet on the ground.

"He just keeps it very tight," Tony said. "The rise and ascent to stardom has been so quick, so meteoric that a lot of people have tried to latch on, but Conor has good peripheral vision and Conor is quick to see people trying to penetrate that inner circle. They don't get far. He will bring them in, use them if he needs them and then let them go if he doesn't need them. The core circle is very, very tight.

"He's still his mother's son. He still has two sisters and even a lovely nephew now. He can still rock up to our house, sit down and have a cup of coffee with us. He's still just Conor to us."


FloCombat's hottest content, delivered to your inbox

Don't miss breaking news, feature stories, event updates, and more. Sign up for the FloCombat mailing list today.