UFC 205: Alvarez vs. McGregor
Conor McGregor Cements His Empire at UFC 205
Conor McGregor Cements His Empire at UFC 205
UFC two-division champion Conor McGregor cemented his legacy at UFC 205.
Nov 14, 2016
by Duane Finley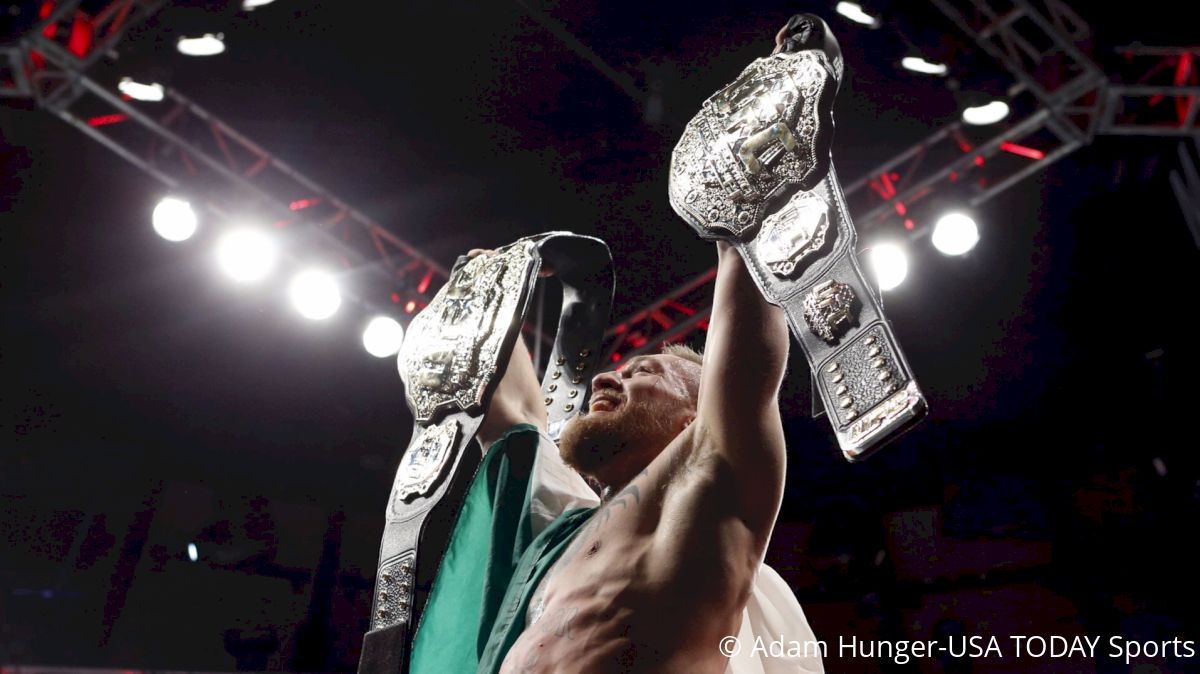 Fifty-six windows.
As my brain attempted to decipher the individual sources of the audible frenzy raging somewhere in the distance, the first thing my eyes fell upon every morning were those eight rows of seven cast-welded, thick-paned windows set against a paper-bag brick. My eyes scanned them for any sign of life or connection the way we frantically look for the familiar in a word search puzzle, but nothing of that sort was ever found.
Amid the constant soundtrack of car horns blasting, police sirens blipping or random members of the Midtown Manhattan street trade bellowing out their respective pitches, I found myself wondering just how many people in this tiny fragment of New York City had ever even heard of Conor McGregor?
Hell, how many in the faceless masses in the Manhattan scramble had any idea what, exactly, the UFC was? Somewhere in the juxtaposition of my reality and theirs, a mission was born.
In extensive travels around the United States, there were only two fighters I'd ever heard connect with those who exist beyond the insulated bubble of the MMA sphere. Former women's bantamweight champion Ronda Rousey's rise to icon status made her a household name in just a short amount of time, and from estimates born of conversation, McGregor wasn't all too far behind.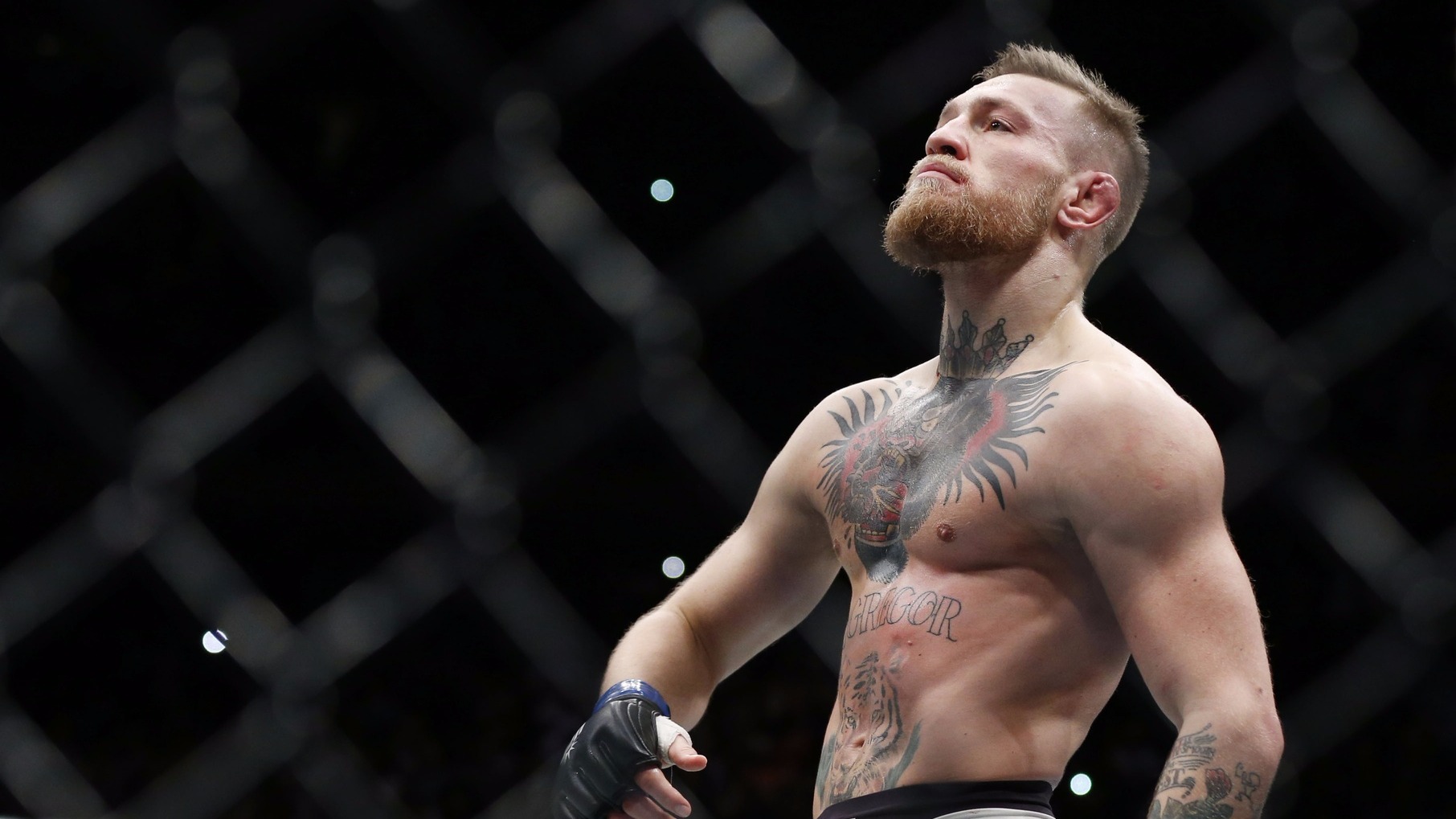 The brash-talking Dubliner had been making noise since his arrival to the UFC back in 2012, but his 2016 campaign saw something much more spectacular happen. Even after his loss to Nate Diaz at UFC 196 back in March in a fight where the current featherweight champion tapped out to a rear-naked choke, McGregor's stock continued to skyrocket.
The fight game is one of the most unforgiving realms in all of sports, but somehow the 28-year-old promotional machine managed to roll on even stronger. McGregor demanded a rematch with Diaz, which he inevitably received several months later at UFC 202. There, he avenged the setback on the strength of a blood, sweat and grit performance.
There wasn't a championship belt on the line that night in Las Vegas, but the stakes were higher than they'd ever been for McGregor and the UFC.
Personal pride and millions of dollars were the most prevalent storylines, but McGregor's second go with the Stockton, California, native was most importantly about his future trajectory into the stratosphere and fulfilling his self-projected prophecy of becoming the biggest star in all of MMA.
Much like everything else in McGregor's life, he was willing to stand toe-to-toe and fight for it. And his decision to do so proved both lucrative and crucial.
Therefore, when the biggest promotion in mixed martial arts set out to make their hard-fought and long-awaited Big Apple debut, tapping the Irish supernova to headline the card was the only call to make. Even when he fell short inside the cage, McGregor had never failed to deliver on making an event a must-see attraction. But as the fight week for UFC 205 finally arrived, it was clear to those on the ground New York City was going to be a different type of battlefield.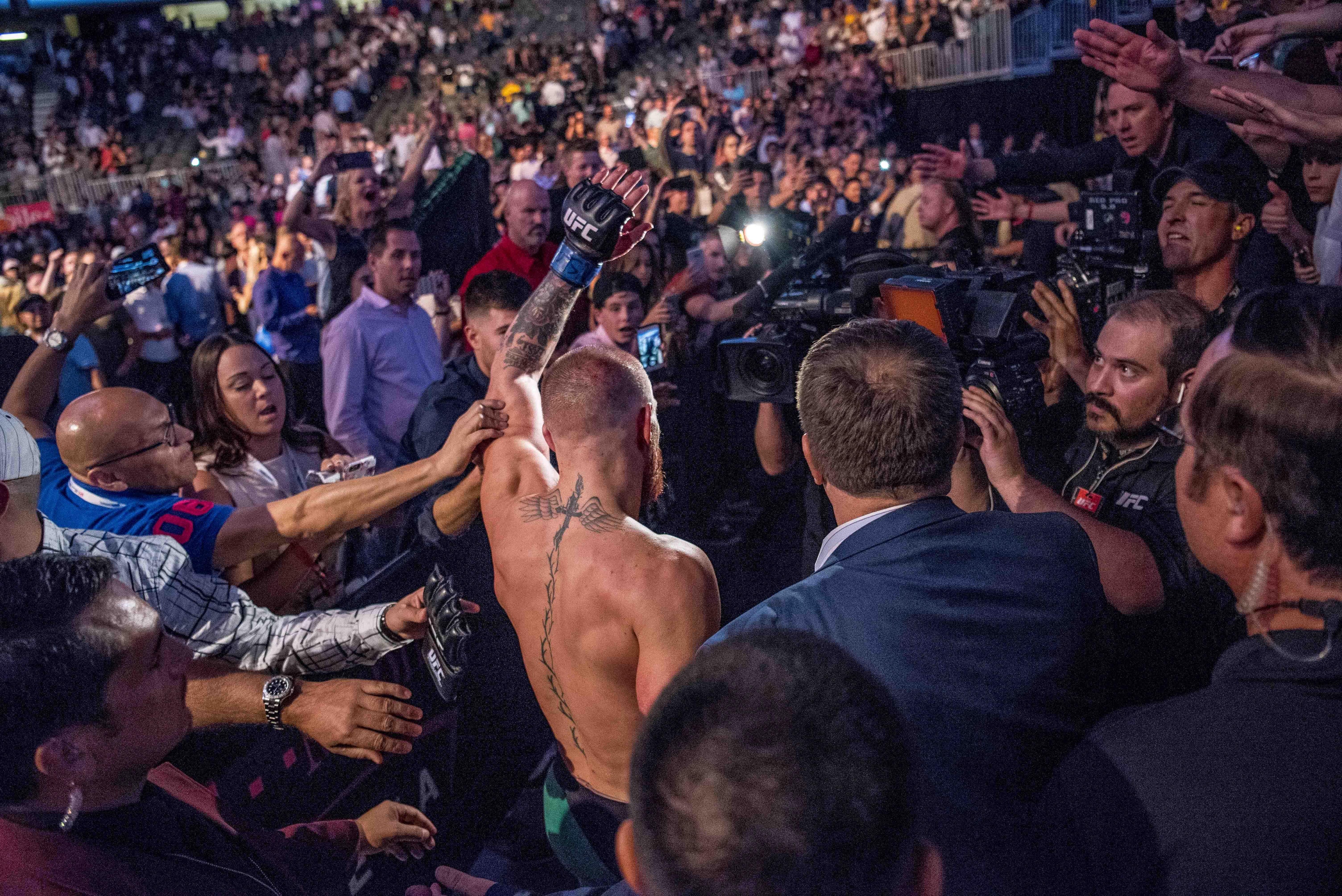 Aug 20, 2016; Las Vegas, NV, USA; Nate Diaz (red gloves) competes against Conor McGregor (blue gloves) during UFC 202 at T-Mobile Arena. Mandatory Credit: Joshua Dahl-USA TODAY Sports
The McGregor Effect had been weighed and measured as a tremendous success in other historic combat sports markets, but New York isn't Las Vegas. Broadway is 20 blocks away from The Garden, and there are a world of entertainment options in between, and there were no clear indicators the most historic show in UFC history would even register in the mix of a New York Saturday night.
Suddenly, the sounds of sing-song chanting began to rise off the corner of 31st and 7th Avenue, just below my window.
The Irish had arrived to Madison Square Garden. And for the UFC's sake, just in time.
*****
"Cone-er Macgggreggor," the lanky man with weathered face replied. "I think he's a good puncher. Yeah...his punching is real good."
The man standing just outside the Hotel Pennsylvania was the first person I asked to be a part of the McGregor experiment. He told me his name was Eric, but a thick east-African accent and a sales pitch to push nudged the initial interaction on the verge of suspect.
Nevertheless, Eric took a break from selling bus tour tickets to have a few words, and his compact shadow boxing motions at least held sway in the moment. He also pointed out the massive billboards showing McGregor's image on street corners around The Garden.
"That guy is everywhere down here right now," Eric continued. "But next week it will be something else. Then something else after that. Always."
It doesn't take long to realize Midtown Manhattan is a place filled with everyone and no one at the same time.
Native New Yorkers don't like to make eye contact in the slightest let alone actually stop and speak with anyone. It's full-throttle, beeline movement that keeps the hustle and bustle hustling and bustling nonstop around the clock. There are places to go, and nothing will stop them from reaching those destinations.
Therefore it would be a keen idea to catch interactions with those in fixed positions.
[instagram url="https://www.instagram.com/p/BMkveP8DqWk/?taken-by=duanefinley" hide_caption="0"]
Dumb luck led to a chance encounter with two men selling unofficial UFC 205 merchandise just off the corner of 30th Street. They were roaming 10 feet of sidewalk one block and a left turn away from our hotel, and my sincerest hopes were locked on them providing solid insight to what had begun to look like a pointless goosechase of a story. That notion hung even more so after our interaction.
A handful of minutes went into the conversation that started with one man asking 'Who?" and the other explaining it was "The Irish dude from the cagefighting thing." I watched as they began to bicker back and forth about exactly who McGregor is, doing so loudly as a poorly screen printed version of McGregor's face stared back at me from the tee-shirt pile to our right.
And just when things seemed hopeless, a saturated pack of lads strolled by in green soccer jerseys warbling loudly about their countryman. One of them pointed at the tee shirts and shouted indistinguishable gibberish before flexing his pipe-cleaner arms and cackling as he rejoined the herd as they caromed down the street.
"Told you it was the Irish dude," said the man holding the swath of shirts over his shoulder as he flipped his toothpick to the other side of his mouth .
"I know, man," his friend replied. "He's the dude on these shirts and those dudes probably would've bought a few."
The attention suddenly shifted over to the source of their mutual distraction and something told me it was best to ramble on down the avenue as well. Two days in the belly of the beast of the first New York City fight week in UFC history, and "the Irish dude" was seemingly gaining traction in Midtown.
*****
Fifty-six windows.
Fifty-six windows that no longer looked like windows at all by Friday morning.
Where the rows of partially illuminated glass had initially seemed an entryway to inspiration, on that fourth morning into fight week resembled the opposite. They now appeared as slots inserted into faded brown doors where the paint had chipped away without care.
What first appeared to be snow let loose from the wall of gray overhead ultimately turned out to be flecks of garbage, pieces of plastic bags, swirling around in the wind tunnel created by the building's design.
In that moment, everything pursued felt lost. When you chase a feeling rather than a concrete storyline, a constant state of flux is experienced. A whim can accelerate the pursuit just as dead ends can break the notion into tiny shreds that are briskly swept away.
Watching tiny bits of trash being blown into the dead end nook and rise up outside the window felt like the perfect setting.
[instagram url="https://www.instagram.com/p/BMzQmJTDYnj/?taken-by=duanefinley" hide_caption="0"]
And just as I closed my eyes to try to drown out the bluster of noise from the street below, chants of "Ole, Ole, Ole" broke out with force. The faint sing-song exchanges heard days earlier were now a roar in the windy streets of Manhattan, and I made haste down to the street to investigate.
When the elevator doors parted, a frenzied scene revealed itself. The hotel lobby, which had been sparse with traffic in the previous four days of occupancy, was now crawling with scores of passionate McGregor fans in various forms of dress and undress alike.
Where the flag of Ireland (or Tricolour) had always been the easiest way to identify someone's allegiance to the McGregor cause, the lobby of the Pennsylvania was littered with scores of men and women donning the fighter's official Reebok fight kit. Many others were suited in three-piece attire to match their fighter's penchant for high fashion, or colorful outfits meant to have a humorous or celebratory spin.
A young couple wearing matching black McGregor jerseys stood off to the side of the main entrance as they watched the masses begin to gather in front of The Garden. I listened to their conversation a short distance away, and when the lack of Irish accent was detected, swooped in to ask a few questions regarding the mission at hand.
"We just got in from Orlando," the young woman named Cheryl informed me. "He is our favorite fighter and there was no way we were going to miss this. And it's already so exciting. I love it."
Her fiance Tim echoed the same exact sentiment and I watched as their eyes grew wide watching the droves of Irish faithful gather outside the venue. They seemed as if they were eager to join in on the parade, but their lack of Irish heritage had them gun-shy.
"What the Hell…let's go," Tim told his significant other. "We didn't pay all this money for nothing."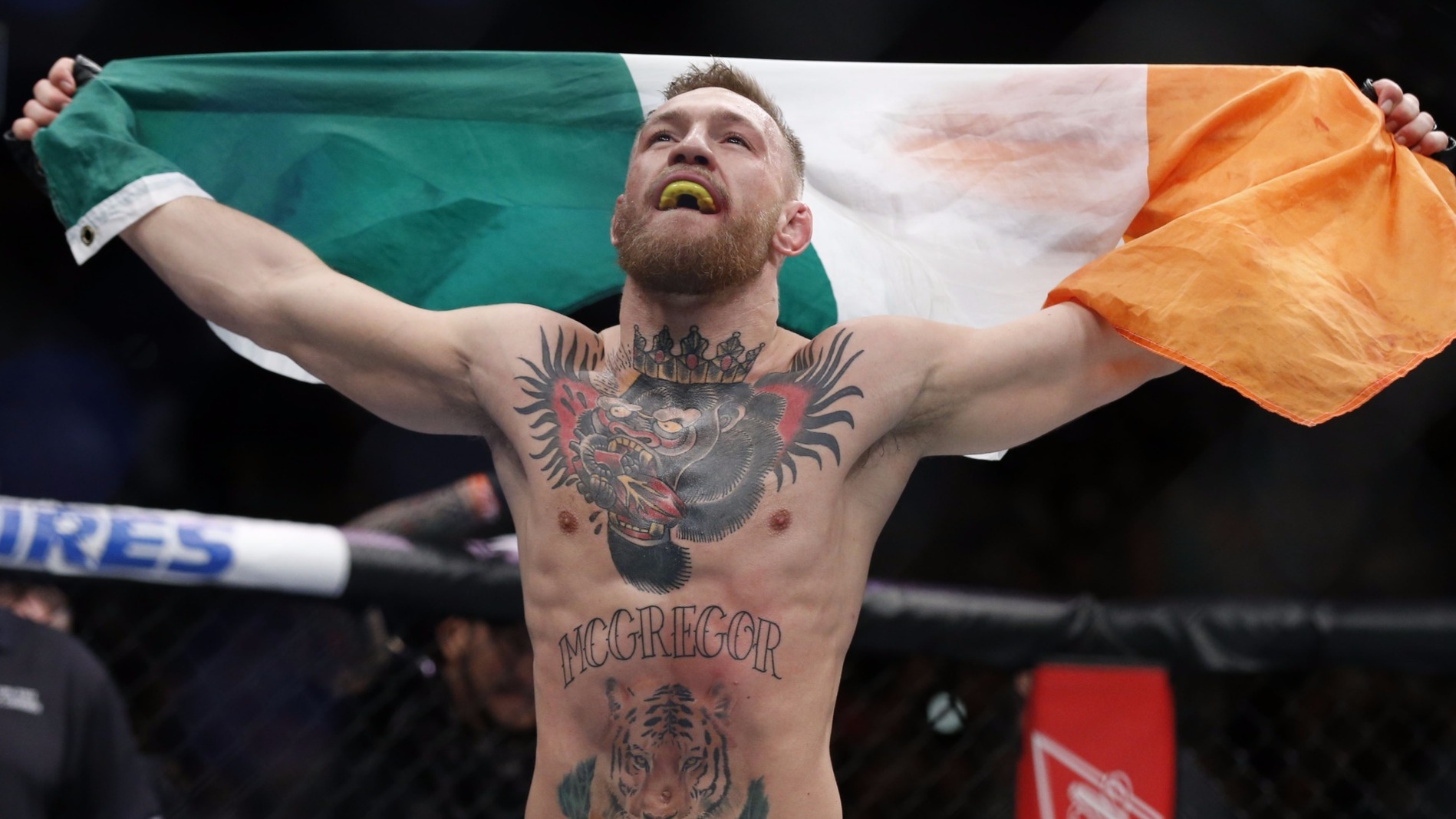 One quick story shared from my younger sibling's time with the Irish contingent in Las Vegas was the only push they needed, and several seconds later the young couple dashed out the front doors of the hotel with phones in hand ready to video the experience. Following the words of McGregor's famous battle call, they weren't going to be satisfied with just taking part.
For the just north of $2,000 they spent in tickets, travel and lodging, they wanted to be shoulder to shoulder with the swarms who had begun to take over outside MSG.
It wasn't long before the line for the ceremonial pre-fight weigh-ins stretched back around the block, and the bigger picture began to take shape. While native New Yorkers may not be turning out en mass to see the Irish sensation, his drawing power was such people from all over the world were willing to drop two months of mortgage payments for the chance to be involved in the rolling circus that comes with a McGregor fight.
After hearing several more astronomical financial investments made to attend, my sidekick Hunter Homistek made a definitive revelation regarding just how truly unique McGregor is to the fight game.
"I can't name one American fighter--or an American athlete at all--who is so captivating and exciting that I, or anyone else for that matter, would feel the need to travel anywhere in the world to watch them fight," Hunter said as we crossed 7th Avenue. "Who would you make you say, 'Wow, I gotta fly to Ireland to see that?' There just isn't another athlete in the game who has what he has in that regard, and I think that is what truly sets him apart."
Fast forward several hours, and Madison Square Garden was packed with raucous McGregor fans all waiting to see their fighter hit the scale and face off with Alvarez one final time before Saturday night's event.
The attendance for the open workouts had been thin, just as talk on the street had been relatively silent in the lead up, but swarms of the Conor faithful on Friday evening proved the biggest moment in McGregor's career had the highly coveted big-fight feel to match.
*****
After a week filled with fur-coated trash talk, near chair tosses and the notorious McGregor machismo on full tilt, UFC 205 officially got underway as Liz Carmouche and Katlyn Chookagian threw hands inside the Octagon.
The most stacked lineup in the promotion's 23-year history had begun. For the next five hours, the UFC featherweight champion and lightweight challenger would fall back in the periphery as a host of current and former champions and contenders stepped in to handle their business. Yet, any time the UFC would show a flash of McGregor in the back or getting his hands wrapped the crowd went absolutely wild.
The promise of a three-title-fight card played a key role in building the excitement surrounding UFC 205, but make no mistake about it: McGregor owned the spotlight.
I floated from the media section from time to time to get various vantage points of the historic night, and while plenty other bouts would be mentioned in conversation, every single one of them would end with mention of Alvarez vs. McGregor.
There were certainly many who wished to see the Philadelphia native ice McGregor and "shut him up," but there was a massive shift in numbers of those who wanted to see the SBG Ireland leader make history.
One slightly intoxicated fight fan named Liam, who was pacing laps around the 300 section of MSG, made a prediction that would make even Mystic Mac himself proud.
"I don't think Alvarez will even touch him, and I think Eddie is a good fighter," he said. "I think it's going to go down a lot like the [Jose] Aldo fight where he overextends with a big punch and Conor knocks him out cold."
Although the action wouldn't go down with one vicious and perfectly timed punch the way it did with Aldo, Alvarez sure enough would expose himself and eat a four-punch combination that brought an end to his time as champion. McGregor countered with a left hand that left Alvarez dazed, then added three more on the fall that sent the 155-pound champion to La-La land.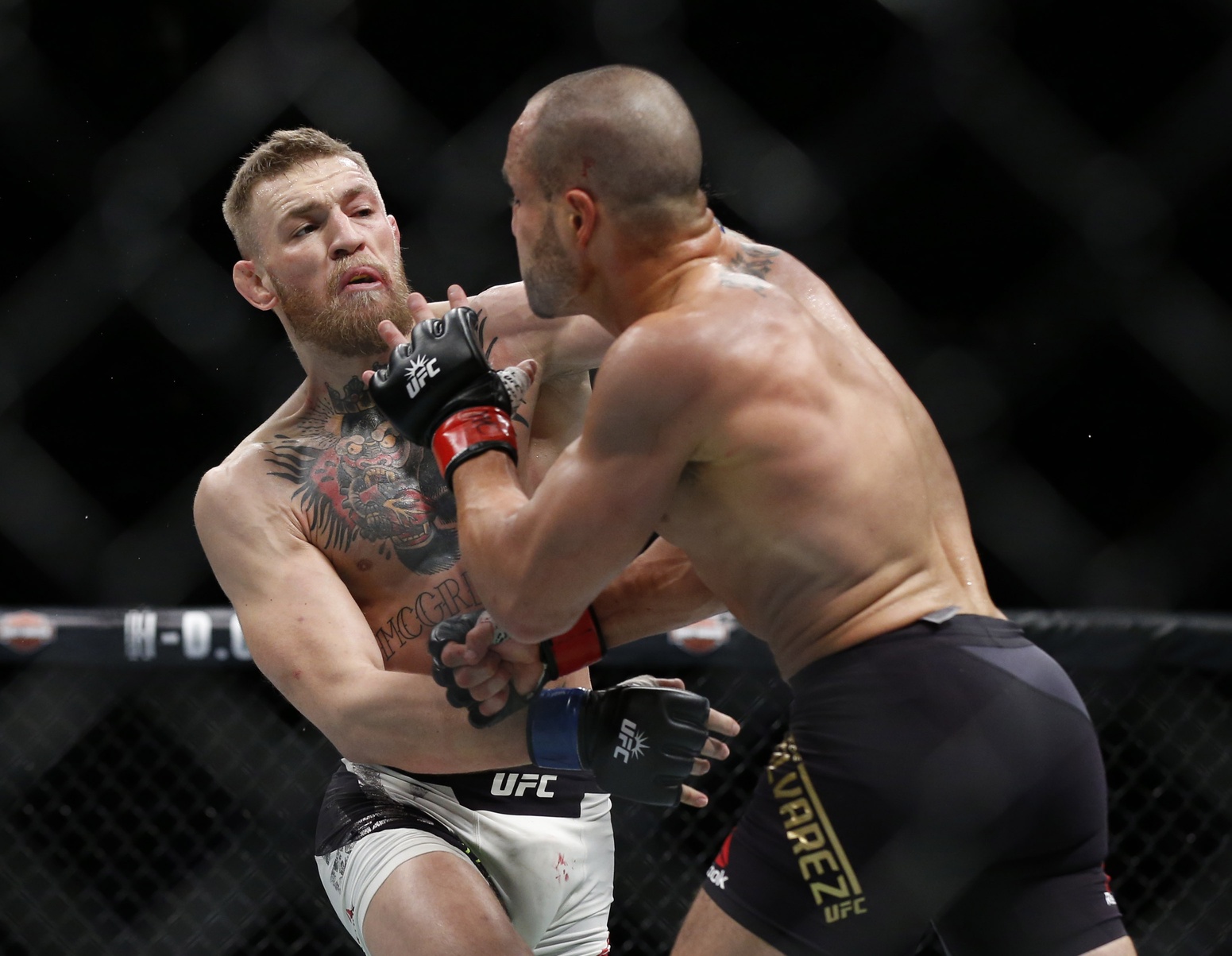 Nov 12, 2016; New York, NY, USA; Conor McGregor (blue gloves) fights Eddie Alvarez (red gloves) in their lightweight title bout during UFC 205 at Madison Square Garden. Mandatory Credit: Adam Hunger-USA TODAY Sports
History was made in one frenetic finish, and an epic post-fight speech served to further the legend as McGregor hoisted two title belts above his head atop the cage.
The crowd continued to roar with excitement, then proceeded to take their adrenaline-fueled celebrations outside The Garden once more. The biggest difference this time around was the sheer numbers and refusal of boundaries, as large packs of McGregor enthusiasts spilled into the streets surrounding the venue.
Police outside of MSG scrambled to break up the crowd blocking traffic on 7th avenue and were only successful in splitting up the group into two different factions. Those who were forced across the street from Madison Square Garden gathered to sing, dance and take off their shoes (for what reason I still have no idea) while the other took to the plaza directly in front of the stadium to climb things and chant in unison.
For the first time in the entire five-day experience, I witnessed multiple packs of bystanders actually stop what they were doing, break off their 100 mph beeline pushes and become enthralled by the celebrations taking place around them. Some took pictures, while others stood to record video clips, but all who stopped found something in the moment that caught their respective curiosities.
And that's where my personal mission was accomplished.
I'd started out on this quest to gauge the impact Conor McGregor would have on those beyond the MMA bubble. If those who had no reason to care would pause and take notice, and they did--long into the night in fact, one wave after the next--then that solidified the bigger picture.
By 4:30 AM, the chanting and singing had finally faded, but the air surrounding Madison Square Garden still held tinges of the happenings that took place inside the venue's historic walls. Two hours later, the hotel room was finally packed up for departure in order to beat the morning traffic which was sure to come because Manhattan doesn't take any days off.
I made one more pass by to see the 56 windows that held my attention throughout the week. I wasn't expecting a single detail of the view to change in the slightest bit, and only went to the window to say a goodbye of sorts in my own way. And that's where I saw it.
In the next row of seven just beyond what I could see from the bed, there was one window with an Irish flag completely covering the frame. Perhaps it had been there the entire time, or maybe it was newly hoisted in appreciation for what McGregor accomplished on Saturday night, but regardless of when it went up, the WHY resonates much more.
Conor McGregor made history and fulfilled the dream he set out to accomplish in the most vaunted arena in combat sports. Over the course of his run to greatness, the former hard-knocks kid from Dublin made the world know his name, and on Saturday night in one of the toughest cities on the planet, he proved beyond a shadow of a doubt the show he brings can play anywhere.
That is the mark of a true superstar. And McGregor's star has never been brighter than it was in New York City.