UFC 205: Alvarez vs. McGregor
Who Now and What's Next for Conor McGregor After UFC 205
Who Now and What's Next for Conor McGregor After UFC 205
UFC lightweight and featherweight champion Conor McGregor has plenty of options ahead of him
Nov 13, 2016
by Jim Edwards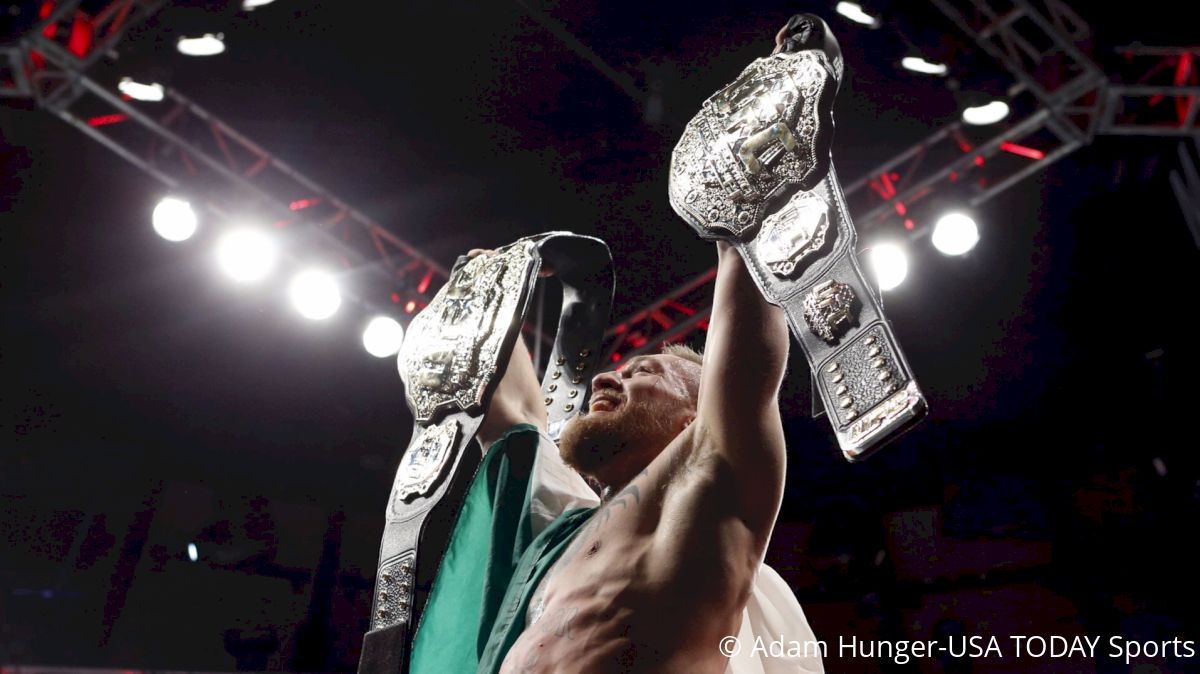 UFC 205 was a night of history, records, and breathtaking moments as Ultimate Fighting Championship debuted in Madison Square Garden.

Conor McGregor will dominate the morning headlines across the world, but in truth, the card was littered with standout performances with ramifications that will be felt for years to come.

Here are the big questions regarding Conor McGregor coming out of UFC 205.



Where does Conor McGregor now?

Per his post-fight press conference, we won't be seeing the Irishman until two things happen.

Firstly, McGregor announced that in May 2017 he will become a father for the first time with his pregnant girlfriend Dee Devlin and that he would "take time" to see how that went.

Secondly, the new UFC double weight world champion said that he wouldn't be returning to the Octagon without taking a stake ownership in the company. It appears like the Irishman will have to meet the new UFC owners who he revealed at the press conference he had to properly sit down and talk to.


Who will McGregor face next?

Opponents wise, the market is now well and truly open with options is now fewer than three weight divisions.

Perhaps the least likely is Tyron Woodley, a man who successfully defended his UFC welterweight belt against Stephen Thompson earlier on in the night. Woodley said himself in the post-fight presser he'd sign the contract now, but for McGregor, Woodley represents a much bigger physical challenge with power like and strength like he's never faced before.

At the lightweight, there are no shortage of contenders. Khabib Nurmagomedov, Tony Ferguson and Nate Diaz are just three names that standout with a legitimate chance of the next title shot at 155-pounds.

Of course, McGregor could finally return to featherweight. Jose Aldo could be persuaded out of retirement with the promise of a rematch with the Irishman, while Frankie Edgar also put himself back in the mix at 145-pounds with an impressive performance against Jeremy Stephens. The winner of Max Holloway and Anthony Pettis would also be in with a shout with an impressive performance at UFC 206.

Who's next? No doubt the Irishman decides.


Was this McGregor's finest night?

Definitely. Conor McGregor's performance last evening at UFC 205 was flawless.

He walked to Octagon like a man who was untouchable and his performance suggested nothing to the contrary.

Slick left counter crosses sent Alvarez crashing to the mat no fewer than six times and when Alvarez had the rare opportunity to grapple and attempt a takedown, the Irishman didn't give him a look in.

The finish was a thing of beauty. Alvarez over committed with the right hand and the Irishman slipped it and countered with his left with unnerving precision and timing. As he said back in December last year "precision beats power, timing beats speed".

Last evening McGregor cemented his legacy in the history books of both UFC and more importantly Madison Square Garden.

On a night of endless highlights and talking points, McGregor left every man and woman in attendance and the world talking about one thing—Conor McGregor.