Rafael Dos Anjos: 'I Am the Best Lightweight in the World'
Rafael Dos Anjos: 'I Am the Best Lightweight in the World'
Former UFC lightweight champion Rafael dos Anjos is ready to prove once again he's the best lightweight fighter in the world.
Nov 4, 2016
by Jim Edwards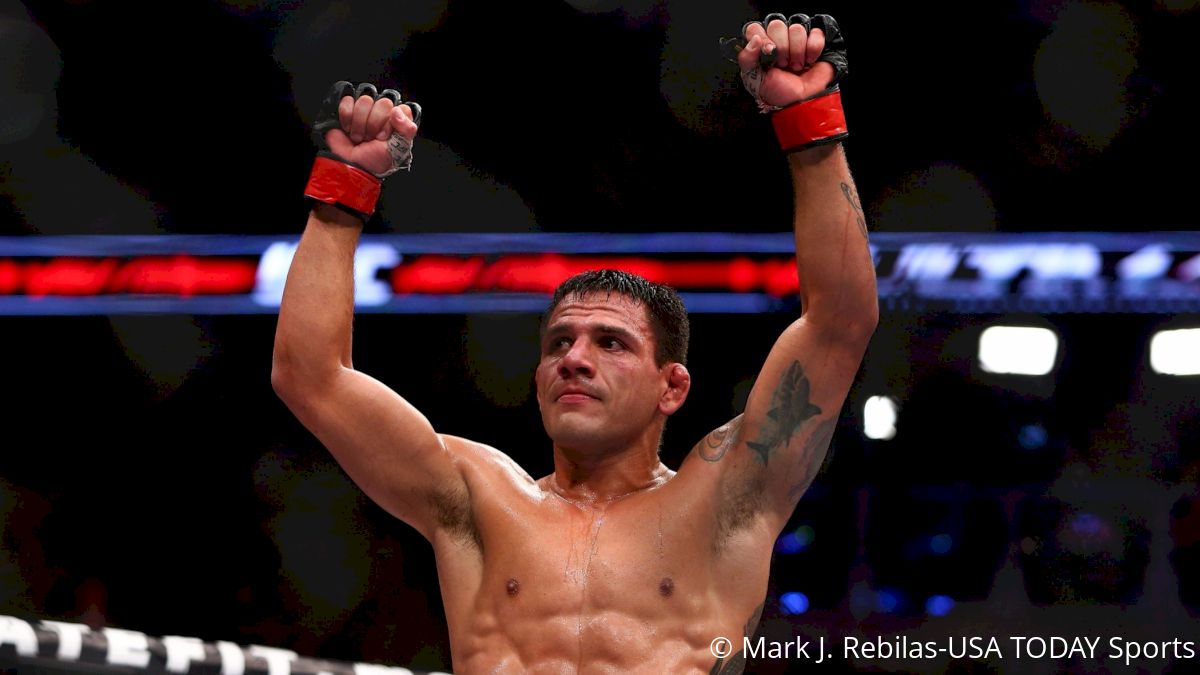 UFC 205
is just eight days away, but before all eyes are on New York City, the UFC first pay a visit to Mexico City for the TUF Latin America Finale 3 as Tony Ferguson takes on Rafael dos Anjos in a blockbuster main event.
This fight has massive stakes as the former champion dos Anjos squares off with the division's No. 3-ranked man in Ferguson, and the winner likely having a big claim for the next UFC lightweight title shot against the winner of UFC 205's McGregor vs. Alvarez.
Speaking to the
UFC Unfiltered
podcast this week, dos Anjos explained to hosts Jim Norton and John Danaher exactly what he'd been through since losing his title to Eddie Alvarez back in July.
"I think that's what happened--I just got caught and that happens in MMA," dos Anjos said. "I think I just had a bad night at work and Eddie Alvarez did great. I think If we fought 10 times, I'd win nine out of 10 you know.
"I am the best lightweight in the world, and I'm healthy enough to prove it once again."
If the Brazilian is to get back on the winning track, he must defeat a man who's been unbeaten since October 2013. Ferguson has won his past eight fights and is currently full of confidence heading into the showdown with dos Anjos this weekend.
"After my fight with Alvarez, I asked for a rematch, but it didn't happen," dos Anjos said. "I asked my manager who I should fight and who I should beat to get a title shot next, and we talked about Tony Ferguson.
[instagram url="https://www.instagram.com/p/BMFCnJKhgKX/" hide_caption="0"]
"I think a win on Saturday will deserve a title shot. He's tough, he's got good jiu-jitsu with his rubber guard, and he's very slick on the ground. I like his style, but I think I will be able to handle that. He's a tough guy, but I think I'm ready to prove that I'm the real champion and I'm ready to come back stronger than ever."
The Brazilian then said that with a win over Ferguson he would expect to be right back in the mix for a title shot against the winner of the main event at UFC 205.
"That's my plan," dos Anjos said. "One step at time and my focus is on Saturday, but I think a victory over Tony will give me a title shot. I'll then watch who wins the title fight, and hopefully then I will get the winner. Whether it be Conor or Eddie, I will be there."
Dos Anjos was expected to face McGregor back in March at UFC 196 for the UFC lightweight title but had to pull out of the bout due to a broken foot. The Brazilian was then asked who he expected to win the UFC 205 main event.
"Unfortunately, for the first time in my career I broke my foot and had to cancel the fight due to an injury," dos Anjos said. "I'd had 33 professional fights and never had to cancel due to injury, but it happened for the first time.
"I really think Conor has a big chance to win the title. I think he has a big chance to beat Eddie Alvarez. I think he will get that."
Despite picking the Irishman to win the belt on November 12, dos Anjos said he wasn't overly concerned with the facing him in the Octagon. For dos Anjos, all that matters to him is proving he's the best at 155 pounds in the world.
"Fighting Conor is not my goal," dos Anjos said. "My goal is to get my belt back. If Conor has the belt and he decides to fight and defend the belt later, I want to be the guy. Conor or Alvarez--whoever wins. Fighting Conor is not my goal. Everything I do in my life, I want to be the best.
"I had it [the belt] and I want to get it back again. If Conor wins and decides to hide himself behind the belt and sit on it and lock up the whole division, then I will be agitated."