UFC 205: Alvarez vs. McGregor
Raquel Pennington Talks UFC 205, How She Came Out
Raquel Pennington Talks UFC 205, How She Came Out
UFC veteran Raquel Pennington discusses her upcoming bout with former UFC women's bantamweight champion Miesha Tate
Oct 30, 2016
by Jim Edwards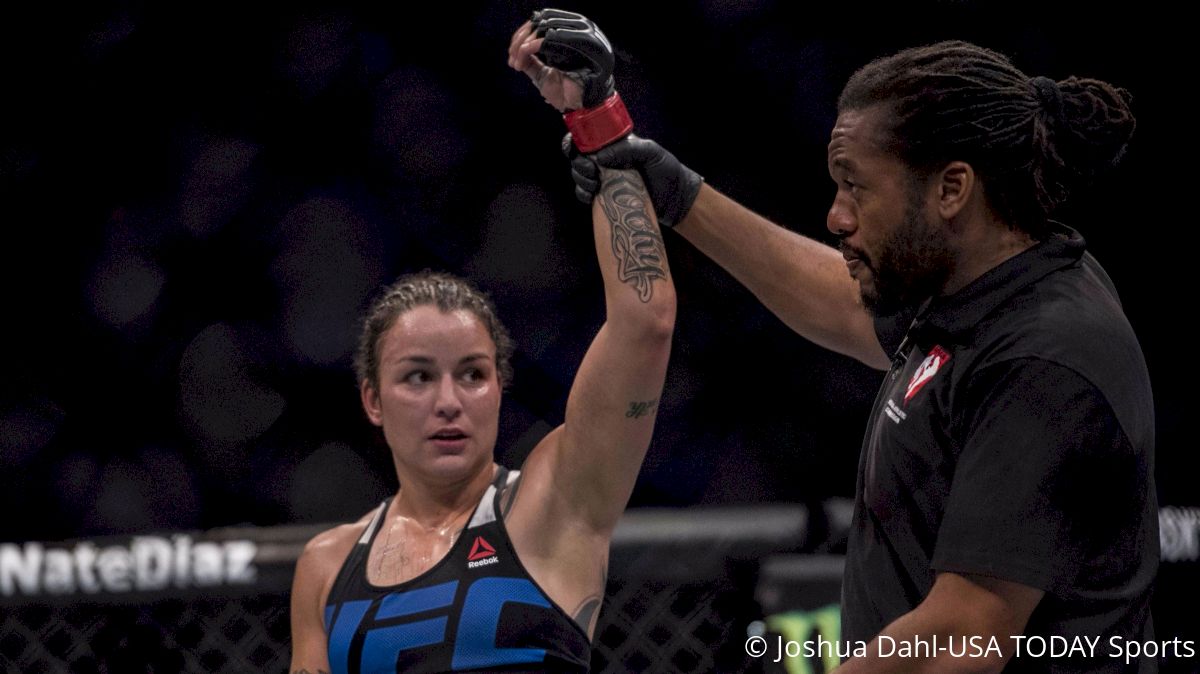 With so many fantastic fights set for
UFC 205
at Madison Square Garden on Nov. 12, it's easy to forget some of the undercard bouts which could on any other night headline UFC Fight Night cards. One of these is the women's bantamweight showdown between the former champion Miesha Tate and Raquel Pennington.
A big opportunity facing Tate at UFC 205
While it may not be getting much media attention, Pennington spoke to the UFC Unfiltered podcast earlier this week and said that she needed no extra motivation heading into the bout.
"I'm extremely excited and I've never been so motivated for a fight," Pennington said. "It's an exciting fight, and me and Miesha have history from 'The Ultimate Fighter' on there where she coached me.
"We are friends, and I trained with her for her second fight with Ronda. There's just a storyline there, and it's a great opportunity for me. She has a big name and stuff, so from my perspective it's just a great opportunity."
[instagram url="https://www.instagram.com/p/BKtgHDIgBjr/" hide_caption="0"]
Speaking about what a win could do for her in New York City, Pennington said she wouldn't allow herself to think that far ahead and that she was purely focused on the task in front of her--Miesha Tate.
"Oh yeah for sure [she will be motivated], anyone who steps into that Octagon should be very motivated," Pennington said. "I have everything to gain from this fight. Most definitely [a win will mean a title shot], I just try to forget about the pressure. Everyone talks about how big the card is, how big the event is and how big an opportunity this is."
Only focused on getting the job done
While Pennington said she totally understood the significance of it being the first UFC fight card in New York, she said that on the night winning was her only focus.
"At the end of the day we are just two athletes and we are going into that Octagon to be our best and one of us will get our hand raised. I'm just focusing on getting the best out of and going in there and getting what I need to get done handled that night.
"It's not that I'm thinking about the fact it's a New York card or that fact that I'm facing Miesha Tate and what a win will bring my way. I'm just taking it step-by-step and that's just the way handle things."
Appreciative of the support the UFC have for gay fighters
Having come out as a lesbian earlier this year and revealed she was in a relationship with fellow UFC fighter Tecia Torres, Pennington spoke about how important she believes it is for people to be true to themselves and how she appreciated the support of the Ultimate Fighting Championship.
"I think a lot of people are nervous to stand for who they are," Pennington said. "I'm definitely not one of those people. It's nice to be around other athletes who are proud in the own skin and stuff, and it's great that we have an organization that supports us.
[instagram url="https://www.instagram.com/p/BJLa7G_Arjp/" hide_caption="0"]
"It's something I kinda always knew. My family is Catholic and stuff, so it wasn't something that they were exactly expecting. I just kinda denied it for a really long time because of my family because I was trying to figure things out for myself. I always had an idea though, and finally it just got to the point where I wasn't going to have a boyfriend to pretend anymore and I just wanted to be me."
Coming out to her family was difficult
Pennington then revealed how she overcame the issue of coming out to her family.
"The funny thing was it was my high school graduation day," Pennington said. "I was getting a Jeep to the arena, and my family was going to meet me there. My mom was starting to catch on at that point, so she just turned around bluntly asked me the question as I was walking out the door and I was like, 'Yes she's my girlfriend' as I ran out of the house.
"I figured that it would give her the opportunity as we were having a happy moment as I was graduating from high-school to kinda get over it for a second so that's how I kinda basically told her and then later we had more conversations.
"A little bit of hell hit and there were some rough patches, but eventually my mom kinda came around to it after 'The Ultimate Fighter' when I completely stood up for myself on national TV."
The UFC bantamweight spoke of the extent to which her relationship with her family was strained, but then how it was resolved.
"I remember her saying I was disappointing and that I was disrespecting my grandparents," Pennington said. "I was like, if anything I would've been disrespecting myself if I wasn't standing up for me, so I was like you need to just learn to accept me. I think after she saw all the responses and fan mail I was getting that and all the encouraging responses, I mean I was even getting letters from people that were like 75 years old who have been in the closet their whole life and been miserable.
"I think my mom seeing that reaction really changed things for her and then she became 100 percent supportive and said nothing else about needing to be with a guy or anything like that."