Tony Ferguson on Lightweight Division: 'These Dudes Are Scared'
Tony Ferguson on Lightweight Division: 'These Dudes Are Scared'
UFC lightweight contender Tony Ferguson sounds off on his blitz up the 155-pound rankings.
Oct 25, 2016
by Duane Finley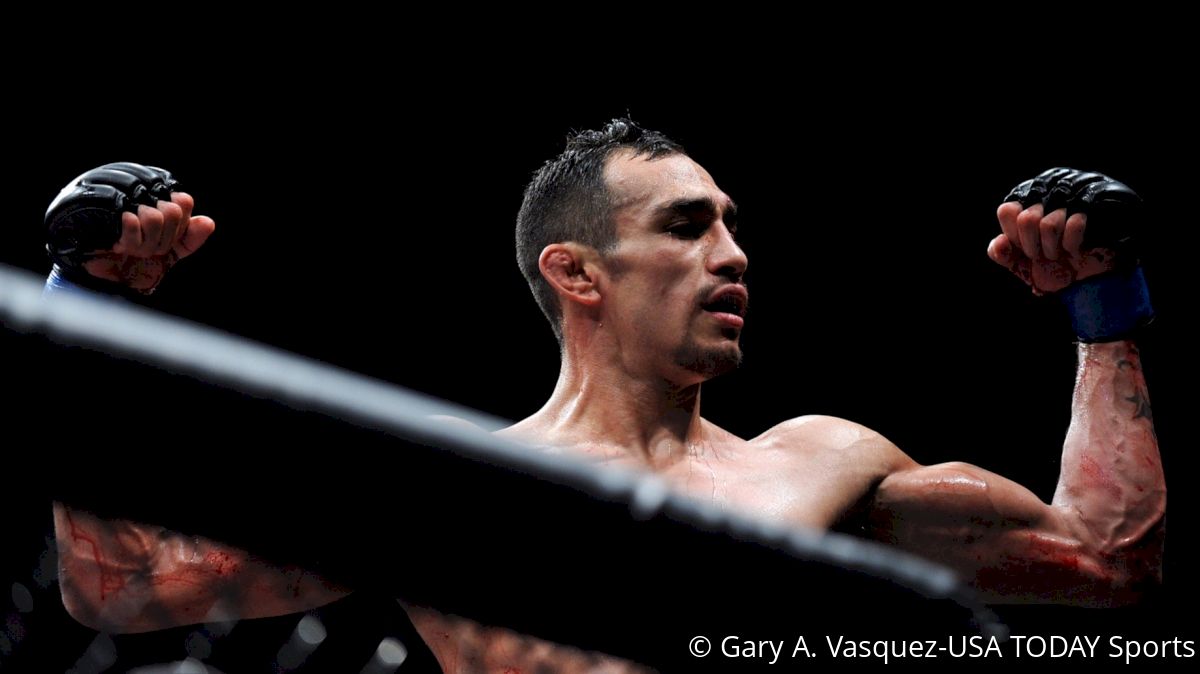 Tony Ferguson knows the fight game. And because the California native is so entrenched in his personal education of all things combat and the business of such things, Ferguson doesn't have time to worry about what anyone else is doing.
The
Ultimate Fighter
winner turned UFC lightweight contender is all about his hustle, and he has no plans on stopping. The strength of eight straight victories has Ferguson knocking on the door for a shot at the divisional crown, but he isn't concerned with titles and the like. The only thing he cares about is performing at his absolute best.
And his ability to consistently do so has put his entire division on notice.
"I'm not worried about the title," Ferguson said. "The way I'm taking this process, I'm picking these dudes off one by one, and that's beautiful. These dudes are scared. They are keeping my name out of their mouths, and they aren't saying s--t about me.
"That's absolutely awesome, because it means when I get there, they are going to be scared as s--t. They don't want to fight me. RDA [Rafael dos Anjos] didn't want to fight me. I was at Reign Training Center with Mark Munoz, and that dude was there watching me like a hawk. That means I'm doing something right."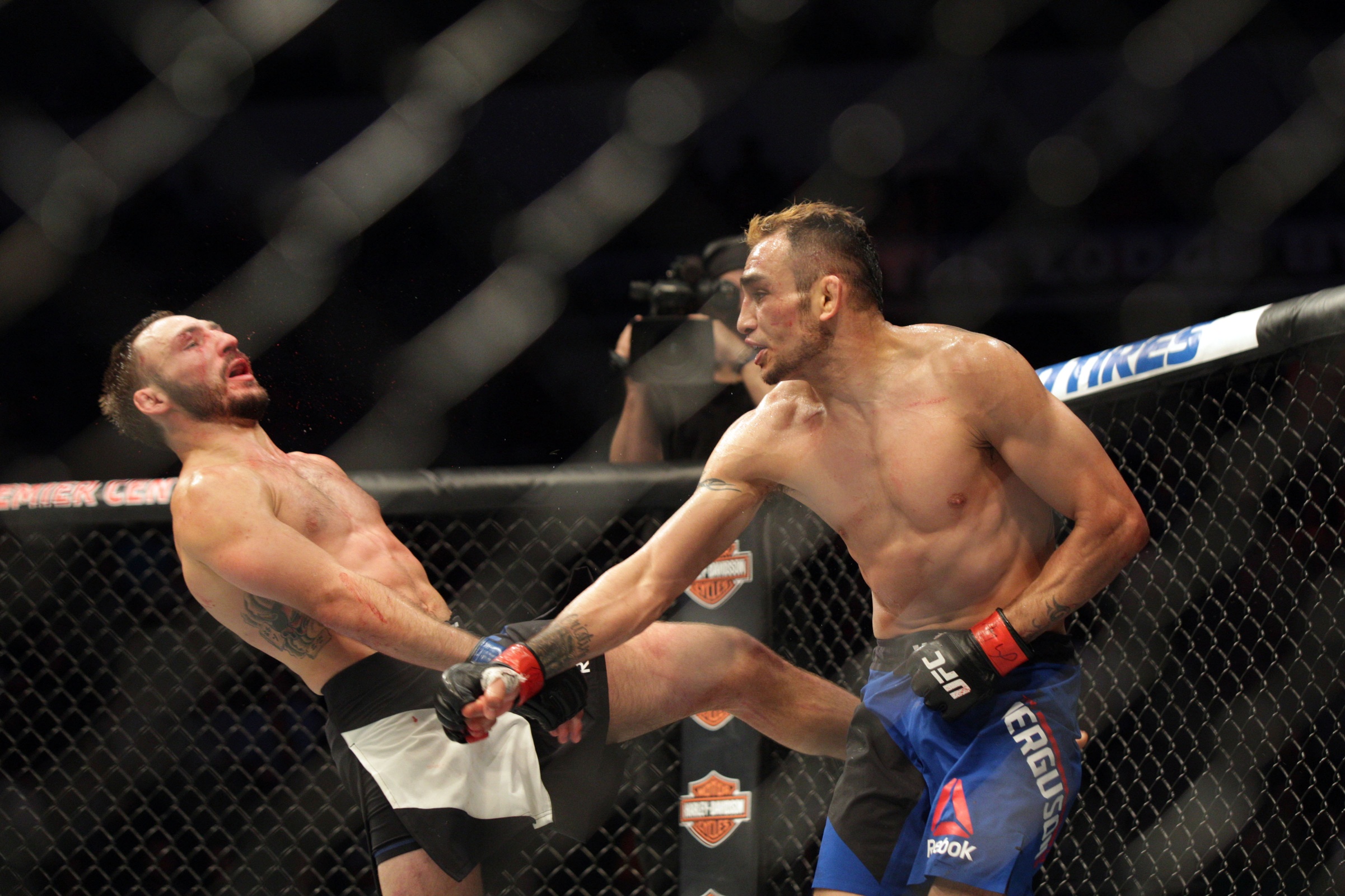 Jul 13, 2016; Sioux Falls, SD, USA; Tony Ferguson (red gloves) fights against Lando Vannata (blue gloves) during UFC Fight Night at Denny Sanford Premier Center. Mandatory Credit: Brad Rempel-USA TODAY Sports
During his five years competing inside the Octagon, Ferguson has found victory in all but one of his 12 showings. The 32-year-old fighter has risen from being recognized as a
TUF
alum to being a lights-out threat inside the cage who can finish his opposition from any vantage point.
To put it simply: Ferguson is a stone-cold savage. He's made an impact since his official UFC debut, and his trajectory up the rankings has been propelled by his commitment to the grind he loves.
"Every single step has been a process," Ferguson said. "When I first started this game, my boxing was on point, but then I broke my arm and had to learn Muay Thai. My jiu-jitsu game has been solid for a long time, and it's all a part of the process. I stopped counting a long time ago. I stopped counting how many wins I have in a row. I stopped counting the amount of performance bonuses I have.
"I stopped doing all that s--t, because for me, I'm staying focused, man. I think that's the best thing I could have ever done for me, my family, and my team. RDA is next."
Largely, Ferguson is able to remain laid back and patient, because he's seen the highs and the lows. The roller-coaster ride no longer fazes him.
"I remember when I broke my arm, and my ranking went all the way from top 20 to top 70," Ferguson said. "This has been a long process. I'm no stranger to hard work. Every single day I wake up, try to figure out what is lacking in my training and I go out there and do it. I never make any bulls--t excuses, and I'm ready to go. I'm super amped up to not just represent myself but my country. And come Nov. 5, RDA is going to be done."
December 11, 2015; Las Vegas, NV, USA; Tony Ferguson applies a hold to win by submission against Edson Barboza during The Ultimate Fighter Finale at The Chelsea at The Cosmopolitan. Mandatory Credit: Gary A. Vasquez-USA TODAY Sports
That next step on his personal journey comes at The Ultimate Fighter: Latin America 3 Finale on Nov. 5 in Mexico City. His opponent, dos Anjos, was recently dethroned from his perch atop the 155-pound division, and a victory over a surging contender such as Ferguson would put him right back into the mix.
And while that's all well and good from a storyline perspective, it's wishful thinking where Ferguson is concerned. He's coming into the fight looking to bring his signature brand of devastation, and he believes it will be too much for the former titleholder to handle.
Whether that puts him next in line or still several wins away--none of it matters to Ferguson.
"I'm not falling into the bulls--t of this game," Ferguson said. "I'm doing s--t my way. If they want me to fight for the title next, then that's cool, but I'm going to do things my way in my style. I started in this, and I've come all the way from the bottom. I've seen fans turn their backs on me, and the same fans then come up and say I'm doing great.
"Ultimately, I couldn't give two sh--s about what anyone else thinks. I'm here to do me, bro. I'm here to win and do it in brutal fashion. Come Nov. 5 when I face RDA, everyone is going to get a free fight. This fight should be on pay-per-view, but I'm not bitching. I'm doing it for the people who can't afford pay-per-view. I'm fighting for them."
Throughout his rise, it would be easy to think respect has been Ferguson's primary motivation, but nothing could be further from the truth. Ferguson is confident in the skills he's forged inside the gym and in the iron-cast mental game he brings to the Octagon each and every time he competes.
His success is a credit to those traits, and Ferguson is quick to insist he's not lacking in the respect department by any measure.
"I don't have a chip on my shoulder at all," Ferguson said. "I'm a G in this game. I'm in that cage loose and smiling, even when I'm in a bloody fight like Edson Barboza and s--t. Everyone else has the chip on their shoulder. Everyone else is out there talking their s--t, saying they want that title, and I'm the only one sitting in the background like Sting.
"I'm handling myself, man. I'm in there like a genius. My skills are getting better, my mindset is strong, and I'm doing this for fun. I never got into this for money or even a title shot. I looked at this and said I'm going to put my whole heart and effort into it. I just can't believe I'm here."
And while many view Ferguson as a loose-cannon of sorts inside the cage, he denies that claim as well. That's just perception--certainly not the reality.
"Everybody thinks I'm a hothead and I'm really not," he added. "I'm an entertainer, and I guarantee everyone is more than entertained when I fight. The performance bonuses I earn prove that. I'm the one who is fighting for those people who work late nights or those bums on the street, because Conor [McGregor] called us all bums, but this dude was collecting welfare checks not too long ago. I think it's funny, man. I'm here in this game and I'm letting my skill set talk for me."