Coach Explains Why Karolina Kowalkiewicz Will 'Shock the World' at UFC 205
Coach Explains Why Karolina Kowalkiewicz Will 'Shock the World' at UFC 205
Meet the mastermind behind UFC strawweight contender Karolina Kowalkiewicz, Lukasz Zaborowski, in this exclusive interview.
Oct 20, 2016
by Jim Edwards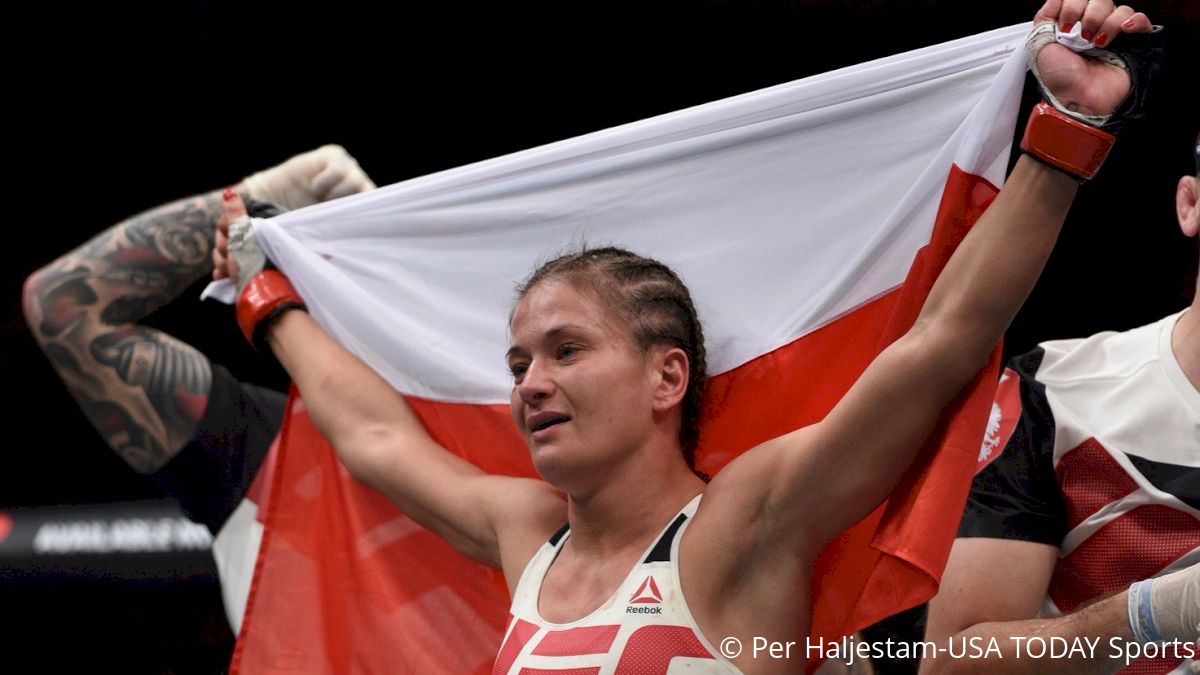 UFC 205
at New York City's Madison Square Garden will be historic for several reasons, but for MMA fans in Poland, it represents something truly special.
The November 12 fight card features the first ever all-European title fight in UFC history, when
Joanna Jedrzejczyk
defends her UFC strawweight title against fellow Pole
Karolina Kowalkiewicz
.
Kowalkiewicz has risen through the ranks at a devastating pace since entering the UFC in December 2015 and has claimed three prized scalps during this time. She beat Randa Markos in her debut at UFC on Fox 17, then Kowalkiewicz went on to defeat Heather Jo Clark in Rotterdam. Her most recent--and widely considered her most impressive--victory came over Rose Namajunas at UFC 201 this year.
Now, she strolls into UFC 205 to face her toughest test yet in Jedrzejczyk. To Kowalkiewicz's head coach, Lukasz Zaborowski, this fight provides the perfect setting for a groundbreaking performance, and his fighter is primed to initiate the shockwave.
Where it all began
Kowalkiewicz's rise to the top has been impressive to say the least, and it's been masterminded by Zaborowski, the head coach at Shark Top Team in Lodz, Poland.
"I was an MMA fighter myself for 10 years, but I always preferred the striking department," Zaborowski said earlier this week. "I've now been a full-time coach for approximately four years, and I decided to make this move because of injuries. Since then, I've never looked back.
"My coaching career began back in my hometown, where I was in coaching in my club Fighting Division. When I was coaching there, I got offered the fantastic opportunity to join the Gracie Barra team as an assistant coach and I took the role."
Then came his big break.
"After a half year of working with Gracie Barra, I received an offer to start a new training team and become a head coach in Lodz. That was the beginning of Shark Top Team, and we've grown tremendously. We have fighters fighting all over the world now--KSW, ACB, BAMMA, UFC--it's a great team, and I'm proud to be the head coach."
What makes Karolina so special
Zaborowski has some of the best fighters in Poland currently training at his gym, including former "The Ultimate Fighter" contestant Marcin Wrzosek (aka "The Polish Zombie") and, of course, Kowalkiewicz. Zaborowski recalled the moment he started working with the strawweight contender, revealing what he thinks makes her stand head and shoulders above the other women in the division.
"I started working with Karolina after her last fight at KSW when she signed with (the UFC)," Zaborowski said. "To me, her strongest point is definitely her strong mentality--she never allows anything like pressure or stress affect her performance.
"Even when she fought Namajunas on a big pay-per-view in the United States, it was like nothing was any different. We knew if she won she would get a title shot, but that still didn't change anything in the Octagon."
'I'm not surprised, motherf****r'
Both Kowalkiewicz and Jedrzejczyk head into the fight in Madison Square Garden at UFC 205 with unblemished professional MMA records. On Nov. 12, someone's "0" will have to go, but Zaborowski is confident Kowalkiewicz will be the one with her hand raised. The title belt will be around her waist when everything is said and done.
"We have a plan, but of course I can't tell you what it is--you will see," Zaborowski said with a smile. "Let me tell you this, though. When it happens, it will shock the world. Everyone in the world may be surprised, but I won't be. I know and see how good Karolina is every day. This is a huge event for Poland, two fighters from the same country (in Europe) fighting for a UFC belt--it's never happened before.
"It was speculated before that Karolina would fight Joanna, but everyone thought it would happen in Poland. Nobody expected it would happen in Madison Square Garden, but it is, and it will be historic."
The truth about Karolina and Joanna
When asked how he perceived the relationship between the two fighters, Zaborowski's answer was short and to the point.
"I think Karolina and Joanna have good relations," Zaborowski said. "All the talk from the media about it being otherwise is just wrong. It's just the media trying to blow things up that aren't there."
'You wanna boo me? Boo you!'
At just 26 years old, Zaborowski is one of the youngest coaches currently instructing fighters in the UFC. For this reason, Zaborowski has previously been questioned by the Polish media about whether he has the experience to coach fighters at the highest level. As you can imagine, these are sentiments the STT head coach has little time for.
"I have great relations with all of my fighters," Zaborowski said. "That's what matters to me. You can see that connection between all the fighters and cornermen during their fights here. At STT we are like family, and we'll hang out together.
"Do you think I would have so many fighters and two fighters who with title shots in December--one even in the UFC? Do I really still have something to prove? F**k them."