Luke Rockhold Turned Down Yoel Romero at UFC 205, Only Wants 5-Round Fights
Luke Rockhold Turned Down Yoel Romero at UFC 205, Only Wants 5-Round Fights
UFC middleweight Luke Rockhold turned down a fight with Yoel Romero at UFC 205. Find out why where.
Oct 17, 2016
by Jim Edwards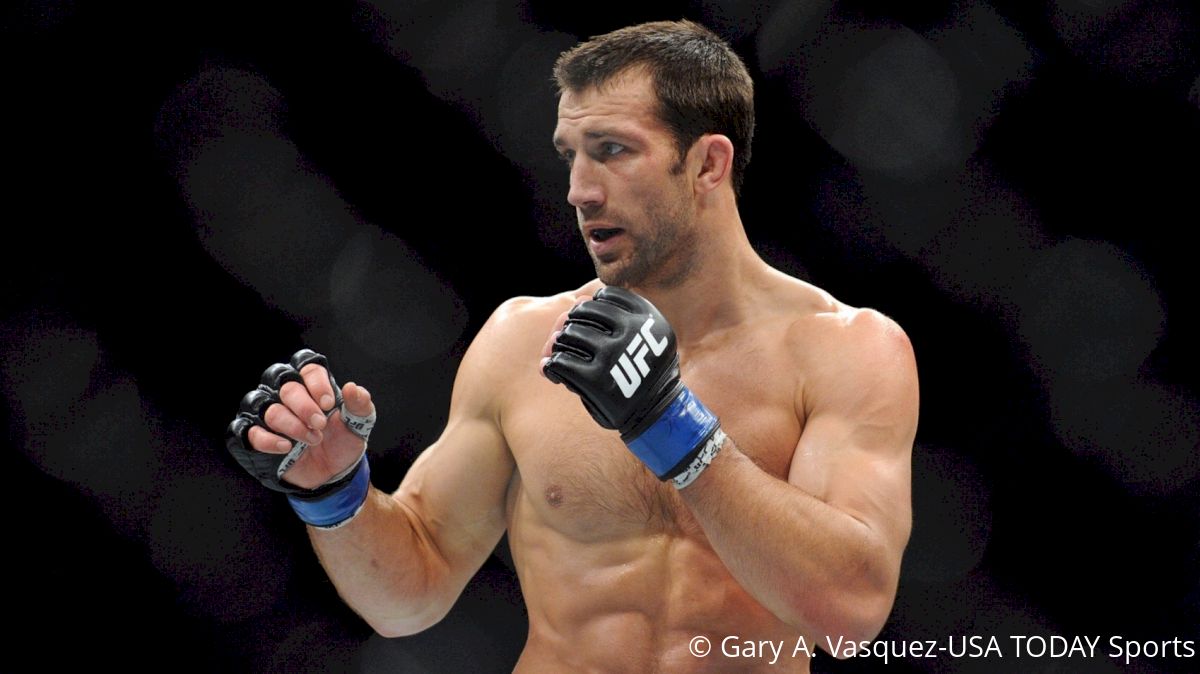 Luke Rockhold is on the road to redemption, and his journey starts in Melbourne, Australia, when he takes on Ronaldo "Jacare" Souza at UFC Fight Night 101.
Earlier this year, Rockhold looked set to defend his middleweight title at UFC 205 in Madison Square Garden, but after one Michael Bisping left hook, his dreams fell apart and his title vanished. Despite his disappointment at not competing in the UFC's first ever New York card, Rockhold can see the benefits of fighting in Australia against Souza.
"I was excited, I like fighting in Australia," Rockhold told
Submission Radio
. "There is always good energy, and I'm not going to have to wait around all day--I just gotta wake up in the morning and go fight in the afternoon, rather than having to fight at midnight, which happens everywhere else really. I'm happy to have a five-round fight.
"New York would've been cool, it was a good stage, but a three-round fight just doesn't tell the true tale of who the better fighter is. There is too much risk involved, and if I'm going to fight one of the top guys, it's going to be in the main event, and it's going to be in a five-round fight."
Offered a fight with Yoel Romero
The former UFC middleweight champion revealed that despite losing the belt to Bisping back in June, he still got an opportunity to fight on UFC 205.
"I was offered [UFC 205] and Yoel Romero, but I said, 'Give me Yoel and five rounds,'" Rockhold said. "Somehow when it came back, I got Jacare, but whatever, it all worked out. If I'm going to fight any of these guys, any of them really, [but] especially Yoel, he gets worse by the minute, by the second, [so] I'm not going to do it in a three-round fight with any of these guys really.
"Like I said, you have to rush the fight and then you rely on not losing a takedown, the judges and pushing it. A five-round fight is a true fighter's fight."
Bellator MMA is an option
Prior to signing for the Souza fight, Rockhold had been at loggerheads with the UFC regarding his current contract. When asked what he made of the free agency environment and other guys around him signing for Bellator MMA, Rockhold admitted there was another viable option available to the fighters these days.
"There is another league, they have good money and that is an option for some people," Rockhold said. "For me, it's just got to make sense. Dollars makes sense so if the dollars aren't up to par then what's the point. I've put my time in this sport and I think I've earned my reputation and I have a leg to stand on when I make a demand like that.
"My contract was done up early on and I was told I would be taken care of if I held up my part of the bargain. I think signing my contract before beating a champion in Machida and decisively putting him away, then putting away Chris Weidman and having a hiccup against Bisping shouldn't have sent me back to where I was. I told them how I felt about it and we moved in a better direction. I think there is still a lot of improvement [to be made]."
The title next, nothing else
Should Rockhold beat the Brazilian in November, he believes his next fight should be against one man and one man only. He seemingly won' take anything else.
"If I beat Jacare, if that title fight isn't waiting for me at my doorstep then I'm sure we will talk," Rockhold said. "I expect that is going to happen. I won't expect anything else. I've already beaten everybody else. I've beaten Bisping, I've beaten Weidman, I've beaten Jacare. I don't think I can more decisively beat Weidman already.
"Of course, Jacare we had a tough fight but if I go out there and put him away like I believe I will do, then I don't think there is anything left to say."

Learning the lessons from the fight with Bisping
When asked his thoughts on the upcoming fight with Souza, Rockhold's answer told the story of a man who had learned from the previous mistakes he'd made in his last fight with Michael Bisping.
"The mental game is the key to this process and not taking my opponent for granted," Rockhold said. "I don't want to overstep my boundaries entering the fight and you can't step in there without your biggest weapon. You can't do certain things in this game and you got to respect the fight game and you got to respect your opponent. That's the biggest key right there. Focusing on the basics and going in there and fighting with everything I've got.
"Of course there is some clean up I've got to do. I was a little careless in some areas and got away with some things. Really, it's just about being sharp and being reserved, playing my distance and picking the guy apart. When I do that, none of these fools can compete."
FloCombat's hottest content, delivered to your inbox
Don't miss breaking news, feature stories, event updates, and more. Sign up for the FloCombat mailing list today.