Create a free account to unlock this article!
Get Started
Already a subscriber? Log In
Michael Bisping may have been denied a post-fight press conference after UFC 204, but the UFC middleweight champion joined the
UFC Unfiltered
podcast this week to give his thoughts on his fight with Dan Henderson.
Speaking to Jim Norton and co-host for the week Luis Gomez, Bisping made it abundantly clear he believed he fully deserved to have his hand raised last Saturday night.
"Let's be honest, he had two big moments in the fight and other than that it was safe sailing," Bisping said. "I controlled the entire fight apart from the end of the first round and towards the end of the second round when he had a couple of big moments. I was confident I got the decision, but still when it goes to the judges you never know.
"As I said, I was expecting to get the decision, but it's always a tense situation. There are always a few nerves there."
Despite the judges handing the British champion a unanimous decision victory, man fans, fighters and media spoke out afterwards saying they disagreed with the judges. Bisping, bullish as always, had a clear message for those people and their opinions.
"They can all kiss my ass," Bisping said. "Weidman is of course going to say that because he can't be objective. His views are skewed because he doesn't like me and because he is a competitor. Of course, there are others there that are just Dan Henderson fans and they're absolutely crazy. They aren't professional judges, they're just fans of Dan Henderson and not of me. They are looking at it through rose-tinted spectacles.
"The impartial judges that are paid to do it they all saw the fight for me. It wasn't a split decision it was a unanimous one. As I said he has two good moments in a twenty-five minute fight. For the rest of it he was backing off the whole time. He had his two good moments but they were too little. You can't win a twenty-five minute fight by landing two good shots."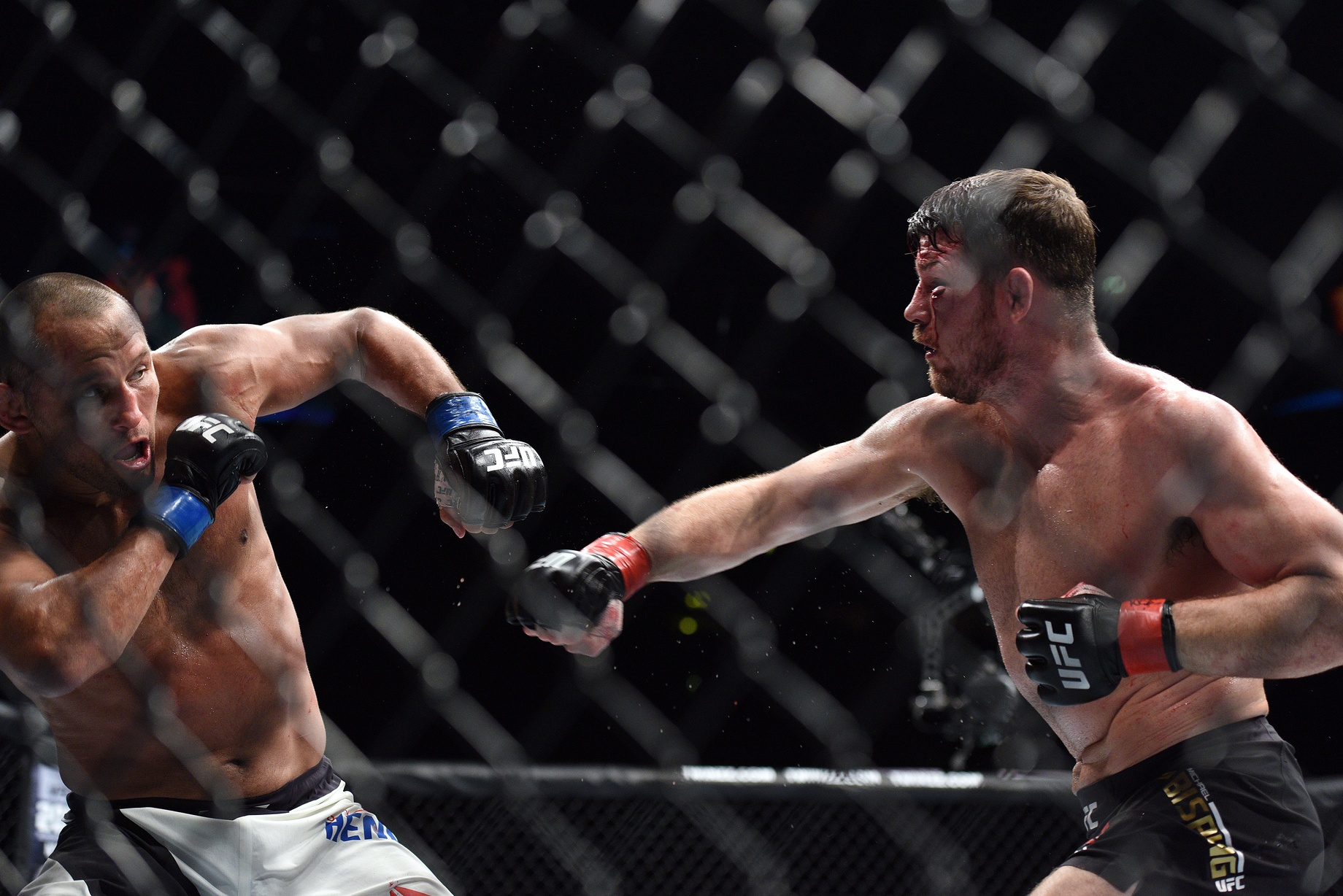 Oct 8, 2016; Manchester, UK; Michael Bisping (red gloves) fights against Dan Henderson (blue gloves) during UFC 204 at Manchester Arena. Mandatory Credit: Per Haljestam-USA TODAY Sports
The champion then asked who he'd like to face next and he seemed to be focusing on a matchup with a former American champion.
"There's that whiner, that crybaby, if Chris Weidman wants to do it then I'm more than happy," Bisping said. "If he smashes through Romero next month then let's do it--I'm happy. If he thinks I'm ducking him then that's crazy because I've never ducked anyone in my life. I'm certainly not going to start with that f**king d**chebag.
"If wants to do it then yeah come on. If he wants to try and wrestle me to death then he will find himself getting punched in the face repeatedly. Dan Henderson was a tough ask but I'll finish Chris Weidman for sure."
Bisping then expanded on why it was he had such an issue with Weidman and implied that it was down to the American believing it was a religious right of passage that he would once again claim the middleweight title.
"He just doesn't stop complaining," Bisping said. "He feels like everyone owes him something and preaches on about his father and this and that. He should shut the f**k up--he's not part of God's plan. If there is a god he's got bigger fish to fry than Chris Weidman and his f**king life."