Tony Ferguson Hopes Conor McGregor and Eddie Alvarez 'Knock Each Other Out'
Tony Ferguson Hopes Conor McGregor and Eddie Alvarez 'Knock Each Other Out'
Tony Ferguson is focused on fight with Rafael dos Anjos and not the main event at UFC 205 between McGregor and Alvarez
Oct 3, 2016
by Jim Edwards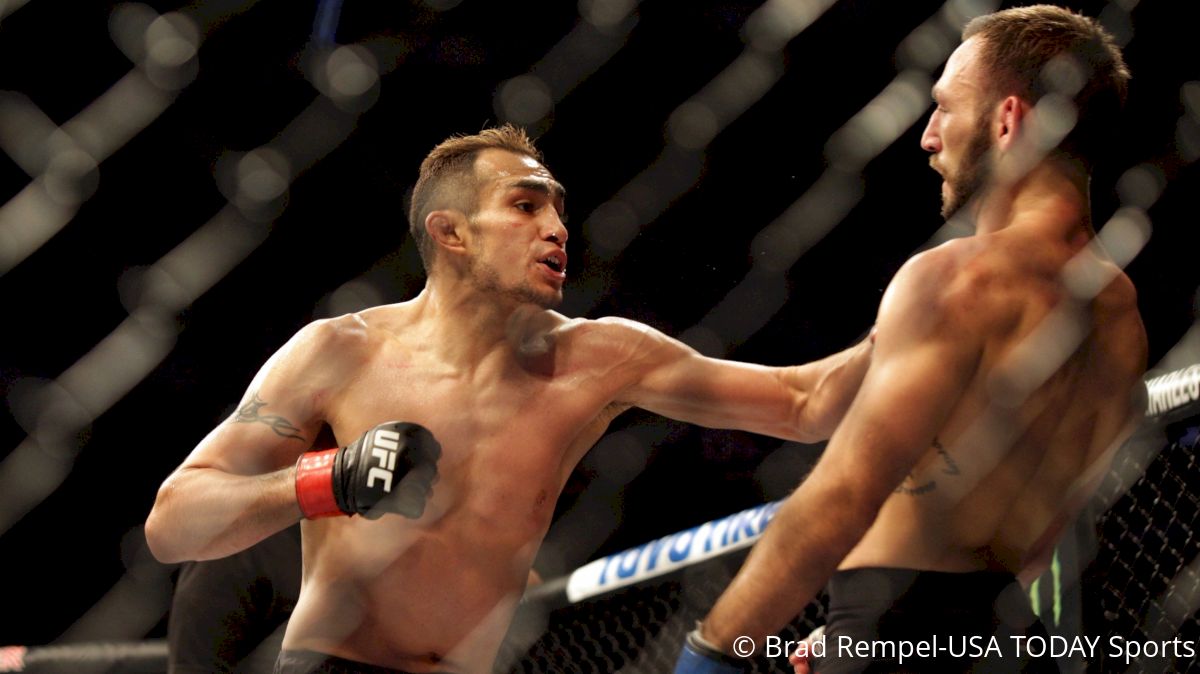 The UFC lightweight division isn't short of contenders right now, but one of the men with the strongest claim for a title shot is Tony Ferguson.
The TUF 13 winner is currently riding an eight-fight winning streak and is ranked No. 3 at 155-pounds. Ferguson knows he could well be the man to face the winner of Alvarez versus McGregor after UFC 205, and speaking to
Submission Radio
earlier this week, Ferguson had a rather unique take on how he'd like to see the fight play out.
"Honestly I hope they both knock each other out," Ferguson said. "We've not seen a double KO in a while, but seriously I hope it's a good fight. There's a lot of shit talking and a lot of hype and stuff and I just hope it's more than one round. I hope they give everyone what they want to see which is a good bloody war."
Ferguson is expected to face Rafael dos Anjos on November 5 at The Ultimate Fighter Latin America 3 Finale. The American knows that if he wants to get to the front of the title shot queue he must put on an impressive performance against the Brazilian.
"It depends on how I finish," Ferguson said. "If I finish like Barboza—yes, if I finish like Venatta—no. It's all about being spectacular inside that Octagon and being entertaining. I aim to please when I go inside there and the only one I aim to please is myself. I know I've got to come out there with a flawless victory this time and getting a win over RDA like that will put me in title contention. No doubt in my mind."
[instagram url="https://www.instagram.com/p/BIteWQ5AyQJ/" hide_caption="0"]
"This is like a title fight, a five-round title fight in my mind," he continued. "In my last fight I had a lot of things going on, I had a few deaths in the family, bought a house, had a kid. There were a lot of things going on and I was pretty busy but I overcame it. RDA don't have a lot of beef going on, but we are both going to train hard.
"What he knows is that I'm going to train harder than him so that's going to be in the back of his mind. My training is good, I'm mentally good and all is going well here in Big Bear Lake."
Having taken confidence from his latest winning streak, the TUF 13 winner is so confident now in his own abilities that he's willing to take on anyone at any time.
"It doesn't matter," Ferguson said when asked if he'd preferred to have faced someone other than dos Anjos. "Anytime I go out there and face any of these dudes it doesn't matter. Whoever is going to be next is going to be next.
[instagram url="https://www.instagram.com/p/BJ4RfyAgKNE/" hide_caption="0"]
"Now these guys are talking shit though man. You got Cerrone jumping up a weight class after all the s*it that he talked and then you got Anthony Pettis doing the same thing and going down a weight class from all the s*it that he talked. No matter what, I'm going to fight all of these guys, but right now it's RDA and he's going to give me the best fight that anyone has ever seen because that's what I expect from him. If he doesn't I'm going to be so disappointed in him and the next guy is going to get it even worse.
"I'm sharpening up my elbows, my kicks are smooth—I'm kicking hard bro. I'm hitting sandbags like you wouldn't believe. I'm doing straight up just ironman training out here. There's nobody that's going to beat me, man. They can say whatever they want but I'm on a different pathway and that's finishing people—RDA's next."