Dana White may have spoken out just yesterday saying that he didn't believe that Georges St-Pierre would ever fight again in the UFC, but this week's USADA data release would suggest otherwise.
Georges St-Pierre was been randomly tested twice last week and provided a total of four samples, mostly likely two samples of both blood and urine on separate visits.
This is the first time that the former UFC welterweight champion has been tested since the USADA program began back on July 1 last year.
Despite White's accusations yesterday that he didn't believe St-Pierre wanted to fight again, the Canadian only last month told
UFC Tonight
that he was already in talks with the UFC, and that it would be down to whether they could make the money work or not.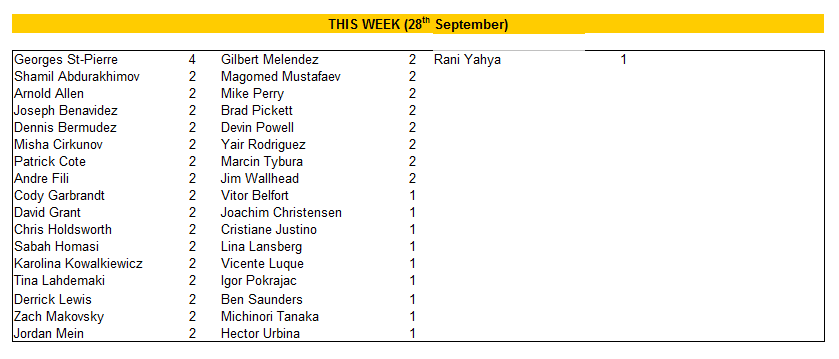 Table Credit: @Dimspace
"I want to come back," St. Pierre said. "They know the terms I want. Trust me, I'm very reasonable so it's up to them. We tried. My agent tried to reach them and they're hard to reach, but I guess they're going to come back soon. Hopefully, we'll see."
"If you see it from my perspective, I'm making a lot of money now even though I'm not fighting, and my contract is old," St. Pierre said. "My contract was made before the Reebok deal, and when we asked, basically, it's now because if I go back and fight I cannot advertise my sponsors, so I'm losing money if I go back to fight on the old terms of my contract. So, it's reasonable. I'm just waiting to so what's going to happen."
That same night, St-Pierre also named three opponents he would be interested in facing on his return—Tyron Woodley, Demian Maia and Nick Diaz.
"These guys can elevate me," St-Pierre said. "They're not necessarily guys I'm supposed to beat. To get far in this game, it's not about who's got the biggest balls. It's a straight line. You've got to know who you've got to beat."
No doubt with this latest news that St-Pierre is back and being actively tested, speculation will only continue to grow that he could make a triumphant return in Toronto, Canada at UFC 206 on December 10.
Also of note this week was the testing of the recently re-signed Ben Saunders, and the formerly retired Jordan Mein.