Michael 'Venom' Page is Down For Bellator vs. UFC Event
Michael 'Venom' Page is Down For Bellator vs. UFC Event
Micahel 'Venom' Page is getting his first taste of the UFC this weekend against his longtime London Shootfighters teammate, Jimmy Wallhead, at Fight Night:
Sep 2, 2016
by Jim Edwards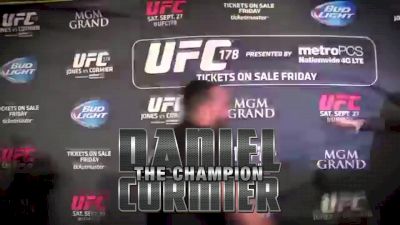 Micahel 'Venom' Page is getting his first taste of the UFC this weekend against his longtime London Shootfighters teammate, Jimmy Wallhead, at Fight Night: Hamburg.

Decked out in Reebok gear, Page talked about his first time seeing the UFC product up close, and why he didn't think it was all that different to what he experiences day-to-day in Bellator.

"I've been to a UFC show before, but not the seen the actual behind the scenes," Page said. "They do the same sort of thing to Bellator really. It's another professional show and the setup is roughly the same. The people here are very nice and respectful as well, in terms of that, there's not really any massive difference.

"I've worked with the guys in Bellator for a long time, and I really like those guys there. They are very professional and efficient. All I would say about the UFC is that they seem to have more people here and they have a slightly bigger setup in terms of what goes on behind. So far though, watching Jimmy going through what he's been going through, it's been roughly the same. There are no major differences."

Talk of the comparisons between Bellator and the UFC came to the forefront once again last week when it was announced that Rory MacDonald had chosen to sign with Bellator MMA instead of renewing his UFC contract. Page said this was a good sign for the sport in general, and that fighters are in a more powerful place now that two big players are in the market.

"Rory coming over is absolutely massive for Bellator," Page said. "He's a prominent character and a high-level fighters who's made the crossover now. I think it's just going to make a few more people questions what's going on. It not only adds attraction to my promotion, but my division. I think my division right now is one of the most lethal divisions right now--especially in standup.

"I've always said that I think it's good to have a couple of promotions that are doing well. I think it can only elevate the sport. I don't begrudge any promotion and I never have."

One of the questions Page is asked most often is whether he would ever sign with the UFC. For now at least, Page said he was happy with his current home, and that the sign above his door isn't what matters most to him.

"It doesn't matter to me whatsoever," Page said regrading what promotion he represents. "When I crossed over and really started to get into MMA, I had to watch the UFC because the UFC was where it was at. It's amazing even being here in Hamburg seeing all these top fighters walking around; it's unbelievable.

"When I first got myself on the map with that kick, it was the Bellator guys that came to me and said, 'We are interested in you, and I've gone from there. I've had an amazing time with them, and I feel like I'm doing well.

"In terms of like, better promotions, it's more about the fighters," he added. "I don't spend too much time worrying what brand it is, it's more about MMA as a whole."

The British welterweight then described his ideal scenario: a WCW vs. WWE promotional war between Bellator and the UFC.

"Friendly competition is good, and if the UFC and Bellator could somehow work together, and do joint bouts it would be incredible," Page said. "It would bring me back to those WWE days. Man, it was immense, I remember watching those shows and that changed the game for them. If the UFC and Bellator could just shake hands and work together on a few things then it would be better for the fighters, better for the fans and better for everyone. That's that man--I'd be down with that."