Create a free account to unlock this article!
Get Started
Already a subscriber? Log In
After being cut by the UFC earlier this year, Norman Parke was at one of his lowest points of his career.
Stuck in bed nursing a serious knee injury, the Northern Irish man contemplated hanging up the gloves in what were some really dark times for him.
"I completely tore the ligaments in the inside of my knee in the first round of my last UFC fight with [Rustam] Khabilov in February," Parke said. "It took a very long time for that to heal, and I've only really been back training for the past eight weeks. I remember just lying there injured in bed, just f*cked up in bed with my knee healing, and I remember going to sleep that night thinking about just not fighting anymore and just coaching and stuff like that. It was pretty f*cked."
What happened next was something Parke would never have predicted. A single message managed to totally change his perspective and took him from thoughts of contemplating leaving the game to being amped to return more than ever.
"I went to sleep and then I woke up and I had a random message from Conor McGregor," Parke said. "He'd texted me saying, 'What are you up to these days and are you training?' He then went to say that he wanted me to come down and help him for the Diaz fight and that he was bringing in some good guys to help him prepare."
That alone was enough to excite Parke.
"That gave me a massive buzz to get back and just get straight back at it," Parke said. "He then hit me up again two weeks later saying can I come down [to SBG Ireland] and I just had to say that I'd honestly like to come, but my knee was so jacked up I would've been no use to him at all. In hindsight, maybe I should've just strapped the f*cker up and got in there, and I was very close to doing that, but I didn't want to hinder his training.
"Although I couldn't do it, it was still a massive boost for me and I just remember the motivation it gave me," he added. "In one of his messages, he wrote, 'F*ck doing nothing--you'll be back in there as soon possible.' And that hit me hard because he was right."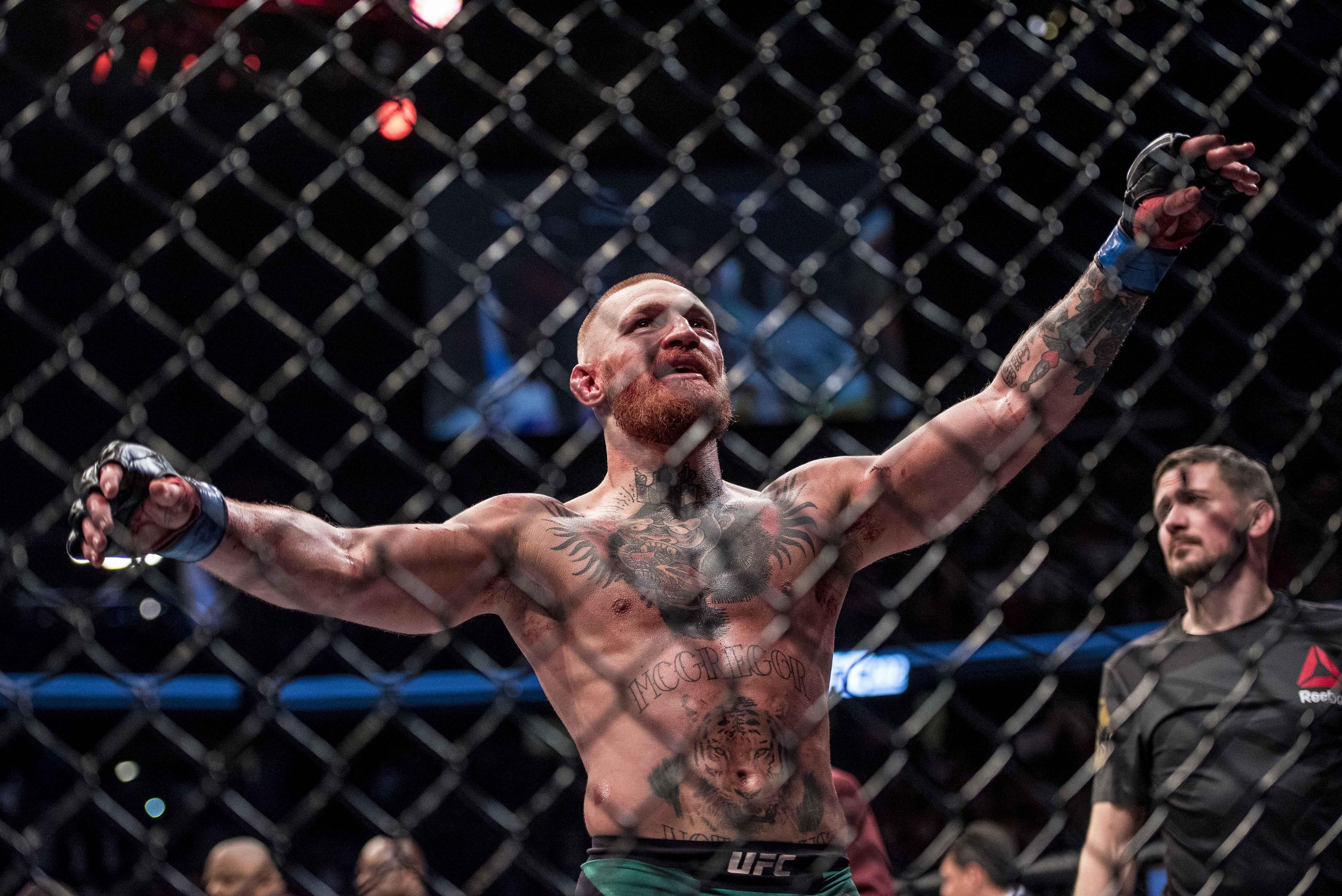 Aug 20, 2016; Las Vegas, NV, USA; Conor McGregor (blue gloves) reacts to his fight with Nate Diaz (red gloves) during UFC 202 at T-Mobile Arena. Mandatory Credit: Joshua Dahl-USA TODAY Sports
McGregor reaching out to Parke may come as a surprise to some given the talk that went around when they first entered the UFC. Parke revealed those misunderstandings were long cleared up.
"We met in Dublin in 2014, and my coach is very good friends with John Kavanagh," Parke said. "I met Conor and we chatted and from there it was just all good, you know? We just got on and forgot all the bullsh*t. People bring up all that nonsense now and again but he knows what's real. He wouldn't text me asking to come train if he wasn't cool.
"He knows I'm tough, he knows I'm durable and that I can stay in there. He gave me the opportunity to come down and help him, and I can only thank him for that. I wish I hadn't been so jacked up and I'd have been straight down. Who knows where I'd be right now if I did?"
Ten weeks down the line from that exchange of messages, Parke is now focused on giving himself the best opportunity for a UFC return on Nov.19 in Belfast.
"If they weren't going to Belfast, I wouldn't even mention UFC," Parke said. "It wasn't even crossing my mind--I was just focused on getting five or six straight wins. But when I heard that UFC Belfast was coming, I thought, 'No way. There is no way I can't make a run at that card.' There's loads of talent coming up here, but I'm definitely the biggest star here in Northern Ireland.
"I'm going to go out at ACB in Glasgow and make a big statement and finish him [Andrew Fisher]. I'll then move onto the card here and then finish off this other little guy [Decky Dalton]. With two good performances, I hope it will catch their eye and prove that I'm ready to step up and face anyone if need be. Rest assured I'll be putting my name forward."