The news this morning that Dana White is considering having Anthony Johnson fight Jon Jones for a shot at Daniel Cormier's UFC light heavyweight title has stirred plenty of reaction online.
Suffice to say, a lot of fans are feeling aggrieved on behalf of Anthony Johnson and it would appear they aren't alone.
The No. 8 ranked man in the light heavyweight division, Jimi Manuwa, also feels like division's heaviest hitter has done enough for his opportunity.
"I think Rumble should fight Cormier and I believe that he can beat him for the title," Manuwa said. "Rumble's been doing so many great things and he's an awesome, humble guy. He's knocked out everyone and I believe he will knock out Daniel Cormier in his fight."
Manuwa will return to the Octagon on October 8 at UFC 204 in Manchester, England when he takes on the number #5 ranked Ovince Saint Preux. As a man nearing the top of the 205 pound division, Manuwa doesn't quite know what to make of Jones' speculated fast track return.
"I'm not sure about this Jon Jones business," Manuwa said. "I think it's dodgy, all this stuff Jon Jones did--I think it's all dodgy mate. I think that the UFC want their bloody cash cow back. I'm not going to say too much on that but I think it's dodgy.
"I don't know what I'd do with him. If you want a clean sport you can't have cheaters coming back. If you are cheating then you are cheating. That's what I personally think.
"Why should you be cheating and taking steroids, growth hormones and all this sh*t--you are only cheating yourself. If you cheat and then you go and win then it's not a real win. You've just cheated yourself to get there."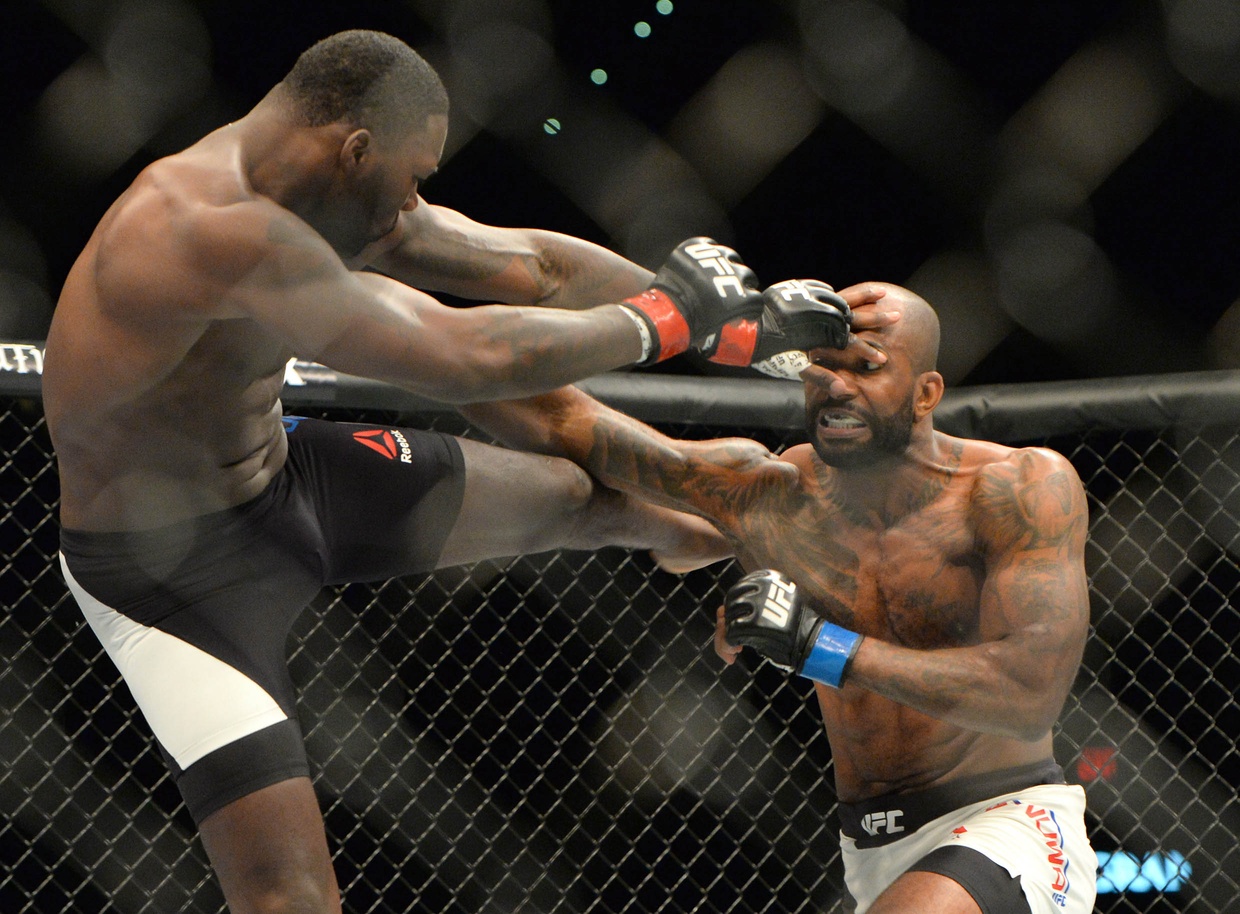 Sep 5, 2015; Las Vegas, NV, USA; Jimi Manuwa (blue gloves) and Anthony Johnson (red gloves) during their light heavyweight bout at UFC 191 at MGM Grand Garden Arena. Johnson won. Mandatory Credit: Jayne Kamin-Oncea-USA TODAY Sports
Manuwa revealed that he was shocked when he first heard about Jones' alleged USADA violation but then said why he could believe it given some of Jones' previous performances.
"I was surprised when I heard about it," Manuwa said. "I heard a lot of things before that he was hiding underneath the cage and stuff like that. I just couldn't believe it. This guy who everyone kept at the top of the pedestal has just been cheating all this time.
"You just don't know what people do behind closed doors and that. He's the only athlete that turns it up after the first round. He was constantly upping his pace which everyone thought that was impossible, but he was doing it."
If Jones does return, Manuwa thinks that he could be in for a tough time with the fans and that he shouldn't expect the warm response he used to.
"I was a big fan of Jon Jones and I was thinking this guy is phenomenal and that," Jones said. "Now it comes out he's been cheating all this time and he's just let a whole load of people down including me.
"I don't think a lot of the fans will like him when he comes back. He will get booed all the time I reckon. It is about fighting though and it's not about who's loved by the fans the most. To me, all that stuff about him coming back is dodgy but if happens it happens--what can I do about it."