Dan Hardy Talks BBC, Missing Lorenzo Fertitta
Dan Hardy Talks BBC, Missing Lorenzo Fertitta
Former UFC welterweight Dan Hardy is adjusting to his role as a broadcaster but still misses stepping into the Octagon
Aug 13, 2016
by Duane Finley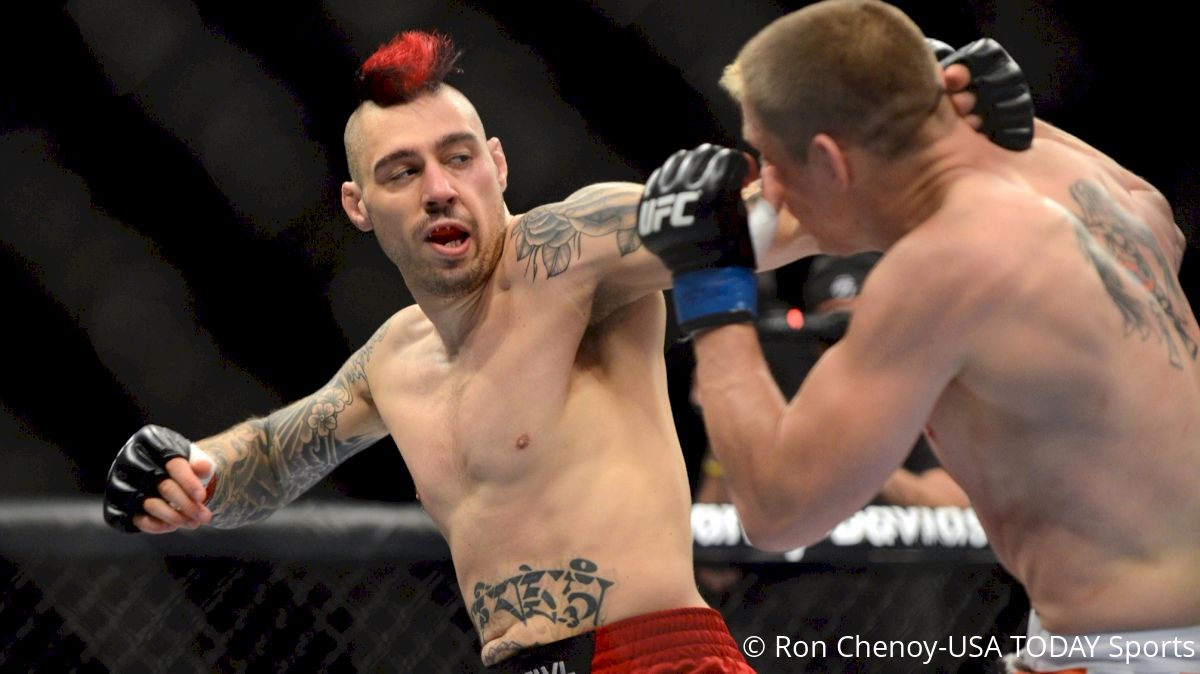 By Chamatkar Sandhu

Dan Hardy has been very busy these past few months. Aside from working with John Gooden on 'Inside the Octagon' which has now become a staple of UFC's on line fight preview content he's also been working with the BBC who recently became a media partner via their online channel, BBC Three.

In the build up to UFC 200 Hardy and BBC Three teamed up to produce a behind the scenes/vlog style diary of international fight week and 'The Outlaw' was very pleased with the outcome.

"It was awesome," Hardy said. "It was the first time the BBC had ever wanted to produce video content on or around the UFC. Obviously their radio stations have always been interested but it's the first time they've wanted to put the UFC in front of their viewers and UFC 200 and International Fight Week was the perfect opportunity."



Welcome to our world

"When you're removed from the community it's difficult to take in how big the community is," Hardy said. "A lot of people outside it don't know how established and how popular the UFC is. Because this was the first time the BBC had any attention on the UFC, it made sense for them to be kind of introduced to it, so the best way for that was to have a pic and mix of fight week. It was fun; we got to communicate a lot of good stuff that happens to the BBC.



The future is bright

"All the feedback we've had has been really good," said Hardy. "I think they were even surprised by how well it was received by viewers. It was circulated on BBC Sport and social networks and it did really well. I think now they've realized and saw the appetite for it and it's only onwards and upwards to be honest."

With the recent sale of the UFC it means fighters like Hardy who have been with the promotion for a decade (in some cases longer) won't see or discuss business with Lorenzo Fertitta anymore. Having spoken to a bunch of fighters during UFC 200 fight week Hardy says there is definitely a feel of the unknown.

"There's been a lot of change recently within the sport and I just want to see what happens," said Hardy. "I always dealt with Lorenzo and Dana and with Lorenzo gone I don't know who I'd be dealing with other then Dana. Dana's always been very keen on me staying retired and staying in the role that I've got, which I'm really grateful for, and I am really starting to settle into this job now as an analyst and commentator and the rest of this year is very busy."



Sad to see you go

"The underlying feeling which over rides everything, financial and everything else is people are generally disappointed that Lorenzo isn't going to be in his role anymore," said Hardy. "I feel the same. I know how passionate Lorenzo has been about the sport over the years. I've always had a good relationship with him, although it's not been a particularly a deep relationship but when I've seen him he's always been knowledgeable about my fights, he's always been a fan of the sport from my perspective and I think a lot of people feel that he's going to be missed."



Prosperous future?

With WME-IMG now in control of the UFC and the fate of 400+ independent contractors on their roster, Hardy says although the fighters are uncertain on what plans the new owners have they are optimistic in what opportunities may be on the table.

"People are excited about the sale, a lot of people are unsure what's going to happen but when you put a $4 billion price tag on something that means big things are going to happen," says Hardy. "Someone's got massive plans for the UFC and mixed martial arts because you don't invest that kind of money unless you intend to do big things with it. The group of people that have bought it are going to open a lot of doors for all of these fighters. Everybody is excited about the possibilities."