Tony Ferguson: 'Alvarez is a Bitch, Khabib is a Bitch, RDA will Submit'
Tony Ferguson: 'Alvarez is a Bitch, Khabib is a Bitch, RDA will Submit'
Tony Ferguson is a rare breed. Winning the UFC lightweight title means everything to him, but he's not sitting around and waiting for his opportunity to com
Aug 3, 2016
by Jim Edwards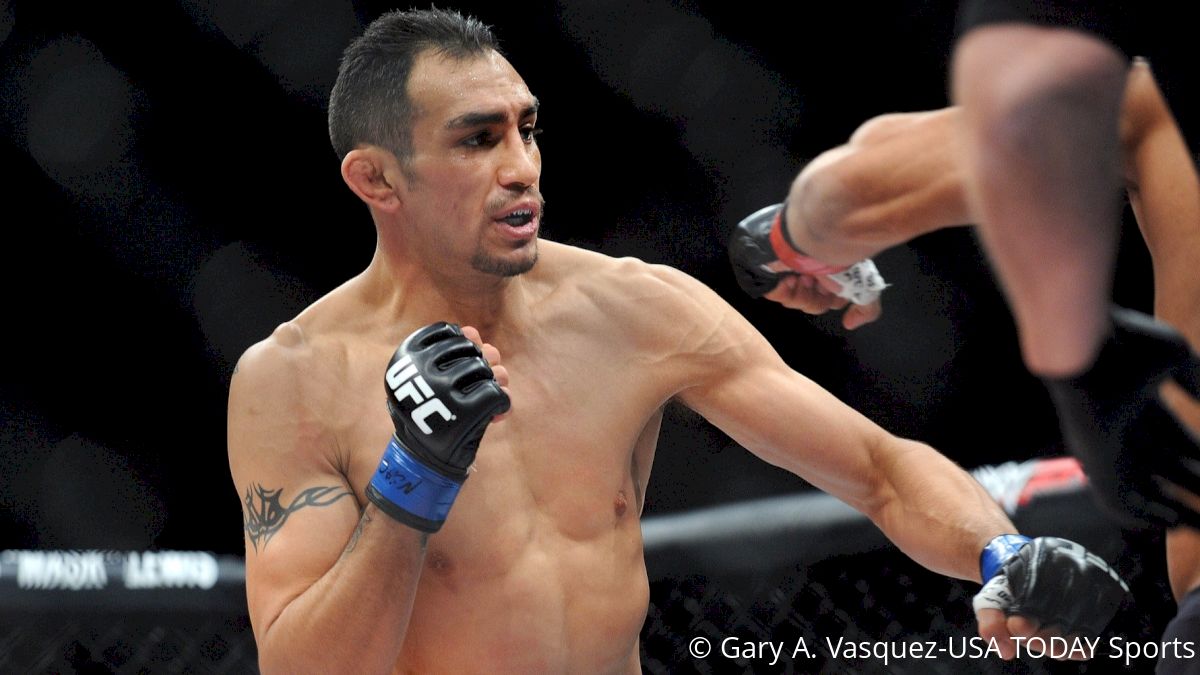 Tony Ferguson is a rare breed. Winning the UFC lightweight title means everything to him, but he's not sitting around and waiting for his opportunity to come to him--he's earning it the hard way.
After hearing Eddie Alvarez had his hands full with his nemesis, Khabib Nurmagomedov, Ferguson had his eye on fighting only one other man: Rafael dos Anjos.
Apparently, the UFC shared the same perspective. Earlier today, UFC Espanol officially announced that Ferguson will face Rafael dos Anjos on November 5, 2016, at "The Ultimate Fighter - Latin America 3" final in Mexico City.
[tweet url="https://twitter.com/UFCEspanol/status/760707910422896644" hide_media="0" hide_thread="1"]
While many would say taking a fight with the former champion is a risky move, Ferguson doesn't see it that way. He believes he will beat dos Anjos and cement himself as the next man in the line for a title shot. For him, staying active is an important part of what makes him a viable contender.
"I want to fight three times this year man, I love to stay active," Ferguson said. "In that year at 'The Ultimate Fighter' house, I got to fight six times, and since then, it's been three or four. If I'm not feeling active, I'm feeling lazy. If I get to the end of the year and I'm feeling beaten, battered and bruised, but I actually feel like I did something--that's the way I want it to be.
"Even if that belt isn't around my waist by the end of the year, I'll just keep on moving forward. Even if it's just a game of inches, but I'm still moving forward, it doesn't matter. The journey is amazing, and I just want to keep it going."
Ferguson believes he's operating in a division where four guys are on a higher level to the rest: champion Eddie Alvarez, Khabib Nurmagomedov, Rafael dos Anjos, and of course, himself.
"The fight game to me is so simple right now," Ferguson said. "We got RDA, Eddie Alvarez, and Khabib. You got a Russian Sambo fighter, a Brazilian Muay Thai fighter and you got Eddie Alvarez, a lay-and-pray, 'I'm going to hold on to the belt and not fight anybody for a long time' kind of fighter."
"Lets face it, though: All three of them are pretty lame compared to my style and the way I go about business."
Rafael dos Anjos
With dos Anjos the next man in his way en route to a title shot, Ferguson detailed why he believes he will defeat the Brazilian on November 5.
"I match up really well with RDA," Ferguson said. "I got a far superior reach to him and my conditioning is just on a totally different level. I know I now have plenty of time to go train for this fight and I know we are going to give the fans everything they want. I always say that, regardless of who I'm fighting, you won't leave a Tony Ferguson fight not entertained because I leave everything out there.
"When you come to a Ferguson fight, you know there is going to be fireworks everywhere and spectacular things. I'm calling it like I always call it: round two, submission victory. That's a Ferguson fight."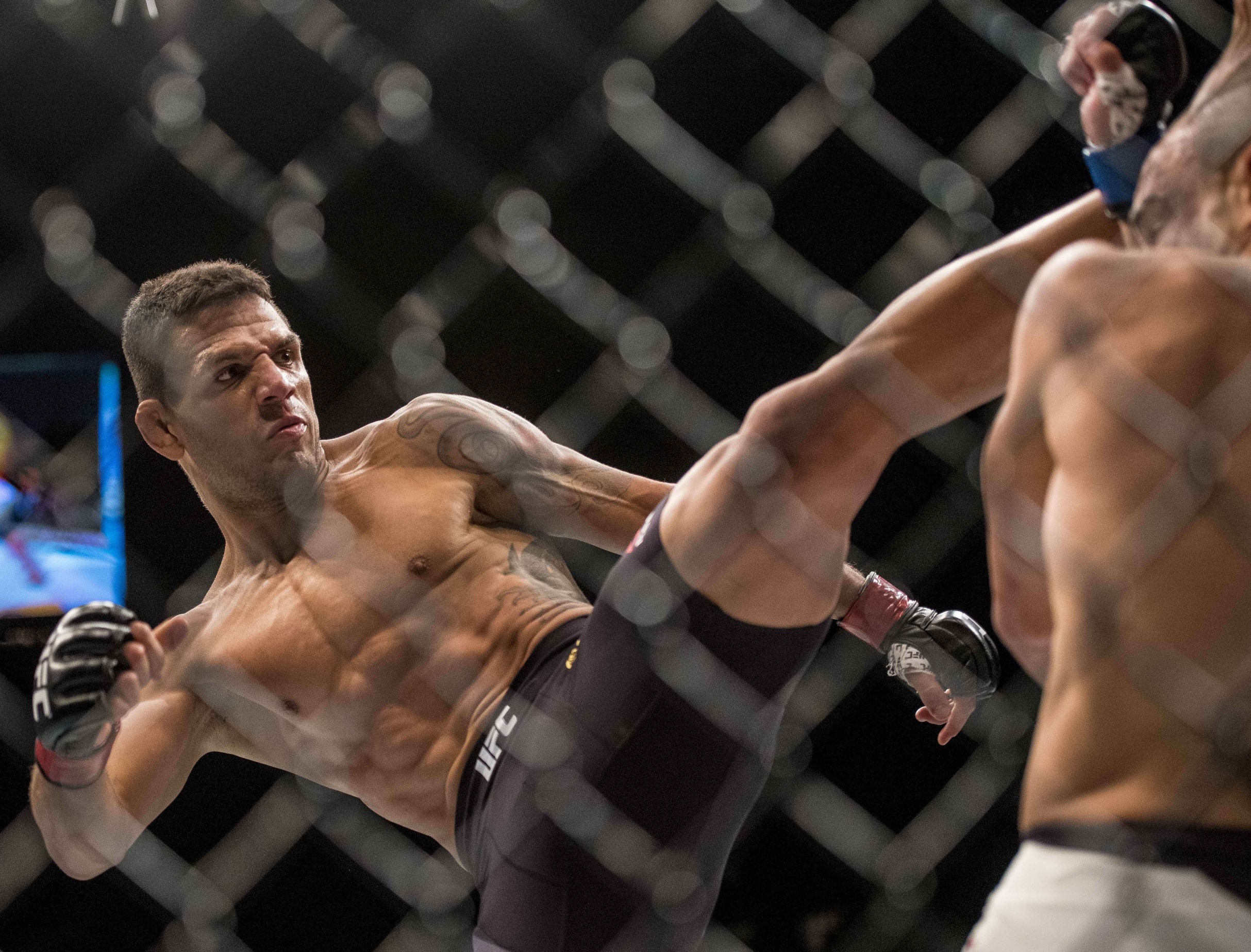 Eddie Alvarez
Should he beat dos Anjos, the man he would face for the belt--should he still be champion--is Eddie Alvarez. Having already hinted at not being a fan of his, Ferguson turned up the heat when asked about the possibility of a title fight with him.
"Eddie Alvarez is a little bitch," Ferguson said. "I think he's honestly just trying to milk it for all he can. In his last fight with RDA, he did really good, but in his two previous fights, he just sandbagged it, and he didn't do sh*t. He did absolutely nothing--he's just got a smart little camp over there who know what they are doing.
"All I'm saying is, I know he's got his hands full if he fights either me or Khabib, and I know for a fact he doesn't want to fight either of us. The smartest option for him is to just go for the easiest fight, which is smart for him because it's more money."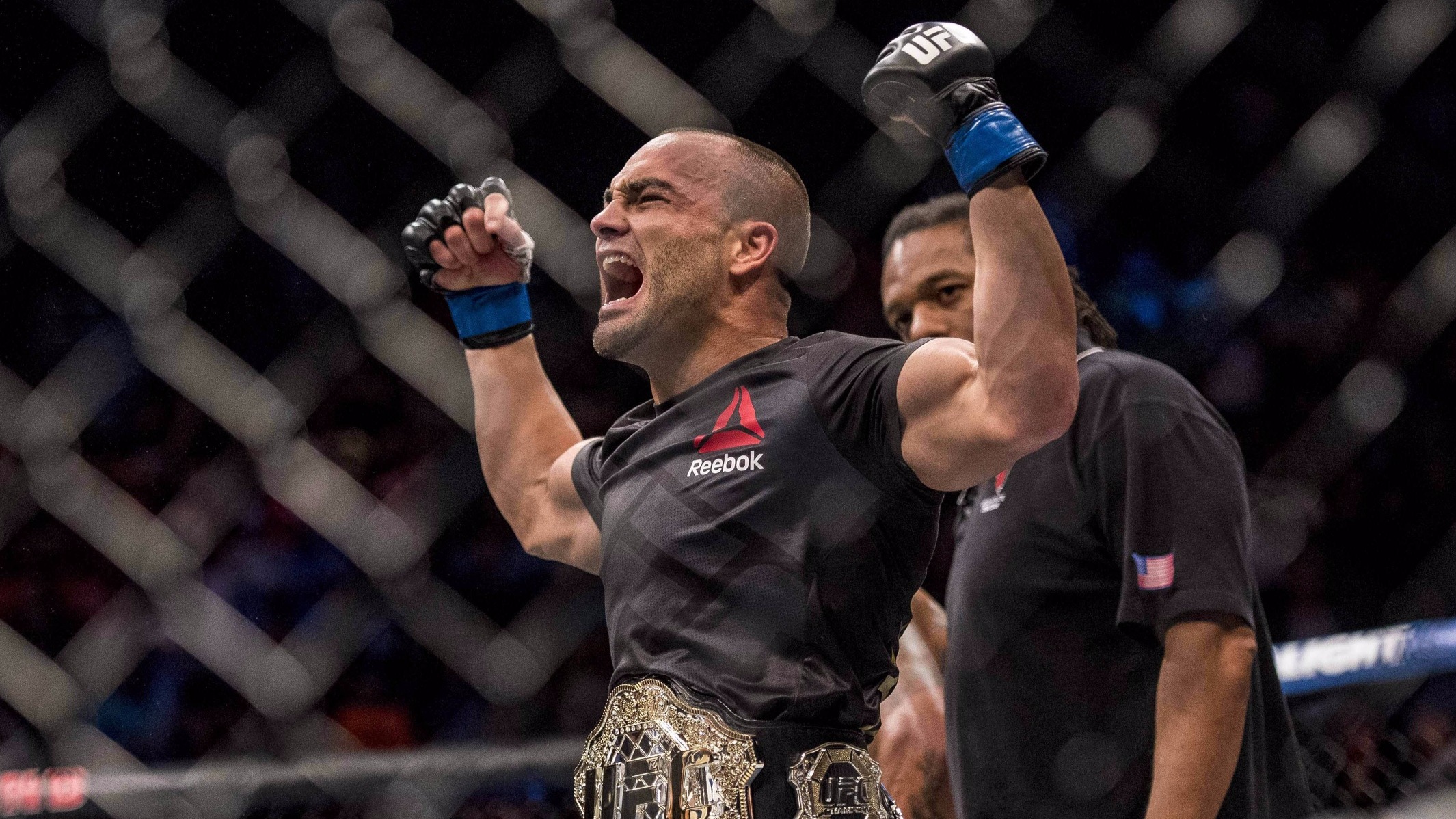 Last week, Alvarez said the only two men he wanted to face were Nate Diaz or Conor McGregor. Ferguson believes Alvarez is just trying to maximize his income.
"He knows he isn't having that belt for long, so he just wants to make as much money as possible," Ferguson said. "I don't give a shit if he wants to fight Conor or Nate, it doesn't matter--none of those guys actually seem to want to fight in the 155-pound division. They just keep fighting at 170lbs, and no one knows why.
"It's all about money for them, which is cool, but for me, it's all about that gold strap and that belt. Give me that belt man. I'm going to beat every single goddamn one of you guys, and I'm not going to stop until I get it."
"All I have is three more people to go through--no one in history, aside from Anderson Silva, has gone through all the guys I will have gone through by the time I get that belt. Silva, to me, is the G.O.A.T. I'm not going to talk my way into getting anything. I just want to earn it every step of the way."
Khabib Nurmagomedov
One man who Ferguson has been set to face multiple times previously is the Russian Khabib Nurmagomedov. Unfortunately for their fans, the fight never materialized due to injuries in both camps. But the two have had multiple wars across social media.
"Khabib is a little bitch, too," Ferguson said. "I honestly only use that term for a couple of people that just lay and pray and just sit there not waiting to fight and just want to take a break.
"I don't know what is going on there with Russian doping or how many times he actually gets tested, but if this dude has to fight and then go and take time off before he comes back to fight, then I don't know, man--it sounds to me like he's on a cycle or something. But, if he's getting tested and that's cool, then good for him."
Ferguson also wasn't happy that Nermagomedov only fought late replacement Darrell Horcher in the last two years, and doesn't believe that was worthy of a title shot.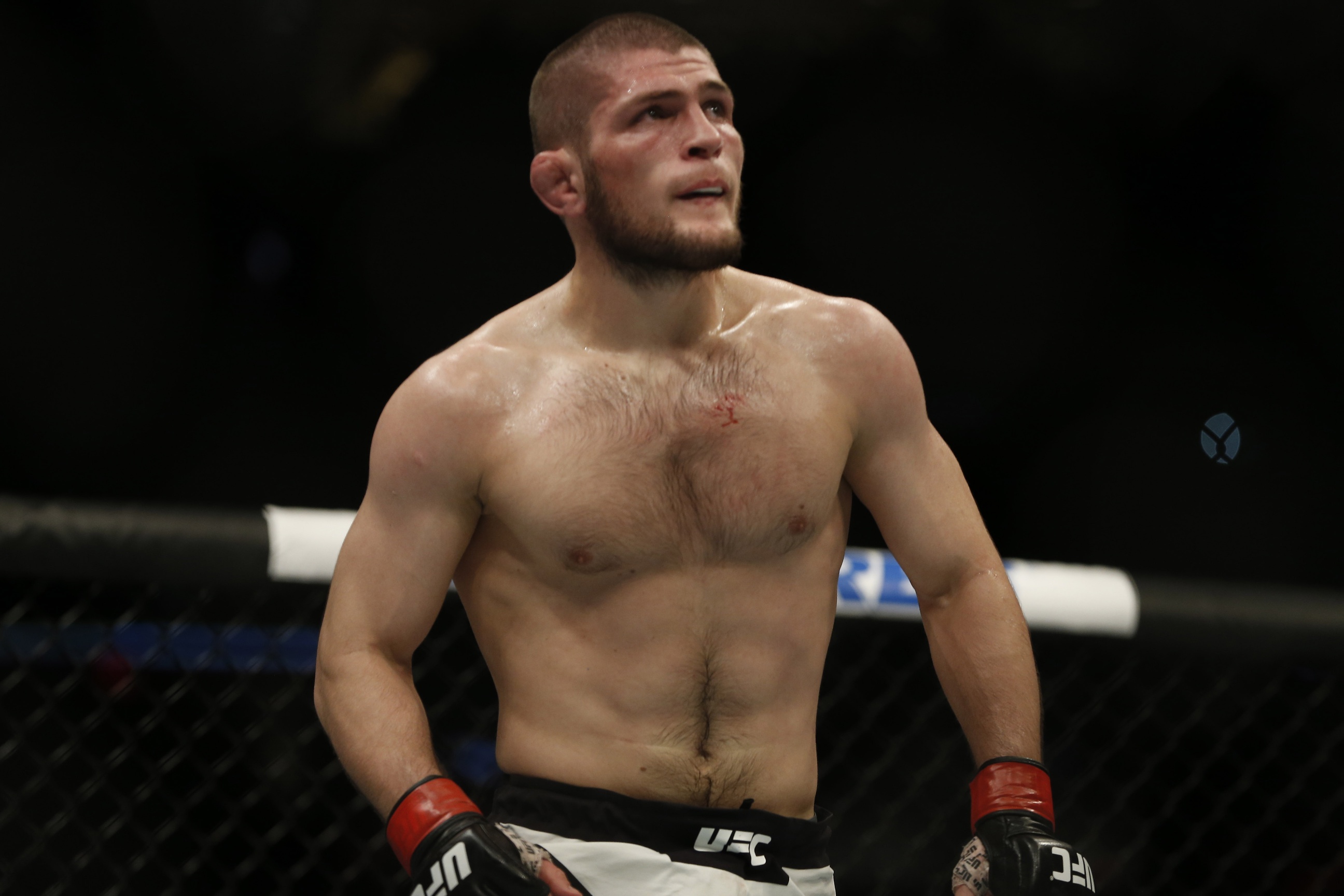 "Khabib's fighting style is so one-dimensional, it's not even funny," Ferguson said. "That dude fights a half-time fighter, and comes out of there, and then tries to go for the belt. You can't do that sh*t. You got to go in there and fight and stay active.
"You can't just fight once in two years and demand a title shot. Look at his record: Half of his fights are just two-round-maximum fights, and I don't see anyone counting the fights I had in 'The Ultimate Fighter' house. Why do Khabib's in Russia count? If you take away half of his fights, then he's just 10-0."
Ferguson then detailed why he would beat the Russian if they did meet.
"His conditioning sucks. His hands are OK, but he's flat-footed," Ferguson said. "The only thing he has is the lay-and-pray ground-and-pound. He just tries to smother you and make the referee stop it. Trust me, he wouldn't have anything for me. I'd outwork him, and he wouldn't be able to keep the pace I take it to."
Taking Things To A New Level
Despite not being overly complimentary of the other three fighters he sees himself on a level with right now, Ferguson is aware he's going to have to work harder than ever to make his way through them.
"I'm going to have to be a different level of Tony Ferguson," he said. "I know I'm going to be training a lot harder. I know none of these fights are going to be easy. I know my last fight wasn't my best performance, but I still won, and I continued my winning streak. I'd like to continue to do that and put a lot more of those performance bonuses on my record."