Frankie Edgar Wants to Fight at Madison Square Garden
Frankie Edgar Wants to Fight at Madison Square Garden
Frankie Edgar is as modest as they come.His professional resume is lined with world titles and a slew of high profile victories, but the opponent he's about
Jul 30, 2016
by Duane Finley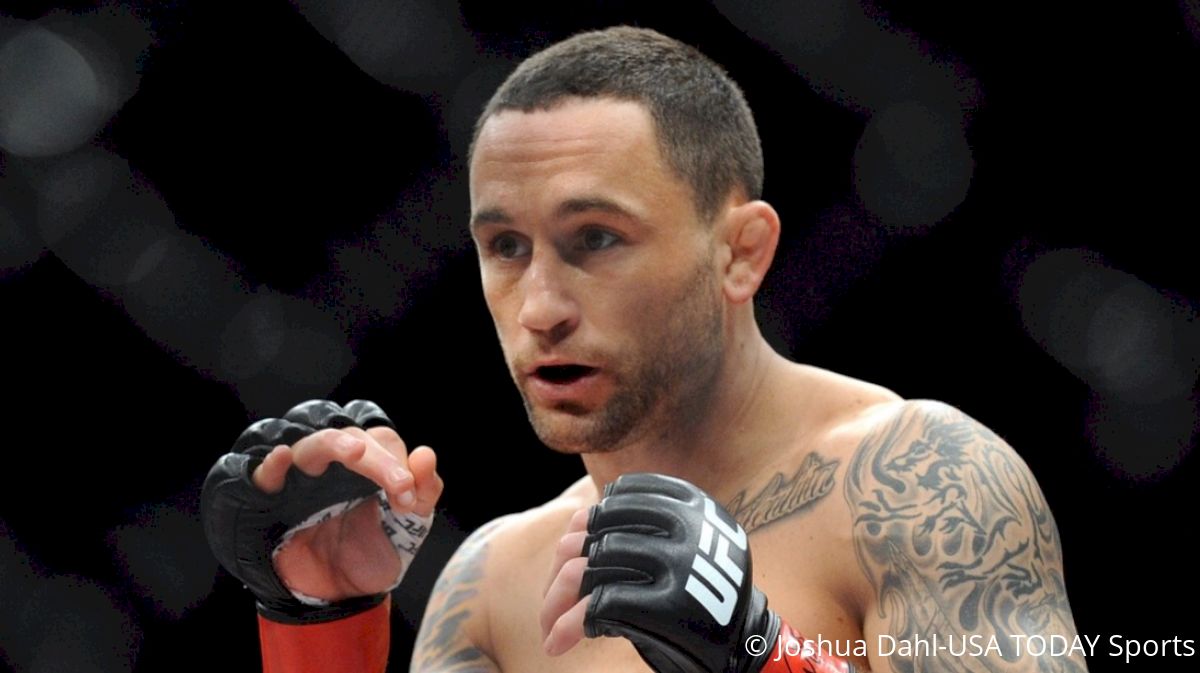 Frankie Edgar is as modest as they come.
His professional resume is lined with world titles and a slew of high profile victories, but the opponent he's about to face on this Wednesday afternoon doesn't come with a stat line. Edgar knows the grill on the back patio is ready to do the damn thing, and the fighting pride of Toms River has never been anything but game.
"I don't know how this is going to work out but I'm going to give it my best," Edgar says with a laugh as he stacks a tin tray to the brim with various meats. "It's about to go down!"
For the next 20 minutes the former lightweight champion turned featherweight contender shuffles back and forth from the kitchen to the grill as he puts everything together. While there is no cage to contain him, Edgar's footwork is pretty much the same as he stays in continuous motion.
The man simply doesn't sit still without cause.
Even when the food hits the flame Edgar continues to work circles back and forth, dodging a swarm of kids running to the pool and his pit bull Dempsey with relative ease. There are no less than one hundred things happening around him at all times, but from the easy smile he constantly flashes it's clear this is how he prefers things.
"Things are always so busy in the summer it's hard to get days like this so we make sure we enjoy them," Edgar says as he pulls the first line of hot dogs off the grill. "Dogs are up. Who all wants one?"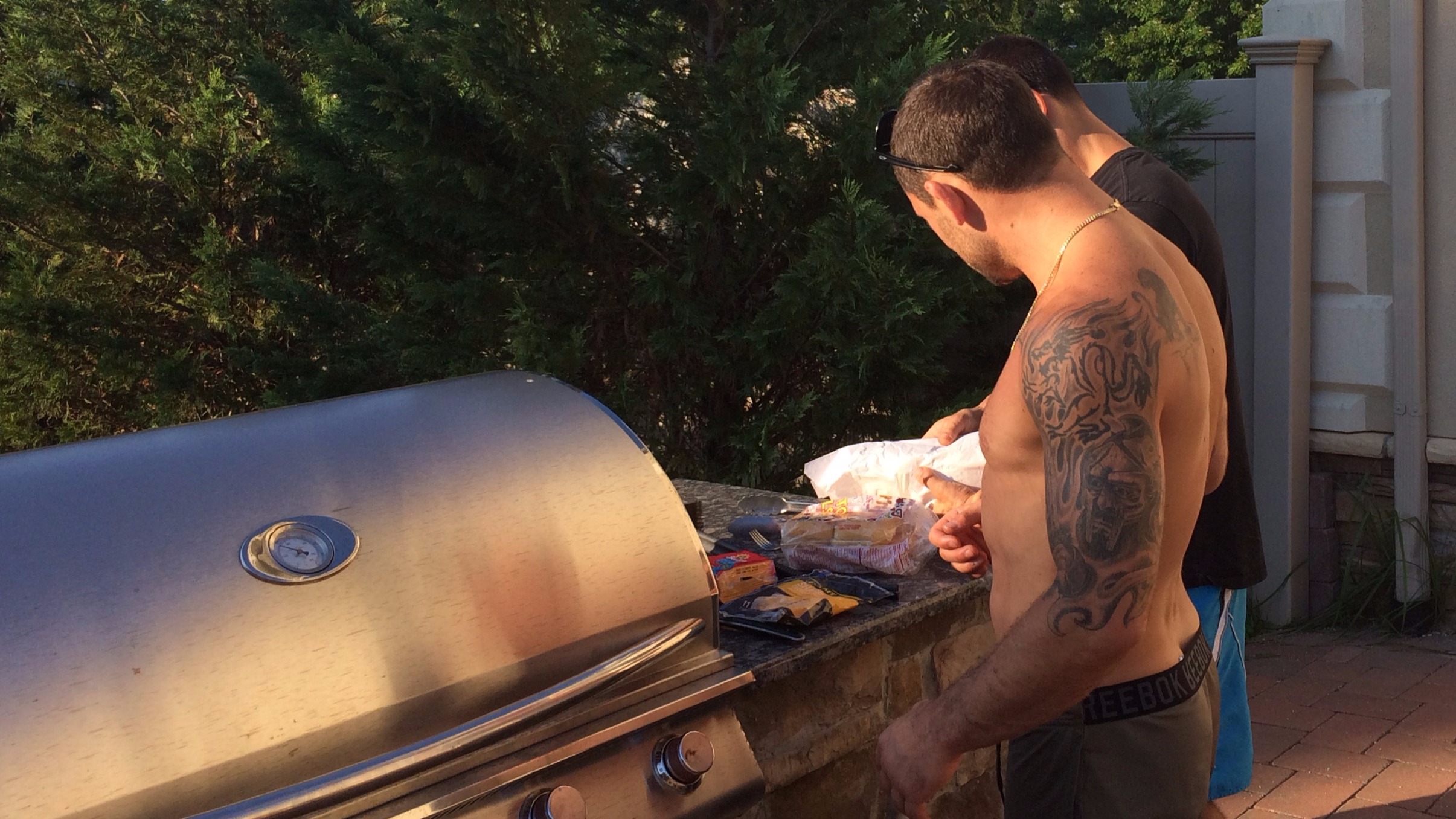 Just as Edgar is murdering the grill, and a pack of kids are tearing up the backyard pool, the sun hanging over coastal New Jersey is doing it's best on him. Edgar steadily wipes sweat from his brow and when he does the pink remnants of the tissue healing around his right eye become highlighted.
And while the stitches are out and his body is moving beyond what happened against Jose Aldo at UFC 200, the competitor inside of him is still irked with how things played out in Las Vegas.
"One of us showed up to fight and the other showed up to play the game," Edgar says a bit later once things have calmed down. "I mean props to him for the strategy he used because it got him the win, but man...he just wasn't down to fight except for the last minute of every round.
"There's adjustments I should have made and I just didn't make them," he continues visibly annoyed as moments from the bout undoubtedly scroll through his mind. "Then again I out landed him two-to-one so some things were working. It's just frustrating, man, but it's time to move forward."
Edgar finishes the statement with a level of finality that shows he's truly putting the rematch with Aldo out of his mind. When the topic of the Brazilian's controversial comments regarding a potential spy embedded in Edgar's camp, the scrappy featherweight just shrugs and shakes his head.
It's not even a thought he's willing to entertain in full, but does add it would be a "Hoe ass move" if it were the case. Hell, just the fact Aldo threw such a notion out into the public realm receives the same sentiment from Edgar, but that's just one more unimportant detail on a pile of things he doesn't care to engage in.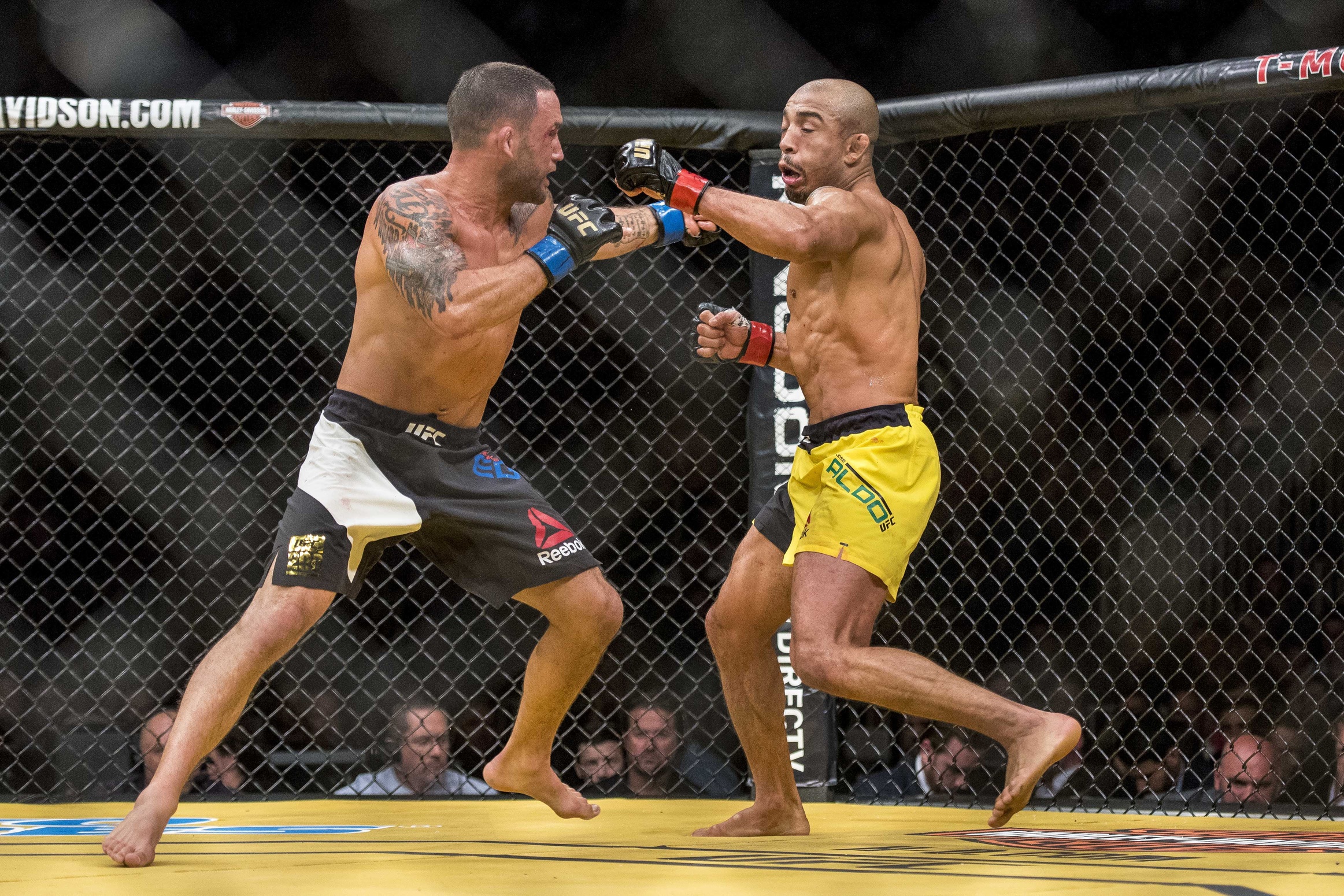 Edgar's primary focus is enjoying his downtime with friends before flying out to Seattle to corner his friend and teammate Marlon Moraes on Saturday night. The World Series of Fighting bantamweight champion will step in to face Josh Hill for a second time, and Edgar doesn't believe this go will be anything like the first fight.
"The only reason their first fight looked close was because Marlon caught a shot that broke his nose in the first," Edgar says sitting back poolside. "The rest of the fight was pretty much all Marlon and I think this one is going to be a definitive win for him. Marlon is so good and he's one of those guys who doesn't get the respect he deserves. That's just a matter of time though."
While Edgar will be giving himself time to allow his eye to properly heal he's already thinking about his return to the Octagon. Edgar admits there will still be a few weeks before he can train with contact, but that timeline will set up the perfect window for a dream opportunity.
"I really want to be on that card at Madison Square Garden," Edgar says leaning up with a touch of enthusiasm in his voice. "Being from New Jersey I've always dreamed of fighting there and now with the UFC coming to town in November there's the chance to make that dream a reality. I think it would be awesome and I'm super down to scrap at that event.
Although Edgar knows UFC 205 on November 12 would be the ideal date for his next bout, that's where the specificities come to an end. He well aware there are a few potential matchups lingering out there for him, and in classic Edgar fashion he's down for whatever comes his way.
"This division is full of great fights for me and I want to keep it moving," Edgar says. "I know Max Holloway is out there. Jeremy Stephens is out there and either of them would make sense. Just because I fell short in my last fight doesn't mean I'm letting up in the slightest in my push to become the featherweight champion.
"I've faced setbacks before and it's all about getting back to your feet and getting after it. Does it suck that I lost? Yeah it sure does, but there isn't a drop of quit in me. I don't know anything about that. What I do know about is coming back stronger and that's what I'm going to do."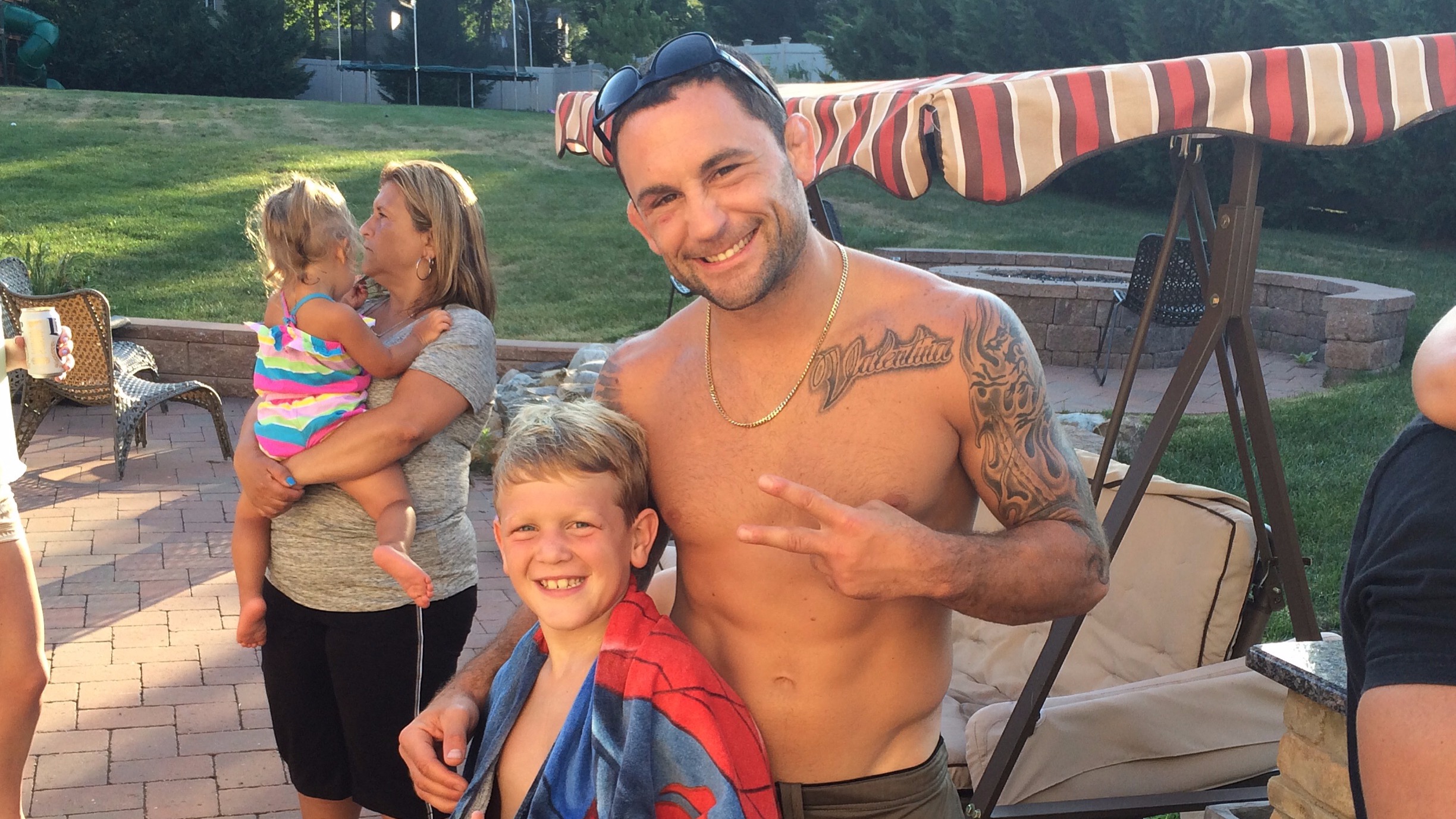 The next few hours fly by and the reality of Edgar's career gets pushed out of the picture. He's in great spirits, and a man known for his putting his heart on display inside the cage shows a more familiar side of that attribute as he jokes and plays with the kids in the pool.
Floating toys, basketballs and cannonballs….you name it and Edgar is marking them off on this beautiful summer day in his hometown.
The day will eventually wind down, the final round of hamburgers will be consumed and the time to part ways comes to call. Edgar passes out hugs and handshakes to all who came by to visit, and the smile that was visible from the jump carries on to the end.
"What a great day," Edgar says with a laugh, and that sentiment is echoed by everyone in attendance.
Once the friends and family have left, Edgar walks upstairs to pack his suitcase for his trip out west. His early morning flight will be here before he knows it, and he'll get up to make sure he's on time to be there for those who need him the most.
No matter the case, Frankie Edgar always shows up and gives his best. It's the only way he knows how to operate, and that's what keeps him at the top of the game.