Valentina Shevchenko Pulls Out Upset Over Holly Holm at UFC on Fox 20
Valentina Shevchenko Pulls Out Upset Over Holly Holm at UFC on Fox 20
Jul 24, 2016
by FloCombat Staff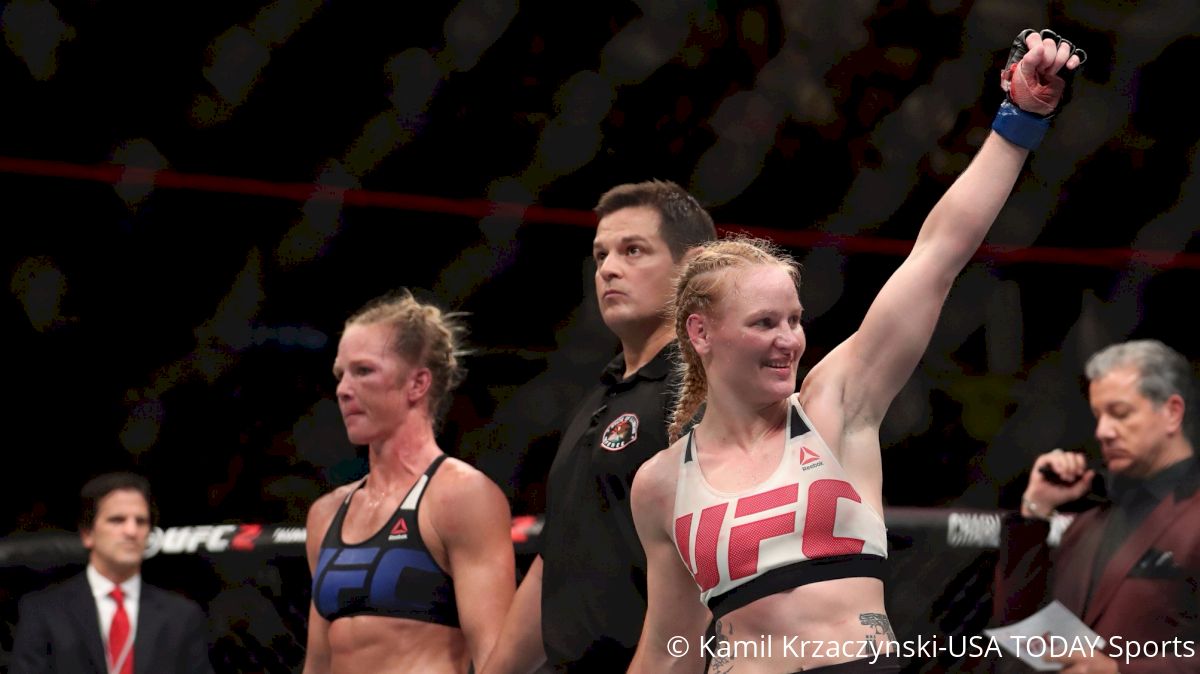 By Jim Edwards

After a week off the road, the UFC were back at it last night in Chicago with UFC On Fox 20.


Shevchenko puts on a clinic of counter striking to beat Holm

The card was headlined by former UFC bantamweight champion Holly Holm taking on the Russian Valentina Shevchenko in what Holm's first fight since losing her belt to Miesha Tate in March.

On paper, Holm taking on Shevchenko looked like it had all the stylistic makings for a barnburner and the two bantamweights ladies didn't disappoint.

It was clear from the outset it was going to be a very technical battle with both adopting their traditional boxing and Muay Thai striking stances and fencing away from the outside looking for an opening. After a tentative start, Holm clearly won round one, dropping the Russian with a straight right to know her to the mat.

After surviving the knockdown in round one the fight turned on its head. Shevchenko really started to come into the fight and clearly took rounds two and three as she started to use her counter striking to reply with venom as Holm was on the front foot.

Round four was a little closer but in round five, Shevchenko put the afterburners on and caught Holm with some stinging counter hooks as looked to push the fight. It was a fantastic win for the Russian who took the fight 49-46, 49-46, 49-46 on the judge's scorecards.


Brutal Barbosa chops down Melendez

In the co-main event, Gilbert Melendez returned from over a year out of action to take on the exciting striker Edson Barboza in a bout that lived up to all the pre-fight hype.

The story of the fight was predictable but no less exciting for it as Barboza brutalized the legs of Melendez with thudding leg kicks. Melendez every now and then would flurry back valiantly but anytime he looked to assert his authority Barbosa simply fired in a leg kick to his lead left leg to stop him in his tracks and slow him down.

After three bravely fought rounds, Barbosa had obviously got the better of his man and he rightfully took the fight on the scorecards 30-27, 30-27, 29-28.


Wins for Herrig and Ngannou in Chicago

Also on the main card, Felice Herrig got the Fox portion of the card off to a bang when she submitted the highly fancied Kailin Curran in the first round of their strawweight fight.

Shortly after that, Francis Ngannou blasted through Bojan Mihajlovic in just one minute and thirty-four seconds. Mihajlovic contested an early stoppage but referee Herb Dean looked like he did him a favor from taking further damage on the ground after being dropped early by the hard-hitting Frenchman.


UFC on Fox 20 Full Results:


Main Card

Valentina Shevchenko def. Holly Holm via unanimous decision (49-46, 49-46, 49-46)
Edson Barboza def. Gilbert Melendez via unanimous decision (30-27, 30-27, 29-28)
Francis Ngannou def. Bojan Mihajlovic via TKO (strikes), Round 1, 1:34
Felice Herrig def. Kailin Curran via submission (RNC), Round 1, 1:59


Preliminary Bouts

Eddie Wineland def. Frankie Saenz via TKO (punches), Round 3, 1:54
Darren Elkins def. Godofredo Pepey via unanimous decision (29-27, 29-27, 30-26)
Kamaru Usman def. Alexander Yakovlev via unanimous decision (30-25, 30-25, 30-25)
Michel Prazeres def. J.C. Cotrell via unanimous decision (30-26, 30-27, 30-27)


UFC Fight Pass Prelims

Alex Oliveira def. James Moontasri via unanimous decision (30-26, 30-26, 30-25)
Jason Knight def. Jim Alers via split decision (29-28, 28-29, 29-28)
Luis Henrique def. Dmitrii Smoliakov via submission (RNC), Round 2, 3:58